The top three concerns in the housing market right now are mortgage rates, home prices, and affordability.
This year the housing market has truly been defined by rising mortgage rates. Taking a look at the Freddie Mac 30-year fixed rate, we can clearly see the jump earlier this year from 3.22% to over 5%. There has been a tremendous amount of volatility in mortgage rates over the past few months. This is because inflation is the enemy of long-term interest rates. The Federal Reserve is making moves to ease inflation, and when that happens mortgage rates respond.
The general consensus is that the Federal Reserve is going to get inflation under control. If that's the case, then mortgage rates will stabilize to about 5.3%, and then dipping below 5% in the third quarter of next year.
Home prices are appreciating, but at a slower, more moderate rate than we have seen recently.
Nationally, home prices will continue to rise due to buyer demand and low inventory.
Home prices are slowing – not depreciating, and that's where deceleration comes into play. We saw record-breaking home-price appreciation at the beginning of this year, and we have recently seen (and will continue to see) a deceleration of home prices. The pace of appreciation is slowing. That's deceleration. It's not depreciation – where we would have negative price growth. We will see continued appreciation at a slower pace. This gives buyers a little bit more negotiating power.
The past two years have been an anomaly. The price growth over the past year was unsustainable.
Many experts raised their home price forecast this year. Most likely because of the continued low inventory levels and the increasing mortgage rates.
We are looking at 11.3% annual home price appreciation for 2022, keeping in mind a lot of that already happened at the beginning of this year.
Inventory is 26.3% higher than it was last year, which creates more opportunities for buyers. However, compared to the same week in 2020, inventory is down 5.4%, and down 42.2% from the same week in 2019. Historically, inventory is still low, and that's what's continuing to drive an upward pressure on home prices.
Housing affordability is lower than it's been since the early 1990s. The National Association of Realtors® Housing Affordability Index, is based on 3 things: home prices, interest rates, and wages – where the higher the bar, the more affordable a home. A reading of 100 is an even reading – where the average household can afford 100% of the average mortgage payment. As right now, the average household can afford 98.5% of the average mortgage payment – so, unaffordable.
Compared to one year ago, the monthly mortgage payment rose from $1,265 to $1,944 – an increase of 53.7%. There is no doubt that homes are less affordable right now.
Another thing that we want to look at when we start to break down affordability is the average mortgage payment, or income committed to a mortgage payment, which sits at 25.4%. This assumes a 30-year fixed mortgage rate with a 20% down payment on a median-priced home with median income. 25.4% of income is dedicated to a housing payment, where 25% is typically what is recommended.
Taking a look at median household income versus qualifying income – what you need to make to buy a home, is pretty even for the South which is following the national trend.
To combat the current housing affordability right now, buyers can expand their search area and criteria – maybe consider looking a little bit further out of their desired area. Or explore alternative financing options with several different lenders. Finally, buyers can look for grants at sources like DownPaymentResource.com.
If you've been thinking of buying a home, you may have been watching what's happened with mortgage rates over the past year. It's true they've risen dramatically, but where will they go from here, especially as the market continues to slow?
As you think about your homeownership goals and decide if now's the time to make your move, the best place to turn to for that information is the professionals. Here's a summary of the latest mortgage rate forecasts from housing market experts.
Experts Project Mortgage Rates Will Stabilize
While mortgage rates continue to fluctuate due to ongoing inflationary pressures and economic uncertainty, experts project they'll start to stabilize in the months ahead. According to the latest projections, mortgage rates are expected to hover in the low to mid 5% range initially, and then potentially dip into the high 4% range by later next year (see chart below):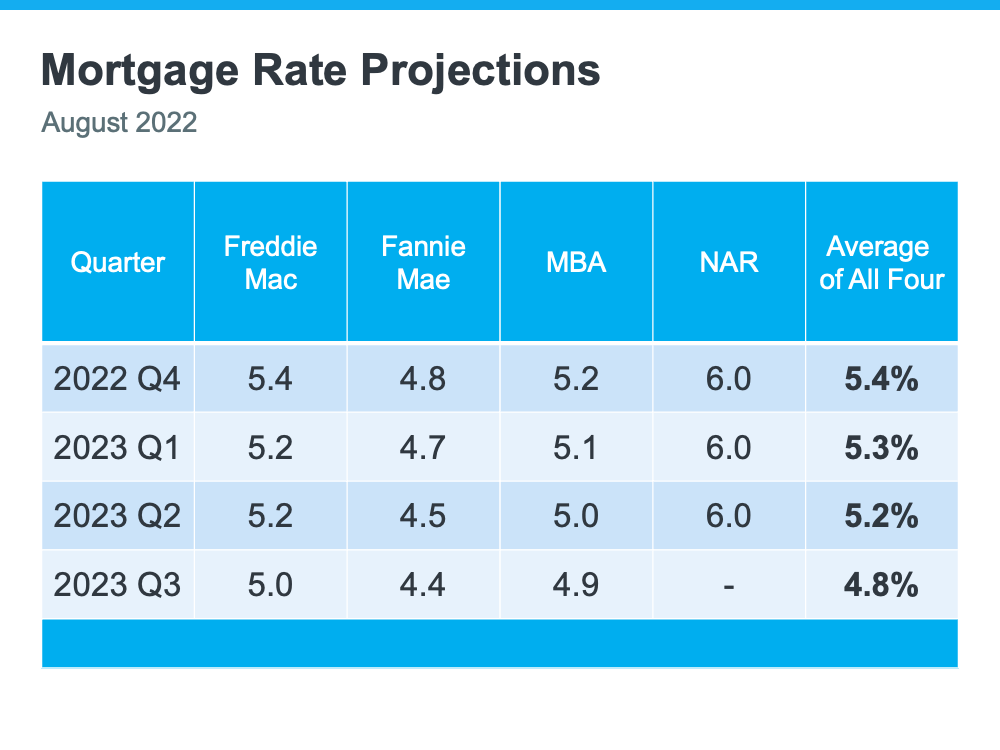 That could bring you some welcome relief. So far this year, mortgage rates have climbed over two percentage points due to the Federal Reserve's response to inflation, and that's made it more expensive to buy a home. And wondering if the rise in rates will continue is keeping some prospective buyers on the sidelines.
But now that experts say mortgage rates should stabilize, this gives you a bit more certainty about what they think the future holds, and that may help you feel more confident about your decision to buy a home.
Bottom Line
Whether you're looking to buy your first home, move up to a larger home, or even downsize, you need to know what's happening in the housing market so you can make the most informed decision possible.
Whether or not you owned a home in 2008, you likely remember the housing crash that took place back then. And news about an economic slowdown happening today may bring all those concerns back to the surface. While those feelings are understandable, data can help reassure you the situation today is nothing like it was in 2008.
One of the key reasons why the market won't crash this time is the current undersupply of inventory. Housing supply comes from three key places:
Current homeowners putting their homes up for sale
Newly built homes coming onto the market
Distressed properties (short sales or foreclosures)
For the market to crash, you'd have to make a case for an oversupply of inventory headed to the market, and the numbers just don't support that. So, here's a deeper look at where inventory is coming from today to help prove why the housing market isn't headed for a crash.
Current Homeowners Putting Their Homes Up for Sale
Even though housing supply is increasing this year, there's still a limited number of existing homes available. The graph below helps illustrate this point. Based on the latest weekly data, inventory is up 27.8% compared to the same week last year (shown in blue). But compared to the same week in 2019 (shown in the larger red bar), it's still down by 42.6%.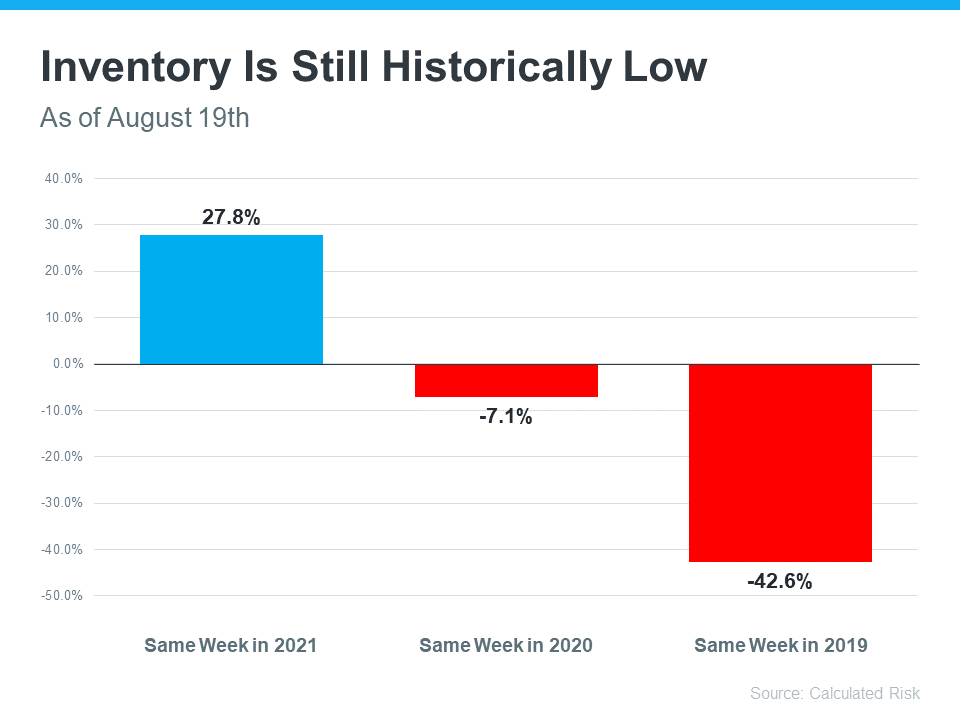 So, what does this mean? Inventory is still historically low. There simply aren't enough homes on the market to cause prices to crash. There would need to be a flood of people getting ready to sell their houses in order to tip the scales toward a buyers' market. And that level of activity simply isn't there.
Newly Built Homes Coming onto the Market
There's also a lot of talk about what's happening with newly built homes today, and that may make you wonder if we're overbuilding. But home builders are actually slowing down their production right now. Ali Wolf, Chief Economist at Zonda, notes:
"It has become a very competitive market for builders where they are trying to offload any standing inventory."
To avoid repeating the overbuilding that happened leading up to the housing crisis, builders are reacting to higher mortgage rates and softening buyer demand by slowing down their work. It's a sign they're being intentional about not overbuilding homes like they did during the bubble.
And according to the latest data from the U.S. Census, at today's current pace, we're headed to build a seasonally adjusted annual rate of about 1.4 million homes this year. While this will add more inventory to the market, it's not on pace to create an oversupply because builders today are more cautious than the last time when they built more homes than the market could absorb.
Distressed Properties (Short Sales or Foreclosures)
The last place inventory can come from is distressed properties, including short sales and foreclosures. Back in the housing crisis, there was a flood of foreclosures due to lending standards that allowed many people to secure a home loan they couldn't truly afford. Today, lending standards are much tighter, resulting in more qualified buyers and far fewer foreclosures. The graph below uses data from ATTOM Data Solutions on properties with foreclosure filings to help paint the picture of how things have changed since the crash: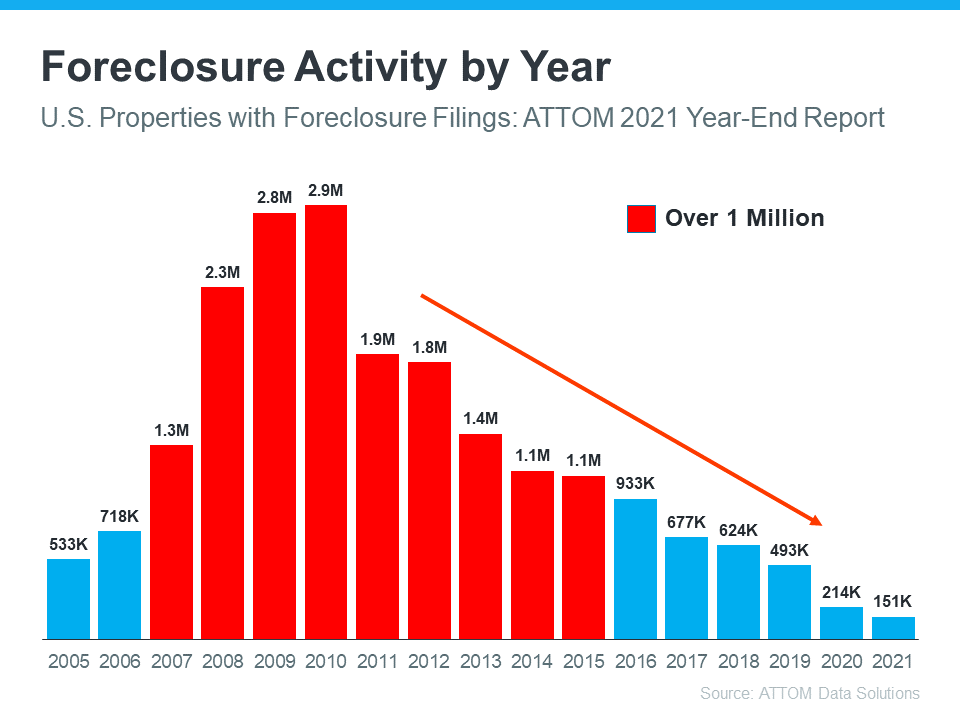 This graph shows how in the time around the housing crash there were over one million foreclosure filings per year. As lending standards tightened since then, the activity started to decline. And in 2020 and 2021, the forbearance program was a further aid to help prevent a repeat of the wave of foreclosures we saw back around 2008.
That program was a game changer, giving homeowners options for things like loan deferrals and modifications they didn't have before. And data on the success of that program shows four out of every five homeowners coming out of forbearance are either paid in full or have worked out a repayment plan to avoid foreclosure. These are a few of the biggest reasons there won't be a wave of foreclosures coming to the market.
Bottom Line
Although housing supply is growing this year, the market certainly isn't anywhere near the inventory levels that would cause prices to drop significantly. That's why inventory tells us the housing market won't crash.
The desire to own a home is still strong today. In fact, according to the Census, the U.S. homeownership rate is on the rise. To illustrate the increase, the graph below shows the homeownership rate over the last year: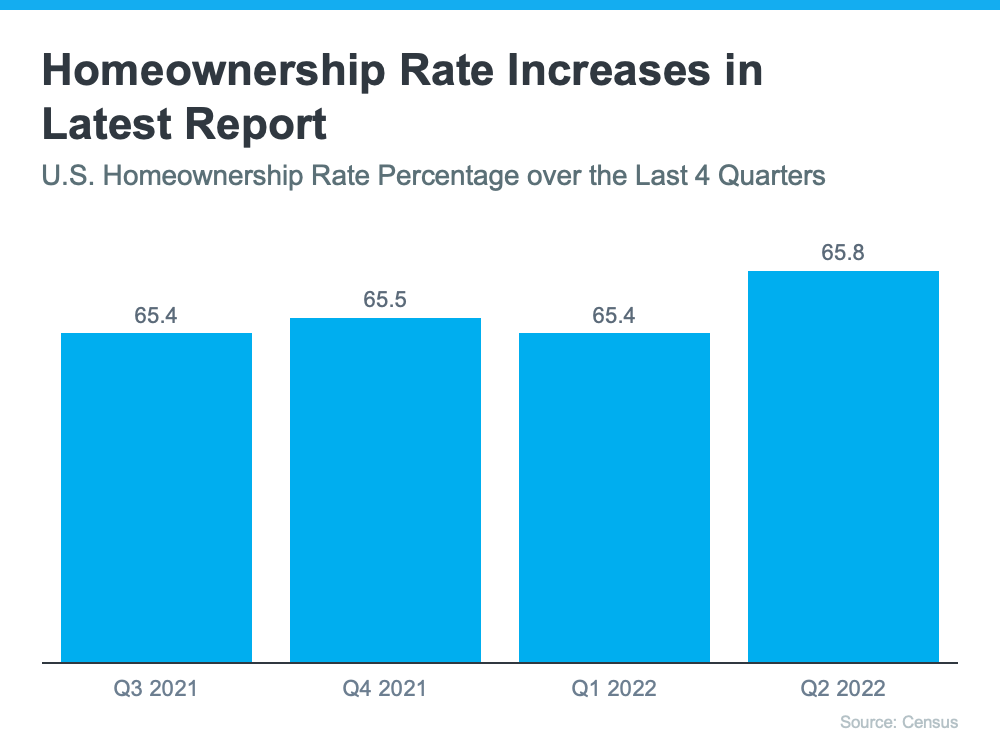 That data shows more than half of the U.S. population live in a home they own, and the percentage is growing with time.
If you're thinking about buying a home this year, here are just a few reasons why so many people see the value of homeownership.
Why Are More People Becoming Homeowners?
There are several benefits to owning your home. A significant one, especially when inflation is high like it is today, is that homeownership can help protect you from rising costs. Lawrence Yun, Chief Economist at the National Association of Realtors (NAR), explains:
"In the 1970s, when inflation was running around 10%, home prices were rising at approximately the same rate. Renters actually have a harder time in inflationary periods, because rents tend to rise along with inflation, whereas mortgage payments stay the same for homeowners with fixed-rate mortgages."
When you buy a home with a fixed-rate mortgage, you can lock in what's likely your biggest monthly expense – your housing payment – for the duration of that loan, often 15-30 years.
That gives you a predictable monthly housing expense that can benefit you in the short term, but you'll also gain equity over time as your home appreciates in value and you make your monthly mortgage payment.
And with that growing equity, your net worth will increase as well. In fact, the latest data from NAR shows the median household net worth of a homeowner is roughly $300,000, while the median net worth of renters is only about $8,000. That means a homeowner's net worth is nearly 40 times that of a renter.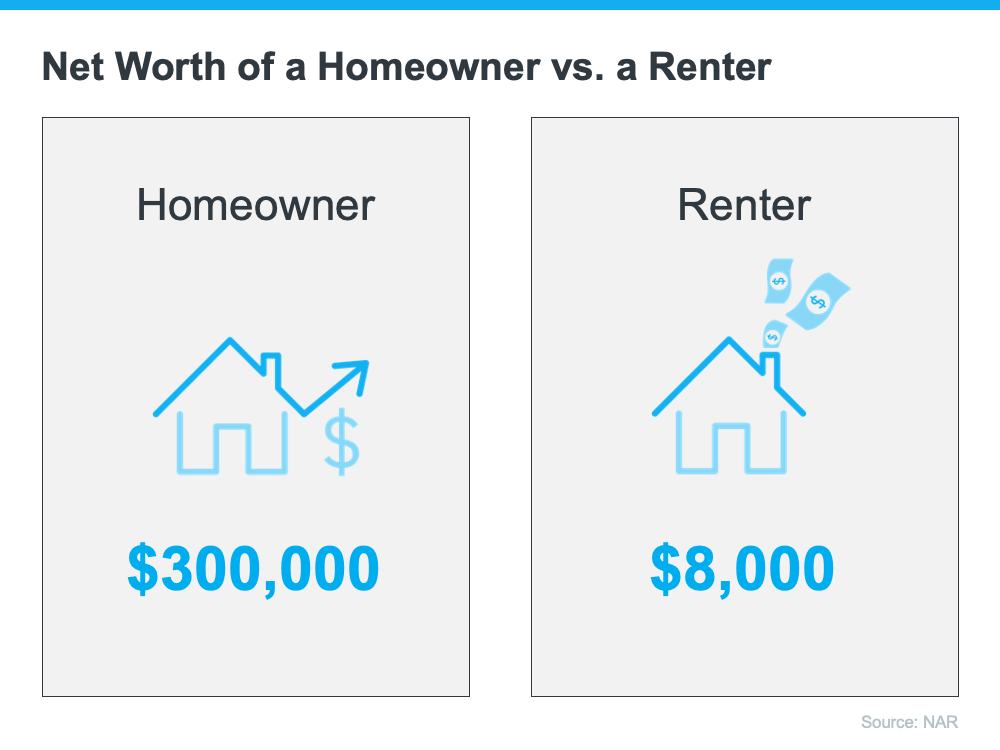 Bottom Line
The U.S. homeownership rate is growing.
If rising home prices leave you wondering if it makes more sense to rent or buy a home in today's housing market, consider this. It's not just home prices that have risen in recent years – rental prices have skyrocketed as well. As a recent article from realtor.com says:
"The median rent across the 50 largest US metropolitan areas reached $1,876 in June, a new record level for Realtor.com data for the 16th consecutive month."
That means rising prices will likely impact your housing plans either way. But there are a few key differences that could make buying a home a more worthwhile option for you.
If You Need More Space, Buying a Home May Be More Affordable
What you may not realize is that, according to the latest data from realtor.com and the National Association of Realtors (NAR), it may actually be more affordable to buy than rent depending on how many bedrooms you need. The graph below uses the median rental payment and median mortgage payment across the country to show why.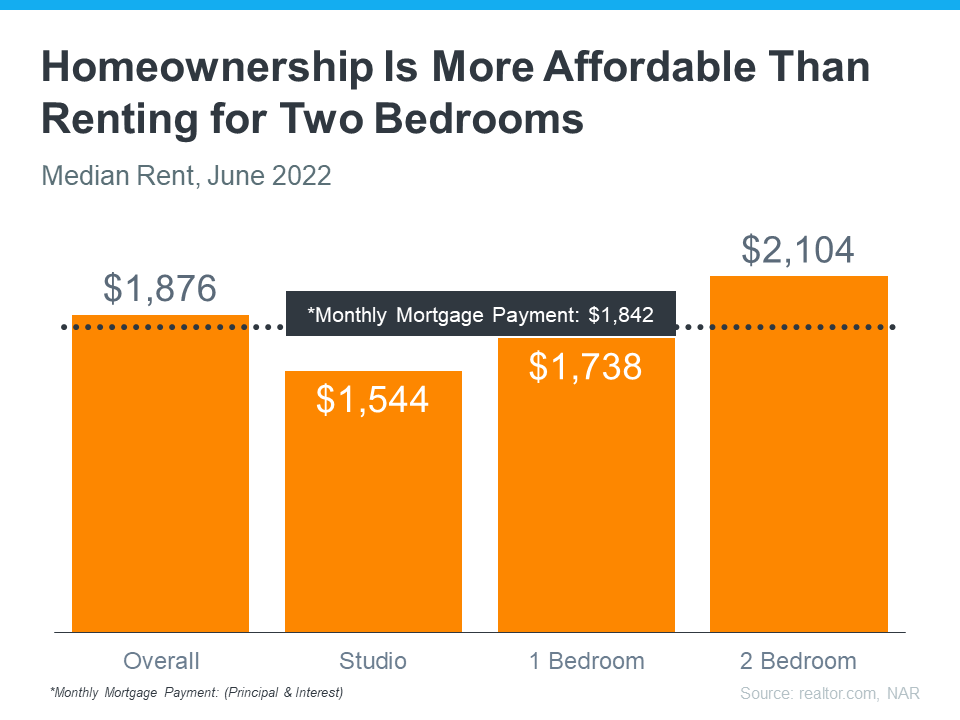 As the graph conveys, if you need two or more bedrooms, it may actually be more affordable to buy a home even as prices rise. While this doesn't take into consideration the interest deduction or other financial advantages that come with owning a home, it does help paint the picture that it may be more affordable to buy then rent for that unit size based on nationwide averages. So, if one of the factors motivating you to move is a desire for more space, this could be the added encouragement you need to consider homeownership.
Homeownership Also Provides Stability and a Chance To Grow Your Wealth
In addition to being more affordable depending on how many bedrooms you need, buying has two other key benefits: payment stability and equity.
When you buy a home, you lock in your monthly payment with your fixed-rate mortgage. And that's especially important in today's inflationary economy. With inflation, prices rise across the board for things like gas, groceries, and more. Locking in your housing payment, which is likely your largest monthly expense, can provide greater long-term stability and help shield you from those rising expenses moving forward. Renting doesn't provide that same predictability. A recent article from CNET explains it like this:
"…if you buy a house and secure a fixed-rate mortgage, that means that no matter how much prices or interest rates go up, your fixed payment will stay the same every month. That's an advantage over renting since there's a good chance your landlord will raise your rent to counter inflationary pressures."
Not to mention, when you buy, you have the chance to build equity, which in turn grows your net worth. It works like this. As you pay down your home loan over time and as home values continue to appreciate, so does your equity. And that equity can make it easier to fuel a move into a future home if you decide you need a bigger home later on. Again, the CNET article mentioned above helps explain:
"Homeownership is still considered one of the most reliable ways to build wealth. When you make monthly mortgage payments, you're building equity in your home that you can tap into later on. When you rent, you aren't investing in your financial future the same way you are when you're paying off a mortgage."
Bottom Line
If you're trying to decide whether to keep renting or buy a home, explore your options. With home equity and a shield against inflation on the line, it may make more sense to buy a home if you're able to.
Over the last two years, the rate of home prices appreciated at a dramatic pace. While that led to incredible equity gains for homeowners, it's also caused some buyers to wonder if home prices will fall. It's important to know the housing market isn't a bubble about to burst, and home price growth is supported by strong market fundamentals.
To understand why price declines are unlikely, it's important to explore what caused home prices to rise so much recently, and where experts say home prices are headed. Here's what you need to know.
Home Prices Rose Significantly in Recent Years
The graph below uses the latest data from CoreLogic to illustrate the rise in home prices over the past year and a half. The gray bars represent the dramatic increase in the rate of home price appreciation in 2021. The blue bars show home prices are still rising in 2022, but not as quickly: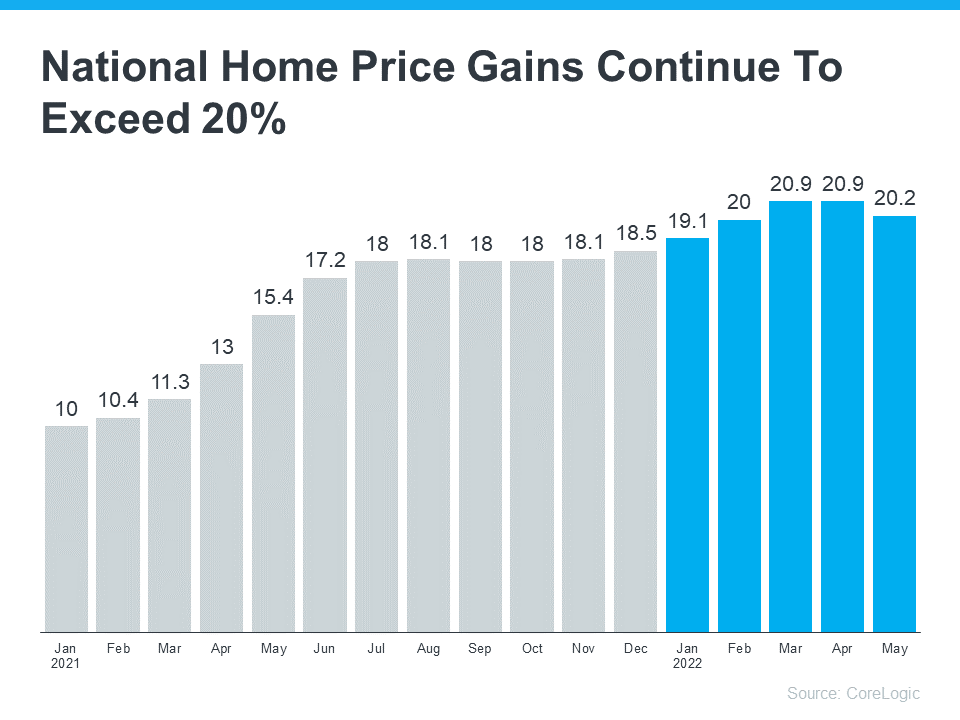 You might be asking: why did home prices climb so much last year? It's because there were more buyers than there were homes for sale. That imbalance put upward pressure on home prices because demand was extremely high, and supply was record low.
Where Experts Say Prices Will Go from Here
While housing inventory is increasing and buyer demand is softening today, there's still a shortage of homes available for sale. That's why the market is seeing ongoing price appreciation. Mark Fleming, Chief Economist at First American, explains it like this:
". . .we're still well below normal levels of inventory and that's why even with the pullback in demand, we still see house prices appreciating. While there is more inventory, it's still not enough."
As a result, experts are projecting a more moderate rate of home price appreciation this year, which means home prices will continue rising, but at a slower pace. That doesn't mean prices are going to fall. As Selma Hepp, Deputy Chief Economist at CoreLogic, says:
"The current home price growth rate is unsustainable, and higher mortgage rates coupled with more inventory will lead to slower home price growth but unlikely declines in home prices."
In other words, even with higher mortgage rates, moderating buyer demand, and more homes for sale, experts say home price appreciation will slow, but prices won't decline.
If you're planning to buy a home, that means you shouldn't wait for home prices to drop to make your purchase. Instead, buying today means you can get ahead of future price increases, and benefit from the rise in prices in the form of home equity.
Bottom Line
Home prices skyrocketed in recent years because there was more demand than supply. As the market shifts, experts aren't forecasting a drop in prices, just a slowdown in the rate of price growth.
With so much talk about an economic slowdown, some people are asking if the housing market is heading for a crash like the one in 2008. To really understand what's happening with real estate today, it's important to lean on the experts for reliable information.
Here's why economists and industry experts say the housing market is not a bubble ready to pop.
Today Is Nothing Like 2008
The 2008 housing crash is still fresh in the minds of many homebuyers and sellers. But today's market is different. Odeta Kushi, Deputy Chief Economist at First American, says:
"This is not the same market of 2008. . . . It's no secret the housing market played a central role in the Great Recession, but this market is just fundamentally different in so many ways."
Natalie Campisi, Advisor Staff for Forbes, explains how today's lending standards are different than those during the lead-up to the housing market crash:
"Among the differences between today's housing market and that of the 2008 housing crash is that lending standards are tighter due to lessons learned and new regulations enacted after the last crisis. Essentially, that means those approved for a mortgage nowadays are less likely to default than those who were approved in the pre-crisis lending period."
Another reason today's housing market is nothing like 2008 is that the number of people looking to buy a home still outweighs the supply of homes for sale. As realtor.com notes:
". . . experts don't believe the market is in a bubble or a crash is in the cards, like during the Great Recession. The nation is still suffering from a housing shortage that has reached crisis proportions at a time when many millennials are reaching the age when they start to consider homeownership. That's likely to keep prices high."
Bottom Line
Experts say the housing market isn't a bubble, and we're not heading for a crash.
Let's begin this month with the topic of economic slowdown. According to The Wall Street Journal, recession fear surged among CEOs. Three-quarters of global CEOs say that we are in a recession or will be in the next 12 to 18 months. A recession is typically two consecutive quarters of negative GDP. We saw negative GDP in the first quarter of this year, and forecasts coming out of the Atlanta Fed predict an extremely low negative GDP in the second quarter.
Looking at the mortgage rates in prior recessionary periods going all the way back to the early seventies, we can see that in every recession mortgage rates fell.
Over the past five recessions, mortgage rates have fallen an average of 1.8 percentage points from the peak to the trough. Right now, the Fed is raising the funds rate to tame inflation, and in order to do that they have to slow down the economy. You may have heard of the Fed trying to engineer a "soft landing" in which growth is positive and moderate. If a soft landing is not engineered, then you end in recession – a likely outcome at this point.
Here is where it is important to remember that a recession does not equal a housing crisis. Four out of the last six times we were in a recession, homes appreciated in value. The two times they fell – marginally (1.9%) in the early nineties and in 2008 (an outlier due to lax lending standards).
Delving into an update on housing inventory, we are seeing the average number of offers received on a home for sale decline. We saw 5.5 offers in April, which decreased to 5, and then 4.2 in June. The rising mortgage rate environment is starting to soften demand. But, keep in mind, at an average of 4.2 offers on homes for sale, we are still well above the pre-pandemic norm, suggesting the market is still very competitive.
Over asking price offers are also declining, from 61% of offers over the asking price last month to now 55%. Not a huge decline, but certainly a softening or a moderation. All of this leading to a slower pace of sales and rising inventory levels – same inventory with fewer sales means more month supply.
The months supply of inventory was at a record low in January at 1.6 months, and the latest data is showing us at 2.6 months of inventory, so there are more options for buyers. Remember that a balanced market is six months of inventory – a number we haven't seen since 2012.
New monthly listing counts are also increasing. More new listings are coming to market than last year and they are increasing at a faster pace.
We are projected to end the year at 5.4 million home sales by the end of 2022 if we continue at the pace we're selling homes today, but we know that the pace of sales in slowing due to rising rates, economic pressures, and inflationary pressures. Definitely slower than the past two years, which were incredible years for real estate and an anomaly in the housing market. So we see the return to those pre-pandemic years, which were great years in real estate.
We still have far more buyers than we have sellers, which is continuing to put upward pressure on prices.
realtor.com's originally projection for this year was a 0.3% increase in inventory. They have re-forecasted for the rest of the year a 15% increase in inventory – an increase likely representative of the slowing in the pace of sales and an uptick in new listings. Typically, a one month increase in supply translates to a 3% decline in annualized house price growth – something we are already seeing. Keep in mind that prices are still projected to increase, just at a more moderate rate. Decelerating home prices do not mean depreciating home prices. A decelerating environment means there's appreciation, just at a more moderate rate – single digit growth as opposed to the double digit growth we have recently seen.
The average of the home price forecaster is 8.5% for 2022. Price will always be determined by supply and demand, so we will want to look at Home Price Expectation Survey.
The Home Price Expectation Survey is comprised of 100 economists and housing market experts across the country. The survey occurs each quarter and forecasts appreciation for the current year and the four years ahead – to make a five-year window. Again, we see that 8-9% range and then about 4% going forward.
With prices being determined by supply and demand, let's take a look at supply first.
For the last 14 years, we have been below the 50 year average in the number of builds brought to market. Builders were affected greatly in 2008, and maybe may moved on to other vocations, but it looks like we will surpass the 50 year average soon.
The demand side is driven by millennials that are moving through the market. The millennial generation is the largest generation behind the baby boomers, and they're moving through their peak home buying years. According to the National Association of Realtors® (NAR) Home Buyer survey, 81% of first-time home buyers fall in this category, and 43% in this age range.
Bottom Line
Experts don't believe the market is in a bubble or a crash is in the cards like during the Great Recession.
According to a recent survey, more and more Americans are concerned about a possible recession. Those concerns were validated when the Federal Reserve met and confirmed they were strongly committed to bringing down inflation. And, in order to do so, they'd use their tools and influence to slow down the economy.
All of this brings up many fears and questions around how it might affect our lives, our jobs, and business overall. And one concern many Americans have is: how will this affect the housing market? We know how economic slowdowns have impacted home prices in the past, but how could this next slowdown affect real estate and the cost of financing a home?
According to Mortgage Specialists:
"Throughout history, during a recessionary period, interest rates go up at the beginning of the recession. But in order to come out of a recession, interest rates are lowered to stimulate the economy moving forward."
Here's the data to back that up. If you look back at each recession going all the way to the early 1980s, here's what happened to mortgage rates during those times (see chart below):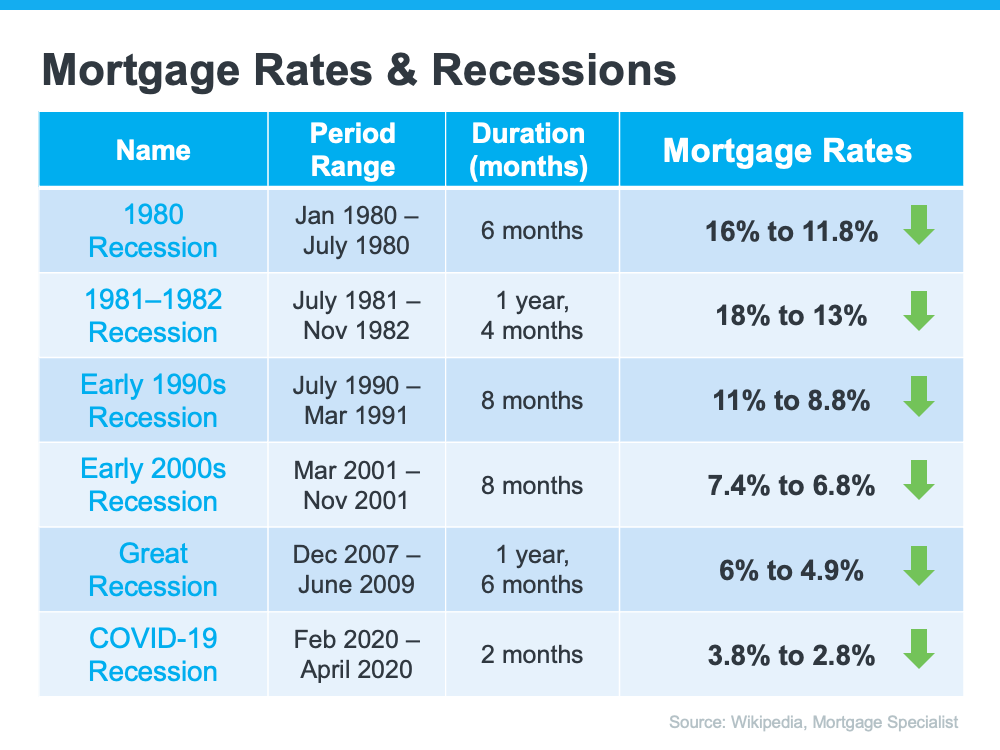 As the chart shows, historically, each time the economy slowed down, mortgage rates decreased. Fortune.com helps explain the trend like this:
"Over the past five recessions, mortgage rates have fallen an average of 1.8 percentage points from the peak seen during the recession to the trough. And in many cases, they continued to fall after the fact as it takes some time to turn things around even when the recession is technically over."
And while history doesn't always repeat itself, we can learn from it. While an economic slowdown needs to happen to help taper inflation, it hasn't always been a bad thing for the housing market. Typically, it has meant that the cost to finance a home has gone down, and that's a good thing.
Bottom Line
Concerns of a recession are rising. As the economy slows down, history tells us this would likely mean lower mortgage rates for those looking to refinance or buy a home. While no one knows exactly what the future holds, you can make the right decision for you by working with a trusted real estate professional to get expert advice on what's happening in the housing market and what that means for your homeownership goals.
We're about halfway through the year, and starting to see a little bit of a shift in the market. As of late, the market has been defined by rising mortgage rates.
To break down what is happening with mortgage rates, we look to the weekly monitor from Freddie Mac where the average 30 year fixed is over 5%.
There's a lot of economic uncertainty – inflation, instability in the world, what the Fed is doing – which is causing mortgage rate volatility.
Looking at the rate environment this year, where we wrapped up 2021 with 3.1% on the average 30-year fixed, we have seen a quick and dramatic rise in interest rates over the first several months with a plateau around the third week of April.
However, let's bring some perspective to this. The average 30-year fixed is higher than where we've been for the last decade, but below where we've been in previous decades – going all the way back to the seventies. Certainly, 5% is still a very, very good rate when we consider the historical rates over the past several decades.
The 30-year fixed mortgage has followed the 10-Year Treasury. We've seen the 10-Year Treasury rise since January and start to flatten out, like we see in interest rates.
The headlines tend to terrify more than clarify, so what's the short answer to, "Are we in a housing market correction?" No! A correction of any sort is a decline of 10% or greater in the price of a security asset or financial market. Experts are forecasting almost 9% appreciation in residential real estate this year – where, historically, we've seen about 3.8%. We are still seeing very healthy appreciation this year.
However, we are at a turning point right now, coming out of two anomaly years in the real estate business, and it is still a seller's market.
According to the latest released numbers, showings are still high, though we will begin to trend back to the pre-pandemic level demand.
And looking at the latest released numbers for existing home sales, we can see again that trend to the pre-pandemic level of sales. However, we are still seeing national averages of 17 days on market with over 5 offers on homes for sale. As we head back towards those pre-pandemic levels, let's not forget that 2017-2019 were great years for the real estate market.
Let's take a look at the top expert forecasts for 2022. We see anywhere from 6.9 million homes sold this year to 6.1 million. In 2021 we sold 6.9 million homes. Most are saying that the interest rate environment we're in will likely impact the market to the tune of about 10%. At 6.9 million homes, that is a reduction of about 700,000 homes less we would sell this year. – right around that 6.2 million mark.
A recession does not mean there will be a housing crisis. We have seen 6 recessions in this country, and during 4 of those recessions homes appreciated in value. Keep in mind, one of the recessions (1990s) homes only depreciated in value by less than 2%.