A recent survey revealed that many consumers believe there's a housing bubble beginning to form. That feeling is understandable, as year-over-year home price appreciation is still in the double digits. However, this market is very different than it was during the housing crash 15 years ago. Here are four key reasons why today is nothing like the last time.
1. Houses Are Not Unaffordable Like They Were During the Housing Boom
The affordability formula has three components: the price of the home, wages earned by the purchaser, and the mortgage rate available at the time. Conventional lending standards say a purchaser should not spend more than 28% of their gross income on their mortgage payment.
Fifteen years ago, prices were high, wages were low, and mortgage rates were over 6%. Today, prices are still high. Wages, however, have increased, and the mortgage rate, even after the recent spike, is still well below 6%. That means the average purchaser today pays less of their monthly income toward their mortgage payment than they did back then.
In the latest Affordability Report by ATTOM Data, Chief Product Officer Todd Teta addresses that exact point:
"The average wage earner can still afford the typical home across the U.S., but the financial comfort zone continues shrinking as home prices keep soaring and mortgage rates tick upward."
Affordability isn't as strong as it was last year, but it's much better than it was during the boom. Here's a chart showing that difference: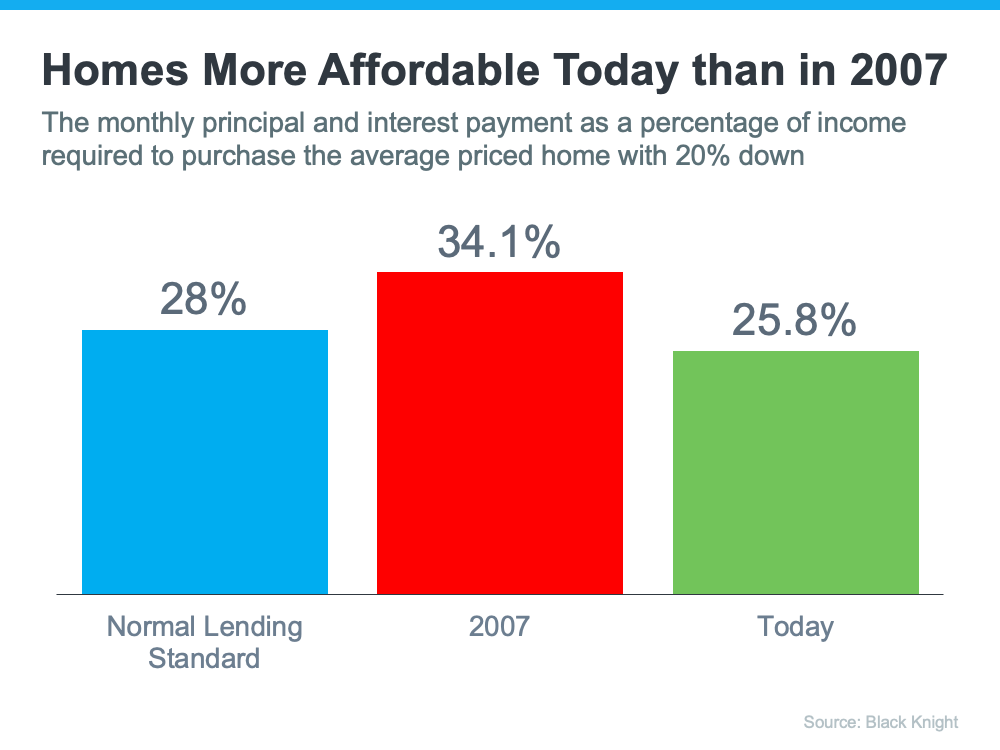 If costs were so prohibitive, how did so many homes sell during the housing boom?
2. Mortgage Standards Were Much More Relaxed During the Boom
During the housing bubble, it was much easier to get a mortgage than it is today. As an example, let's review the number of mortgages granted to purchasers with credit scores under 620. According to credit.org, a credit score between 550-619 is considered poor. In defining those with a score below 620, they explain:
"Credit agencies consider consumers with credit delinquencies, account rejections, and little credit history as subprime borrowers due to their high credit risk."
Buyers can still qualify for a mortgage with a credit score that low, but they're considered riskier borrowers. Here's a graph showing the mortgage volume issued to purchasers with a credit score less than 620 during the housing boom, and the subsequent volume in the 14 years since.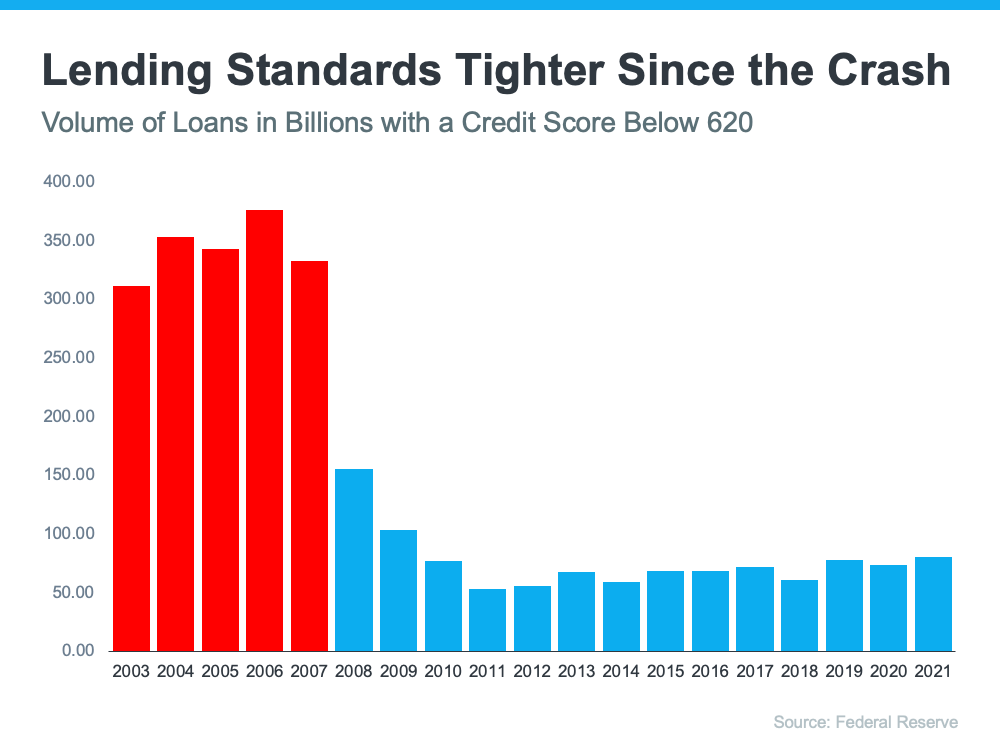 Mortgage standards are nothing like they were the last time. Purchasers that acquired a mortgage over the last decade are much more qualified. Let's take a look at what that means going forward.
3. The Foreclosure Situation Is Nothing Like It Was During the Crash
The most obvious difference is the number of homeowners that were facing foreclosure after the housing bubble burst. The Federal Reserve issues a report showing the number of consumers with a new foreclosure notice. Here are the numbers during the crash compared to today: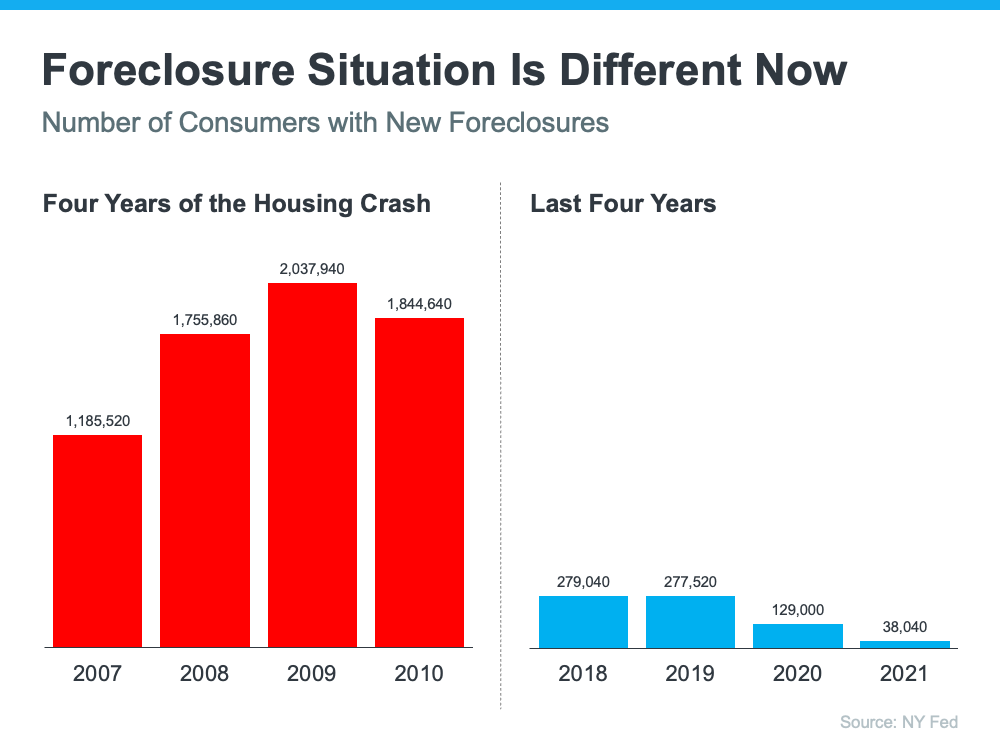 There's no doubt the 2020 and 2021 numbers are impacted by the forbearance program, which was created to help homeowners facing uncertainty during the pandemic. However, there are fewer than 800,000 homeowners left in the program today, and most of those will be able to work out a repayment plan with their banks.
Rick Sharga, Executive Vice President of RealtyTrac, explains:
"The fact that foreclosure starts declined despite hundreds of thousands of borrowers exiting the CARES Act mortgage forbearance program over the last few months is very encouraging. It suggests that the 'forbearance equals foreclosure' narrative was incorrect."
Why are there so few foreclosures now? Today, homeowners are equity rich, not tapped out.
In the run-up to the housing bubble, some homeowners were using their homes as personal ATM machines. Many immediately withdrew their equity once it built up. When home values began to fall, some homeowners found themselves in a negative equity situation where the amount they owed on their mortgage was greater than the value of their home. Some of those households decided to walk away from their homes, and that led to a rash of distressed property listings (foreclosures and short sales), which sold at huge discounts, thus lowering the value of other homes in the area.
Homeowners, however, have learned their lessons. Prices have risen nicely over the last few years, leading to over 40% of homes in the country having more than 50% equity. But owners have not been tapping into it like the last time, as evidenced by the fact that national tappable equity has increased to a record $9.9 trillion. With the average home equity now standing at $300,000, what happened last time won't happen today.
As the latest Homeowner Equity Insights report from CoreLogic explains:
"Not only have equity gains helped homeowners more seamlessly transition out of forbearance and avoid a distressed sale, but they've also enabled many to continue building their wealth."
There will be nowhere near the same number of foreclosures as we saw during the crash. So, what does that mean for the housing market?
4. We Don't Have a Surplus of Homes on the Market – We Have a Shortage
The supply of inventory needed to sustain a normal real estate market is approximately six months. Anything more than that is an overabundance and will causes prices to depreciate. Anything less than that is a shortage and will lead to continued price appreciation. As the next graph shows, there were too many homes for sale from 2007 to 2010 (many of which were short sales and foreclosures), and that caused prices to tumble. Today, there's a shortage of inventory, which is causing the acceleration in home values to continue.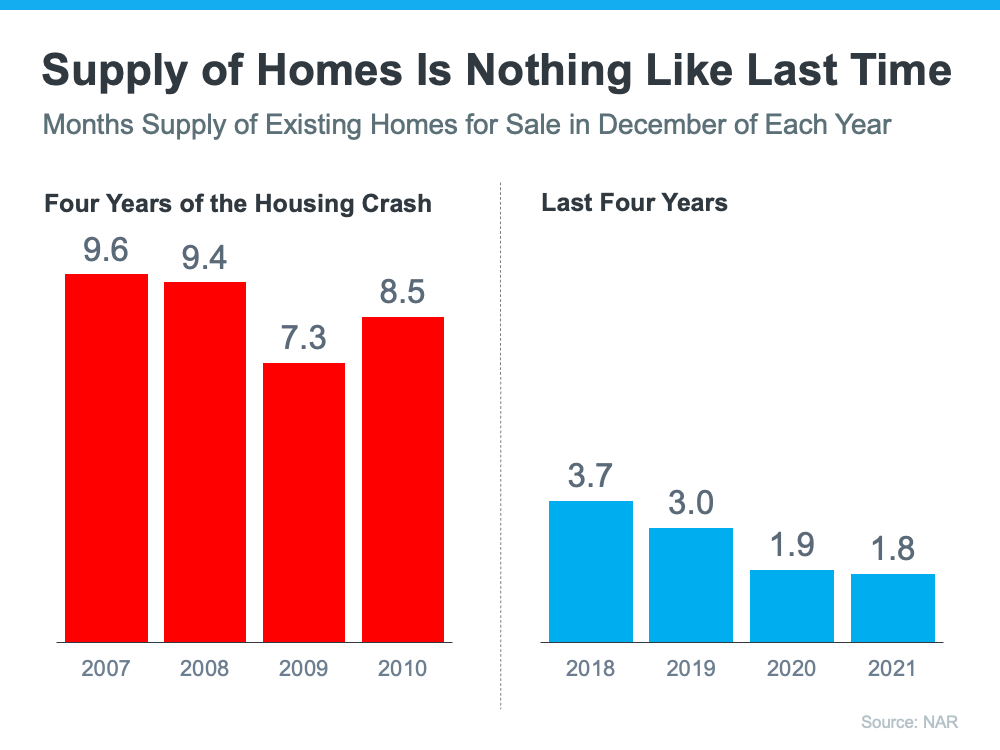 Inventory is nothing like the last time. Prices are rising because there's a healthy demand for homeownership at the same time there's a shortage of homes for sale.
If you're worried that we're making the same mistakes that led to the housing crash, the graphs above show data and insights to help alleviate your concerns.
With homeownership you can lock in the cost today, and have an asset that increases in value over time, making it a great hedge against inflation.
When looking at home price appreciation versus consumer price increases gong back to the 1970s, we can see how home price appreciation outpaces inflation. Of course, the 2000s was a fundamentally different housing market with an oversupply of homes and lower lending standards. Overall, we can see that buying a home today would not only lock in today's costs and provide a hedge against inflation, but avoid the rising rental rates.
Rental prices are skyrocketing, and the forecasts project that not only will home values will continue rising, but so will mortgage rates.
Rent increases have been greater than inflation in most years. That means it's more expensive to rent over time.
For a $200,000 home at 3.5% interest rate today your monthly payment would be $898. However, in Q1 of 2023 when that same home will be $212,600, interest rates will be $3.8%, and now your monthly payment is $990. That's a difference of $33,314 over the life of the 30-year mortgage. That amount jumps to $66,625 for a $400,000 home.
For a $200,000 home at 3.5% interest rate today your monthly payment would be $898. However, in Q1 of 2023 when that same home will be $212,600, interest rates will be $3.8%, and now your monthly payment is $990. That's a difference of $33,314 over the life of the 30-year mortgage. That amount jumps to $66,625 for a $400,000 home.
For a $200,000 home at 3.5% interest rate today your monthly payment would be $898. However, in Q1 of 2023 when that same home will be $212,600, interest rates will be $3.8%, and now your monthly payment is $990. That's a difference of $33,314 over the life of the 30-year mortgage. That amount jumps to $66,625 for a $400,000 home. That's staggering.
Tangible assets like real estate get more valuable over time making buying a home a good way to spend your money during inflationary times.
This is the Home Price Expectation Survey of 100 economists and data analysts from Q4 of 2021, and represents their house appreciation forecasts by 2026. The group was divided into optimists and pessimists, where optimists projecting the most appreciation over the next 5 years, and the pessimists estimate on the lower end. The pessimists are saying that by 2026 houses will appreciate in value by over 23%. That is pretty significant.
We've recently seen a rise in mortgage rates. Some of the last reported numbers have us around 3.55%, which is certainly higher than in some past years, but the housing market is expected to remain pretty competitive this year. It's about to start feeling like interest rates are going to be high, but they are historically low for the U.S.
Let's look at two of the mortgage markets – the purchase market and the refinance market. The purchase market is forecasted to grow, and the refinance market is forecasted to constrict – a typical reaction in a rising rate environment.
Let's tie in the 10-year treasury for a moment. In the last 2 months, the rate on the 10-year treasury yield has skyrocketed. Why is that important?
For the last 50 years, the relationship between the mortgage rate and the 10-year treasury yield has been almost symbiotic. Wherever the 10-year treasury yield goes, there goes the 30-year fixed rate. The Fed does not control interest rates – it can only hope to influence them. Overall, the 10-year treasury yield may be something worth watching.
Month after month we have talked about why we will not see a wave of foreclosures coming to the market, so let's wrap up this month looking at the latest data.
Loans in forbearance have fallen below one million. This is huge. We are at roughly 780,000 loans in forbearance which equates to 1.4% of mortgages. It is wonderful to see that the forbearance program has really helped homeowners change their situations during such a time of economic uncertainty.
Looking at loans upon exiting the forbearance program, about 38% percent of homeowners are paid in full by either making monthly payments or paying off their loan. Then, about 44% percent are on some sort of repayment plan – homeowners who have been able to make a loan modification or deferral. Unfortunately, 18.2% of homeowners are exiting the forbearance plan without a loss mitigation plan. The bright side of that is, according to Black Knight, 93% of homeowners in a forbearance plan have at least 10% equity, allowing them the opportunity to sell their home. To put this all in perspective, during the housing bubble burst in 2008, we saw 9.3 million homes go into foreclosure. We are in a very different situation today.
We have significantly fewer foreclosures today than we would even in a normal year. Obviously, the forbearance program came allowed us to see record low foreclosures in the most recent years.
Foreclosure activity is at an all-time low. We are at 151,000 foreclosures, whereas in 2007 to 2015, millions of homeowners were going into the foreclosure process. Even if this number of 151,000 doubled, tripled, or even quadrupled, we would be nowhere near where we were when the housing bubble burst.
Mortgage rates have increased significantly since the beginning of the year. Each Thursday, Freddie Mac releases its Primary Mortgage Market Survey. According to the latest survey, the average 30-year fixed-rate mortgage has risen from 3.22% at the start of the year to 3.55% as of last week. This is important to note because any increase in mortgage rates changes what a purchaser can afford. To give you an idea of how rising mortgage rates impact your purchasing power, see the table below: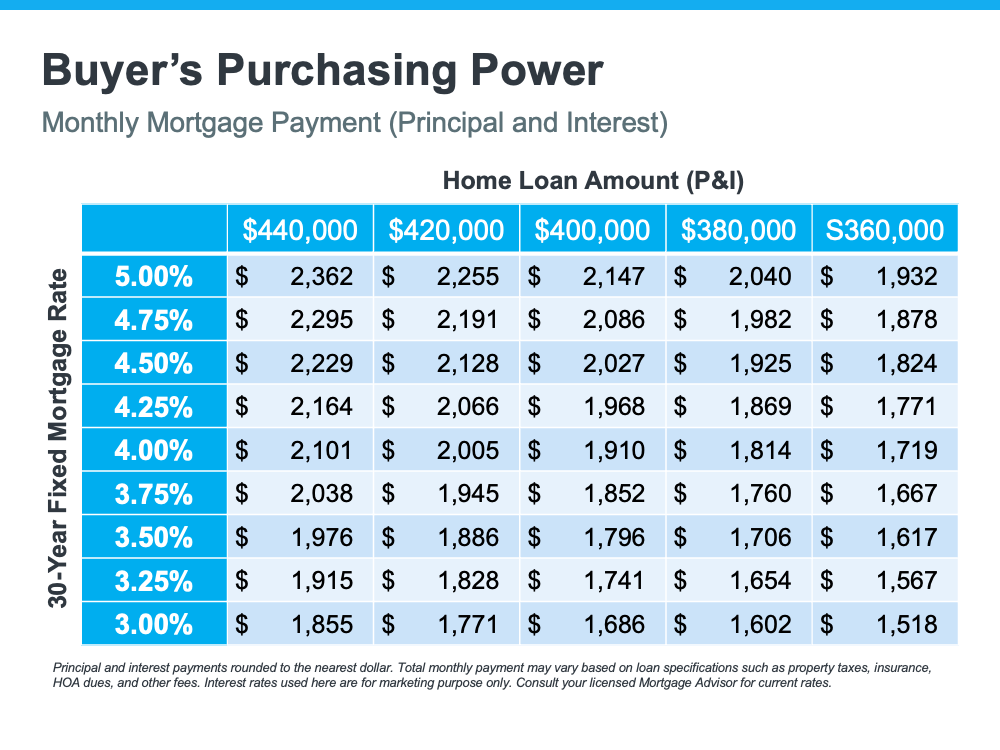 How Can You Know Where Mortgage Rates Are Headed?
While it's always difficult to know exactly where mortgage rates will go, a great indicator of where they may head is by looking at the 50-year history of the 10-year treasury yield, and then following its path. Understanding the mechanics of the treasury yield isn't as important as knowing that there's a correlation between how it moves and how mortgage rates follow. Here's a graph showing that relationship over the last 50 years: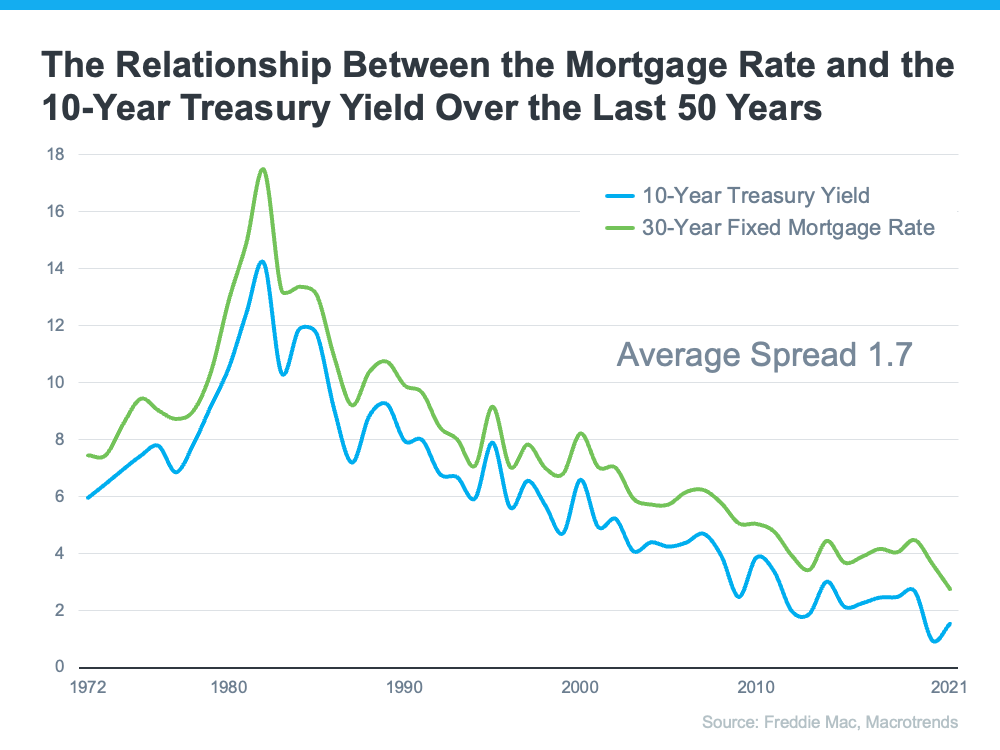 This correlation has continued into the new year. The treasury yield has started to climb, and that's driven rates up. As of last Thursday, the treasury yield was 1.81%. That's 1.74% below the mortgage rate reported the same day (3.55%) and is very close to the average spread we see between the two numbers (average spread is 1.7).
Where Will the Treasury Yield Head in the Future?
With this information in mind, a 10-year treasury-yield forecast would be a good indicator of where mortgage rates may be headed. The Wall Street Journal just surveyed a panel of over 75 academic, business, and financial economists asking them to forecast the treasury yield over the next few years. The consensus was that experts project the treasury yield will climb to 2.84% by the end of 2024. Based on the 50-year history of following this yield, that would likely put mortgage rates at about 4.5% in three years.
While the correlation between the 30-year fixed mortgage rate and the 10-year treasury yield is clear in the data shown above for the past 50 years, it shouldn't be used as an exact indicator. They're both hard to forecast, especially in this unprecedented economic time driven by a global pandemic. Yet understanding the relationship can help you get an idea of where rates may be going. It appears, based on the information we have now, that mortgage rates will continue to rise over the next few years. If that's the case, your best bet may be to purchase a home sooner rather than later, if you're able.
Forecasting mortgage rates is very difficult. As Mark Fleming, Chief Economist at First American, once said:
"You know, the fallacy of economic forecasting is don't ever try and forecast interest rates and or, more specifically, if you're a real estate economist mortgage rates, because you will always invariably be wrong."
However, if you're either a first-time homebuyer or a current homeowner thinking of moving into a home that better fits your changing needs, understanding what's happening with the 10-year treasury yield and mortgage rates can help you make an informed decision on the timing of your purchase.
An increased supply and slowing of demand, likely due to rising interest rates, may causse the real estate market to be less competitive and see prices normalize.
2021 was an incredible year for real estate in the U.S. due to low mortgage rates, lots of demand, low inventory, and a rebounding job market. Supply and demand is still unbalanced headed into this spring, allowing sellers the upper hand. In an interview with the Associated Press, Lawrence Yun, Chief Economist at the National Association of Realtors® answers some burning questions about this year in real estate.
Question: How do you see the housing market's trajectory shaping up this year?
Answer: The mortgage rates will definitely be higher, which means that people who were barely able to qualify last year will not be able to do so this year. Combine that with some increase in supply. Builders have the profit motive. Lumber prices and other materials costs are rising, but they're simply tacking on those additional costs to consumers, who are willing to buy. So, increased supply, some chopping off of demand from rising interest rates, should lead to less intense competitive market conditions. Price growth will be something around 5% in 2022, which will be a very normal rate of increase.
Question: Fair to say homeowners who are selling will still have an edge on buyers nationally?
Answer: We're in a housing shortage of roughly 3 or 4 million. And given that homebuilders can probably at the maximum put up maybe 2 million homes, more likely 1.7 or 1.8 million homes (a year), this housing shortage will persist this year and probably linger on somewhat next year. Hence, the market in 2022 will still favor sellers.
Question: How high do you see mortgage rates going this year?
Answer: My best guess at the moment is about 3.7%. It could be a little lower or a little higher, but it's going to certainly be higher than the 3% people enjoyed last year.
Question: To what degree will higher rates dampen home sales?
Answer: Rising home prices have hindered affordability, but now rising interest rates are another thing that will begin to shave off some of the demand potential from first-time buyers. My official forecast for home sales this year is they will come down about 2% from last year.
Question: Has the pandemic led to any enduring changes to the way Americans buy and sell homes?
Answer: The pandemic will come to an end. Hopefully, the sooner the better. But the work-from-home situation, that development is here to stay. That will be the key factor driving the housing market preference and demand.
Question: What's the biggest worry you have about the housing market now?
Answer: The housing market is on a solid foundation, in the sense that we don't have those loose lending conditions. Housing equity, minus the mortgage balance, is substantial.
We need to ensure that the housing supply continues to increase, and look at converting office and other spaces to affordable housing.
Like most industries, residential real estate has a seasonality to it. For example, toy stores sell more toys in October, November, and December than they do in any other three-month span throughout the year. More cars are sold in the U.S. during the second quarter (April, May, and June) than in any other quarter of the year.
Real estate is very similar. The number of homes sold in the spring is almost always much greater than at any other time of the year. It's even labeled as the 
spring buying season
. Historically, the number of buyers and listings for sale significantly increase in the spring and remains strong throughout the summer. Once fall sets in, the number of buyers and sellers typically drops off.
Last year, however, that seasonality didn't happen. The outbreak of the virus and subsequent slowing of the economy limited sales during the spring market. These sales were pushed back later in the year, and last fall and winter saw a dramatic increase in home sales over previous years. The only thing that held the market back was the extremely limited supply of homes for sale.
What About This Winter?
Some experts thought we'd return to the industry's normal seasonality this winter with both the number of purchasers and houses available for sale falling off. However, data now shows that neither of those situations will likely occur. Buyer demand is still extremely strong, and it appears we may soon see a somewhat uncharacteristic increase in the number of homes coming to the market.
Buyer Demand Remains Strong
The latest Showing Index from ShowingTime, which tracks the average number of monthly showings on available homes, indicates buyer activity was slightly lower than at the same time last year but much higher than any of the three previous years (see chart below):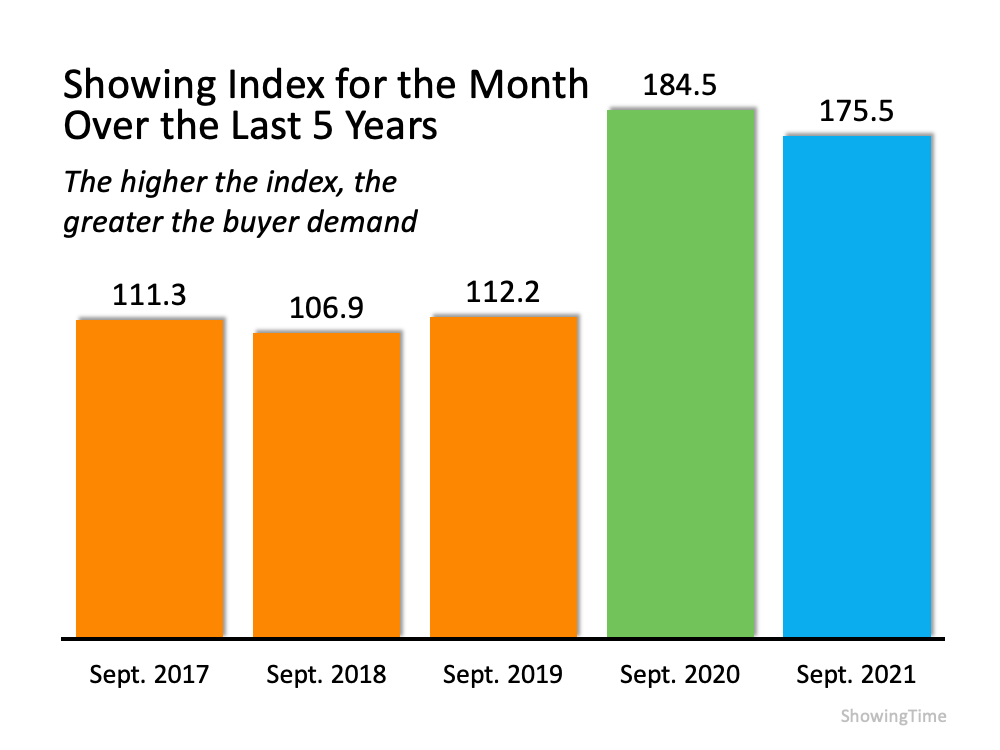 A report from realtor.com confirms buying activity remains strong in the existing home sales market:
"New housing data shows 2021's feverish home sales pace broke a yearly record in October, . . . with last month marking the eighth straight month of buyers snatching up homes more quickly than the fastest pace in previous years. . . ."
Buyer activity for newly constructed homes is also very strong. Ali Wolf, Chief Economist for Zonda, recently reported that Stuart Miller, the Executive Chairman of Lennar, one of the nation's largest home builders, said this about demand:
"There is still a great deal of demand at our sales centers with people lining up and not enough supply."
The only question heading into this winter is whether the number of listings available could come close to meeting this buyer demand. We may have just received the answer to that question.
Sellers Are About To List – Right Now
Instead of waiting for the normal spring buying market, new research indicates that homeowners thinking about selling are about to put their homes on the market this winter.
Speaking to the release of a report on this recent research, George Ratiu, Manager of Economic Research for realtor.com, said:
"The pandemic has delayed plans for many Americans, and homeowners looking to move on to the next stage of life are no exception. Recent survey data suggests the majority of prospective sellers are actively preparing to enter the market this winter."
Here are some highlights in the report:
Of homeowners planning to enter the market in the next year:
65% – Have just listed (19%) or plan to list this winter
93% – Have already taken steps toward listing their home, including working with an agent (28%)
36% – Have researched the value of their home and others in their neighborhood
36% – Have started making repairs or decluttering
The report also discusses the reasons sellers want to move:
33% – Have realized they want different home features
37% – Say their home no longer meets their family's needs
32% – Want to move closer to friends and family
23% – Are looking for a home office
Data shows buyer demand remains unusually strong going into this winter. Research indicates the supply of inventory is about to increase. This could be a winter real estate market like never before.
If you're thinking of buying or selling, now is the time to have a heart-to-heart conversation with a real estate professional in your market, as things are about to change in an unexpected way.
To put some context on what is happening in the market with prices right now, let's look at the latest year-over-year home price appreciation.
This dramatic home price appreciation is a factor of the recent supply and demand imbalance we have talked about over the past months. We simply have not had enough homes on the market for the demand from buyers, which caused prices to rise.
When the experts start speaking of "decelerating trends," they are not projecting depreciation, just a slower, more moderate home price appreciation. This is where understanding the difference between depreciation and a decelerating trend is paramount to understand what is going on in the market. To help clarify, let's look at the estimated home price performance from the Home Price Expectations Survey.
Through the remainder of 2021, home prices are expected to increase or appreciate (11.74%). So, a slowing of the appreciation we are seeing at 17% and 18%. Then looking ahead, prices are expected to appreciate on a more moderate level – an average of 5.7% through 2025. Home prices are continuing to accelerate, just at a slower pace. The combination of continued home price appreciation, and increasing mortgage interest rates, means buying now could be critical to a long-term wealth advantage.
Forecasters are struggling with the forecasts for the remainder of this year. To understand why this is, let's take a look at the annualized home sales for 2019, 2020, and 2021.
Business slowed during the lockdown in 2020 when people were taking their homes off the market due to uncertainty. We then saw a tremendous end to 2020, as people began to feel more comfortable, and we seemed to be making up for the missed business earlier in the year. Then in 2021, it looks like we are headed for less business year-over-year, compared to 2020. The reality is that the second part of 2020 was unusual, and making up for a crazy time in the market. Let's also not forget we are trending well above 2019 – which was a very good year in real estate.
2019 was the best year in real estate (with the exception of 2017) in the past decade. Remember how to put it into perspective when the news tries to taunt us with the scary headline that, "We're down year over year." We are below prior year because it was unusual with the lockdown and we packed a year's worth of business in the latter part of the year, but, despite this, we are well above 2019 – one of the best years in real estate over the past decade.
Typically, we see listings (homes coming to market) peak in fall. This was the case for 2017, 2018, and 2019.
However, in 2020 monthly listing counts peaked in April.
In 2020, as listings decreased, sales increased.
And the big question becomes: When will listings peak this year? Listings could either grow, and we eclipse where we were in 2020, which would be a huge relief on pricing. Or, listings flatten out, and we intersect where we were in 2020 at some point. Finally, listings could begin to dwindle, and cause more price appreciation.
However, it seems as if we will see continued listings going into this fall. First, because of pent up seller demand, and homeowners being more comfortable putting their homes on the market. Second, new construction. Building is starting to take off as material prices start to equalize. Third, and finally, the end of forbearance will create new listings. Not a wave of foreclosures, but it will create a time in the market for people that say, "We can't afford the home any longer, and we're going to have to sell it." In addition, the recent price appreciation may cause people to want to take advantage of that equity and move.
Interest rates are becoming a hot topic in the market right now. It's going to become more expensive for people to borrow. Right now the 30-year fixed just jumped above 3%.
We see the Fed starting to taper on buying in the mortgage market, causing interest rates to go up.
Around the middle to the third quarter of next year, interest rates are projected to be about 3.5%. Interest rates are on the rise. So what is the cost of waiting?
Let's look at an example of a $300,000 home today at a 2.7% interest rate. With the home price appreciation projections, and interest rate projections, that could mean a monthly payment increase of $72.45 or a difference over the life of the 30-year loan of $25,938 if the purchase doesn't happen today, but happens in the fourth quarter of this year. It's going to cost more to purchase and finance a home in the months (and years) to come.
The Home Price Expectations Survey shows that if you look at a $350,000 home over the next five years, the purchaser of that home stands to gain just over $111,000 in gained equity based on forecasted appreciations for the next five years. Homeownership cannot only accumulate wealth, but be an effective hedge against inflation, because you have a fixed payment.

Here's how we wrapped up the month in Tallahassee:


As always, thanks for keeping updated with us, and we look forward to updating you again next month!
If you're thinking of buying or selling a house, chances are you're focusing on the many 
extraordinary ways
 it'll change your life. What you may not realize is that decision impacts people's lives far beyond your own. Home purchases and sales are significant drivers of economic activity. They have a major impact on your community and the entire U.S. economy via the multiple industries and professionals that take part in the process.
The 
National Association of Realtors
 (NAR) releases a 
report
 each year that highlights just how much economic activity a home sale generates. The chart below shows how the sale of both a newly built home and an existing home impact the economy: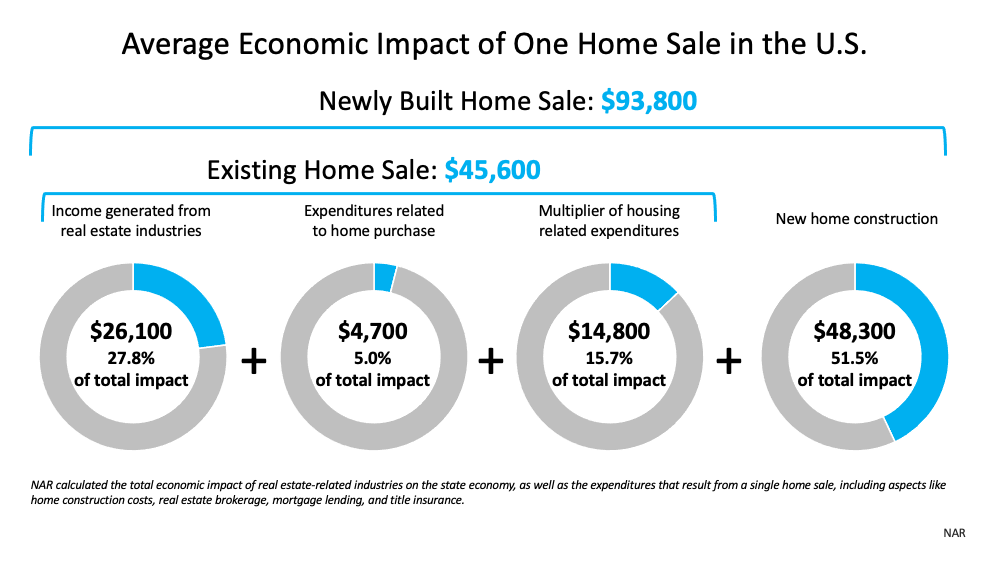 To dive a level deeper, NAR also provides a detailed look at how that varies 
state-by-state
 for newly-built homes (
see map below
):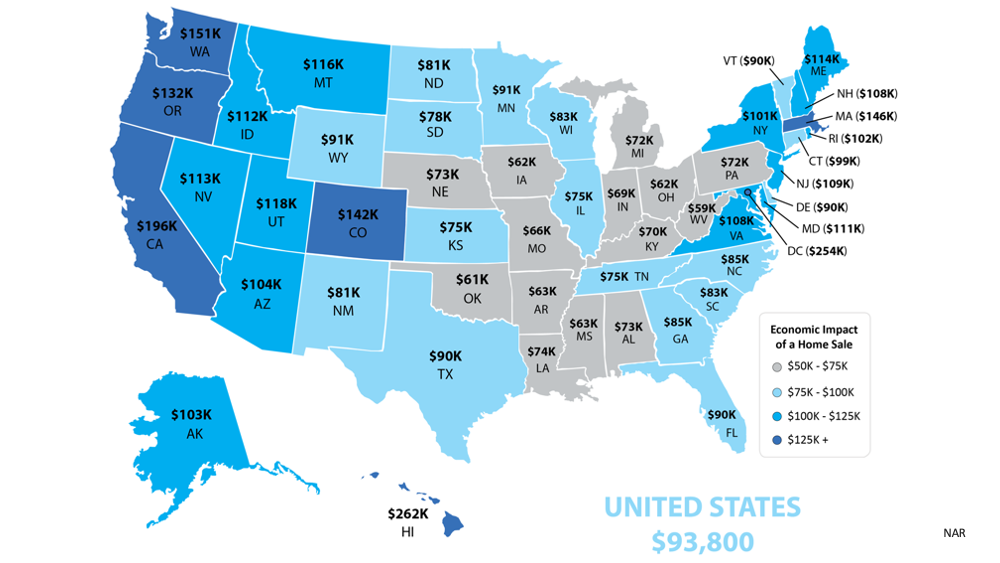 As you can see, a single home sale can have a massive effect on the overall economy. Ali Wolf, Chief Economist for 
Zonda
, talks about this in a 
recent article
, noting there's a significant impact at each distinct phase of the transaction:
"The housing market contributes to the economy in four main stages: during planning and land development, throughout the actual construction of the home, at the point of sale, and upon moving in."
When you buy or sell a home, you're leaving a lasting impression on the community at large in addition to fulfilling your own needs. That's because each stage of the process involves numerous contractors, specialists, lawyers, town and city officials, and so many other professionals. Every individual you work with, from your trusted real estate advisor to the architects who design new homes, has their own team of professionals involved behind the scenes.
Homebuyers and sellers are economic drivers in their community and beyond. Selling won't just change your life; it'll make a powerful impact on our entire community.
As we move into the latter half of the year, questions about what's to come are top of mind for buyers and sellers. Near record-low mortgage rates coupled with rising home price appreciation kicked off a robust housing market in the first half of 2021, but what does the forecast tell us about what's on the horizon?
Mortgage Rates Will Likely Increase, but Remain Low
Many experts are projecting a rise in interest rates. The latest Quarterly Forecast from Freddie Mac states:
"We forecast that mortgage rates will continue to rise through the end of next year. We estimate the 30-year fixed mortgage rate will average 3.4% in the fourth quarter of 2021, rising to 3.8% in the fourth quarter of 2022."
However, even as mortgage rates rise, the anticipated increase is expected to be modest at most, and still well below historical averages. Rates remaining low is good news for homebuyers who are looking to maximize their purchasing power. The same report from Freddie Mac goes on to say:
"While higher mortgage rates will help slow the pace of home sales and moderate house price growth, we expect overall housing market activity will remain robust. Our forecast has total home sales, the sum of new and existing home sales, at 7.1 million in 2021…."
Home Price Appreciation Will Continue, but Price Growth Will Likely Slow
Joe Seydl, Senior Markets Economist at J.P. Morgan, projects home prices to continue rising as well, indicating buyers interested in purchasing a home should do so sooner rather than later. Waiting for rates or home prices to fall may not be wise:
"Homebuyers—interest rates are still historically low, though they are inching up. Housing prices have spiked during the last six-to-nine months, but we don't expect them to fall soon, and we believe they are more likely to keep rising. If you are looking to purchase a new home, conditions now may be better than 12 months hence."
Other experts remain optimistic about home prices, too. The graph below highlights 2021 home price forecasts from multiple industry leaders: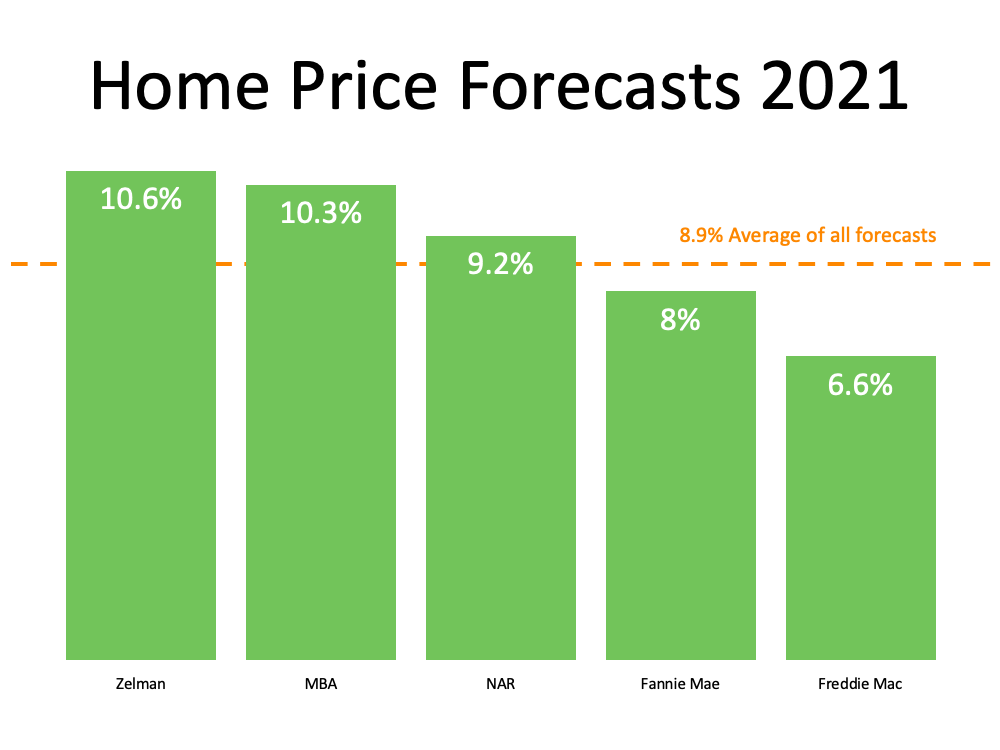 Inventory Remains a Challenge, but There's Reason To Be Optimistic
Home prices are rising, but they should moderate as more housing inventory comes to market. George Ratiu, Senior Economist at realtor.com, notes there are signs that we may see the current inventory challenges lessen, slowing the fast-paced home price appreciation and creating more choices for buyers:
"We have seen more new listings this year compared with 2020 in 11 of the last 13 weeks. The influx of new sellers over the last couple of months has been especially helpful in slowing price gains."
New home starts are also showing signs of improvement, which further bolsters hopes of more options coming to market. Robert Dietz, Chief Economist at the National Association of Home Builders (NAHB), writes:
"As an indicator of the economic impact of housing, there are now 652,000 single-family homes under construction. This is 28% higher than a year ago."
Finally, while it may not fundamentally change the market conditions we're currently experiencing, another reason to be optimistic more homes might come to market: our improving economy. Mark Fleming, Chief Economist at First American, notes:
"A growing economy in the summer months has multiple implications for the housing market. Growing consumer confidence, a stronger labor market, and higher wages bode well for housing demand. While a growing economy and improving public health conditions may also spur hesitant existing owners to list their homes for sale, it's unlikely to significantly ease the super sellers' market conditions."
As we look at the forecast for prices, interest rates, inventory, and home sales, experts remain optimistic about what's on the horizon for the second half of 2021.
During the Great Recession, just over a decade ago, the financial systems the world depended on started to collapse. It created a panic that drove some large companies out of business (ex. Lehman Brothers) and many more into 
bankruptcy
.
The financial crisis that accompanied the current pandemic caused hardship to certain industries and hurt many small businesses. However, it hasn't rattled the world economy. It seems that a year later, things are slowly getting back to normal for many companies.
Why is there a drastic difference between 2008 and now?
In a post from RealtyTrac, they explain:
"We changed the rules. We told banks they needed more reserves and that they could no longer underwrite toxic mortgages. It turns out that regulation — properly done — can help us navigate financial minefields."
Here are the results of that regulation, captured in a graph depicting the number of failed banks since 2007.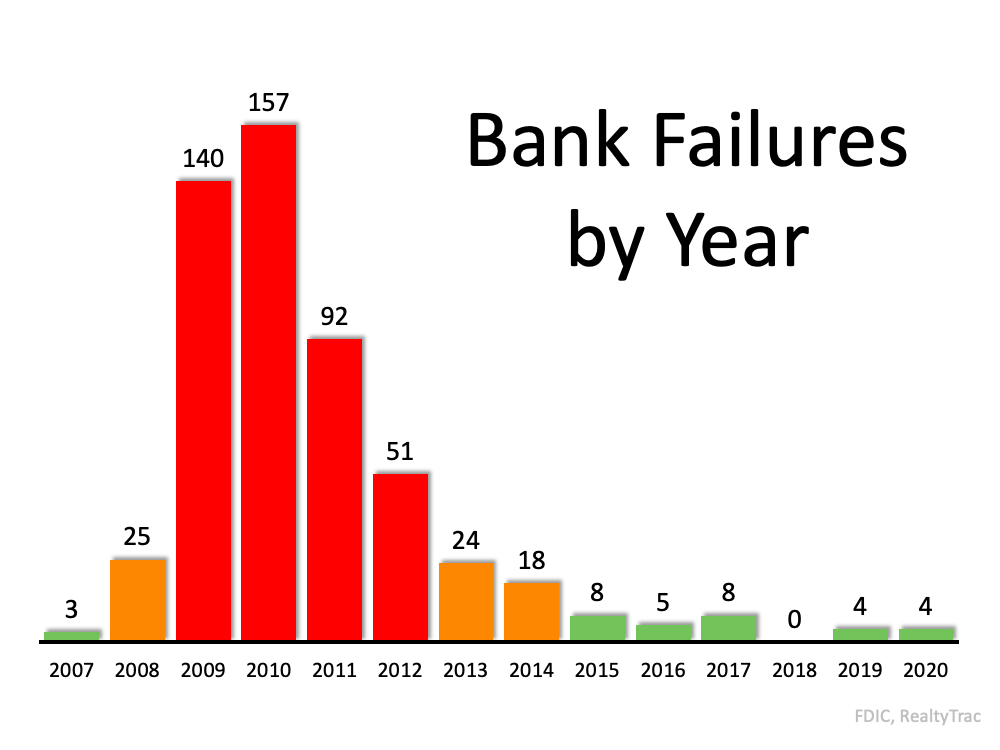 What was different this time?
The post mentioned above explains:
"In 2008 the government saw the foreclosure meltdown as a top-down problem and set aside $700 billion for banks under the Troubled Asset Relief Program (TARP). Not all of the $700 billion was used, but the important point is that the government did not act with equal fervor to help flailing homeowners, millions of whom lost their homes to foreclosures and short sales.
This time around the government forcefully moved to help ordinary citizens. Working from the bottom-up, an estimated $5.3 trillion went to the public in 2020 through such mechanisms as the Paycheck Protection Program (PPP), expanded unemployment benefits, tax incentives, and help for local governments. So far this year we have the $1.9 billion American Rescue Plan with millions of $1,400 checks as well as proposals to spend trillions more on infrastructure…Bank deposits increased by nearly $2 trillion during the past year and credit card debt fell."
Many have suffered over the past year. However, the economic toll of the current recession was nowhere near the scope of the Great Recession, and it won't result in a housing crisis.
When stay-at-home mandates were enforced last year, many households realized their homes didn't really fulfill their new lifestyle needs. An office (in some cases two), a media room, space for children to learn, a gym, and a large yard are all examples of amenities that became highly desirable almost overnight.
Zelman & Associates
 recently reported that 
sales
 of primary residences grew by 9% in 2020.
 That increase in demand was met by the lowest supply of homes for sale in history. High demand and low supply caused prices to skyrocket over the past twelve months. Here are three home price indexes released most recently that show how home values have risen:
Prices increased by double digits in every region of the country and in 19 of 20 major metros. Chicago was the only exception, where prices still rose by 9%.
What does this mean to those who purchased a second home during the pandemic?
Many people didn't want to give up a home in the city or close to their office. Instead, they purchased a larger second home farther away and moved there to stay safe and have more space. According to the same Zelman report, sales for second homes rose an astonishing 27% in 2020.
That large second-home retreat on a lake or in the mountains would demand a higher price than the average house. Let's assume a buyer purchased such a home for $500,000. Assuming the middle 13.2% appreciation shown above, that home would now be worth about $566,000.
Those who bought second homes to improve their lifestyle during the height of the pandemic, or those who just wanted to be in a safer environment, also made a great investment.
What should these homeowners do now as the pandemic is receding, and the economy is reopening?
The buyers of those second homes now have a decision to make. Many will move back to the original home they still own (the one that's closer to work, friends, and family). Should they keep the second home? That could depend on answers to questions like these:
Now that you may have to go back to the office (at least a few days a week) and students are required to physically attend school, would you still use the second house enough to warrant the expenses of an additional home?
Would you go to the second home on most weekends, or would you return to the movie theater, attend sporting events, eat out at fine restaurants, or spend your time traveling again?
If you purchased a larger second home during the pandemic, you were able to make day-to-day life much easier for those important to you. You also made it much safer. However, with those goals already accomplished, you now need to decide whether to continue paying the extra expenses or sell the house and cash in your profit.