The desire to own a home is still strong today. In fact, according to the Census, the U.S. homeownership rate is on the rise. To illustrate the increase, the graph below shows the homeownership rate over the last year: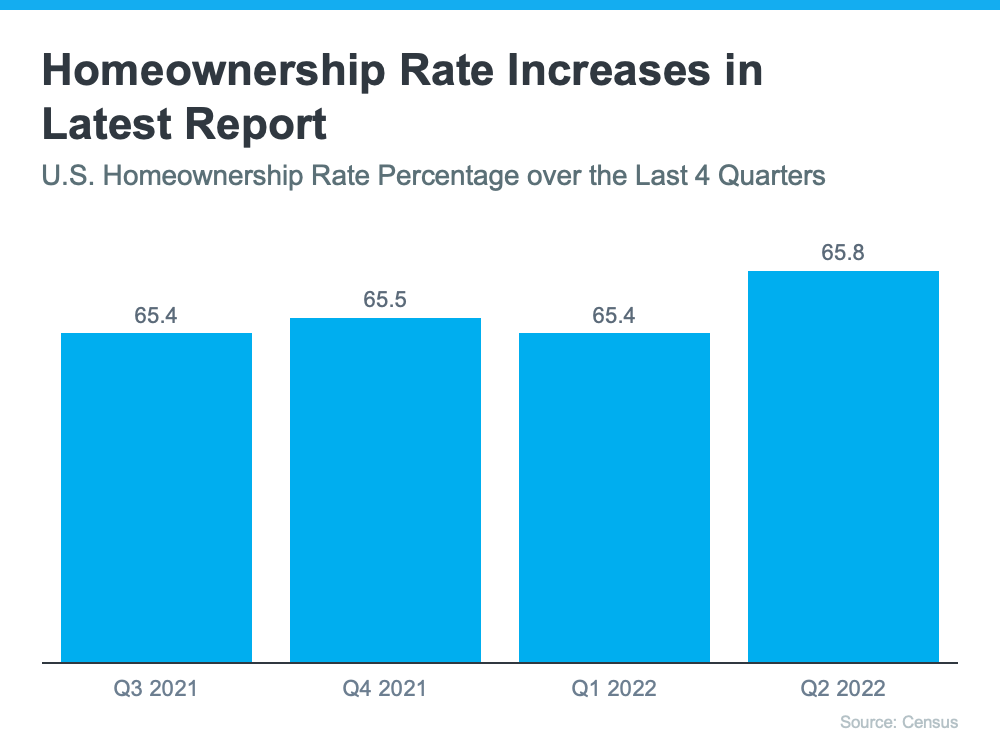 That data shows more than half of the U.S. population live in a home they own, and the percentage is growing with time.
If you're thinking about buying a home this year, here are just a few reasons why so many people see the value of homeownership.
Why Are More People Becoming Homeowners?
There are several benefits to owning your home. A significant one, especially when inflation is high like it is today, is that homeownership can help protect you from rising costs. Lawrence Yun, Chief Economist at the National Association of Realtors (NAR), explains:
"In the 1970s, when inflation was running around 10%, home prices were rising at approximately the same rate. Renters actually have a harder time in inflationary periods, because rents tend to rise along with inflation, whereas mortgage payments stay the same for homeowners with fixed-rate mortgages."
When you buy a home with a fixed-rate mortgage, you can lock in what's likely your biggest monthly expense – your housing payment – for the duration of that loan, often 15-30 years.
That gives you a predictable monthly housing expense that can benefit you in the short term, but you'll also gain equity over time as your home appreciates in value and you make your monthly mortgage payment.
And with that growing equity, your net worth will increase as well. In fact, the latest data from NAR shows the median household net worth of a homeowner is roughly $300,000, while the median net worth of renters is only about $8,000. That means a homeowner's net worth is nearly 40 times that of a renter.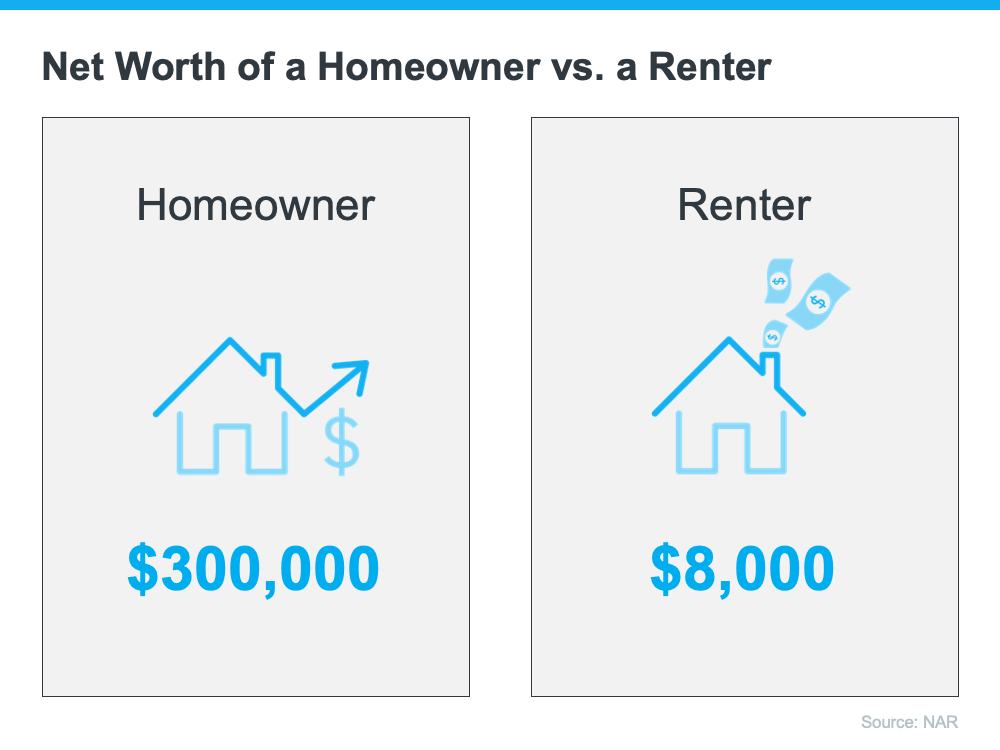 Bottom Line
The U.S. homeownership rate is growing.
If rising home prices leave you wondering if it makes more sense to rent or buy a home in today's housing market, consider this. It's not just home prices that have risen in recent years – rental prices have skyrocketed as well. As a recent article from realtor.com says:
"The median rent across the 50 largest US metropolitan areas reached $1,876 in June, a new record level for Realtor.com data for the 16th consecutive month."
That means rising prices will likely impact your housing plans either way. But there are a few key differences that could make buying a home a more worthwhile option for you.
If You Need More Space, Buying a Home May Be More Affordable
What you may not realize is that, according to the latest data from realtor.com and the National Association of Realtors (NAR), it may actually be more affordable to buy than rent depending on how many bedrooms you need. The graph below uses the median rental payment and median mortgage payment across the country to show why.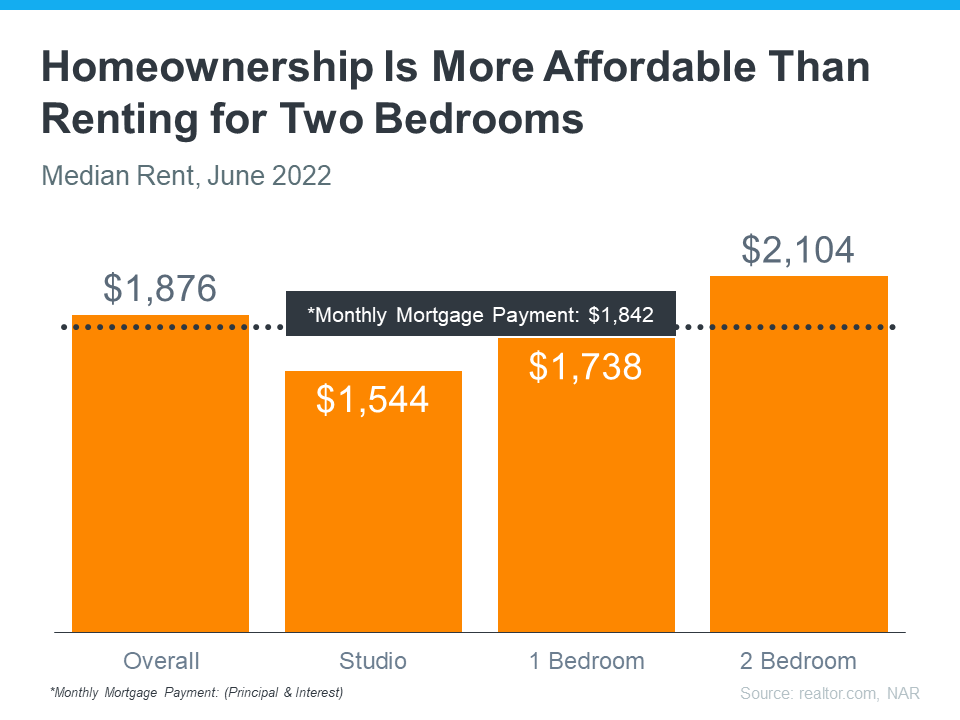 As the graph conveys, if you need two or more bedrooms, it may actually be more affordable to buy a home even as prices rise. While this doesn't take into consideration the interest deduction or other financial advantages that come with owning a home, it does help paint the picture that it may be more affordable to buy then rent for that unit size based on nationwide averages. So, if one of the factors motivating you to move is a desire for more space, this could be the added encouragement you need to consider homeownership.
Homeownership Also Provides Stability and a Chance To Grow Your Wealth
In addition to being more affordable depending on how many bedrooms you need, buying has two other key benefits: payment stability and equity.
When you buy a home, you lock in your monthly payment with your fixed-rate mortgage. And that's especially important in today's inflationary economy. With inflation, prices rise across the board for things like gas, groceries, and more. Locking in your housing payment, which is likely your largest monthly expense, can provide greater long-term stability and help shield you from those rising expenses moving forward. Renting doesn't provide that same predictability. A recent article from CNET explains it like this:
"…if you buy a house and secure a fixed-rate mortgage, that means that no matter how much prices or interest rates go up, your fixed payment will stay the same every month. That's an advantage over renting since there's a good chance your landlord will raise your rent to counter inflationary pressures."
Not to mention, when you buy, you have the chance to build equity, which in turn grows your net worth. It works like this. As you pay down your home loan over time and as home values continue to appreciate, so does your equity. And that equity can make it easier to fuel a move into a future home if you decide you need a bigger home later on. Again, the CNET article mentioned above helps explain:
"Homeownership is still considered one of the most reliable ways to build wealth. When you make monthly mortgage payments, you're building equity in your home that you can tap into later on. When you rent, you aren't investing in your financial future the same way you are when you're paying off a mortgage."
Bottom Line
If you're trying to decide whether to keep renting or buy a home, explore your options. With home equity and a shield against inflation on the line, it may make more sense to buy a home if you're able to.
If you're following along with the news today, you've likely heard about rising inflation. You're also likely feeling the impact in your day-to-day life as prices go up for gas, groceries, and more. These rising consumer costs can put a pinch on your wallet and make you re-evaluate any big purchases you have planned to ensure they're still worthwhile.
If you've been thinking about purchasing a home this year, you're probably wondering if you should continue down that path or if it makes more sense to wait. While the answer depends on your situation, here's how homeownership can help you combat the rising costs that come with inflation.
Homeownership Offers Stability and Security
Investopedia explains that during a period of high inflation, prices rise across the board. That's true for things like food, entertainment, and other goods and services, even housing. Both rental prices and home prices are on the rise. So, as a buyer, how can you protect yourself from increasing costs? The answer lies in homeownership.
Buying a home allows you to stabilize what's typically your biggest monthly expense: your housing cost. If you get a fixed-rate mortgage on your home, you lock in your monthly payment for the duration of your loan, often 15 to 30 years. James Royal, Senior Wealth Management Reporter at Bankrate, says:
"A fixed-rate mortgage allows you to maintain the biggest portion of housing expenses at the same payment. Sure, property taxes will rise and other expenses may creep up, but your monthly housing payment remains the same."
So even if other prices rise, your housing payment will be a reliable amount that can help keep your budget in check. If you rent, you don't have that same benefit, and you won't be protected from rising housing costs.
Use Home Price Appreciation to Your Benefit
While it's true rising mortgage rates and home prices mean buying a house today costs more than it did a year ago, you still have an opportunity to set yourself up for a long-term win. Buying now lets you lock in at today's rates and prices before both climb higher.
In inflationary times, it's especially important to invest your money in an asset that traditionally holds or grows in value. The graph below shows how home price appreciation outperformed inflation in most decades going all the way back to the seventies – making homeownership a historically strong hedge against inflation (see graph below):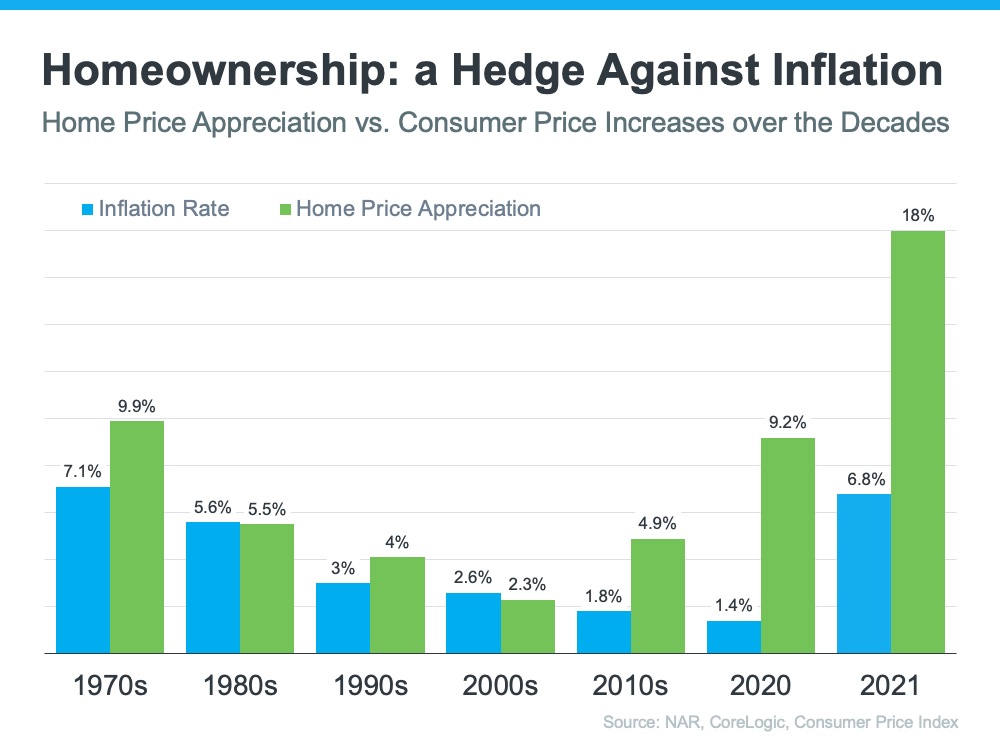 So, what does that mean for you? Today, experts say home prices will only go up from here thanks to the ongoing imbalance in supply and demand. Once you buy a house, any home price appreciation that does occur will be good for your equity and your net worth. And since homes are typically assets that grow in value (even in inflationary times), you have peace of mind that history shows your investment is a strong one.
Bottom Line
If you're ready to buy a home, it may make sense to move forward with your plans despite rising inflation.
Every year, many renters ask themselves the same question: Should I continue renting, or is it time to buy a home? If you're a renter, chances are you've asked yourself that question at least once, and it's likely because you've faced an increase in your monthly housing costs over time. After all, according to Census data, rents have risen consistently for decades.
To make an informed and powerful decision, the first step is understanding what's happening in today's housing market so you can determine which option is the better long-term financial decision for you.
Rents Are Going Up Again This Year
Rents are skyrocketing right now. Data from realtor.com shows just how much rental prices are surging throughout the country. The graph below highlights rental unit price increases over the past year: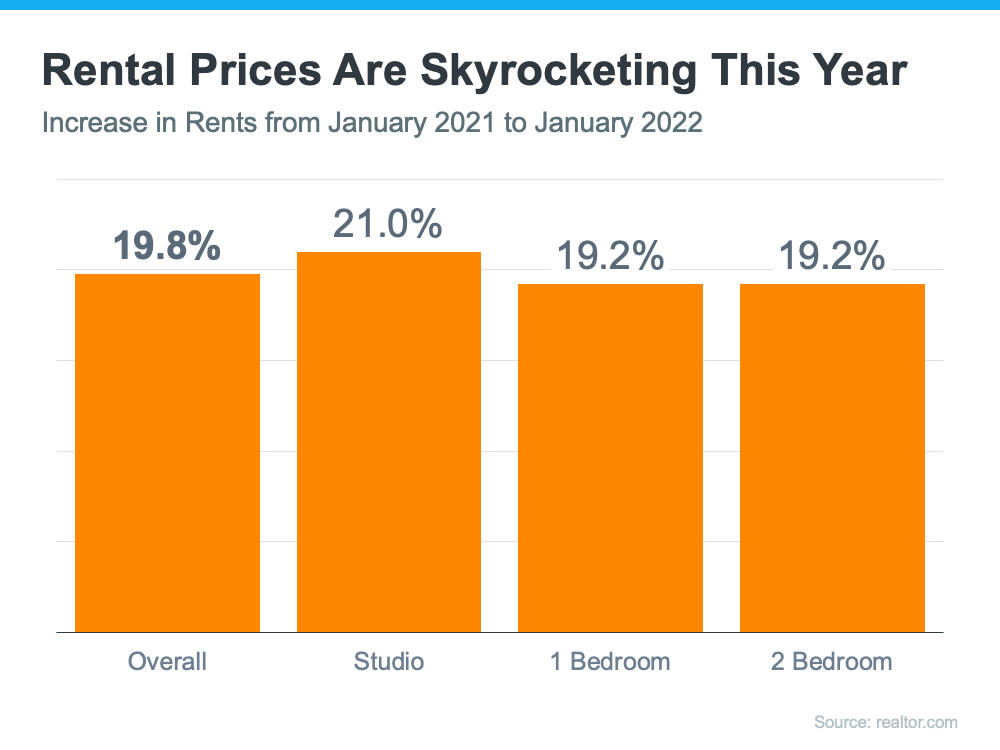 If you're a renter and plan on signing a new lease, your monthly costs are likely to go up when you do. Those rising costs can have a big impact on your financial goals, including any plans you're making to save for a home purchase.
Homeownership Offers Stable Monthly Costs
Of course, one of the key benefits of owning your home is that you're able to lock in and stabilize your payments for the duration of your loan. That's not the case when you rent.
While rents are already on the rise, there's a good chance many people will see their rental costs increase even more this year. As Danielle Hale, Chief Economist at realtor.com, says:
"With rents already at a high and expected to keep going up, rental affordability will increasingly challenge many Americans in 2022. For those thinking about making the transition from renting to buying their first home, rising rents will remain a motivating factor. . . ."
So, if you're ready to become a homeowner, waiting any longer may not make financial sense. Instead, escape the cycle of rising rents and enjoy the many benefits that come with homeownership today.
Bottom Line
Starting your journey towards homeownership can pay off significantly this year.
It's truly hard to believe that it was two years ago that a worldwide pandemic fundamentally changed the world. The housing market was certainly not immune to that. Let's take some time to answer some of those burning questions about the real estate market.
Prior to the pandemic, a normal year of home price appreciation was about 3.8%. Corelogic reported this number at 6% in 2020. Really significant. Then last year, we saw more than double the home price appreciation in 2020. Incredible home price appreciation over the past two years. Why? Mostly because of supply and demand – there are more buyers in the market than homes available.
Home prices are still accelerating. The most important thing to understand when we hear the experts predict home price "deceleration" is that this means homes will continue to appreciate, but at a slower, more moderate rate. Deceleration does NOT equal depreciation.
The average of the 7 expert forecasts for home price appreciation in 2022 is 6.1%. The reality is that if we continue to see low inventory, we will likely see these forecasts trend upward. Six to seven months inventory on the market is the perfect balance of supply and demand. Less inventory is a seller's market, and more inventory is a buyer's market.
New listings in Tallahassee seem to be failing pretty significantly over the past year. With 77% of consumers (according to a recent realtor.com study) feeling like their market is in a housing bubble, it is important now, more than ever, to be informed. So… let's tackle that perspective.
Inventory of homes today is nothing like the last time. It was a buyer's market in the years leading up to the housing crash – we had an oversupply of homes. Today, we are seeing record lows. Inventory is in a totally different place today, and the demand is more than the market can handle.
Credit scores are nothing like the last time either, and were, quite frankly, one of the leading causes of the housing bubble. Between 2003 and 2007, significantly more loans were issued to buyers who had a credit score less than 620. Since then, lending standards have gotten much tighter.
Homeowners have significantly more equity today, so they're in a much better financial situation. In addition, forbearance helped homeowners to the point in which we will not see a wave of foreclosures come to the market.
These are all the wonderful reasons we are not in a housing bubble.
Let's wrap up this month by touching on net worth and the long-term financial benefits of owning a home. In addition to stability, there is a sense of financial security in homeownership. According to the National Association of Realtors®, the average net worth of a homeowner today is $300,000, while the average net worth of a renter is $8,000. That's staggering. Again, homes will continue to appreciate in value, allowing buyer's to take advantage of that equity gain.
Bottom Line
Home prices are still accelerating, and may continue rising as a direct result of supply and demand. The market data simply does not support that we are in a housing bubble. Despite the rising prices, it is still a good time to buy, since homes are not predicted to depreciate, only appreciate at a slower, more moderate rate.
Tallahassee Market Statistics
If you're thinking about buying or selling a home, you'll want to keep a pulse on what's happening with mortgage rates. Rates have been climbing in recent months, especially since January of this year. And just a few weeks ago, the 30-year fixed mortgage rate from Freddie Mac approached 4% for the first time since May of 2019. But that climb has dropped slightly over the past few weeks (see graph below):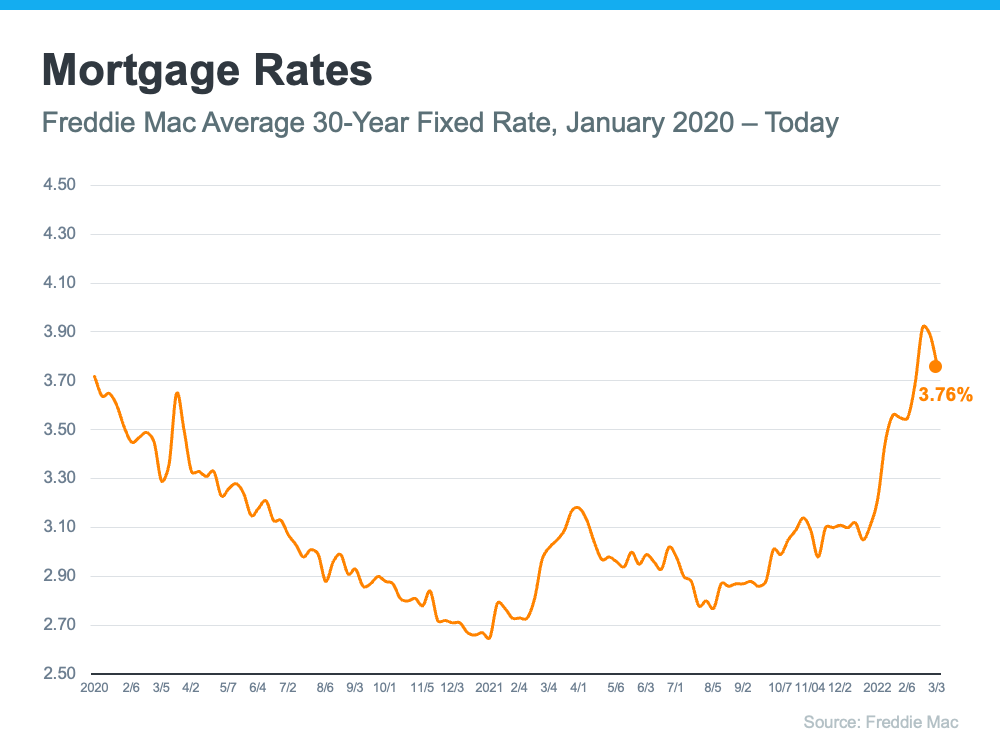 The recent decline in mortgage rates is primarily due to growing uncertainty around geopolitical tensions surrounding Russia and Ukraine. But experts say it's to be expected.
Here's a look at how industry leaders are explaining the impact global uncertainty has on mortgage rates:
Odeta Kushi, Deputy Chief Economist at First American, says:
"While mortgage rates trended upward in 2022, one unintended side effect of global uncertainty is that it often results in downward pressure on mortgage rates."
In another interview, Kushi adds:
"Geopolitical events play an important role in impacting the long end of the yield curve and mortgage rates. For example, in the weeks following the 'Brexit' vote in 2016, the U.S. Treasury bond yield declined and led to a corresponding decline in mortgage rates."
Kushi's insights are a reminder that, historically, economic uncertainty can impact the 10-year treasury yield – which has a long-standing relationship with mortgage rates and is often considered a leading indicator of where rates are headed. Basically, events overseas can have an impact on mortgage rates here, and that's what we're seeing today.
Will Mortgage Rates Stay Down?
While no one has a crystal ball to predict exactly what will happen with rates in the future, experts agree this slight decline is temporary. Sam Khater, Chief Economist at Freddie Mac, echoes Kushi's sentiment, but adds that the decline in rates won't last:
"Geopolitical tensions caused U.S. Treasury yields to recede this week . . . leading to a drop in mortgage rates. While inflationary pressures remain, the cascading impacts of the war in Ukraine have created market uncertainty. Consequently, rates are expected to stay low in the short-term but will likely increase in the coming months."
Rates will likely fluctuate in the short-term based on what's happening globally. But before long, experts project rates will renew their climb. If you're in the market to buy a home, doing so before rates start to rise again may be your most affordable option.
Bottom Line
Mortgage rates are an important piece of the puzzle because they help determine how much you'll owe on your monthly mortgage payment in your next home.
With homeownership you can lock in the cost today, and have an asset that increases in value over time, making it a great hedge against inflation.
When looking at home price appreciation versus consumer price increases gong back to the 1970s, we can see how home price appreciation outpaces inflation. Of course, the 2000s was a fundamentally different housing market with an oversupply of homes and lower lending standards. Overall, we can see that buying a home today would not only lock in today's costs and provide a hedge against inflation, but avoid the rising rental rates.
Rental prices are skyrocketing, and the forecasts project that not only will home values will continue rising, but so will mortgage rates.
Rent increases have been greater than inflation in most years. That means it's more expensive to rent over time.
For a $200,000 home at 3.5% interest rate today your monthly payment would be $898. However, in Q1 of 2023 when that same home will be $212,600, interest rates will be $3.8%, and now your monthly payment is $990. That's a difference of $33,314 over the life of the 30-year mortgage. That amount jumps to $66,625 for a $400,000 home.
For a $200,000 home at 3.5% interest rate today your monthly payment would be $898. However, in Q1 of 2023 when that same home will be $212,600, interest rates will be $3.8%, and now your monthly payment is $990. That's a difference of $33,314 over the life of the 30-year mortgage. That amount jumps to $66,625 for a $400,000 home.
For a $200,000 home at 3.5% interest rate today your monthly payment would be $898. However, in Q1 of 2023 when that same home will be $212,600, interest rates will be $3.8%, and now your monthly payment is $990. That's a difference of $33,314 over the life of the 30-year mortgage. That amount jumps to $66,625 for a $400,000 home. That's staggering.
Tangible assets like real estate get more valuable over time making buying a home a good way to spend your money during inflationary times.
This is the Home Price Expectation Survey of 100 economists and data analysts from Q4 of 2021, and represents their house appreciation forecasts by 2026. The group was divided into optimists and pessimists, where optimists projecting the most appreciation over the next 5 years, and the pessimists estimate on the lower end. The pessimists are saying that by 2026 houses will appreciate in value by over 23%. That is pretty significant.
We've recently seen a rise in mortgage rates. Some of the last reported numbers have us around 3.55%, which is certainly higher than in some past years, but the housing market is expected to remain pretty competitive this year. It's about to start feeling like interest rates are going to be high, but they are historically low for the U.S.
Let's look at two of the mortgage markets – the purchase market and the refinance market. The purchase market is forecasted to grow, and the refinance market is forecasted to constrict – a typical reaction in a rising rate environment.
Let's tie in the 10-year treasury for a moment. In the last 2 months, the rate on the 10-year treasury yield has skyrocketed. Why is that important?
For the last 50 years, the relationship between the mortgage rate and the 10-year treasury yield has been almost symbiotic. Wherever the 10-year treasury yield goes, there goes the 30-year fixed rate. The Fed does not control interest rates – it can only hope to influence them. Overall, the 10-year treasury yield may be something worth watching.
Month after month we have talked about why we will not see a wave of foreclosures coming to the market, so let's wrap up this month looking at the latest data.
Loans in forbearance have fallen below one million. This is huge. We are at roughly 780,000 loans in forbearance which equates to 1.4% of mortgages. It is wonderful to see that the forbearance program has really helped homeowners change their situations during such a time of economic uncertainty.
Looking at loans upon exiting the forbearance program, about 38% percent of homeowners are paid in full by either making monthly payments or paying off their loan. Then, about 44% percent are on some sort of repayment plan – homeowners who have been able to make a loan modification or deferral. Unfortunately, 18.2% of homeowners are exiting the forbearance plan without a loss mitigation plan. The bright side of that is, according to Black Knight, 93% of homeowners in a forbearance plan have at least 10% equity, allowing them the opportunity to sell their home. To put this all in perspective, during the housing bubble burst in 2008, we saw 9.3 million homes go into foreclosure. We are in a very different situation today.
We have significantly fewer foreclosures today than we would even in a normal year. Obviously, the forbearance program came allowed us to see record low foreclosures in the most recent years.
Foreclosure activity is at an all-time low. We are at 151,000 foreclosures, whereas in 2007 to 2015, millions of homeowners were going into the foreclosure process. Even if this number of 151,000 doubled, tripled, or even quadrupled, we would be nowhere near where we were when the housing bubble burst.
If you were thinking about buying a home this year, but already pressed pause on your plans due to rising home prices and increasing mortgage rates, there's something you should consider. According to the latest report from ATTOM Data, owning a home is more affordable than renting in the majority of the country. The 2022 Rental Affordability Report says:
". . . Owning a median-priced home is more affordable than the average rent on a three-bedroom property in 666, or 58 percent, of the 1,154 U.S. counties analyzed for the report. That means major home ownership expenses consume a smaller portion of average local wages than renting."
Other experts in the industry offer additional perspectives on renting today. In the latest Single-Family Rent Index from CoreLogic, single-family rent saw the fastest year-over-year growth in over 16 years when comparing data for November each year (see graph below):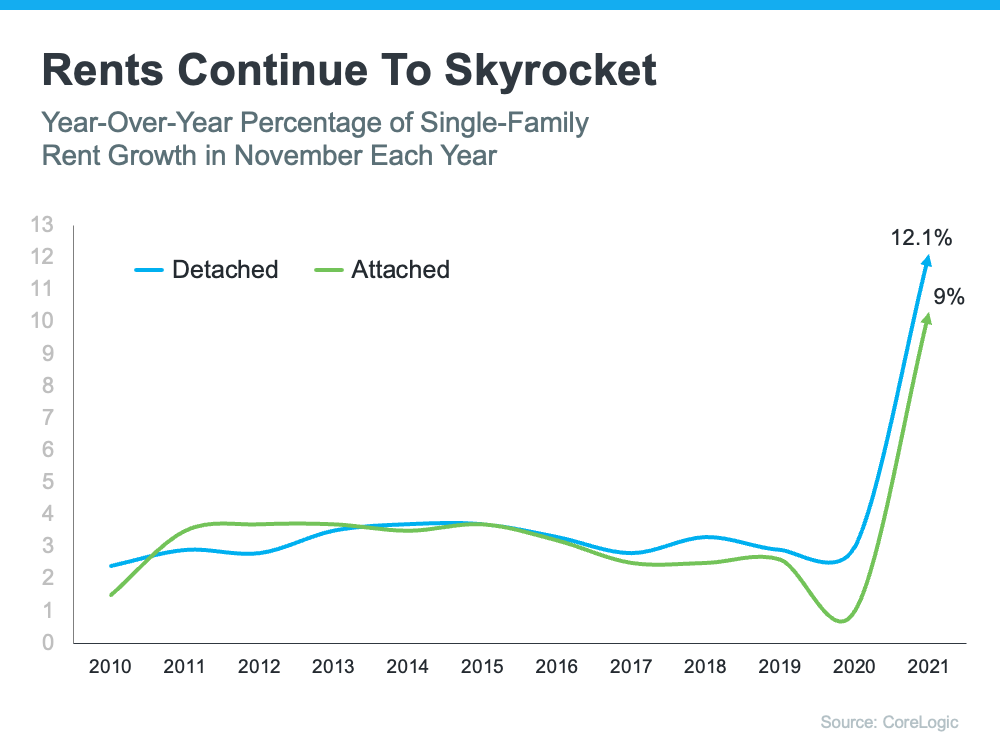 Molly Boesel, Principal Economist at CoreLogic, stresses the importance of what the data shows:
"Single-family rent growth hit its sixth consecutive record high. . . . Annual rent growth . . . was more than three times that of a year earlier. Rent growth should continue to be robust in the near term, especially as the labor market continues to improve."
What Does This Mean for You?
While it's true home prices and mortgage rates are rising, so are monthly rents. As a prospective buyer, rising rates and prices shouldn't be enough to keep you on the sideline, though. As the chart above shows, rents are skyrocketing. The big difference is, when you rent, that rising cost benefits your landlord's investment strategy, but it doesn't deliver any sort of return for you.
In contrast, when you buy a home, your monthly mortgage payment serves as a form of forced savings. Over time, as you pay down your loan and as home values rise, you're building equity (and by extension, your own net worth). Not to mention, you'll lock in your mortgage payment for the duration of your loan (typically 15 to 30 years) and give yourself a stable and reliable monthly payment.
When asking yourself if you should keep renting or if it's time to buy, think about what Todd Teta, Chief Product Officer at ATTOM Data, says:
". . . Home ownership still remains the more affordable option for average workers in a majority of the country because it still takes up a smaller portion of their pay."
If buying takes up a smaller portion of your pay and has benefits renting can't provide, the question really becomes: is renting really worth it?
If you're weighing your options between renting and buying, it's important to look at the full picture. While buying a home can feel like a daunting process, having a trusted advisor on your side is key.
Are you one of the many renters thinking about where you'll live the next time your lease is up? Before you decide whether to look for a new house or another apartment, it's important to understand the true costs of renting in 2022.
As a renter, you should know rents have been rising since 1988 (see graph below):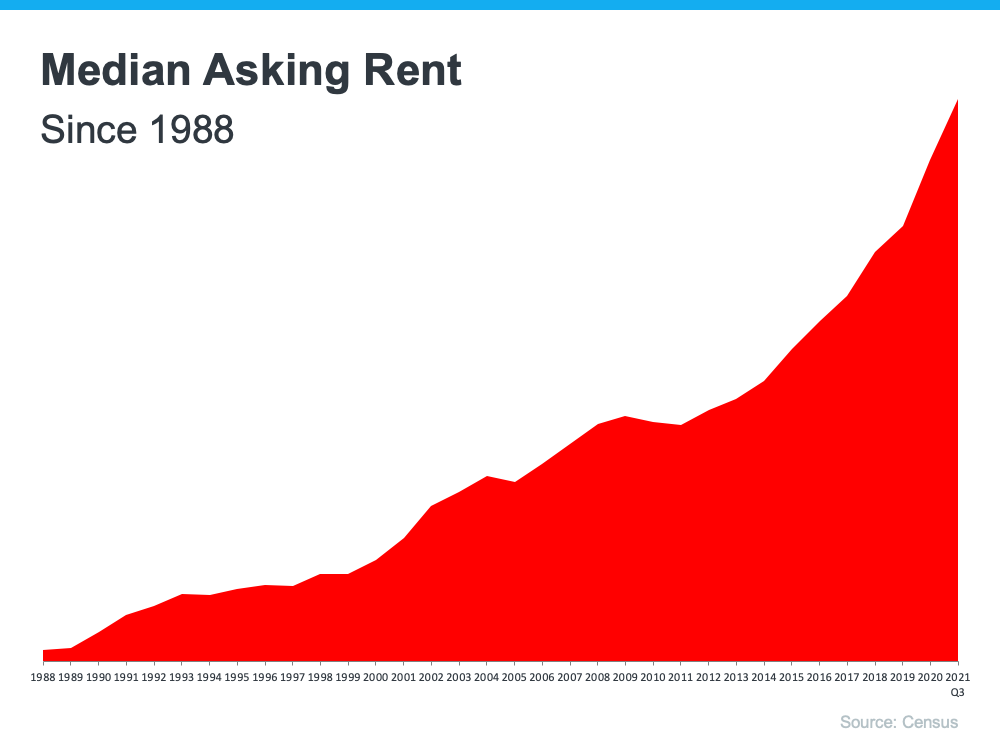 In 2021, rents grew dramatically. According to ApartmentList.com, since January 2021:
". . . the national median rent has increased by a staggering 17.8 percent. To put that in context, rent growth from January to November averaged just 2.6 percent in the pre-pandemic years from 2017-2019."
That increase in 2021 was far greater than the typical rent increases we've seen in recent years. In other words – rents are rising fast. And the 2022 National Housing Forecast from realtor.com projects prices for vacant units will continue to increase this year:
"In 2022, we expect this trend will continue and fuel rent growth. At a national level, we forecast rent growth of 7.1% in the next 12 months, somewhat ahead of home price growth . . ."
That means, if you're planning to move into a different rental this year, you'll likely pay far more than you have in years past.
Homeownership Provides an Alternative to Rising Rents
If you're a renter facing rising rental costs, you might wonder what alternatives you have. If so, consider homeownership. One of the many benefits of homeownership is it provides a stable monthly cost you can lock in for the duration of your loan.
As Lawrence Yun, Chief Economist at the National Association of Realtors (NAR), says:
". . . fast-rising rents and increasing consumer prices, may have some prospective buyers seeking the protection of a fixed, consistent mortgage payment."
If you're planning to make a move this year, locking in your monthly housing costs for 15-30 years can be a major benefit. You'll avoid wondering if you'll need to adjust your budget to account for annual increases.
Homeowners also enjoy the added benefit of home equity, which has grown substantially right now. In fact, the latest Homeowner Equity Insight report from CoreLogic shows the average homeowner gained $56,700 in equity over the last 12 months. As a renter, your rent payment only covers the cost of your dwelling. When you pay your mortgage, you grow your wealth through the forced savings that is your home equity.  
If you're thinking of renting this year, it's important to keep in mind the true costs you'll face.