If you're following along with the news today, you've likely heard about rising inflation. You're also likely feeling the impact in your day-to-day life as prices go up for gas, groceries, and more. These rising consumer costs can put a pinch on your wallet and make you re-evaluate any big purchases you have planned to ensure they're still worthwhile.
If you've been thinking about purchasing a home this year, you're probably wondering if you should continue down that path or if it makes more sense to wait. While the answer depends on your situation, here's how homeownership can help you combat the rising costs that come with inflation.
Homeownership Offers Stability and Security
Investopedia explains that during a period of high inflation, prices rise across the board. That's true for things like food, entertainment, and other goods and services, even housing. Both rental prices and home prices are on the rise. So, as a buyer, how can you protect yourself from increasing costs? The answer lies in homeownership.
Buying a home allows you to stabilize what's typically your biggest monthly expense: your housing cost. If you get a fixed-rate mortgage on your home, you lock in your monthly payment for the duration of your loan, often 15 to 30 years. James Royal, Senior Wealth Management Reporter at Bankrate, says:
"A fixed-rate mortgage allows you to maintain the biggest portion of housing expenses at the same payment. Sure, property taxes will rise and other expenses may creep up, but your monthly housing payment remains the same."
So even if other prices rise, your housing payment will be a reliable amount that can help keep your budget in check. If you rent, you don't have that same benefit, and you won't be protected from rising housing costs.
Use Home Price Appreciation to Your Benefit
While it's true rising mortgage rates and home prices mean buying a house today costs more than it did a year ago, you still have an opportunity to set yourself up for a long-term win. Buying now lets you lock in at today's rates and prices before both climb higher.
In inflationary times, it's especially important to invest your money in an asset that traditionally holds or grows in value. The graph below shows how home price appreciation outperformed inflation in most decades going all the way back to the seventies – making homeownership a historically strong hedge against inflation (see graph below):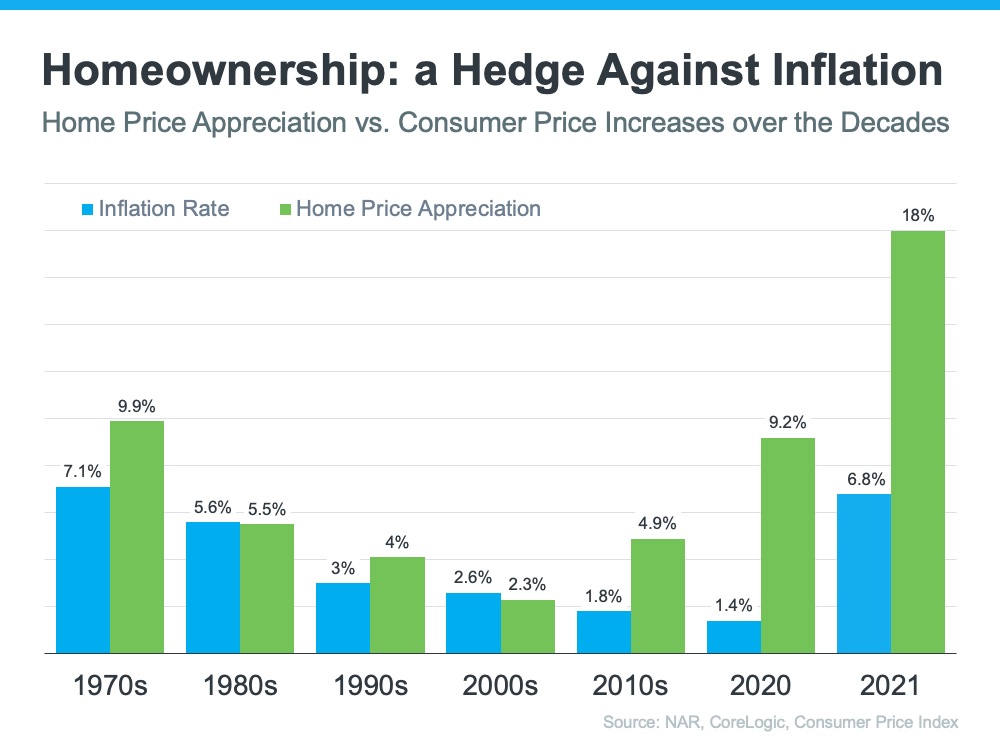 So, what does that mean for you? Today, experts say home prices will only go up from here thanks to the ongoing imbalance in supply and demand. Once you buy a house, any home price appreciation that does occur will be good for your equity and your net worth. And since homes are typically assets that grow in value (even in inflationary times), you have peace of mind that history shows your investment is a strong one.
Bottom Line
If you're ready to buy a home, it may make sense to move forward with your plans despite rising inflation.
If you're buying or selling a home this year, you're likely saving up for a variety of expenses. For buyers, that might include things like your down payment and closing costs. And for sellers, you're probably working on a bit of spring cleaning and maintenance to spruce up your house before you list it.
Either way, any money you get back from your taxes can help you achieve your goals. Using a tax refund is a common tactic for buyers and sellers. SmartAsset estimates the average American will receive a $2,897 tax refund this year. The map below provides a more detailed estimate by state: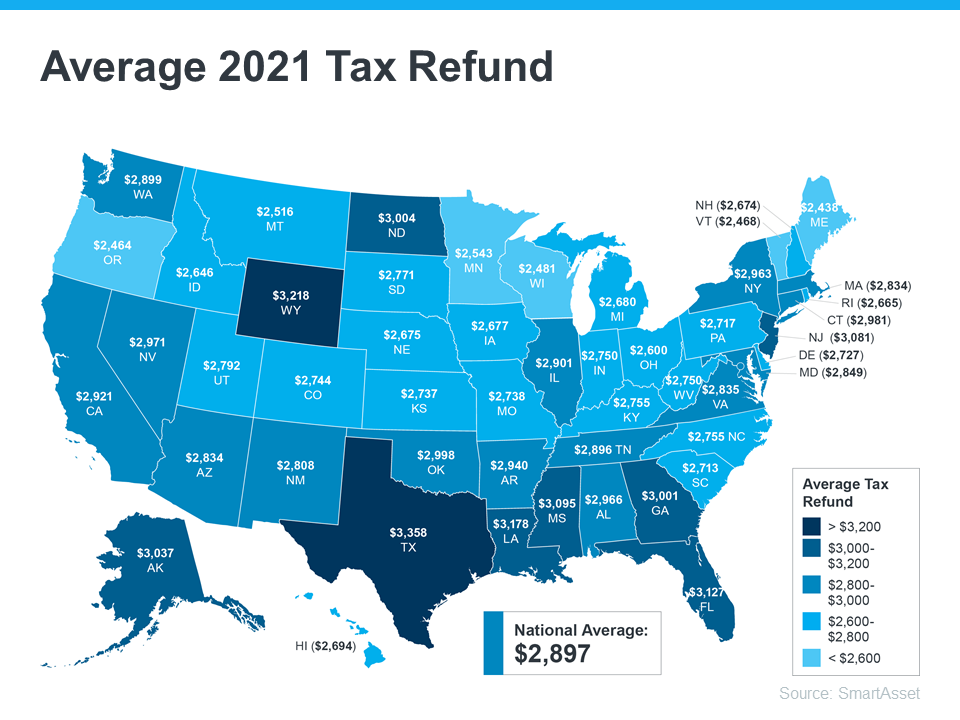 If you're getting a refund this year, here are a few tips to help with your home purchase or sale this season.
How Buyers Can Use Their Tax Refund
According to American Financing, there are multiple ways your refund check can help you as a homebuyer. A few include:
Growing your down payment fund – If you haven't started saving for your down payment, let your tax refund kick off the process. And if you have a fund already, the money you get back could put you closer to your goal.
Paying for your home inspection – Your home inspection can save you a lot of headaches down the road by helping you determine the condition of the house. As a buyer, you'll typically be responsible for paying for your inspection, and it's definitely worth the investment.
Saving for closing costs – Closing costs are additional expenses you'll need to pay once it's time to close. They average anywhere between 2-5% of the purchase price of your home.
This list is a great start, but it isn't exhaustive of all the costs you may encounter as you set out on your homebuying journey. The best way to prepare is to work with a trusted real estate professional to make sure you understand what's to come in the process.
How Sellers Can Use Their Tax Refund
If you own a home and are planning to sell this spring, your tax refund can help you make sure your home is ready to list. Here are a few ways current homeowners can put their tax refund to good use:
Making small upgrades – NerdWallet provides a list of great ways to use your tax refund, including tackling small projects or boosting your curb appeal to help your home stand out.
Making repairs – If there's anything in your house that needs to be fixed, American Financing notes that completing repairs is another great use of that money.
Buying your next home – Whether you're selling to move up or downsize, you can use your tax refund to help pay for any costs on the purchase of your next home.
Of course, it's important to talk with your trusted real estate advisor before taking on any projects. They'll make sure you can focus on areas that'll help you receive the best possible price when you sell.
Bottom Line
Funding your home purchase or sale can feel like a daunting task, but it doesn't have to be. Your tax refund can help you reach your goals.
Many consumers are wondering what will happen with home values over the next few years. Some are concerned that the recent run-up in home prices will lead to a situation similar to the housing crash 15 years ago.
However, experts say the market is totally different today. For example, Odeta Kushi, Deputy Chief Economist at First American, tweeted just last week on this issue:
". . . We do need price appreciation to slow today (it's not sustainable over the long run) but high price growth today is supported by fundamentals- short supply, lower rates & demographic demand. And we are in a much different & safer space: better credit quality, low DTI [Debt-To-Income] & tons of equity. Hence, a crash in prices is very unlikely."
Price appreciation will slow from the double-digit levels the market has seen over the last two years. However, experts believe home values will not depreciate (where a home would lose value).
To this point, Pulsenomics just released the latest Home Price Expectation Survey – a survey of a national panel of over 100 economists, real estate experts, and investment and market strategists. It forecasts home prices will continue appreciating over the next five years. Below are the expected year-over-year rates of home price appreciation based on the average of all 100+ projections:
2022: 9%
2023: 4.74%
2024: 3.67%
2025: 3.41%
2026: 3.57%
Those responding to the survey believe home price appreciation will still be relatively high this year (though half of what it was last year), and then return to more normal levels over the next four years.
What Does This Mean for You as a Buyer?
With a limited supply of homes available for sale and both prices and mortgage rates increasing, it can be a challenging market to navigate as a buyer. But buying a home sooner rather than later does have its benefits. If you wait to buy, you'll pay more in the future. However, if you buy now, you'll actually be in the position to make future price increases work for you. Once you buy, those rising home prices will help you build your home's value, and by extension, your own household wealth through home equity.
As an example, let's assume you purchased a $360,000 home in January of this year (the median price according to the National Association of Realtors rounded up to the nearest $10K). If you factor in the forecast for appreciation from the Home Price Expectation Survey, you could accumulate over $96,000 in household wealth over the next five years (see graph below):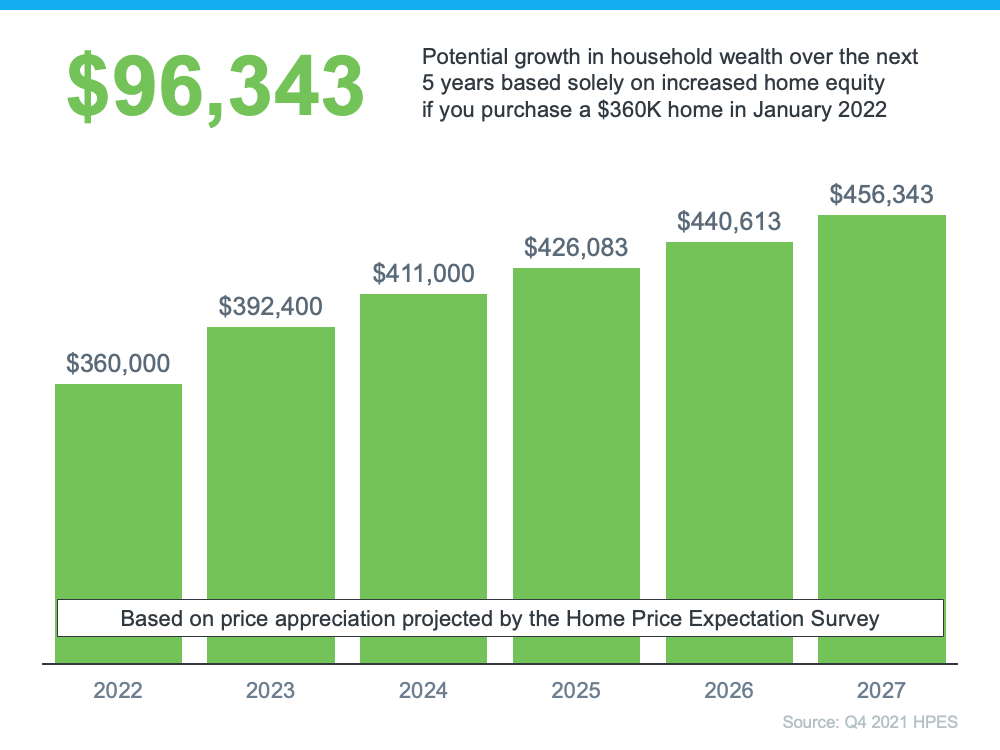 Bottom Line
If you're trying to decide whether to buy now or wait, the key is knowing what's expected to happen with home prices. Experts say prices will continue to climb in the years ahead, just at a slower pace. So, if you're ready to buy, doing so now may be your best bet for your wallet. It'll also give you the chance to use the future home price appreciation to build your own net worth through rising equity.
Today's low inventory can be challenging for homebuyers, especially if you're looking to purchase your first home. But if you're one of many people who work remotely, you may have a great opportunity to use the flexibility you have at work to achieve your homebuying goals this year.
In a recent report, Arch Capital Services explains how the ongoing trend of remote work can open up more options for homebuyers:
". . . This will enable those who are able to work from home on a part-time or hybrid basis to move slightly farther away from job centers. . . . For workers who secure full-time remote jobs, their place of residence will be determined by affordability and personal preferences."
Basically, working from home is great news if you're a first-time buyer trying to find a home that meets your needs and budget. Here's a deeper look at how it could benefit you.
Extra Flexibility in Your Career Means Extra Flexibility in Your Home Search
If your job is 100% remote, you don't have to be tied to a specific location or office. So, if you've been having a hard time finding what you want in your local area, it may be time to expand your search.
One option you could consider is moving to a place where you've always wanted to live, like the mountains, beach, or closer to loved ones. When you broaden your search radius to include those locations, it'll give you additional homes to consider.
It could also allow you to search for a more affordable location where you have more options in your price range. This can help you achieve two goals – saving money and finding additional features that meet your needs. To truly highlight this benefit, a recent First American article discusses the great ways remote work can really help you with your homebuying goals. Ksenia Potapov, Economist at First American, says:
"For potential first-time home buyers, leveraging their house-buying power in more affordable markets can also help them buy more attractive homes – more square footage and rooms, more options for different home styles and neighborhood amenities – increasing the opportunity to find a home that suits their preferences."
That means you can use your work flexibility to search for homes with the amenities you need at a lower price point.
Bottom Line
Remote work doesn't just give you expanded flexibility for your career. If you're no longer tied to a location because of your office, you have a great opportunity to expand your housing search.
Mortgage rates started out at 3.11% for the average 30-year,fixed at the beginning of the year, and they have just steadily climbed since then – up to 4.67%.
Rates are projected to continue rising, but at a more moderate pace, because the Fed has risen their rate and mortgage rates tend to follow.
So how does this affect home prices? Let's take a look at the historical impact of rising rates on home prices when mortgage rates rose by more than a percentage point.
Looking back to October of 1993 (about 30 years), we can see an average of about 8% home price appreciation as mortgage rates are rising by more than a percentage point. So, rising rates have not had a negative impact on home prices.
So how do rising mortgage rates affect home sales?
Looking at the same data for the same period of time, we can see an average decrease of 11% in home sales as prices were rising. As rates rise, it can tend to reduce buyer activity – pricing some people out of the market.
It is important to note that first line (October 1993 to December 1994) where mortgage rates rose 2.38% to a final rate of 9.2%. We are NOT looking at a 2.5% increase in mortgage rates right now. That kind of increase is not in the projections. We are in a very, very different environment than we were back then. We are most likely looking at a 1.5% increase.
In rising mortgage rate environments, there is an overall 2% impact on home sales – a negligible impact – where 2005 & 2006 are the outliers leading up to the housing crisis.
Overall, rising mortgage rates don't have a huge impact on home sales. Why? Because you have to consider the inventory component. Today, we are seeing drastically low inventory – lower than it was in January of 2021, which was a historical low. Home prices are projected to continue rising, because there just aren't enough homes for sale. Supply and demand are what drives home price appreciation. So, when you see those headlines saying home sales are softening, it's not because of rising mortgage rates. It's because there aren't enough homes to buy.
When we look at months inventory, historically we had between 4.5 and 5 months inventory on hand – a very, very different inventory level than what we have today.
Inflation is driving this increase in mortgage rates, and we can expect it to continue to rise, but it won't be at as quite a rapid pace as what we've seen over the past few weeks.
Home price appreciation will slow, and mortgage rates will slow some of the frenzy. But, we're not talking about depreciation. We're talking about deceleration – appreciation at a more moderate rate.
We hope that all helps explain how the rising mortgage rate environment will affect the other factors in the market, so let's move on to the forecasts for the spring housing market.
We are in a very, very busy market.
Here is the NAR (National Association of Realtors®) Buyer Traffic Map – strong activity overall.
Then, we see very, weak seller traffic overall. So, strong buyer demand combined with the lack of sellers keeps that upward pressure on prices.
However, we did see increased active listings in March.
Pending home sales have dropped, overall – not because there's a lack of demand in the market, but because we can't sell what we don't have. Nonetheless, we seem to be in a healthy market.
We're ahead in showings and activity, indicating, again, strong demand.
Price acceleration is also holding steady, indicating a very competitive market.
And we are still ahead of historical appreciation. Overall, these figures look to a strong spring market.
With all the uncertainty out there, let's take a quick glance at 5 graphs that break down the most common concerns.
First, active listings as compared to new listings going back to August of 2021. The light blue bars represent active listings each month, and the dark blue bars represent new listings that are taken during the month. Active listings outpace new listings until March, where new listings actually outpace the active listings. This means as soon as something comes on the market, it sells.
Second, the single-family housing units completed tells the story of why it's so hard to find a home right now – why prices have risen the way they've risen. And the simple answer is that for 14 straight years, we've been below the 50-year average in new construction, due to the fallout of the housing crisis in 2008. Builders were hit extremely hard, and are building back their capacity – their ability to bring new builds to market. This has constricted supply.
Third, we look at home ownership as a hedge against inflation. When you're in an inflationary economy, you want to be invested in hard assets that outperform inflation. The light blue represents the inflation rate, and the dark blue represents home price appreciation. Historically, home price appreciation has outperformed inflation (with the exception of the housing crisis).
Fourth, we look at the home price expectation survey – a survey of 100 economists, real estate professionals, and market investor professionals determining what is going to happen with home prices. $96,000 in potential growth in household wealth over the next five years based solely on increased home equity if you purchased an average priced home (about $360,000).
Finally, a look at home price appreciation. Among the seven experts, the average home price appreciation is 6.7%. Not one is forecasting prices to go down.
If you're a first-time buyer looking to break into the housing market but struggling to find a home to buy, condominiums (or condos) could be a great alternative for you.
Here are a few reasons condos may be something you'll want to consider.
Exploring Condos Could Add Options That Fit Your Budget
Supply challenges are a reality across the board in today's housing market. Broadening your home search to include condos could increase your overall pool of options. Just keep in mind, condos generally differ from single-family homes in average space and floorplans.
In a recent article, Bankrate covers some of these differences:
"Condos are generally more affordable because they come with less space — you likely won't have your own backyard, for example, and the interior tends to be smaller than the square footage of a single-family home."
But if the size of a condominium meets your needs, they could match your budget as well. Data from the National Association of Realtors (NAR) shows the difference in the median price for both housing types. For single-family homes, the median price is $363,800. And for condominiums, the median price is lower at $305,400.
So, if budget is top of mind for you, a condominium could be a great fit within your target price range.
Not to mention, buying a condo is a great way to break into the market and start building equity that can help power a future move up. The condo you purchase today may not be your forever home, but it can be a great stairstep that can help you buy your dream home later on.
Find Out if Condo Living Is Right for You
In addition, owning and living in a condo is also a lifestyle choice. While it's true they may be smaller than single-family homes, the amenities condos provide could be a draw for many buyers. Less space in your home might mean minimal upkeep, lower maintenance, and more time for you to spend doing the things you enjoy.
To understand if condo life is for you, Bankrate recommends asking yourself a few simple questions:
"Hate to mow the lawn and trim the hedges? What about pressure washing your driveway? Are your finances such that having to lay out $5,000 or more for a new roof will be a burden? . . . Condos tend to work best for those comfortable with most of the aspects of apartment living, minus the built-in maintenance."
Ultimately, talking with an expert real estate advisor is the best first step to determining if condo living might work for you.
Bottom Line
Condominiums are a great option for many buyers, especially those looking to buy their first home. If you're willing to consider condos in your search, you could find something that's in line with your target numbers and your needs.
The link between financial security and homeownership is especially important today as inflation rises. But many people may not realize just how much owning a home contributes to your overall net worth. As Leslie Rouda Smith, President of the National Association of Realtors (NAR), says:
"Homeownership is rewarding in so many ways and can serve as a vital component in achieving financial stability."
Here are just a few reasons why, if you're looking to increase your financial stability, homeownership is a worthwhile goal.
Owning a Home Is a Building Block for Financial Success
A recent NAR report details several homeownership trends and statistics, including the difference in net worth between homeowners and renters. It finds:
". . . the net worth of a homeowner was about $300,000 while that of a renter's was $8,000 in 2021."
To put that into perspective, the average homeowner's net worth is roughly 40 times that of a renter (see visual below):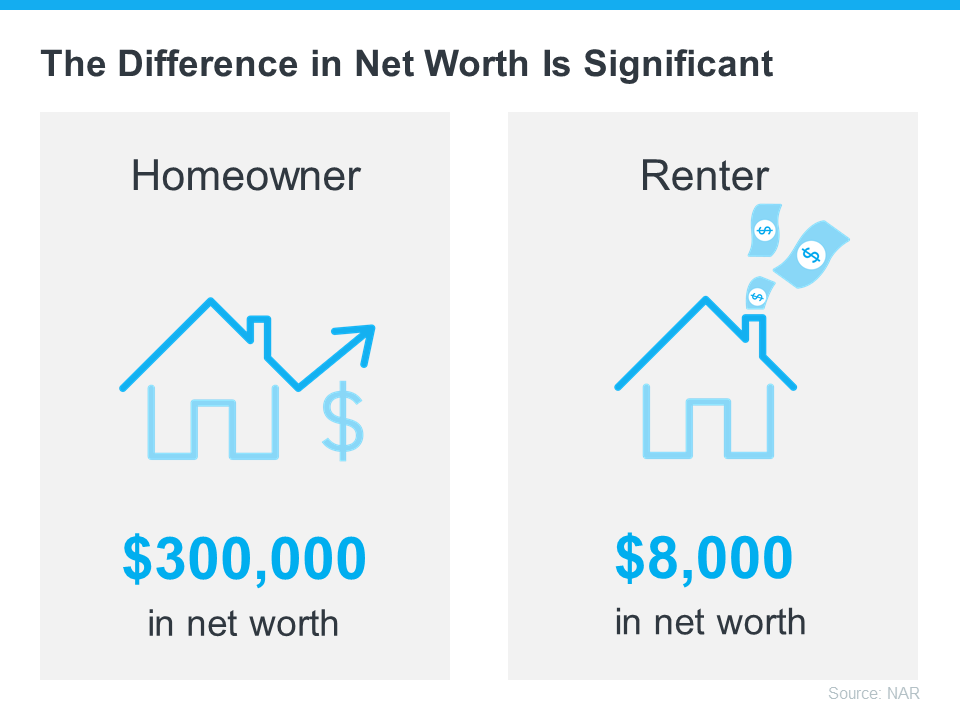 The results from this report show that owning a home is a key piece to the puzzle when building your overall net worth.
Equity Gains Can Substantially Boost a Homeowner's Net Worth
The net worth gap between owners and renters exists in large part because homeowners build equity. As a homeowner, your equity grows as your home appreciates in value and you make your mortgage payments each month.
In other words, when you own your home, you have the benefit of your mortgage payment acting as a contribution to a forced savings account. And when you sell, any equity you've built up comes back to you. As a renter, you'll never see a return on the money you pay out in rent every month.
To sum it up, NAR says it simply:
"Homeownership has always been an important way to build wealth."
Bottom Line
The gap between a homeowner's net worth and a renter's shows how truly foundational homeownership is to wealth-building.
The past two years have taught us the true value of homeownership, especially the stability and the feeling of accomplishment it can provide. But homeownership has so much more to offer. Here's a look at a few of the non-financial and financial benefits of owning a home. If you're looking to buy a home today, think about all the ways homeownership can impact your life.
Homeownership Has Impactful Personal and Emotional Benefits
Owning your home gives you a significant sense of pride because it's a space that is truly yours. And as a homeowner, you can customize your home to your heart's desire. Having a space you've put your stamp on enhances the pride and sense of ownership you may feel.
And that sense of ownership can extend beyond your shelter to help create social, community, and civic benefits as well. That's because the average homeowner stays in their home for longer than just a few years. That means you'll naturally feel a stronger connection to the community around you the longer you live there. This can help you experience a greater sense of belonging and a greater stake in your community as a whole. As the National Association of Realtors (NAR) says:
"Living in one place for a longer amount of time creates an obvious sense of community pride, which may lead to more investment in said community."
Owning a Home Is a Significant Step Toward Financial Stability
In a financial sense, homeowners benefit from home price appreciation, equity gains, and having a shield against some of the effects of inflation. These benefits can have a big impact on your life. As you gain equity through home price appreciation and paying down your mortgage, you build your net worth. And in times of inflation, your 30-year fixed-rate mortgage can help you stabilize one of your largest monthly expenses for the duration of your loan.
Lawrence Yun, Chief Economist for NAR, explains how you can start to see these lasting effects of homeownership as soon as you make your purchase:
"Owning a home continues to be a proven method for building long-term wealth. . . . Home values generally grow over time, so homeowners begin the wealth-building process as soon as they make a down payment and move to pay down their mortgage."
Knowing you've made a good investment soon after your purchase is powerful. And that may give you confidence in your decision to buy a home.
Bottom Line
The benefits of owning a home are foundational. As a homeowner, you can feel proud of the space you call home and know you've made a sound financial investment.
Every year, many renters ask themselves the same question: Should I continue renting, or is it time to buy a home? If you're a renter, chances are you've asked yourself that question at least once, and it's likely because you've faced an increase in your monthly housing costs over time. After all, according to Census data, rents have risen consistently for decades.
To make an informed and powerful decision, the first step is understanding what's happening in today's housing market so you can determine which option is the better long-term financial decision for you.
Rents Are Going Up Again This Year
Rents are skyrocketing right now. Data from realtor.com shows just how much rental prices are surging throughout the country. The graph below highlights rental unit price increases over the past year: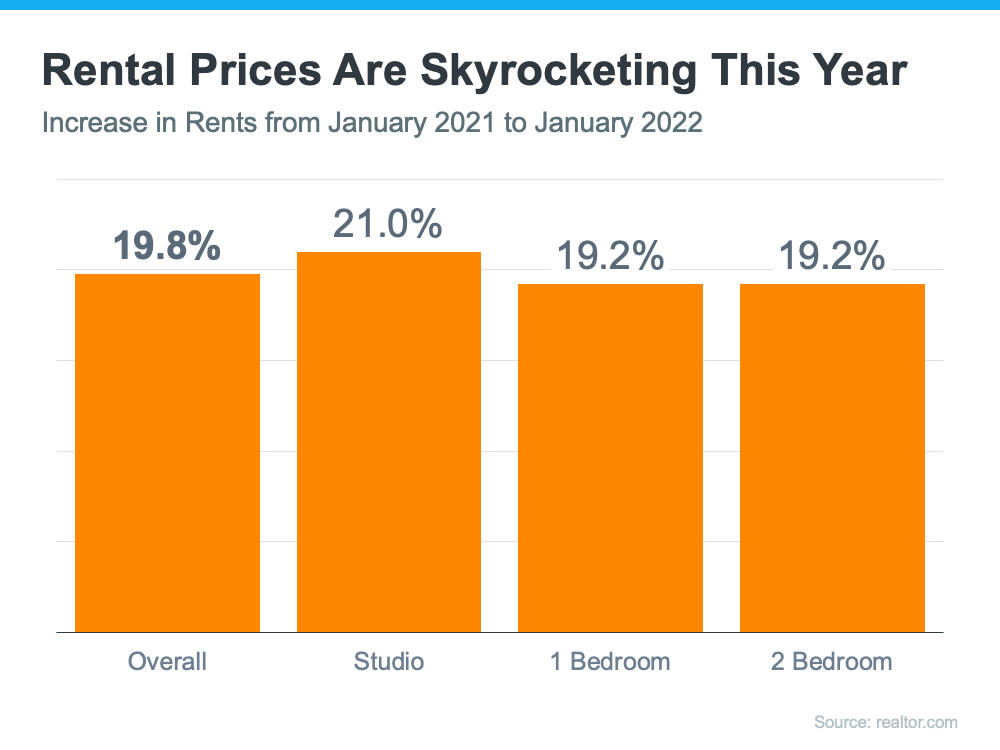 If you're a renter and plan on signing a new lease, your monthly costs are likely to go up when you do. Those rising costs can have a big impact on your financial goals, including any plans you're making to save for a home purchase.
Homeownership Offers Stable Monthly Costs
Of course, one of the key benefits of owning your home is that you're able to lock in and stabilize your payments for the duration of your loan. That's not the case when you rent.
While rents are already on the rise, there's a good chance many people will see their rental costs increase even more this year. As Danielle Hale, Chief Economist at realtor.com, says:
"With rents already at a high and expected to keep going up, rental affordability will increasingly challenge many Americans in 2022. For those thinking about making the transition from renting to buying their first home, rising rents will remain a motivating factor. . . ."
So, if you're ready to become a homeowner, waiting any longer may not make financial sense. Instead, escape the cycle of rising rents and enjoy the many benefits that come with homeownership today.
Bottom Line
Starting your journey towards homeownership can pay off significantly this year.
It's truly hard to believe that it was two years ago that a worldwide pandemic fundamentally changed the world. The housing market was certainly not immune to that. Let's take some time to answer some of those burning questions about the real estate market.
Prior to the pandemic, a normal year of home price appreciation was about 3.8%. Corelogic reported this number at 6% in 2020. Really significant. Then last year, we saw more than double the home price appreciation in 2020. Incredible home price appreciation over the past two years. Why? Mostly because of supply and demand – there are more buyers in the market than homes available.
Home prices are still accelerating. The most important thing to understand when we hear the experts predict home price "deceleration" is that this means homes will continue to appreciate, but at a slower, more moderate rate. Deceleration does NOT equal depreciation.
The average of the 7 expert forecasts for home price appreciation in 2022 is 6.1%. The reality is that if we continue to see low inventory, we will likely see these forecasts trend upward. Six to seven months inventory on the market is the perfect balance of supply and demand. Less inventory is a seller's market, and more inventory is a buyer's market.
New listings in Tallahassee seem to be failing pretty significantly over the past year. With 77% of consumers (according to a recent realtor.com study) feeling like their market is in a housing bubble, it is important now, more than ever, to be informed. So… let's tackle that perspective.
Inventory of homes today is nothing like the last time. It was a buyer's market in the years leading up to the housing crash – we had an oversupply of homes. Today, we are seeing record lows. Inventory is in a totally different place today, and the demand is more than the market can handle.
Credit scores are nothing like the last time either, and were, quite frankly, one of the leading causes of the housing bubble. Between 2003 and 2007, significantly more loans were issued to buyers who had a credit score less than 620. Since then, lending standards have gotten much tighter.
Homeowners have significantly more equity today, so they're in a much better financial situation. In addition, forbearance helped homeowners to the point in which we will not see a wave of foreclosures come to the market.
These are all the wonderful reasons we are not in a housing bubble.
Let's wrap up this month by touching on net worth and the long-term financial benefits of owning a home. In addition to stability, there is a sense of financial security in homeownership. According to the National Association of Realtors®, the average net worth of a homeowner today is $300,000, while the average net worth of a renter is $8,000. That's staggering. Again, homes will continue to appreciate in value, allowing buyer's to take advantage of that equity gain.
Bottom Line
Home prices are still accelerating, and may continue rising as a direct result of supply and demand. The market data simply does not support that we are in a housing bubble. Despite the rising prices, it is still a good time to buy, since homes are not predicted to depreciate, only appreciate at a slower, more moderate rate.
Tallahassee Market Statistics