According to a recent survey from the National Association of Realtors (NAR), one of the top challenges buyers face in today's housing market is finding a home that meets their needs. That's largely because the inventory of homes for sale is so low today.
If you're looking to buy a home, you may have noticed this yourself. But there is good news. Recent data shows more sellers are listing their houses this season, which may give you more options for your home search.
Early Signs Inventory May Be Growing
The latest data from realtor.com shows the number of listings coming onto the market, known in the industry as "new listings," has increased since the start of the year (see graph below):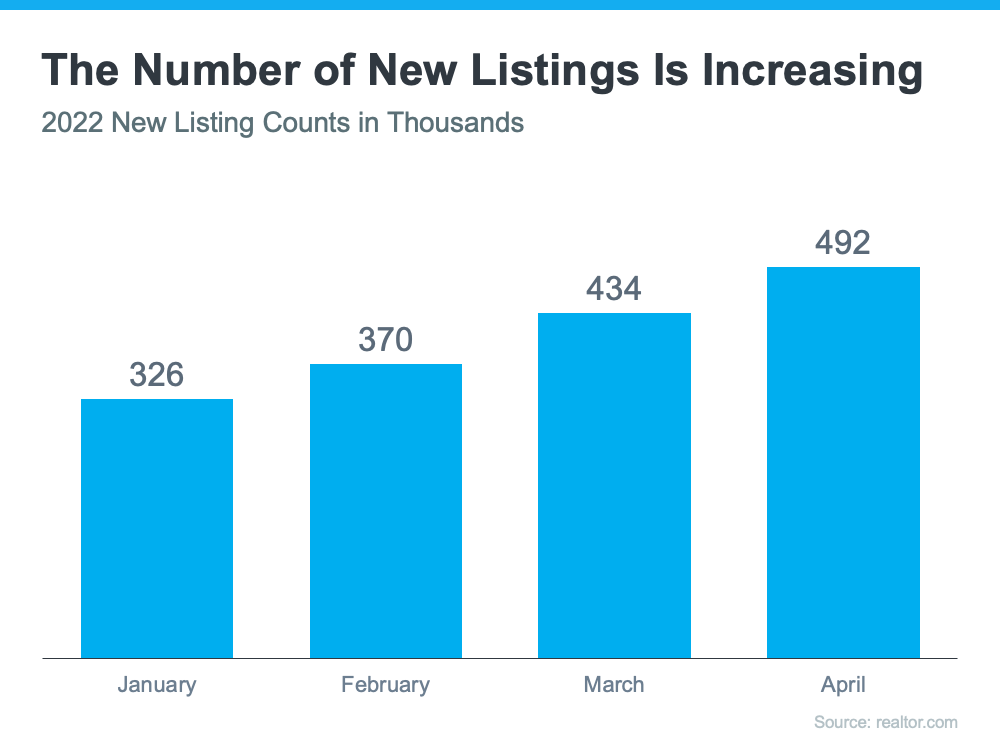 This indicates more sellers are listing their homes for sale each month this year. And according to realtor.com, this growth is expected to continue. Their research finds the majority of potential sellers plan to list their homes over the next six months. Realtor.com says:
". . . markets may see a noticeable bump in the number of homes for sale as we move through spring and into summer. A majority of homeowners planning to sell this year indicated that they aim to list in the next six months, with almost 10% having already placed their properties on the market."
Homes Are Still Selling Quickly
But while new listings are increasing, it's important to know they're also selling quickly. The latest Realtors Confidence Index from NAR shows the median days on market for recently sold homes since the beginning of the year (see chart below). The time on market has decreased month-over-month. That means homes are selling even faster than they did the previous month.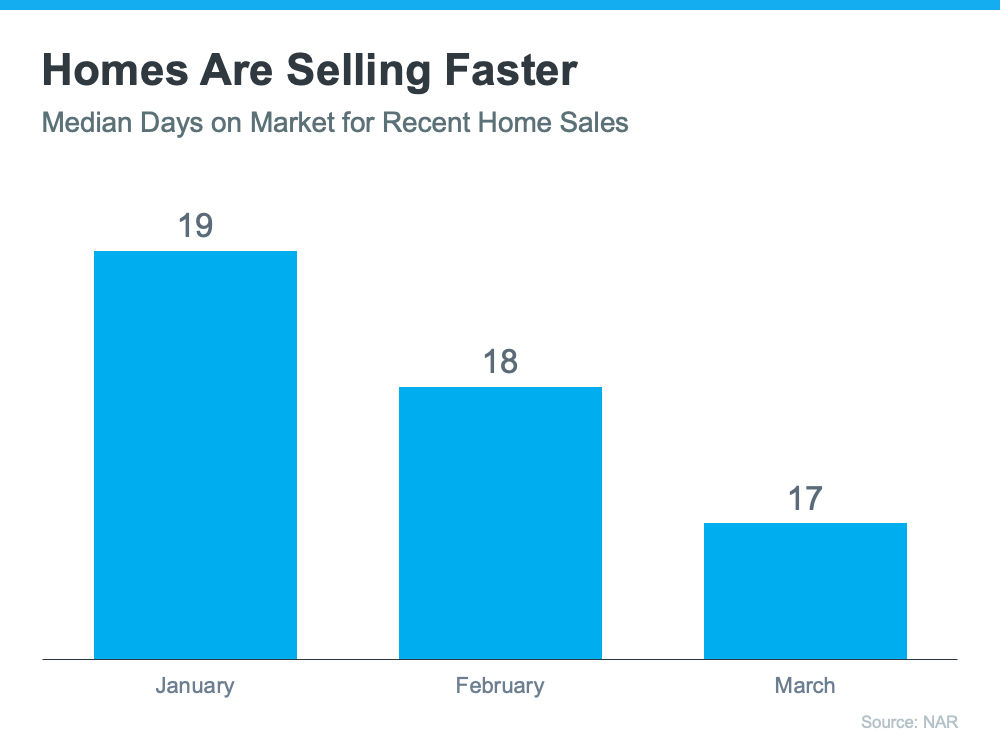 What That Means for You
While a low-inventory market is difficult to navigate as a buyer, there is hope. The growing number of new listings and the expectation more sellers will list their homes in the coming months is great news if you've had a hard time finding a home that fits your needs. Just remember, those new listings are going fast. That means you'll want to keep your foot on the gas and be ready to act if you find a home you love this season.
Your agent can help you stay on top of the latest listings in your area so you can find the home that's right for you and submit your strongest offer as quickly as possible.
Bottom Line
If you've been having a hard time finding your dream home, stick with your search. More options are coming to market and your ideal home could be one of them.
There's never been a truer statement regarding forecasting mortgage rates than the one offered last year by Mark Fleming, Chief Economist at First American:
"You know, the fallacy of economic forecasting is: Don't ever try and forecast interest rates and or, more specifically, if you're a real estate economist mortgage rates, because you will always invariably be wrong."
Coming into this year, most experts projected mortgage rates would gradually increase and end 2022 in the high three-percent range. It's only April, and rates have already blown past those numbers. Freddie Mac announced last week that the 30-year fixed-rate mortgage is already at 4.72%.
Danielle Hale, Chief Economist at realtor.com, tweeted on March 31:
"Continuing on the recent trajectory, would have mortgage rates hitting 5% within a matter of weeks. . . ."
Just five days later, on April 5, the Mortgage News Daily quoted a rate of 5.02%.
No one knows how swiftly mortgage rates will rise moving forward. However, at least to this point, they haven't significantly impacted purchaser demand. Ali Wolf, Chief Economist at Zonda, explains:
"Mortgage rates jumped much quicker and much higher than even the most aggressive forecasts called for at the end of last year, and yet housing demand appears to be holding steady."
Through February, home prices, the number of showings, and the number of homes receiving multiple offers all saw a substantial increase. However, much of the spike in mortgage rates occurred in March. We will not know the true impact of the increase in mortgage rates until the March housing numbers become available in early May.
Rick Sharga, EVP of Market Intelligence at ATTOM Data, recently put rising rates into context:
"Historically low mortgage rates and higher wages helped offset rising home prices over the past few years, but as home prices continue to soar and interest rates approach five percent on a 30-year fixed rate loan, more consumers are going to struggle to find a property they can comfortably afford."
While no one knows exactly where rates are headed, experts do think they'll continue to rise in the months ahead. In the meantime, if you're looking to buy a home, know that rising rates do have an impact. As rates rise, it'll cost you more when you purchase a house. If you're ready to buy, it may make sense to do so sooner rather than later.
Bottom Line
Mark Fleming got it right. Forecasting mortgage rates is an impossible task. However, it's probably safe to assume the days of attaining a 3% mortgage rate are over. The question is whether that will soon be true for 4% rates as well.
Many consumers are wondering what will happen with home values over the next few years. Some are concerned that the recent run-up in home prices will lead to a situation similar to the housing crash 15 years ago.
However, experts say the market is totally different today. For example, Odeta Kushi, Deputy Chief Economist at First American, tweeted just last week on this issue:
". . . We do need price appreciation to slow today (it's not sustainable over the long run) but high price growth today is supported by fundamentals- short supply, lower rates & demographic demand. And we are in a much different & safer space: better credit quality, low DTI [Debt-To-Income] & tons of equity. Hence, a crash in prices is very unlikely."
Price appreciation will slow from the double-digit levels the market has seen over the last two years. However, experts believe home values will not depreciate (where a home would lose value).
To this point, Pulsenomics just released the latest Home Price Expectation Survey – a survey of a national panel of over 100 economists, real estate experts, and investment and market strategists. It forecasts home prices will continue appreciating over the next five years. Below are the expected year-over-year rates of home price appreciation based on the average of all 100+ projections:
2022: 9%
2023: 4.74%
2024: 3.67%
2025: 3.41%
2026: 3.57%
Those responding to the survey believe home price appreciation will still be relatively high this year (though half of what it was last year), and then return to more normal levels over the next four years.
What Does This Mean for You as a Buyer?
With a limited supply of homes available for sale and both prices and mortgage rates increasing, it can be a challenging market to navigate as a buyer. But buying a home sooner rather than later does have its benefits. If you wait to buy, you'll pay more in the future. However, if you buy now, you'll actually be in the position to make future price increases work for you. Once you buy, those rising home prices will help you build your home's value, and by extension, your own household wealth through home equity.
As an example, let's assume you purchased a $360,000 home in January of this year (the median price according to the National Association of Realtors rounded up to the nearest $10K). If you factor in the forecast for appreciation from the Home Price Expectation Survey, you could accumulate over $96,000 in household wealth over the next five years (see graph below):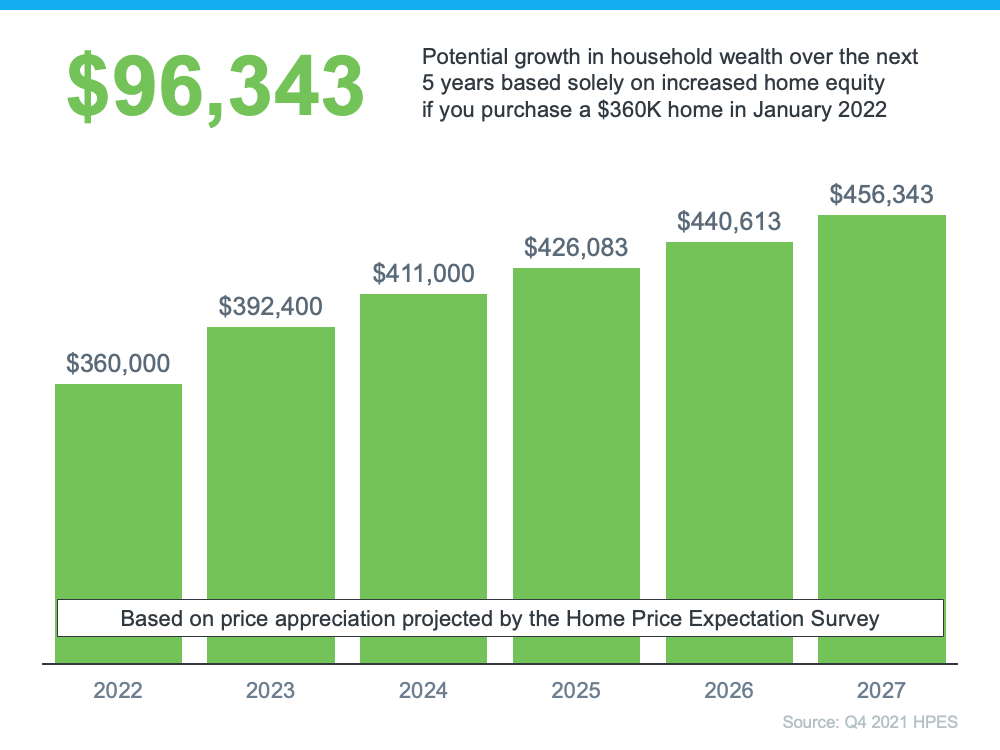 Bottom Line
If you're trying to decide whether to buy now or wait, the key is knowing what's expected to happen with home prices. Experts say prices will continue to climb in the years ahead, just at a slower pace. So, if you're ready to buy, doing so now may be your best bet for your wallet. It'll also give you the chance to use the future home price appreciation to build your own net worth through rising equity.
With homeownership you can lock in the cost today, and have an asset that increases in value over time, making it a great hedge against inflation.
When looking at home price appreciation versus consumer price increases gong back to the 1970s, we can see how home price appreciation outpaces inflation. Of course, the 2000s was a fundamentally different housing market with an oversupply of homes and lower lending standards. Overall, we can see that buying a home today would not only lock in today's costs and provide a hedge against inflation, but avoid the rising rental rates.
Rental prices are skyrocketing, and the forecasts project that not only will home values will continue rising, but so will mortgage rates.
Rent increases have been greater than inflation in most years. That means it's more expensive to rent over time.
For a $200,000 home at 3.5% interest rate today your monthly payment would be $898. However, in Q1 of 2023 when that same home will be $212,600, interest rates will be $3.8%, and now your monthly payment is $990. That's a difference of $33,314 over the life of the 30-year mortgage. That amount jumps to $66,625 for a $400,000 home.
For a $200,000 home at 3.5% interest rate today your monthly payment would be $898. However, in Q1 of 2023 when that same home will be $212,600, interest rates will be $3.8%, and now your monthly payment is $990. That's a difference of $33,314 over the life of the 30-year mortgage. That amount jumps to $66,625 for a $400,000 home.
For a $200,000 home at 3.5% interest rate today your monthly payment would be $898. However, in Q1 of 2023 when that same home will be $212,600, interest rates will be $3.8%, and now your monthly payment is $990. That's a difference of $33,314 over the life of the 30-year mortgage. That amount jumps to $66,625 for a $400,000 home. That's staggering.
Tangible assets like real estate get more valuable over time making buying a home a good way to spend your money during inflationary times.
This is the Home Price Expectation Survey of 100 economists and data analysts from Q4 of 2021, and represents their house appreciation forecasts by 2026. The group was divided into optimists and pessimists, where optimists projecting the most appreciation over the next 5 years, and the pessimists estimate on the lower end. The pessimists are saying that by 2026 houses will appreciate in value by over 23%. That is pretty significant.
We've recently seen a rise in mortgage rates. Some of the last reported numbers have us around 3.55%, which is certainly higher than in some past years, but the housing market is expected to remain pretty competitive this year. It's about to start feeling like interest rates are going to be high, but they are historically low for the U.S.
Let's look at two of the mortgage markets – the purchase market and the refinance market. The purchase market is forecasted to grow, and the refinance market is forecasted to constrict – a typical reaction in a rising rate environment.
Let's tie in the 10-year treasury for a moment. In the last 2 months, the rate on the 10-year treasury yield has skyrocketed. Why is that important?
For the last 50 years, the relationship between the mortgage rate and the 10-year treasury yield has been almost symbiotic. Wherever the 10-year treasury yield goes, there goes the 30-year fixed rate. The Fed does not control interest rates – it can only hope to influence them. Overall, the 10-year treasury yield may be something worth watching.
Month after month we have talked about why we will not see a wave of foreclosures coming to the market, so let's wrap up this month looking at the latest data.
Loans in forbearance have fallen below one million. This is huge. We are at roughly 780,000 loans in forbearance which equates to 1.4% of mortgages. It is wonderful to see that the forbearance program has really helped homeowners change their situations during such a time of economic uncertainty.
Looking at loans upon exiting the forbearance program, about 38% percent of homeowners are paid in full by either making monthly payments or paying off their loan. Then, about 44% percent are on some sort of repayment plan – homeowners who have been able to make a loan modification or deferral. Unfortunately, 18.2% of homeowners are exiting the forbearance plan without a loss mitigation plan. The bright side of that is, according to Black Knight, 93% of homeowners in a forbearance plan have at least 10% equity, allowing them the opportunity to sell their home. To put this all in perspective, during the housing bubble burst in 2008, we saw 9.3 million homes go into foreclosure. We are in a very different situation today.
We have significantly fewer foreclosures today than we would even in a normal year. Obviously, the forbearance program came allowed us to see record low foreclosures in the most recent years.
Foreclosure activity is at an all-time low. We are at 151,000 foreclosures, whereas in 2007 to 2015, millions of homeowners were going into the foreclosure process. Even if this number of 151,000 doubled, tripled, or even quadrupled, we would be nowhere near where we were when the housing bubble burst.
There's so much speculation in the market right now.
Lots of speculation, but when it comes to real estate, inventory will be the market indicator. The bad news is that listings are at record lows. This is for a variety of reasons: low rates, the changing definition of "home," and perhaps the desire to own a home.
Realtor.com looked at housing inventory year over year (December 2020 to December 2021). Where the national average is down almost 27% year over year, and Florida is one of the highest at down over 48% – a significant lack of inventory across the country. Real estate will not be able to reach its market potential, because you cannot sell what you don't have.
Going all the way back to January 2019, looking at the Months Inventory of Homes for Sale, we see supply start to dip down in 2020, spike up during lockdown, and then deplete since then with record lows in December and January last year (under two months' supply) – a number not too far off from where we are now.
On the other hand, buyer demand is not slowing. Showings are still strong, according to ShowingTime. This is a leading indicator of activity, because if people aren't scheduling showings, then those don't turn into contracts, and ultimately sold deals. Showings still continue to crush pre-pandemic numbers.
Where 2017, 2018, and 2019 are the "normal years" in real estate, we can see activity is still very strong this winter.
No doubt buyers are out there are in force, motivated by a number of different things: rising rates, or different needs in a home.
Those showings are turning into deals – pending deals. Sales are higher than pre-pandemic numbers as well. The market is moving, and would have even greater momentum with more inventory.
People are looking at their home equity and considering doing something different. Everyone should know how much equity they have in their home.
CoreLogic's third quarter home equity report showed that the average homeowner with a mortgage gained $57,000 in equity – 31.1% year over year percentage for increase in equity for homes with a mortgage in the United States with a total equity increase of $3.2 trillion. Home price growth reached its highest level in more than 45 years, pushing equity gains to another record high.
Across the country there is an average gain of $56,700 in equity – $64,000 in Florida.
The ability to build wealth through equity is one of the greatest benefits of home ownership.
Fannie Mae, Freddie Mac, the National Association of Realtors® (NAR), and the Mortgage Bankers Association (MBA) are predicting between 3.5% and 4% in rates for the second half of the year. We are seeing an upward trend, with rates likely to settle where they have been over the past 10 years – between 3% and 5%.
Forbearances have finally fallen below one million – that represents about 1.6% of active mortgages. Four out of five homes that are coming out of forbearance have a repayment plan. And let's not forget the $57,000 average gain in equity in the last year – those in forbearance likely have opportunities.
We all know that pricing has peaked. Looking at the Federal Housing Administration (FHA), CoreLogic, and Case Shiller price acceleration predictions (year over year) back to January 2021 starts out at 10% where we peaked around 19% in July. However, over time we will likely return to the average of about 5%. A situation in which homes will continue to appreciate, just at a slower, more moderate rate.
The home price appreciation forecasts for 2022 average 5.2% – anywhere from 7.5% to 2.8%.
Overall, this year looks as if it will be a strong year for the real estate market.