Are you thinking about selling your house? If so, you may want to make it a priority to start the process soon. According to realtor.com, the sweet spot for sellers is just around the corner. In a recent study, experts analyzed housing market trends by looking at data from the past several years (excluding 2020, since it was an atypical year). When applied to the current market, experts determined the ideal week to list a house this year. The research says:
"Home sellers on the fence waiting for that perfect moment to sell should start preparations, because the best time to list a home in 2022 is approaching quickly. The week of April 10-16 is expected to have the ideal balance of housing market conditions that favor home sellers, more so than any other week in the year."
If you've been putting your move on the back burner waiting for the ideal time to sell, you should know your golden window of opportunity is coming up. If you're able to get your house ready quickly, here's what you can expect from that week.
You Should See More Buyer Activity
The article expects higher buyer demand based on what's happened in previous years. This could result in increased competition among buyers and ultimately a bidding war over your house. And since mortgage rates recently ticked up over 4%, chances are good that analysis is right. When rates rise, experts say buyers often hurry to make their purchase before rates climb higher. As Nadia Evangelou, Senior Economist and Director of Forecasting at the National Association of Realtors (NAR), says:
". . . Buyers are rushing to lock in lower rates as the outlook is for even higher mortgage rates in the following months."
Your House Is Expected To Sell Quickly
Additionally, the realtor.com analysis shows houses sell even faster during this week of the year, likely due to the heightened buyer demand. If you work with a trusted real estate professional to price your house right, it should sell quickly. And when homes are already selling in just 18 days according to NAR, that could set you up for a big win.
Your House Will Be in the Spotlight
Since the beginning of the year, the number of homes available for sale has been at or near record lows. According to the realtor.com study, the typical trend for this week of the year is that there will be even fewer sellers on the market. If you list when inventory is low, your house will be the center of attention for eager buyers craving options.
If you're ready to move fast, you may want to shoot for April 10th-16th as your target goal. Just remember, even if you're not ready to list within the next couple of weeks, rest assured this is still a hot sellers' market. If you list later in April, you'll still be in the driver's seat.
Bottom Line
Ready to get the ball rolling? Let's connect and schedule a time to go over your next steps. In the meantime, make a checklist of things you need to tackle to get your house ready.
When you make a move, you want to sell your house for the highest price possible. That might be why many homeowners are eager to list in today's sellers' market. After all, with record-low inventory and high buyer demand, many homes are selling for more than asking price. Data from the National Association of Realtors (NAR) shows 46% of homes are selling above list price today.
But even in a market like we have now, working with an agent to set the right asking price is critical, as pricing it too high or too low could have a negative impact on your final sale. Here's why.
Pricing Your House Right Is Crucial Even in a Sellers' Market
The price you set for your house sends a message to potential buyers. Price it too low and you might raise questions about your home's condition or lead buyers to assume something is wrong with the property. Not to mention, you could leave money on the table, which decreases your future buying power if you undervalue your house.
On the other hand, price it too high and you run the risk of deterring buyers. When that happens, you may have to do a price drop to try to re-ignite interest in your house when it sits on the market for a while. But be aware that a price drop can be seen as a red flag for some buyers who will wonder why the price was reduced and what that means about the home.
In other words, think of pricing your home as a target. Your goal is to aim directly for the center – not too high, not too low, but right at market value. Pricing your house fairly based on market conditions increases the chance you'll have more buyers who are interested in purchasing it. That makes it more likely you'll see a bidding war, too. And when a bidding war happens, you'll likely get an even higher final sale price. Plus, when homes are priced right, they tend to sell quickly.
To get a look into the potential downsides of over or underpricing your house and the perks that come with pricing it at market value, see the chart below: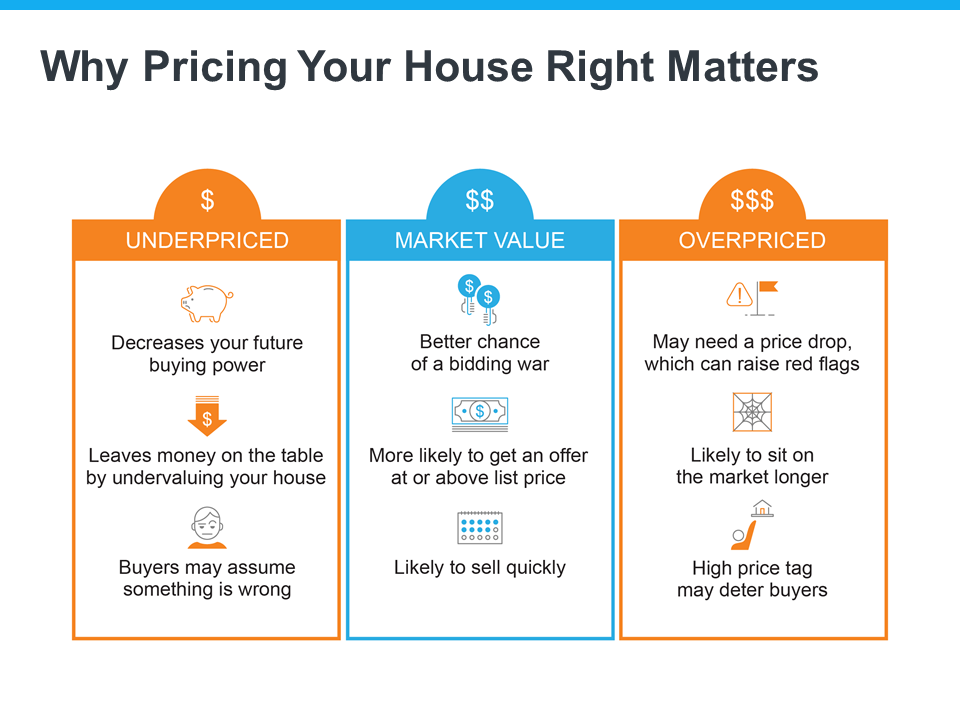 Lean on a Professional's Expertise To Price Your House Right
There are several factors that go into pricing your house and balancing them is the key. That's why it's important to lean on an expert real estate advisor when you're ready to move. A local real estate advisor is knowledgeable about:
The value of homes in your neighborhood
The current demand for houses in today's market
The condition of your house and how it affects the value
A real estate professional will balance these factors to make sure the price of your house makes the best first impression and gives you the greatest return on your investment in the end.
Bottom Line
Even in a sellers' market, pricing your house right is critical.
As you plan out your goals for the year, moving up to your dream home may top the list. But, how do you know when to make your move? You want to time it just right so you can get the most out of the sale of your current house. You also want to know you're making a good investment when you buy your new home. What you may not realize is, that opportunity to get the best of both worlds is already here.
You don't want to wait until spring to spring into action. The current market conditions make this winter an ideal time to move. Here's why.
1. The Number of Homes on the Market Is Still Low
Today's limited supply of houses for sale is putting sellers in the driver's seat. There are far more buyers in the market than there are homes available, and that means buyers are eagerly waiting for your house. Listing your house now makes it the center of attention. As a seller, that means when it's priced correctly, you can expect it to sell quickly and get multiple strong offers this season. Just remember, experts project more inventory will come to market as we move through the winter months. The realtor.com 2022 forecast says this:
"After years of declining, the inventory of homes for sale is finally expected to rebound from all-time lows."
Selling now may help you maximize the return on your investment before your house has to face more competition from other sellers.
2. Your Equity Is Growing in Record Amounts
Current homeowners are sitting on record amounts of equity thanks to today's home price appreciation. According to the latest report from CoreLogic, the average homeowner gained $56,700 in equity over the past 12 months.
That much equity can open doors for you to make a move. If you've been holding off on selling because you're worried about how rising prices will impact your own home search, rest assured your equity can help fuel your next move. It may be just what you need to cover a large portion – if not all – of the down payment on your next purchase.
3. While Rising, Mortgage Rates Are Still Historically Low
In January of last year, mortgage rates hit the lowest point ever recorded. Today, rates are starting to rise, but that doesn't mean you've missed out on locking in a low rate. Current mortgage rates are still far below what they've been in recent decades:
In the 2000s, the average mortgage rate was 6.27%
In the 1990s, the average rate was 8.12%
Even with mortgage rates rising above 3%, they're still worth taking advantage of. You just want to do so sooner rather than later. Experts are projecting rates will continue to rise throughout this year, and when they do, it'll cost you more to purchase your next home.
4. Home Prices Are Going To Keep Rising with Time
According to industry leaders, home prices will also continue appreciating this year. While experts are forecasting more moderate home price growth than last year, it's important to note prices will still be moving in an upward direction throughout 2022.
What does that mean for you? If you're selling so you can move into a bigger home or downsize to the home of your dreams, you want to consider moving now before rates and prices rise further. If you're ready, you have an opportunity to get ahead of the curve by purchasing your next home before rates and prices climb higher.
If you're considering selling to move up or downsize, this may be your moment, especially with today's low mortgage rates and limited inventory.