If you're ready to move up, you may be trying to decide whether you want to buy a home that's already on the market or build a new one. And since the supply of homes available for sale today is low, you're willing to consider either avenue. While home builders are doing everything they can to construct more houses and help narrow the supply shortage, they're also facing delays due to factors outside of their control.
Here's the latest on some of the key challenges homebuilders are experiencing today and how they could impact your plans to move up. When you know what's happening in the industry, you can make an informed decision on whether to look for a newly built or an existing home in your home search.
Supply Chain Issues
The first hurdle builders are dealing with is the lack of supply of various building materials. According to a recent article from HousingWire:
". . . Nearly everything needed in the homebuilding process is facing some sort of delay and subsequent price increase."
The supply issue isn't just with lumber, even though that's what's covered most in the news. The article explains many other supplies are impacted too, including roofing materials, windows, garage doors, siding, and gypsum (which is used in drywall).
The difficulty in getting these items is dragging out timelines for new homes as builders wait on what they need to finish construction. And since materials are in short supply, even when they do get the product, the principle of supply and demand is driving prices up for those goods. HousingWire explains it like this:
"When supplies are low, charges inevitably go up, . . . Meanwhile, a lack of availability is causing huge delays, meaning builders are struggling to stay on schedule."
The National Association of Home Builders (NAHB) agrees:
"Builders are grappling with supply-chain issues that are extending construction times and increasing costs."
Skilled Labor Shortage
But that's not the only challenge with new home construction today. Builders are also having a hard time finding skilled labor, which means they're short-handed, further dragging out their timelines. Odeta Kushi, Deputy Chief Economist at First American, says this is an ongoing challenge for the industry:
"The skilled labor shortage in the construction industry is not new – it's been an issue for more than a decade now."
But there is good news. The February jobs report shows employment gains in the construction industry. Kushi puts this encouraging news into perspective in the article mentioned above:
"Overall this was a good report, . . . The supply of workers continues to fall short of demand, but the underlying momentum of the labor market recovery is strong, and falling COVID case counts provide further forward momentum."
That means, while finding workers continues to be a challenge for builders, there are signs of positive momentum moving forward.
How This Impacts You
HousingWire explains how these things can impact move-up buyers today:
"The residential construction industry is facing a crisis as builders manage the critical shortage of building materials and labor. Explosive supply and labor costs are forcing long delays. . . ."
So, when you weigh your options and try to decide between building a home or buying an existing one, factor the potential delay in new home construction into your decision. While it doesn't mean you should cross newly built homes off your list, it does mean you should consider your timeline and if you're willing to wait while your home is being constructed.
Bottom Line
When planning your next move, understanding the latest market conditions is key to making the best decision possible. Make sure you know what's happening in your local market so you can confidently decide what's right for you, your priorities, and your timeline.
One key question that's top of mind for homebuyers this year is: why is it so hard to find a house to buy? The truth is, we're in the ultimate sellers' market, so real estate is ultra-competitive for buyers right now. The number of buyers searching for a home greatly outweighs how many homes are available for sale.
While low inventory in the housing market isn't new, it's a challenge that continues to grow over time. Here's a look at two reasons why today's housing supply is low and what that means for you.
1. New Home Construction Fell Behind for Several Years
The graph below shows new home construction for single-family homes over the past five decades, including the long-term average for housing units completed. Builders exceeded that average during the housing bubble (shown in red on the graph). The result was an oversupply of homes on the market, so home values declined. That was one of the factors that led to the housing crash back in 2008.
Since then, the level of new home construction has fallen off. For the last 13 straight years, builders haven't been able to construct enough homes to meet the historical average (as illustrated in green on the graph). That underbuilding left us with a multi-year inventory deficit going into the pandemic.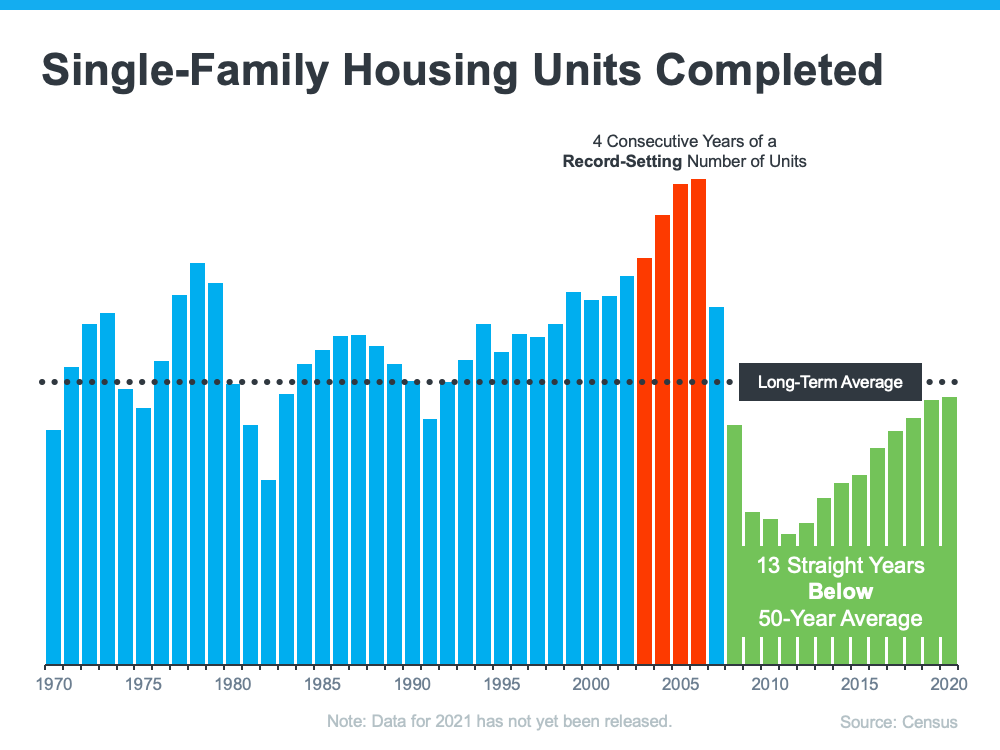 2. The Pandemic's Impact on the Housing Market
Then, when the pandemic hit, it fueled a renewed appreciation and focus on the meaning of home. Having a safe space to live, work, school, and exercise became even more important for Americans throughout the country. So, as mortgage rates dropped to at or below 3%, buyers eagerly entered the market looking to capitalize on those low rates to secure a home that would fulfill their changing needs. At the same time, sellers hesitated to put their houses on the market as concerns about the pandemic mounted.
The result? The number of homes available for sale dropped even further. A recent article from realtor.com explains:
"Last month, the number of home listings dropped 26.8% compared with the same time a year earlier. This meant there were about 177,000 fewer homes listed in what's already typically a slower month due to the holidays and colder weather. . . ."
What Does All of This Mean for You?
For a buyer, low inventory can be a challenge. You want to find the home of your dreams, and you don't want to settle. But what if there just aren't that many homes to choose from?
There is some good news. Experts are projecting more homes will soon become available thanks to sellers re-entering the market. Danielle Hale, Chief Economist at realtor.com, shares this hope, but offers perspective:
"We expect that we'll start to see a turnaround and inventory will stabilize and start to go up a little bit in 2022. . . . But that means we're looking at inventory levels of roughly half of what we saw before the pandemic. For buyers, the market is likely to continue to move fast. If you see a home you like, you want to jump on it right away."
Basically, inventory is still low, even though more homes are coming. But you shouldn't put your plans on hold because you're waiting for those additional houses to hit the market. Instead, stick with your search and persevere through today's low inventory. You can find your next home if you're patient and focused.
Remember your goals and why finding a home is so important. Those things should be the driving force behind your search. Share them with your agent and be clear about your priorities. Your trusted advisor is your greatest support as you navigate today's low housing supply to find the home of your dreams.
If you're planning to buy this year, the key to success will be patience given today's low inventory.
Builders remain confident, but the National Association of Home Builders (NAHB) saw a one point drop (from 84 to 83, where 50 is normal) in their confidence index on inflation due to the risings costs of materials.  
Inflation and supply chain disruptions halted the 4 month increase in builder sentiment.
Higher material costs and lack of availability are adding weeks to typical single-family construction times… NAHB analysis indicates the aggregate cost of residential construction materials has increased almost 19% since December 2021. Policymakers need to take action to fix supply chains. Obtaining a new softwood lumber agreement with Canada and reducing tariffs is an excellent place to start.

Chuck Fowke, NAHB Chairman
The HMI data was collected during the first two weeks of January and does not fully reflect the recent jump in mortgage interest rates… While lean existing home inventory and solid buyer demand are supporting the need for new construction, the combination of ongoing increases for building materials, worsening skilled labor shortages and higher mortgage rates point to declines for housing affordability in 2022.

Robert Dietz, NAHB Chief Economist
Many homeowners who plan to sell in 2022 may think the wise thing to do is to wait for the spring buying market since historically about 40 percent of home sales occur between April and July. However, this year's expected to be much different than the norm. Here are five reasons to list your house now rather than waiting until the spring.
1. Buyers Are Looking Right Now, and They're Ready To Purchase
The ShowingTime Showing Index reports data from more than six million property showings scheduled across the country each month. In other words, it's a gauge of how many buyers are out looking at homes at the current time.
The latest index, which covers November showings, reveals that buyers are still very active in the market. Comparing this November's numbers to previous years, this graph shows that the index is higher than last year and much higher than the three years prior to the pandemic. Clearly, there's an influx of buyers searching for your home.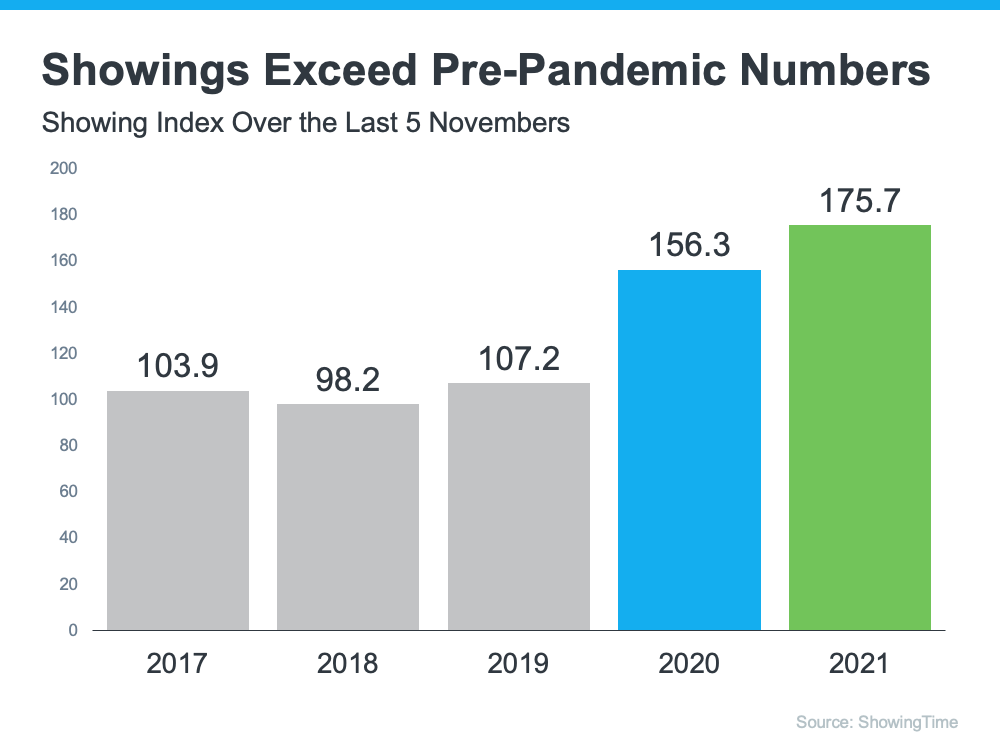 Also, at this time of year, only those purchasers who are serious about buying a home will be in the market. You and your loved ones won't be inconvenienced by casual searchers. Freddie Mac addresses this in a recent blog:
"The buyers who are willing to house hunt in a winter market, when there are fewer options, are typically more serious. Plus, year-end bonuses and overtime payouts give people more purchasing power."
And that theory is proving to be true right now based on the number of buyers who have put a home under contract to purchase. The National Association of Realtors (NAR) publishes a monthly Pending Home Sales Index which measures housing contract activity. It's based on signed real estate contracts for existing single-family homes, condos, and co-ops. The latest index shows:
"…housing demand continues to be high. . . . Homes placed on the market for sale go from 'listed status' to 'under contract' in approximately 18 days."
Comparing the index to previous Novembers, while it's slightly below November 2020 (when sales were pushed to later in the year because of the pandemic), it's well above the previous three years.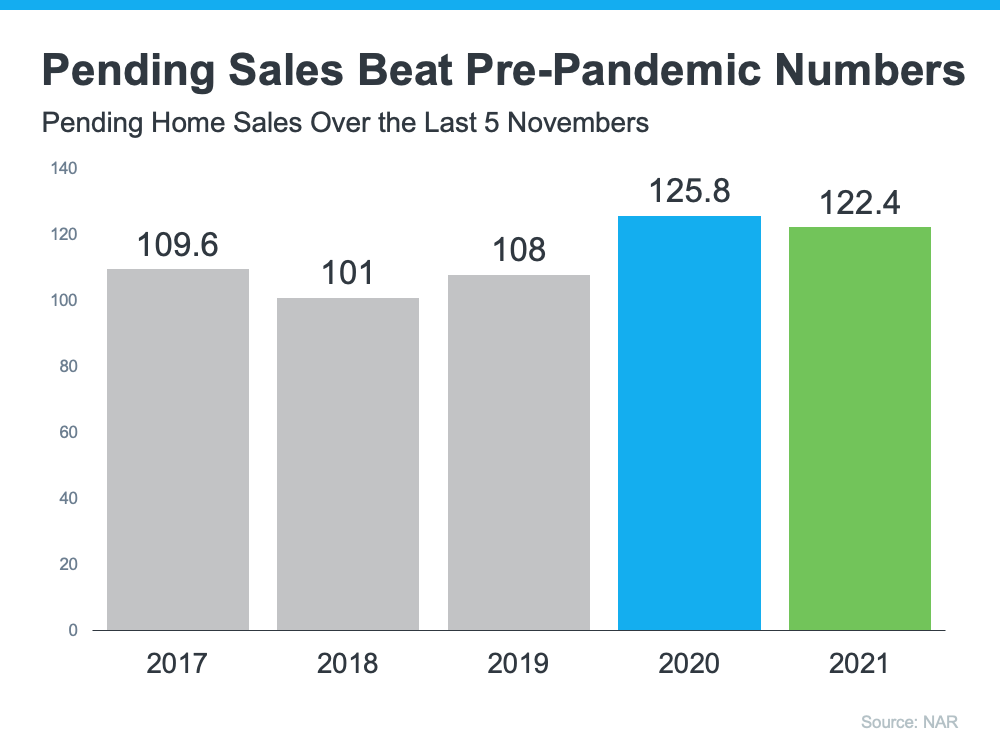 The takeaway for you: There are purchasers in the market, and they're ready and willing to buy.
2. Other Sellers Plan To List Earlier This Year
The law of supply and demand tells us that if you want the best price possible and to negotiate your ideal contract terms, put your house on the market when there's strong demand and less competition.
A recent study by realtor.com reveals that, unlike in previous years, sellers plan to list their homes this winter instead of waiting until spring or summer. The study shows that 65% of sellers who plan to sell in 2022 have either already listed their home (19%) or are planning to put it on the market this winter.
Again, if you're looking for the best price and the ability to best negotiate the other terms of the sale of your house, listing before this competition hits the market makes sense.
3. Newly Constructed Homes Will Be Your Competition in the Spring
In 2020, there were over 979,000 new single-family housing units authorized by building permits. Many of those homes have yet to be built because of labor shortages and supply chain bottlenecks brought on by the pandemic. They will, however, be completed in 2022. That will create additional competition when you sell your house. Beating these newly constructed homes to the market is something you should consider to ensure your house gets as much attention from interested buyers as possible.
4. There Will Never Be a Better Time To Move-Up
If you're moving into a larger, more expensive home, consider doing it now. Prices are projected to appreciate by approximately 5% over the next 12 months. That means it will cost you more (both in down payment and mortgage payment) if you wait. You can also lock in your 30-year housing expense with a mortgage rate in the low 3's right now. If you're thinking of selling in 2022, you may want to do it now instead of waiting, as mortgage rates are forecast to rise throughout the year.
5. It May Be Time for You To Make a Change
Consider why you're thinking of selling in the first place and determine whether it's worth waiting. Is waiting more important than being closer to your loved ones now? Is waiting more important than your health? Is waiting more important than having the space you truly need?
Only you know the answers to those questions. Take time to think about your goals and priorities as we move into 2022 and consider what's most important to act on now.
If you've been debating whether or not to sell your house and are curious about market conditions in your area, connect with a Realtor® so you have expert advice on the best time to put your house on the market.
There's no question that the financial benefits of 
selling
 a house are outstanding today. Now is truly a great time to list if you're ready to make a change. But if you do sell your house right now, you may be wondering where you'll go when you move.
With so few homes available to 
buy
 right now, you might be considering building a new home as one of your options. But you may be unsure if that's the way to go. Let's compare the benefits of a newly built home versus moving into an existing one, and why working with a 
real estate agent
 throughout the process is mission-critical to your success no matter what you decide.
The Pros of Newly Built Homes
First, let's look at the benefits of purchasing a newly constructed home. With a brand-new home, you'll be able to:
1. Create your perfect home.
If you build a home from the ground up, you'll have the option to select the custom features you want, including appliances, finishes, landscaping, layout, and more.
2. Cash-in on energy efficiency.
When building a home, you can choose energy-efficient options to help lower your utility costs, protect the environment, and reduce your carbon footprint.
3. Minimize the need for repairs.
Many builders offer a warranty, so you'll have peace of mind on unlikely repairs. Plus, you won't have as many little projects to tackle. QuickenLoans puts it like this: 
"Buying a new construction vs. existing home typically means you'll have fewer repairs to do. It can be a huge relief to know that it's unlikely you'll have to repair the roof or replace the furnace."
4. Have brand new everything.
Another perk of a new home is that nothing in the house is used. It's all brand new and uniquely yours from day one.
The Pros of Existing Homes
Now, let's compare that to the perks that come with buying an existing home. With a pre-existing home, you can:
1. Explore a wider variety of home styles and floorplans.
With decades of homes to choose from, you'll have a broader range of floorplans and designs available.
2. Join an established neighborhood.
Existing homes give you the option to get to know the neighborhood, community, or traffic patterns before you commit.
3. Enjoy mature trees and landscaping.
Established neighborhoods also have more developed landscaping and trees, which can give you additional privacy and curb appeal. As Investopedia says, if you buy an existing home:
"Odds are, too, that the home will have mature landscaping, so you won't have to worry about starting a lawn, planting shrubs, and waiting for trees to grow."
4. Appreciate that lived-in charm.
The character of older homes is hard to reproduce. If you value timeless craftsmanship or design elements, you may prefer an existing home. According to Houseopedia:
"Charm is priceless. Existing homes, especially those built in the 1950's or before, often offer architectural elements, historic charm and a quality of craftsmanship not available in new homes."
The choice is yours. When you start your search for the perfect home, remember that you can go either route – you just need to decide which features and benefits are most important to you. Working with the guidance of your trusted real estate advisor will help you make the most informed and educated decision, so you can move into the home of your dreams.

While today's 
supply
 of homes for sale is still low, the number of 
newly built homes is increasing
. If you're 
ready to sell
 but have held off because you weren't sure you'd be able to find a home to move into, newly built homes and those under construction can provide the options you've been waiting for.
The latest 
Census
 data shows the inventory of new homes is increasing this year 
(see graph below)
: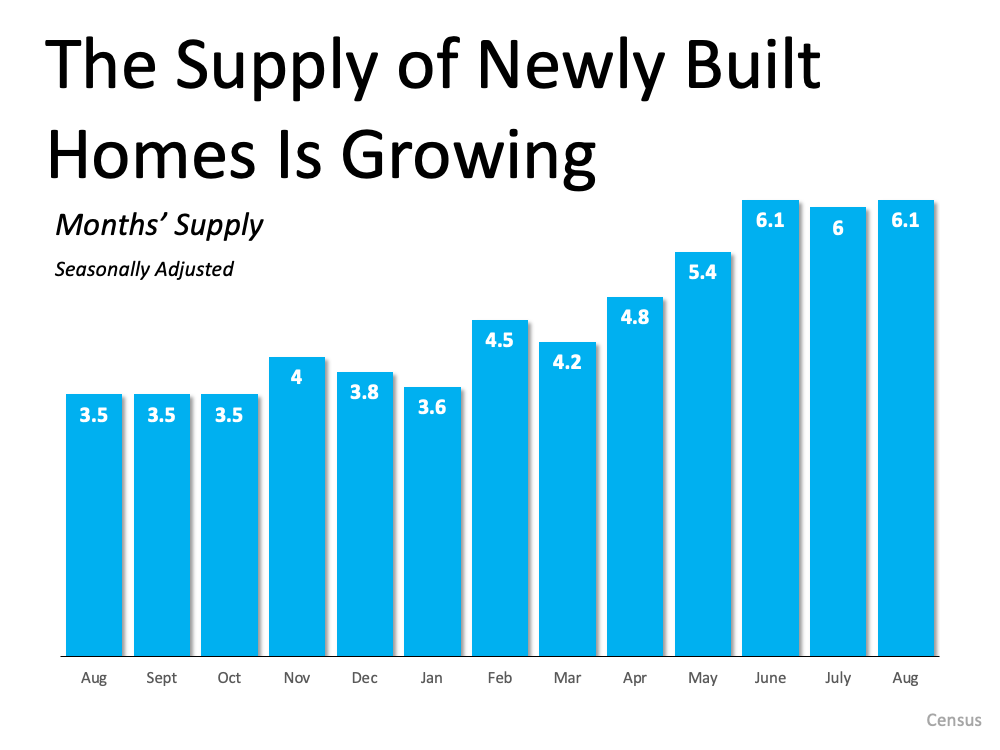 With more new homes coming to the market, this means you'll have more options to choose from if you're ready to buy. Of course, if you do consider a newly built home, you'll want to keep timing in mind. The supply shown in the graph above includes homes at various stages of the construction process – some are near completion while others may be months away.
According to Robert Dietz, Chief Economist and Senior VP for Economics and Housing Policy for the 
National Association of Home Builders
 (NAHB):
"28% of new home inventory consists of homes that have not started construction, compared to 21% a year ago."
Buying a home near completion is great if you're ready to move. Alternatively, a home that has yet to break ground might benefit you if you're ready to sell and you aren't on a strict timeline. You'll have an even greater opportunity to design your future home to suit your needs. No matter what, your trusted real estate advisor can help you find a home that works for you.
If you want to take advantage of today's sellers' market, but you're not sure if you'll be able to find a home to move into, consider a newly built home.
To put some context on what is happening in the market with prices right now, let's look at the latest year-over-year home price appreciation.
This dramatic home price appreciation is a factor of the recent supply and demand imbalance we have talked about over the past months. We simply have not had enough homes on the market for the demand from buyers, which caused prices to rise.
When the experts start speaking of "decelerating trends," they are not projecting depreciation, just a slower, more moderate home price appreciation. This is where understanding the difference between depreciation and a decelerating trend is paramount to understand what is going on in the market. To help clarify, let's look at the estimated home price performance from the Home Price Expectations Survey.
Through the remainder of 2021, home prices are expected to increase or appreciate (11.74%). So, a slowing of the appreciation we are seeing at 17% and 18%. Then looking ahead, prices are expected to appreciate on a more moderate level – an average of 5.7% through 2025. Home prices are continuing to accelerate, just at a slower pace. The combination of continued home price appreciation, and increasing mortgage interest rates, means buying now could be critical to a long-term wealth advantage.
Forecasters are struggling with the forecasts for the remainder of this year. To understand why this is, let's take a look at the annualized home sales for 2019, 2020, and 2021.
Business slowed during the lockdown in 2020 when people were taking their homes off the market due to uncertainty. We then saw a tremendous end to 2020, as people began to feel more comfortable, and we seemed to be making up for the missed business earlier in the year. Then in 2021, it looks like we are headed for less business year-over-year, compared to 2020. The reality is that the second part of 2020 was unusual, and making up for a crazy time in the market. Let's also not forget we are trending well above 2019 – which was a very good year in real estate.
2019 was the best year in real estate (with the exception of 2017) in the past decade. Remember how to put it into perspective when the news tries to taunt us with the scary headline that, "We're down year over year." We are below prior year because it was unusual with the lockdown and we packed a year's worth of business in the latter part of the year, but, despite this, we are well above 2019 – one of the best years in real estate over the past decade.
Typically, we see listings (homes coming to market) peak in fall. This was the case for 2017, 2018, and 2019.
However, in 2020 monthly listing counts peaked in April.
In 2020, as listings decreased, sales increased.
And the big question becomes: When will listings peak this year? Listings could either grow, and we eclipse where we were in 2020, which would be a huge relief on pricing. Or, listings flatten out, and we intersect where we were in 2020 at some point. Finally, listings could begin to dwindle, and cause more price appreciation.
However, it seems as if we will see continued listings going into this fall. First, because of pent up seller demand, and homeowners being more comfortable putting their homes on the market. Second, new construction. Building is starting to take off as material prices start to equalize. Third, and finally, the end of forbearance will create new listings. Not a wave of foreclosures, but it will create a time in the market for people that say, "We can't afford the home any longer, and we're going to have to sell it." In addition, the recent price appreciation may cause people to want to take advantage of that equity and move.
Interest rates are becoming a hot topic in the market right now. It's going to become more expensive for people to borrow. Right now the 30-year fixed just jumped above 3%.
We see the Fed starting to taper on buying in the mortgage market, causing interest rates to go up.
Around the middle to the third quarter of next year, interest rates are projected to be about 3.5%. Interest rates are on the rise. So what is the cost of waiting?
Let's look at an example of a $300,000 home today at a 2.7% interest rate. With the home price appreciation projections, and interest rate projections, that could mean a monthly payment increase of $72.45 or a difference over the life of the 30-year loan of $25,938 if the purchase doesn't happen today, but happens in the fourth quarter of this year. It's going to cost more to purchase and finance a home in the months (and years) to come.
The Home Price Expectations Survey shows that if you look at a $350,000 home over the next five years, the purchaser of that home stands to gain just over $111,000 in gained equity based on forecasted appreciations for the next five years. Homeownership cannot only accumulate wealth, but be an effective hedge against inflation, because you have a fixed payment.

Here's how we wrapped up the month in Tallahassee:


As always, thanks for keeping updated with us, and we look forward to updating you again next month!
An important metric in today's residential real estate market is the number of homes available for sale. The shortage of available 
housing inventory
 is the major reason for the double-digit price appreciation we've seen in each of the last two years. It's the reason many would-be purchasers are frustrated with the bidding wars over the homes that are available. However, signs of relief are finally appearing.
According to 
data
 from 
realtor.com
, active listings have increased over the last four months. They define active listings as:
"The active listing count tracks the number of for sale properties on the market, excluding pending listings where a pending status is available. This is a snapshot measure of how many active listings can be expected on any given day of the specified month."
What normally happens throughout the year?
Historically, housing inventory increases throughout the summer months, starts to tail off in the fall, and then drops significantly over the winter. The graph below shows this trend along with the month active listings peaked in 2017, 2018, and 2019.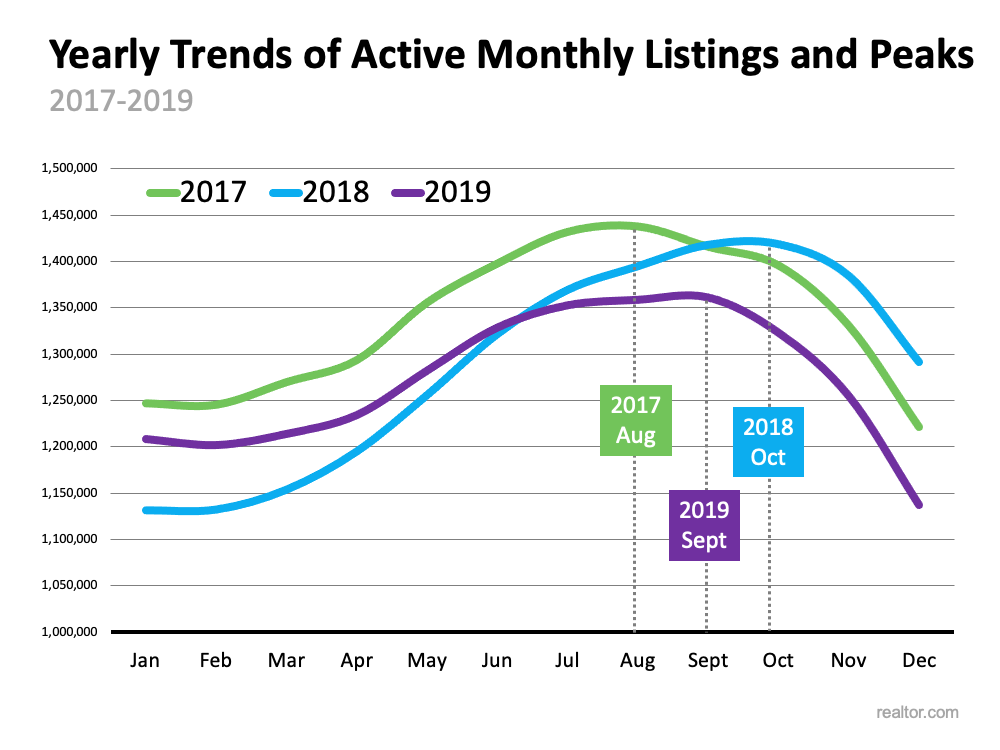 What happened last year?
Last year, the trend was different. Historical seasonality wasn't repeated in 2020 since many homeowners held off on putting their houses up for sale because of the pandemic (see graph below). In 2020, active listings peaked in April, and then fell off dramatically for the remainder of the year.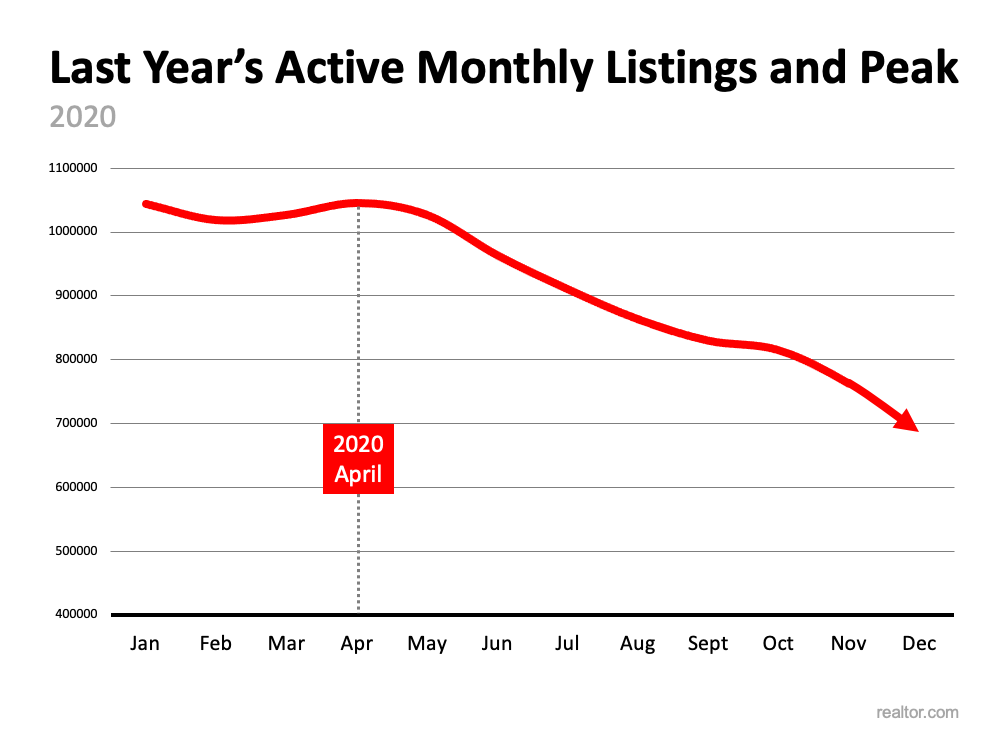 What's happening this year?
Due to the decline of active listings in 2020, 2021 began with record-low housing inventory counts. However, we've been building inventory over the last several months as more listings come to the market (see graph below):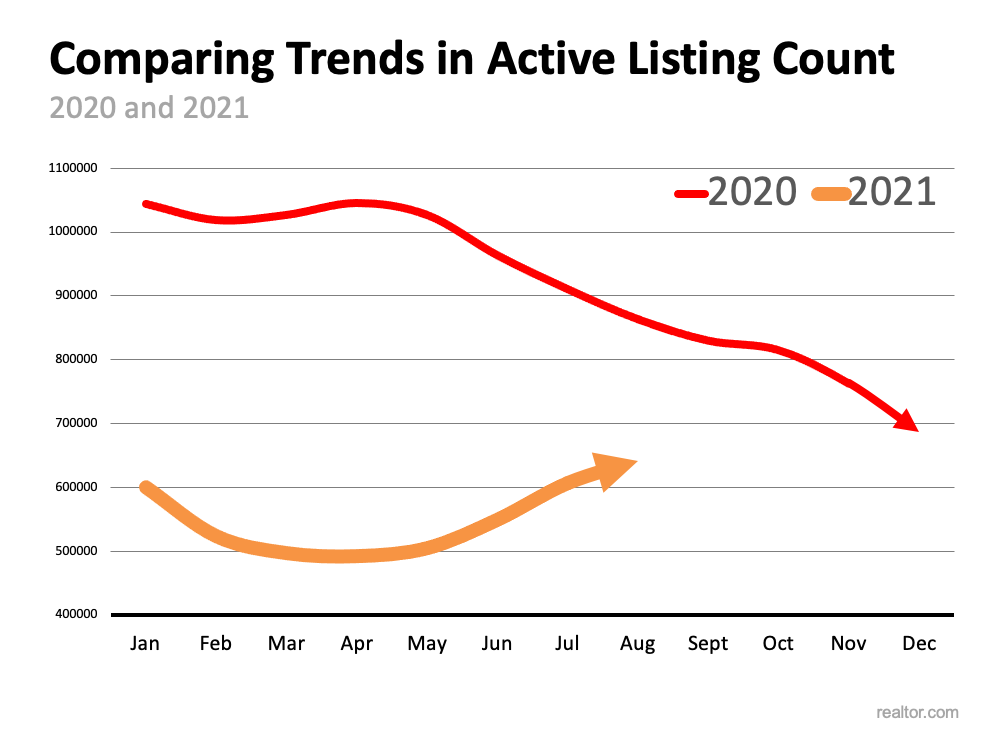 There are three main reasons we may see listings continue to increase throughout this fall and into the winter.
Pent-up selling demand – Homeowners may be more comfortable putting their homes on the market as more and more Americans get vaccinated.
New construction is starting to take off – Though new construction is not included in the realtor.com numbers, as more new homes are built, there will be more options for current homeowners to consider when they sell. The lack of options has slowed many potential sellers in the past.
The end of forbearance will create some new listings – Most experts believe the end of the forbearance program will not lead to a wave of foreclosures for several reasons. The main reason is the level of equity homeowners currently have in their homes. Many homeowners will be able to sell their homes instead of going to foreclosure, which will lead to some additional listings on the market.
If you're in the market to buy a home, stick with it. There are new listings becoming available every day. If you're thinking of selling your house, you may want to list your home before this additional competition comes to market.
One of the major questions real estate experts are asking today is whether prospective homebuyers still believe purchasing a home makes sense. Some claim rapidly rising home prices are impacting demand and, by extension, leading to the recent slowdown in sales activity.
However, demand isn't the real issue. Instead, it's the lack of supply (homes available for sale). An article from the 
Wall Street Journal
 shows this is true for new home construction:
"Home builders have sold more homes than they can build. Now they are limiting their sales in an effort to catch up."
The article quotes David Auld, CEO of D.R. Horton Inc. (the largest homebuilder by volume in the United States since 2002), explaining how they don't have enough homes for the number of buyers coming into their models:
"Through our history, to have somebody walk into our models and to tell them, 'We don't have a house for you to buy today', is something that is foreign to us."
Danielle Hale, Chief Economist for realtor.com, also explains that, in the existing home sale market, the slowdown in sales was a supply challenge, not a lack of demand. Responding to a recent uptick in listings coming to market, she notes:
". . . if these changing inventory dynamics continue, we could see a wave of real estate activity heading into the latter part of the year."
Again, the buyers are there. We just need houses to sell to them.
If the slowdown in sales was the result of demand waning, we would start to see home prices beginning to moderate – but this isn't the case. As Mark Fleming, Chief Economist for First American, explains:
"There's a lot of conversation around rising prices and falling quantity in the housing market, and there's this concept, or this idea, that it's a demand-side problem . . . . But, if demand were falling dramatically, we would actually see less price pressure, less home price growth."
Instead, we're seeing price appreciation accelerate throughout this year, as evidenced by the year-over-year percentage increases reported by CoreLogic:
January: 10%
February: 10.4%
March: 11.3%
April: 13%
May: 15.4%
June: 17.2%
(July numbers are not yet available)
There's a shortage of listings, not buyers, and there are three very good reasons for purchasers to still be interested in buying a home this year.
1. Affordability isn't the challenge some are claiming it to be.
Though home prices have risen dramatically over the last 18 months, mortgage rates remain near historic lows. Because of these near-record rates, monthly mortgage payments are affordable for most buyers.
While homes are less affordable than they were last year, when we adjust for inflation, we can see they're also more affordable than they were in the 1970s, 1980s, 1990s, and much of the 2000s.
2. Owning is a better long-term decision than renting.
A recent study shows renting a home takes up a higher percentage of a household's income than owning one. According to the analysis, here's the percentage of income homebuyers and renters should expect to pay now versus at the end of the year.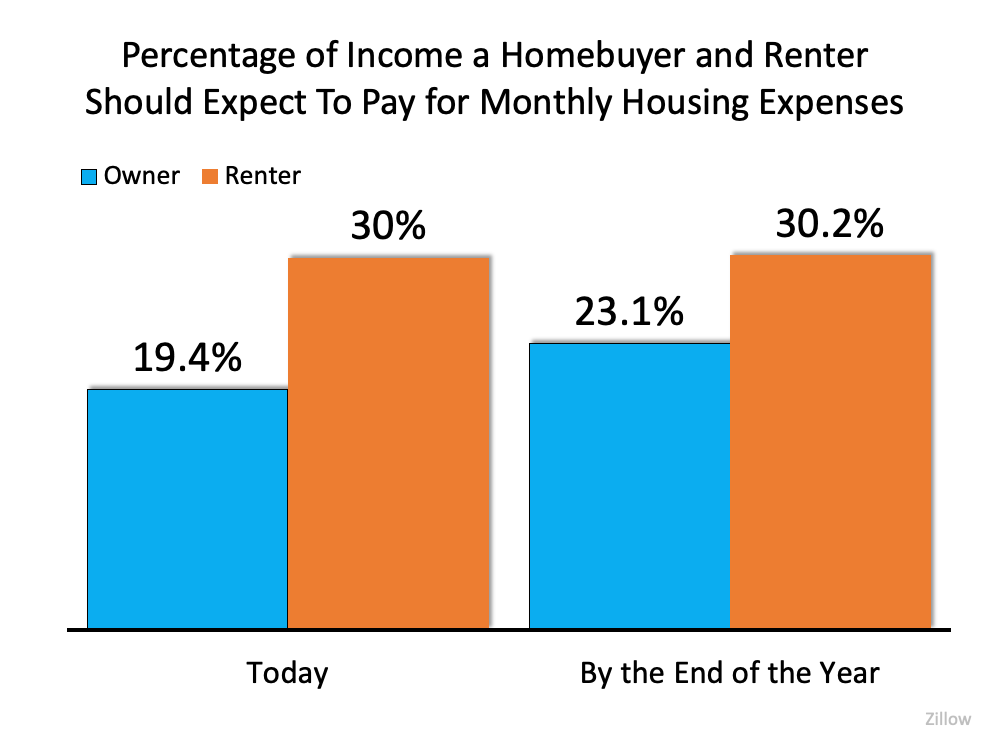 While the principal and interest of a monthly mortgage payment remain the same over the lifetime of the loan, rents increase almost every year.
3. Owners build their wealth. Renters build their landlord's wealth.
Whether you're a homeowner or an investor, real estate builds wealth through growing equity year-over-year. If you own, your household is gaining the benefit of that wealth accumulation. Fleming says:
"The major financial advantage of homeownership is the accumulation of equity in the form of house price appreciation . . . . We have to take into account the fact that the shelter that you're owning is an equity-generating or wealth-generating asset."
Odeta Kushi, Deputy Chief Economist at First American, elaborates in a recent article:
". . . once the home is purchased, appreciation helps build equity in the home, and becomes a benefit rather than a cost. When accounting for the appreciation benefit in our rent versus own analysis, it was cheaper to own in every one of the top 50 markets, including the two most expensive rental markets, San Francisco and San Jose, Calif."
Today, that equity buildup is substantial. The National Association of Realtors (NAR) reports:
"The median sales price of single-family existing homes rose in 99% of measured metro areas in the second quarter of 2021 compared to one year ago, with double-digit price gains in 94% of markets."
In 94% of markets, there was a greater than 10% increase in median price. That means if you bought a $400,000 home in one of those markets, your net worth increased by at least $40,000. If you rented, the landlord was the recipient of the wealth increase.
For many reasons, housing demand is still extremely strong. What we need is more supply (house listings) to meet that demand.
In April, the 
National Association of Home Builders
 (NAHB) posted an article, 
Home Buyers' Preferences Shift Towards New Construction
, which reported:
"60% of people who were looking to buy a home in 2020 said they'd prefer new construction to an existing home."
However, it seems buyers are now shifting their preferences back to existing homes.
The latest Consumer Confidence Survey reveals the percentage of Americans planning to buy a home in the next six months is virtually the same as it was back in March. However, the percentage that plan to buy a newly constructed home is lower for that same period.
NAHB confirms this sentiment in their latest Housing Trends Report. The organization explains that existing homes are now the top preference among today's buyers. Here's a breakdown of those findings: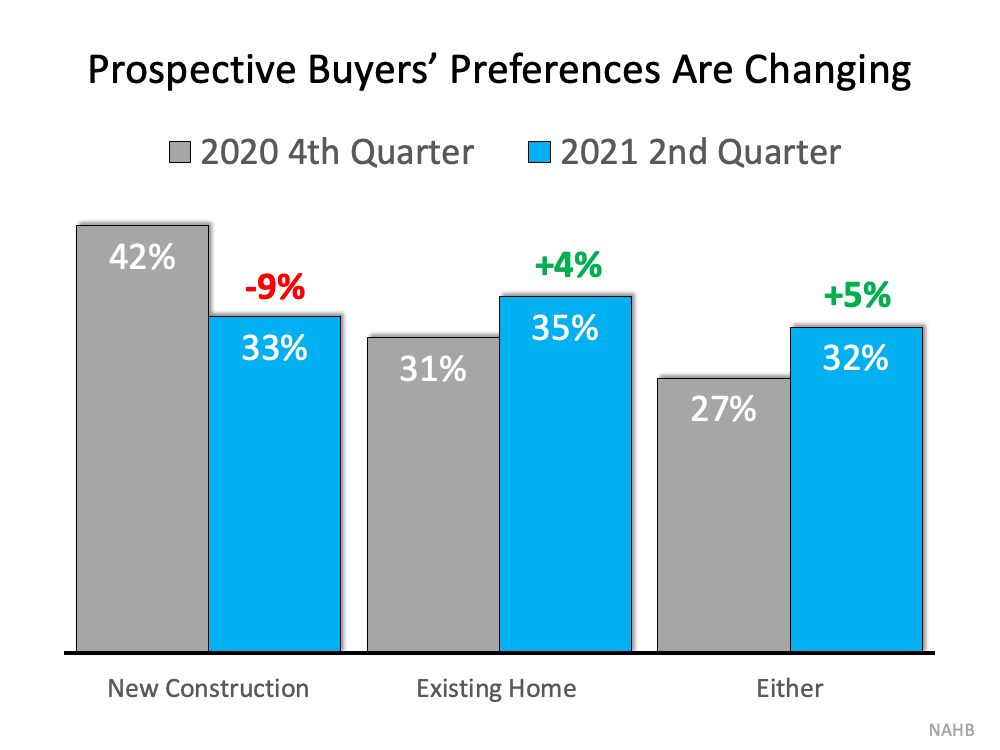 Why the shift?
There are several reasons why buyer preference is shifting. Here are two that impact purchasers looking to move in now:
The process may move faster. Builders may not be able to guarantee when the house will be complete and ready for move-in due to supply chain challenges with materials like lumber and appliances. If you buy an existing home, not only is it ready, it also likely has a refrigerator, range, and other necessary home appliances already.
There are no unexpected costs during the buying process. With the price of land, labor, and lumber being so volatile, many builders are including an escalation clause in the price negotiation to cover rising expenses. With an existing home, the final price you will pay is negotiated upfront.
If you're a homeowner looking to sell, your house is more attractive to a greater number of buyers as compared to earlier in the year.