When the pandemic hit in 2020, many experts thought the housing market would crash. They feared job loss and economic uncertainty would lead to a wave of foreclosures similar to when the housing bubble burst over a decade ago. Thankfully, the forbearance program changed that. It provided much-needed relief for homeowners so a foreclosure crisis wouldn't happen again. Here's why forbearance worked.
Forbearance enabled nearly five million homeowners to get back on their feet in a time when having the security and protection of a home was more important than ever. Those in need were able to work with their banks and lenders to stay in their homes rather than go into foreclosure. Marina Walsh, Vice President of Industry Analysis at the Mortgage Bankers Association (MBA), notes:
"Most borrowers exiting forbearance are moving into either a loan modification, payment deferral, or a combination of the two workout options."
As the graph below shows, with modification, deferral, and workout options in place, four out of every five homeowners in forbearance are either paid in full or are exiting with a plan. They're able to stay in their homes.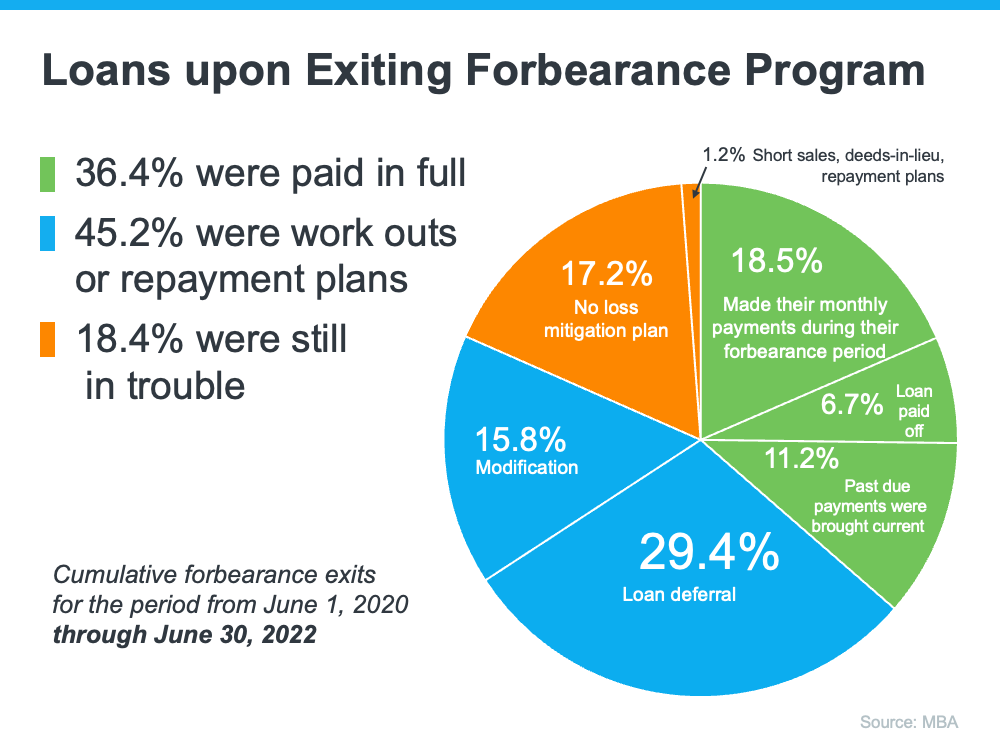 What does this mean for the housing market?
Since so many people can stay in their homes and work out alternative options, there won't be a wave of foreclosures coming to the market. And while rising slightly since the foreclosure moratorium was lifted this year, foreclosures today are still nowhere near the levels seen in the housing crisis.
Forbearance wasn't the only game changer, either. Lending standards have improved significantly since the housing bubble burst, and that's one more thing keeping foreclosure filings low. Today's borrowers are much more qualified to pay their home loans.
And while the majority of homeowners are exiting the forbearance program with a plan, for those who still need to make a change due to financial hardship or other challenges, today's record-level of equity is giving them the opportunity to sell their houses and avoid foreclosure altogether. Homeowners have options they just didn't have in the housing crisis when so many people owed more on their mortgages than their homes were worth. Thanks to their equity and the current undersupply of homes on the market, homeowners can sell their houses, make a move, and not have to go through the foreclosure process that led to the housing market crash in 2008.
Thomas LaSalvia, Chief Economist with Moody's Analytics, states:
"There's some excess savings out there, over 2 trillion worth. . . . There are people that have ownership of those homes right now, that even in a downturn, they'd still likely be able to pay that mortgage and won't have to hand over keys. And there won't be a lot of those distressed sales that happened in the 2008 crisis."
Bottom Line
The forbearance program was a game changer for homeowners in need. It's one of the big reasons why we won't see a wave of foreclosures coming to the market.
Fractional ownership is a growing trend in real estate investing. It involves people pooling their resources to purchase a home, and has become more and more popular in this ultra-competitive market we are in.
Arrived Homes was recently founded as a way to purchase shares in rental homes where co-owners can earn income, and is backed by Jeff Bezos (founder of Amazon.com). The website features opportunities for just $100, and saw demand 100 times more than expected, causing the site to crash for a few hours during launch. Arrived Homes brokers the sale of shares of homes in which you can co-own part of the real estate. They also offer property management services which includes things such as finding tenants, maintaining the property, and overseeing the dividend payments.
Pacaso is another such company which offers high-end vacation rentals. But, keep in mind, this is not a new concept. Vacation home sharing began in the late 1980s, but has evolved thanks to the internet and to regulatory changes in 2008. The concept is like a time share, but only involves a single home, and typically allows owners to stay in the home for a week or two each year.
Companies such as Arrived, Pacaso, Groundfloor, Ember, and Fundrise allow you to become a business partner in the purchase of a home by purchasing a portion/fraction as a part-time owner. Dividends are earned through price appreciation and rental income, and can be as much as 10% a year.
If you're thinking about buying or selling a home, you'll want to keep a pulse on what's happening with mortgage rates. Rates have been climbing in recent months, especially since January of this year. And just a few weeks ago, the 30-year fixed mortgage rate from Freddie Mac approached 4% for the first time since May of 2019. But that climb has dropped slightly over the past few weeks (see graph below):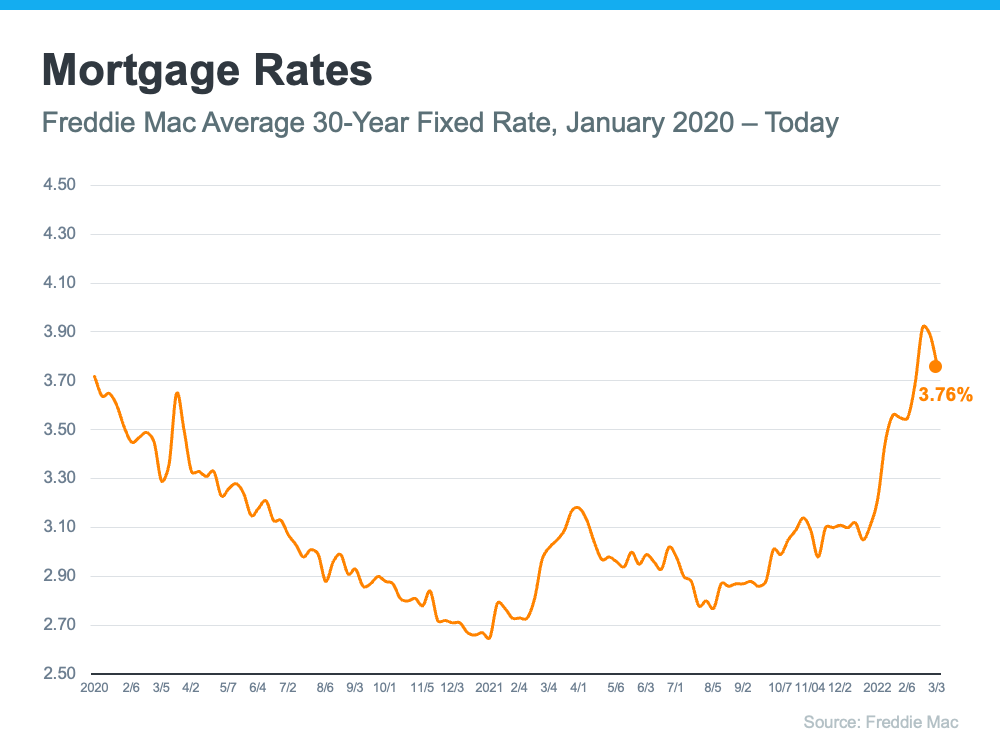 The recent decline in mortgage rates is primarily due to growing uncertainty around geopolitical tensions surrounding Russia and Ukraine. But experts say it's to be expected.
Here's a look at how industry leaders are explaining the impact global uncertainty has on mortgage rates:
Odeta Kushi, Deputy Chief Economist at First American, says:
"While mortgage rates trended upward in 2022, one unintended side effect of global uncertainty is that it often results in downward pressure on mortgage rates."
In another interview, Kushi adds:
"Geopolitical events play an important role in impacting the long end of the yield curve and mortgage rates. For example, in the weeks following the 'Brexit' vote in 2016, the U.S. Treasury bond yield declined and led to a corresponding decline in mortgage rates."
Kushi's insights are a reminder that, historically, economic uncertainty can impact the 10-year treasury yield – which has a long-standing relationship with mortgage rates and is often considered a leading indicator of where rates are headed. Basically, events overseas can have an impact on mortgage rates here, and that's what we're seeing today.
Will Mortgage Rates Stay Down?
While no one has a crystal ball to predict exactly what will happen with rates in the future, experts agree this slight decline is temporary. Sam Khater, Chief Economist at Freddie Mac, echoes Kushi's sentiment, but adds that the decline in rates won't last:
"Geopolitical tensions caused U.S. Treasury yields to recede this week . . . leading to a drop in mortgage rates. While inflationary pressures remain, the cascading impacts of the war in Ukraine have created market uncertainty. Consequently, rates are expected to stay low in the short-term but will likely increase in the coming months."
Rates will likely fluctuate in the short-term based on what's happening globally. But before long, experts project rates will renew their climb. If you're in the market to buy a home, doing so before rates start to rise again may be your most affordable option.
Bottom Line
Mortgage rates are an important piece of the puzzle because they help determine how much you'll owe on your monthly mortgage payment in your next home.
With forbearance plans coming to an end, many are concerned the housing market will experience a wave of foreclosures similar to what happened after the housing bubble 15 years ago. Here are a few reasons why that won't happen.
There are fewer homeowners in trouble this time
After the last housing crash, about 9.3 million households lost their homes to a foreclosure, short sale, or because they simply gave it back to the bank.
As stay-at-home orders were issued early last year, the fear was the pandemic would impact the housing industry in a similar way. Many projected up to 30% of all mortgage holders would enter the forbearance program. In reality, only 8.5% actually did, and that number is now down to 2.2%.
As of last Friday, the total number of mortgages still in forbearance stood at  1,221,000. That's far fewer than the 9.3 million households that lost their homes just over a decade ago.
Most of the mortgages in forbearance have enough equity to sell their homes
Due to rapidly rising home prices over the last two years, of the 1.22 million homeowners currently in forbearance, 93% have at least 10% equity in their homes. This 10% equity is important because it enables homeowners to sell their homes and pay the related expenses instead of facing the hit on their credit that a foreclosure or short sale would create.
The remaining 7% might not have the option to sell, but if the entire 7% of those 1.22 million homes went into foreclosure, that would total about 85,400 mortgages. To give that number context, here are the annual foreclosure numbers for the three years leading up to the pandemic:
2017: 314,220
2018: 279,040
2019: 277,520
The probable number of foreclosures coming out of the forbearance program is nowhere near the number of foreclosures that impacted the housing crash 15 years ago. It's actually less than one-third of any of the three years prior to the pandemic.
The current market can absorb listings coming to the market
When foreclosures hit the market back in 2008, there was an oversupply of houses for sale. It's exactly the opposite today. In 2008, there was over a nine-month supply of listings on the market. Today, that number is less than a three-month supply. Here's a graph showing the difference between the two markets.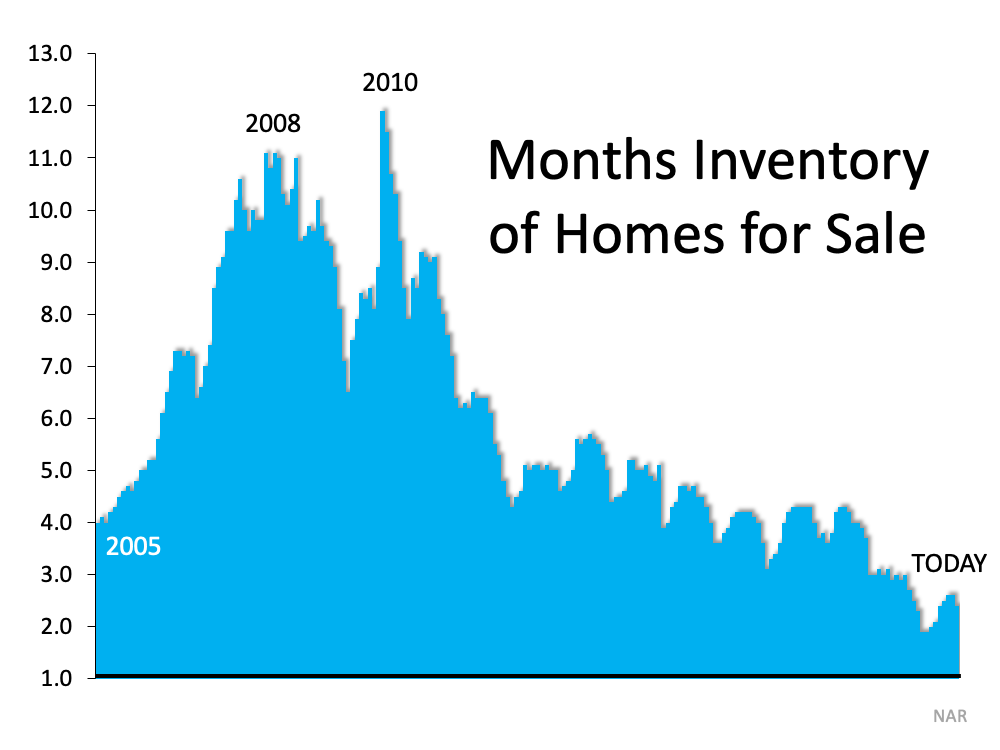 The data indicates why Ivy Zelman, founder of the major housing market analytical firm Zelman and Associates, was on point when she stated:
"The likelihood of us having a foreclosure crisis again is about zero percent."
Recently Zillow announced they are ending their iBuyer program – a program in which Zillow will buy your home, fix it up, and sell it. It seems as though Zillow failed to accurately predict prices, costing over $400 million last quarter, and a chance that about 25% of employees could lose their jobs.

Zillow's COO said, "It's just challenging to predict future home prices in such a rapid and volatile market for home price appreciation."

Now, let's put a few things into perspective for individuals who focus on the Zestimate when selling or buying.

In 2016, the Zillow CEO, Spencer Rascoff, sold his Seattle home for $1.05 million (40% less than the Zestimate) of $1.75 million.
In 2017, Zillow calculated their Zestimate error rate at about 4.5%, and offered a $1 million cash prize to anyone who could rework the algorithm to reduce that chance for error. It was reported that the winners (announced in 2019) of the competition reduced to error rate to about 4%.
In 2020, Spencer Rascoff listed his Brentwood home in Los Angeles at $24 million (almost $8 million more than the Zestimate at the time). He then went on to purchase another home for $5.7 million (almost $1.5 million above the Zestimate).

So all this makes you wonder how much water the Zestimate really holds. Let's take a look at the Data Coverage and Zestimate Accuracy table. Let's focus on the Tallahassee market by looking at Leon County.




Zillow rates it's Zestimate 3 out of 5 stars. Would you trust the sale or purchase of your largest asset to something that rates itself a 3 out of 5 stars?

At about 80% of homes being valued within 20% of the sale price, that means that a $250,000 home could have a Zestimate of $200,000 or $300,000. As a seller, are you okay with the chance of losing $50,000 due to an inaccurate estimate? Or, as a buyer, are you okay with the chance of overpaying $50,000 due to an inaccurate estimate?

Or let's say a seller lists their home for $50,000 over the market value. This could give off the perception you are not motivated to sell. You might think, "We can just drop the price later." Well… yes, but sometimes the impact of this is not seen as well as pricing to the market straight out of the gate. Price reductions can be overlooked – flyers and emails announcing the adjustment can fall into a pile of other marketing mail. Then when you reduce, buyers will wonder if it was because of a defect.

Currently, Zillow suggests the following on their FAQ page about the Zestimate, "We encourage buyers, sellers and homeowners to supplement the Zestimate with other research, such as visiting the home, getting a professional appraisal of the home, or requesting a comparative market analysis (CMA) from a real estate agent."

We suggest not supplementing the Zestimate with a professional appraisal or comparative market analysis from a real estate agent, but replacing the Zestimate with these more accurate methods of determining market values.
There are many headlines out there that claim we're reverting to a more normal real estate market. That would indicate the housing market is returning to the pre-pandemic numbers we saw from 2015-2019. But that's not happening. The market is still extremely vibrant as demand is still strong even while housing supply is slowly returning.
Here's the 
definition of normal
 from the 
Merriam-Webster Dictionary
:
"conforming to a type, standard, or regular pattern: characterized by that which is considered usual, typical, or routine."
Using this definition, here are five housing industry metrics that prove we're nowhere near normal.
1. Mortgage Rates
If we look at the 30-year mortgage rate chronicled by Freddie Mac, we can see the average rates by decade:
1970s: 8.86%
1980s: 12.7%
1990s: 8.12%
2000s: 6.29%
2010s: 4.09%
Today, the average mortgage rate stands at 2.87%, which is very close to the historic low.
Currently, mortgage rates are anything but usual, typical, or routine.
2. Home Price Appreciation
According to Black Knight, a housing data and analytics company, the average annual appreciation on residential real estate prices since 1995 has been 4.14%.
According to the latest forecast from the National Association of Realtors (NAR), home price appreciation will hit 14.1% this year, which will be greater than any year since Black Knight began collecting this data.
Currently, home price appreciation is anything but usual, typical, or routine.
3. Months' Supply of Inventory (Homes for Sale)
According to NAR:
"Months' supply refers to the number of months it would take for the current inventory of homes on the market to sell given the current sales pace. Historically, six months of supply is associated with moderate price appreciation, and a lower level of months' supply tends to push prices up more rapidly."
As of the latest Existing Homes Sales Report from NAR, the current months' supply of inventory stands at 2.6. That's less than half of a normal supply.
Currently, the supply of homes for sale is anything but usual, typical, or routine.
4. Days It Takes To Sell a Home
The days-on-market metric gives an indication of how hot a market is and how quickly homes are selling. In 2019, prior to the pandemic, the average days on market stood at 35, according to NAR. Today, that number is cut in half and is now at 17 days.
Currently, the days-on-market metric is anything but usual, typical, or routine.
5. Number of Offers per Listing
According to NAR, the number of offers per listing stood at 2.2 in 2019. Today, that number is double at 4.5.
Currently, the number of offers per listing is anything but usual, typical, or routine.
When…
Mortgage rates are near historic lows
Price appreciation is at historic highs
Housing inventory is less than half of the normal amount
The time it takes to sell a home is cut in half, and
There are twice as many offers on each house
…it's hard to say we're in a normal market.
During the Great Recession, just over a decade ago, the financial systems the world depended on started to collapse. It created a panic that drove some large companies out of business (ex. Lehman Brothers) and many more into 
bankruptcy
.
The financial crisis that accompanied the current pandemic caused hardship to certain industries and hurt many small businesses. However, it hasn't rattled the world economy. It seems that a year later, things are slowly getting back to normal for many companies.
Why is there a drastic difference between 2008 and now?
In a post from RealtyTrac, they explain:
"We changed the rules. We told banks they needed more reserves and that they could no longer underwrite toxic mortgages. It turns out that regulation — properly done — can help us navigate financial minefields."
Here are the results of that regulation, captured in a graph depicting the number of failed banks since 2007.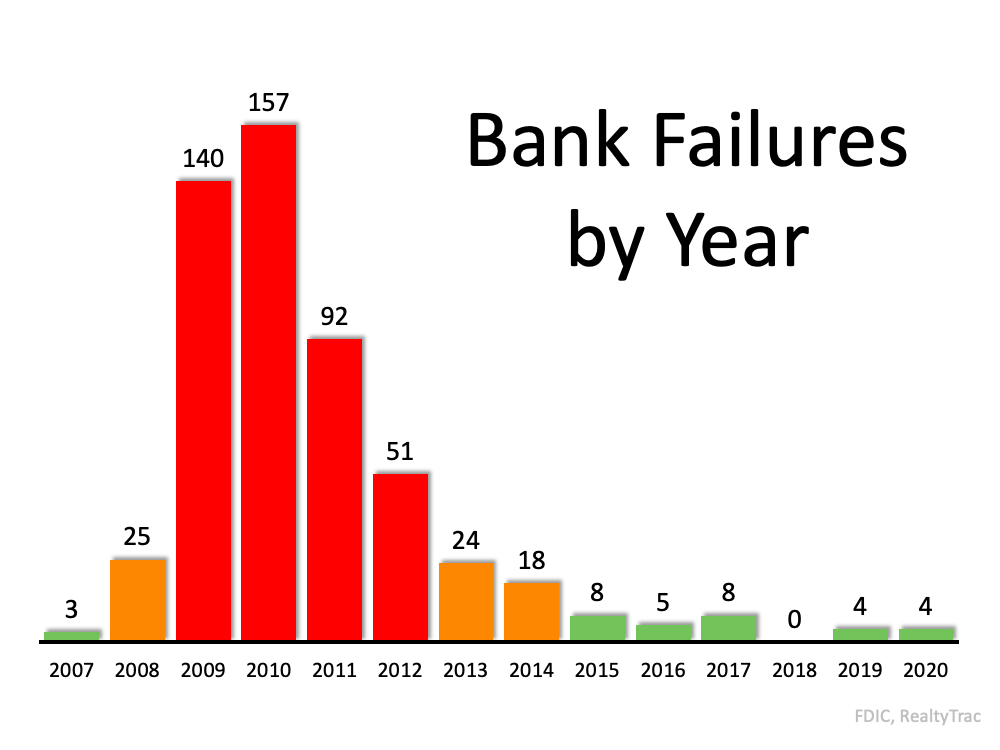 What was different this time?
The post mentioned above explains:
"In 2008 the government saw the foreclosure meltdown as a top-down problem and set aside $700 billion for banks under the Troubled Asset Relief Program (TARP). Not all of the $700 billion was used, but the important point is that the government did not act with equal fervor to help flailing homeowners, millions of whom lost their homes to foreclosures and short sales.
This time around the government forcefully moved to help ordinary citizens. Working from the bottom-up, an estimated $5.3 trillion went to the public in 2020 through such mechanisms as the Paycheck Protection Program (PPP), expanded unemployment benefits, tax incentives, and help for local governments. So far this year we have the $1.9 billion American Rescue Plan with millions of $1,400 checks as well as proposals to spend trillions more on infrastructure…Bank deposits increased by nearly $2 trillion during the past year and credit card debt fell."
Many have suffered over the past year. However, the economic toll of the current recession was nowhere near the scope of the Great Recession, and it won't result in a housing crisis.
There has been a lot of discussion as to what will happen once the 2.3 million households currently in forbearance no longer have the protection of the program. Some assume there could potentially be millions of foreclosures ready to hit the market. However, there are four reasons that won't happen.
1. Almost 50% Leave Forbearance Already Caught Up on Payments
According to the Mortgage Bankers Association (MBA), data through March 28 show that 48.9% of homeowners who have already left the program were current on their mortgage payments when they exited.
26.6% made their monthly payments during their forbearance period
14.7% brought past due payments current
7.6% paid off their loan in full
This doesn't mean that the over two million still in the plan will exit exactly the same way. It does, however, give us some insight into the possibilities.
2. The Banks Don't Want the Houses Back
Banks have learned lessons from the crash of 2008. Lending institutions don't want the headaches of managing foreclosed properties. This time, they're working with homeowners to help them stay in their homes.
As an example, about 50% of all mortgages are backed by the Federal Housing Finance Agency (FHFA). In 2008, the FHFA offered 208,000 homeowners some form of Home Retention Action, which are options offered to a borrower who has the financial ability to enter a workout option and wants to stay in their home. Home retention options include temporary forbearances, repayment plans, loan modifications, or partial loan deferrals. These helped delinquent borrowers stay in their homes. Over the past year, the FHFA has offered that same protection to over one million homeowners.
Today, almost all lending institutions are working with their borrowers. The report from the MBA reveals that of those homeowners who have left forbearance,
35.5% have worked out a repayment plan with their lender
26.5% were granted a loan deferral where a borrower does not have to pay the lender interest or principal on a loan for an agreed-to period of time
9% were given a loan modification
3. There Is No Political Will to Foreclose on These Households
The government also seems determined not to let individuals or families lose their homes. Bloomberg recently reported:
"Mortgage companies could face penalties if they don't take steps to prevent a deluge of foreclosures that threatens to hit the housing market later this year, a U.S. regulator said. The Consumer Financial Protection Bureau (CFPB) warning is tied to forbearance relief that's allowed millions of borrowers to delay their mortgage payments due to the pandemic…mortgage servicers should start reaching out to affected homeowners now to advise them on ways they can modify their loans."
The CFPB is proposing a new set of guidelines to ensure people will be able to retain their homes. Here are the major points in the proposal:
The proposed rule would provide a special pre-foreclosure review period that would generally prohibit servicers from starting foreclosure until after December 31, 2021.
The proposed rule would permit servicers to offer certain streamlined loan modification options to borrowers with COVID-19-related hardships based on the evaluation of an incomplete application.
The proposal rule wants temporary changes to certain required servicer communications to make sure borrowers receive key information about their options at the appropriate time.
A final decision is yet to be made, and some do question whether the CFPB has the power to delay foreclosures. The entire report can be found here: Protections for Borrowers Affected by the COVID-19 Emergency Under the Real Estate Settlement Procedures Act (RESPA), Regulation X.
4. If All Else Fails, Homeowners Will Sell Their Homes Before a Foreclosure
Homeowners have record levels of equity today. According to the latest CoreLogic Home Equity Report, the average equity of mortgaged homes is currently $204,000. In addition, 38% of homes do not have a mortgage, so the level of equity available to today's homeowners is significant.
Just like the banks, homeowners learned a lesson from the housing crash too.
"In the same way that grandparents and great grandparents were shaped by the Great Depression, much of the public today remembers the 2006 mortgage meltdown and the foreclosures, unemployment, and bank failures it created. No one with any sense wants to repeat that experience…and it may explain why so much real estate equity remains mortgage-free."
What does that mean to the forbearance situation? According to Black Knight:
"Just one in ten homeowners in forbearance has less than 10% equity in their home, typically the minimum necessary to be able to sell through traditional real estate channels to avoid foreclosure."
The reports of massive foreclosures about to come to the market are highly exaggerated. As Ivy Zelman, Chief Executive Officer of Zelman & Associates with roughly 30 years of experience covering housing and housing-related industries, recently proclaimed:
"The likelihood of us having a foreclosure crisis again is about zero percent."
According to many 
experts
, the real estate market is expected to continue growing in 2021, and it's largely driven by the lasting impact the pandemic is having on our lifestyles. As many of us spend extra time at home, we're reevaluating what "home" means and what we may need in one going forward.
Here are 4 reasons people are reconsidering where they live and why they're expecting to buy a home this year.
1. Record-Low Mortgage Interest Rates
In 2020, the average interest rate for a 30-year fixed mortgage hit a record low 16 times, continuing to fall further below 3%. According to Freddie Mac, the average 30-year fixed interest rate today is 2.65%. Many wonder how low these rates will go and how long they'll last. Len Keifer, Deputy Chief Economist for Freddie Mac, advises:
"If you've found a home that fits your needs at a price you can afford, it might be better to act now rather than wait for future rate declines that may never come and a future that likely holds very tight inventory."
This sense of urgency is driving many to buy this year.
2. Working from Home
Remote work is a new normal for many businesses, and it's lasting longer than most expected. Many in the workforce today are discovering they don't need to live close to the office anymore and they can get more for their money by moving a little further outside of the city limits. David Mele, President at Homes.com, says: 
"The surge in the work-from-home population has rewritten the playbook for many homebuying and rental decisions, from when and where to relocate, to what people are looking for in their next residence."
The reality is, for some people, working remotely in their current home is challenging, especially when there may be other options available.
3. More Outdoor Space
Another new priority for homeowners is having more usable outdoor space. Being at home is driving those in some areas to seek less densely populated neighborhoods so they have more room to stretch their legs. In addition, those living in apartments and townhomes are often looking for extra square footage, both inside and out.
According to the State of Home Spending report by HomeAdvisor, of the households surveyed, almost half reported spending 27% more on outdoor living over the past year. This is a trend that's expected to grow in 2021 and beyond.
4. Avoiding Renovations
It's recently come to light that many homeowners would also rather buy a new home than go through the process of fixing up the one they have. According to the 2020 Profile of Home Buyers and Sellers report from the National Association of Realtors (NAR), 44% of homebuyers purchased a new home to "avoid renovations or problems with the plumbing or electricity."
Depending on what needs to be addressed, today's high buyer demand may make it possible to skip some renovations before selling. Many of these homeowners have prioritized buying over renovating for convenience and potential cost savings.
This year challenged us to reprioritize everything – from the way we use our time to where we work, how we socialize and gather together, and our needs at home. For many, this also meant making decisions about how to best support and engage with our extended families, near and far.
In some cases, we weren't able to see our relatives and loved ones who were living in senior facilities. In others, maybe older children moved back home. Jessica Lautz, 
Vice President of Demographics and Behavioral Insights
 for the 
National Association of Realtors
 (NAR), 
says
:
"A lot of families have an aging senior relative who was living independently or in senior care and wanted to move them into their home."
These changes led more homebuyers to invest in multi-generational homes to accommodate more long-term plans. A multi-generational home, according to the 2020 Profile of Home Buyers and Sellers from NAR, is a home that has adult siblings, adult children over the age of 18, parents, and/or grandparents in the household.
A recent study from NAR shows that since the health crisis began, there's been an increase in purchasing trends for homes that cater to this dynamic:
"Buyers who purchased after March were more likely to purchase a multi-generational home at 15% compared to 11% who purchased before April."
There are many reasons for this uptick in preference toward multi-generational homes. The graph below shows the top two reasons and how they've increased this year: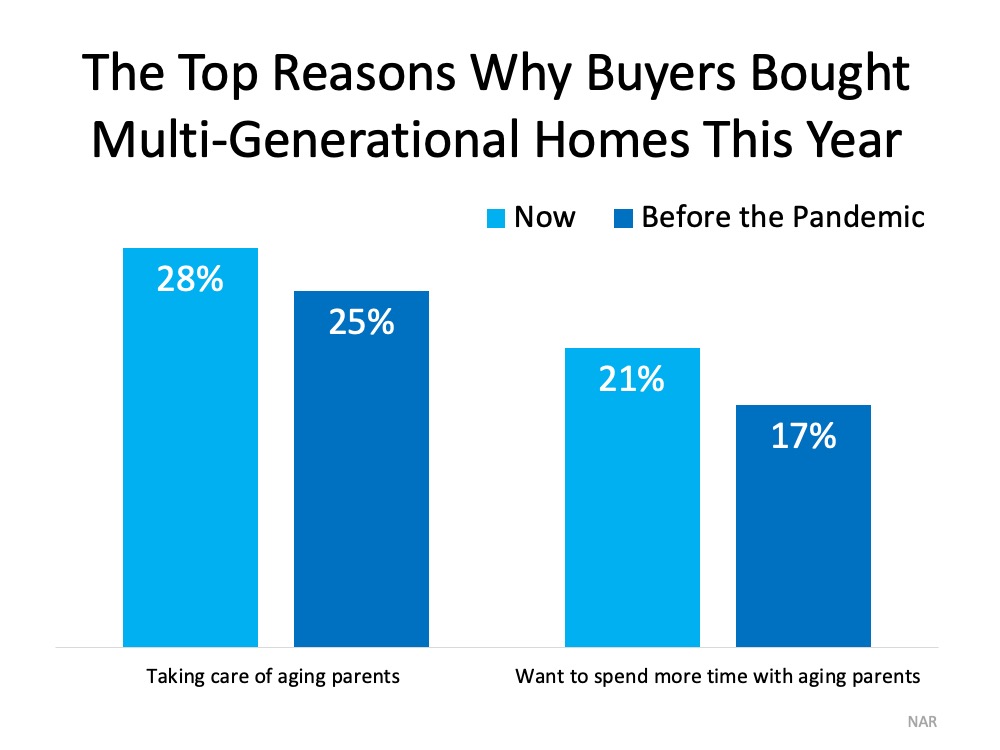 More homeowners are making arrangements to accommodate their loved ones so they can safely take care of them at home.