If recent headlines about the housing market cooling and buyer demand moderating have you worried you've missed your chance to sell, here's what you need to know. Buyer demand hasn't disappeared, it's just eased from the peak intensity we saw over the past two years.
Buyer Demand Then and Now
During the pandemic, mortgage rates hit record lows, and that spurred a significant rise in buyer demand. This year, as rates increased due to factors like rising inflation, buyer demand pulled back or softened as a result. The latest data from ShowingTime confirms this trend (see graph below):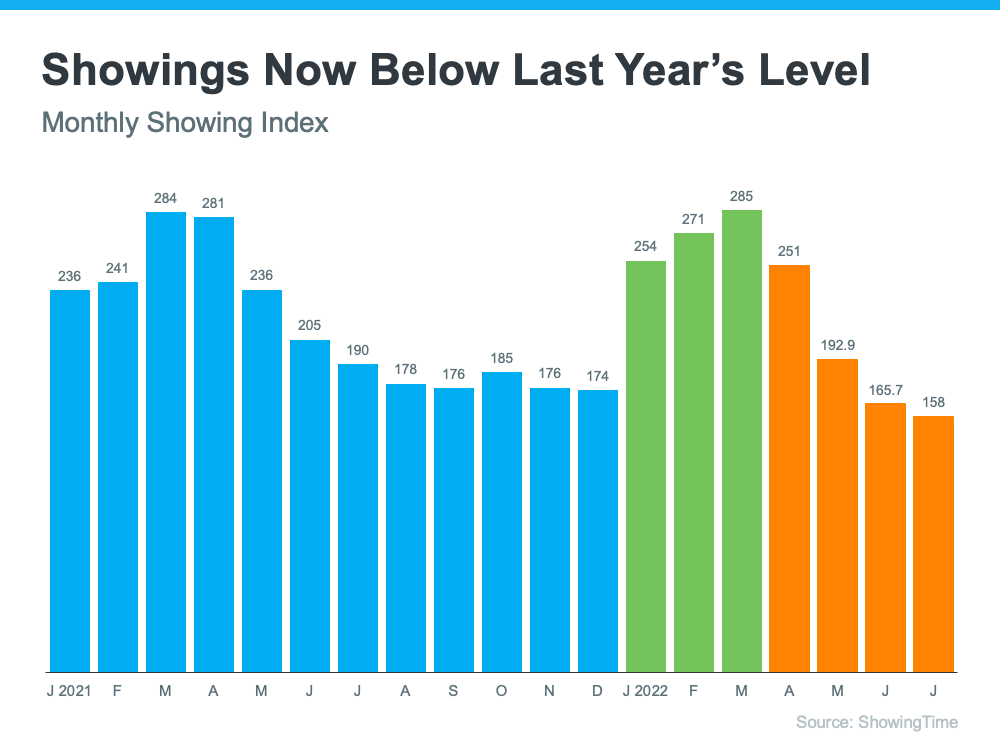 The orange bars in the graph above represent the last few months of data and the clear cooldown in the volume of home showings the market has seen since mortgage rates started to rise. But context is important. To get the full picture of where today's demand stands, let's look at the July data for the past six years (see graph below):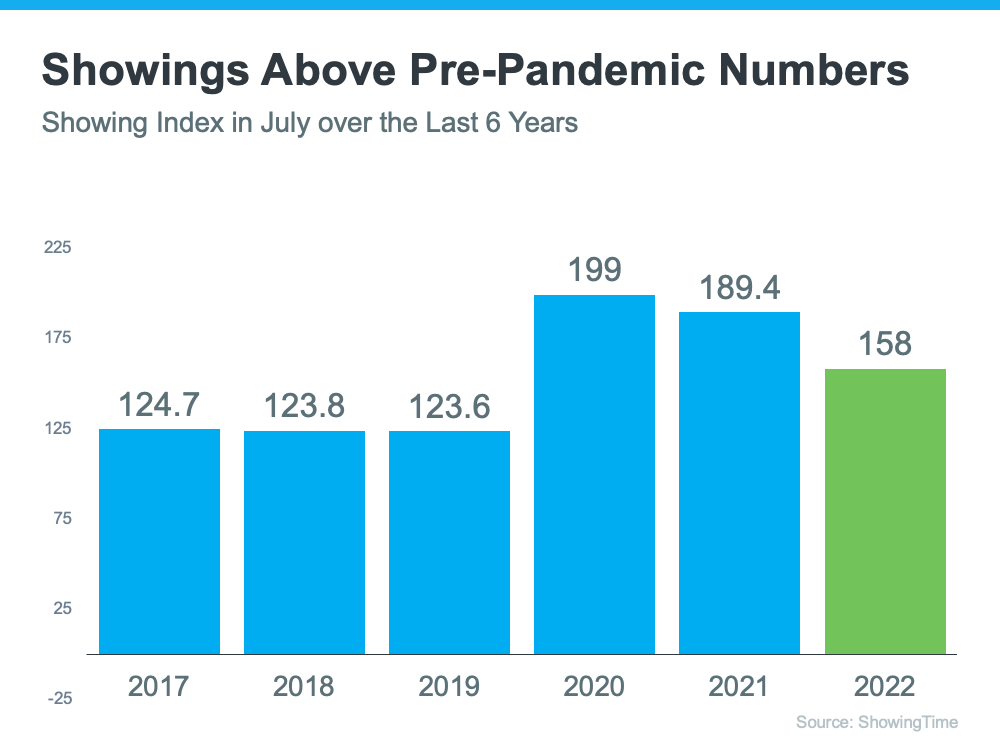 This second visual makes it clear that, while moderating compared to the frenzy in 2020 and 2021, showing activity is still beating pre-pandemic levels – and those pre-pandemic years were great years for the housing market. That goes to show there's still demand if you sell your house today.
What That Means for You When You Sell
The key to selling in a changing market is understanding where the housing market is now. It's not the same market we had last year or even earlier this year, but that doesn't mean the opportunity to sell has passed.
While things have cooled a bit, it's still a sellers' market. If you work with a trusted local expert to price your house at the current market value, the demand is still there, and it should sell quickly. According to a recent survey from realtor.com, 92% of homeowners who sold in August reported being satisfied with the outcome of their sale.
Bottom Line
Buyer demand hasn't disappeared, it's just moderated this year. If you're ready to sell your house today, let's connect so you have expert insights on how the market has shifted and how to plan accordingly for your sale.
It's clear the 2022 housing market has been defined by rising mortgage rates. With rates on the rise, it's also become more costly to purchase a home. According to the National Association of Realtors (NAR):
"Compared to one year ago, the monthly mortgage payment rose to $1,944 from $1,265, an increase of 53.7%."
If you're thinking of buying a home or have been trying to recently, that's a big increase in a monthly mortgage payment – and it may be causing you to press pause on your plans. This jump is making homes less affordable, especially compared to the last two years when mortgage rates were at historic lows.
The good news is you can navigate today's housing market and this rising rate environment with a few simple tips. Here are three things you may want to consider to help make your homeownership goals a reality.
1. Expand Your Search Area and Criteria
If you've been looking for a home in the city center or a specific area that's starting to feel out of your price range, you may want to try looking a little further out in a location that could be more affordable. Expanding your search location or re-prioritizing the items on your wish list can open up opportunities you haven't considered, and that could help you afford more of what you need (and want) in a home. As CNET notes:
"Area growth is likely to keep pace with the market, which means that the outskirts of town might be hopping within five years. Consider stepping out of your ideal location by searching in the nearby cities. You may find better prices and more square footage."
2. Explore Alternative Financing Options
Working with a trusted lender to learn about the different loan types and options is essential too. According to Nerd Wallet:
"A variety of mortgages are available with varying down payment and eligibility requirements."
Experts know how to point you in the right direction when it comes to exploring ways to find the best home loan for your situation. With rising mortgage rates making it more costly to finance a home today, there may be an ideal option out there your loan officer can introduce you to. This could make a home purchase more affordable and within your financial reach over the life of your loan.
3. Look for Grants, Gift Funds, and Down Payment Assistance
There are also many options available when it comes to securing the funding you need to purchase a home. One valuable resource to explore is downpaymentresource.com. Searching for specific down payment assistance options available in your local community could be a game changer when it comes to taking your first step toward homeownership. As NAR indicates:
"Many local governments and non-profit organizations offer down-payment assistance grants and loans, targeted to area borrowers and often with specific borrower requirements."
Plus, there are programs and special benefits for individuals working in certain professions or with unique statuses, including teachers, doctors and nurses, and veterans.
Ultimately, that means there are many federal, state, and local programs available for you to explore. The best way to do that is to connect with a local real estate professional and your lender to learn more about what's available in your area.
Bottom Line
Having a team of local advisors on your side may be just what you need to guide your search in a new and more affordable direction.
The talk of a housing bubble in the coming year seems to be at a fever pitch as rising mortgage rates continue to slow down an overheated real estate market. Over the past two years, home prices have appreciated at an unsustainable pace causing many to ask: are things just slowing down, or is a crash coming?
To answer this question, there are two things we want to understand. The first is the reality of the shift in today's housing market. And the second is what experts are saying about home prices in the coming year.
The Reality of the Shift in Today's Housing Market
The reality is we're seeing an inflection point in housing supply and demand. According to realtor.com, active listings have increased more than 26% over last year, while showings from the latest ShowingTime Showing Index have decreased almost 17% from last year (see graph below). This is an inflection point for housing because, over the past two years, we've seen a massive amount of demand (showings) and not enough homes available for sale for the number of people that wanted to buy. That caused the market frenzy.
Today, supply and demand look very different, and the market is slowing down from the pace we've seen. This offers proof of the sudden slowdown so many people are feeling.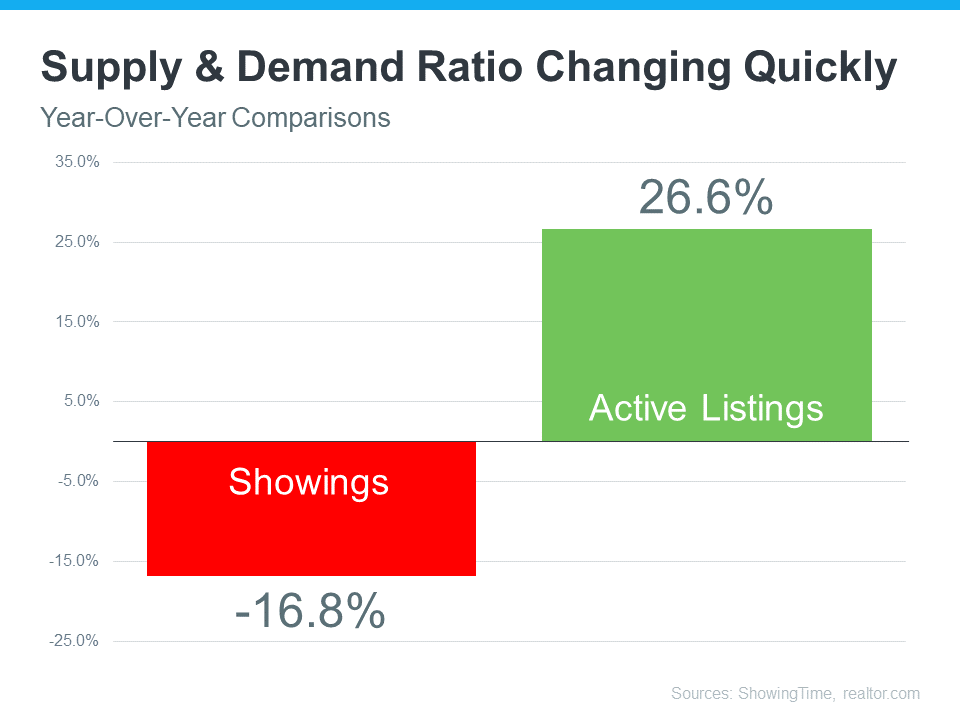 What Experts Are Saying About Home Prices in the Coming Year
Right now, most experts are forecasting home price appreciation in 2023, but at a much slower pace than the last two years. The average of the six forecasters below is for national home prices to appreciate by 2.5% in the coming year. Only one of the six is calling for home price depreciation.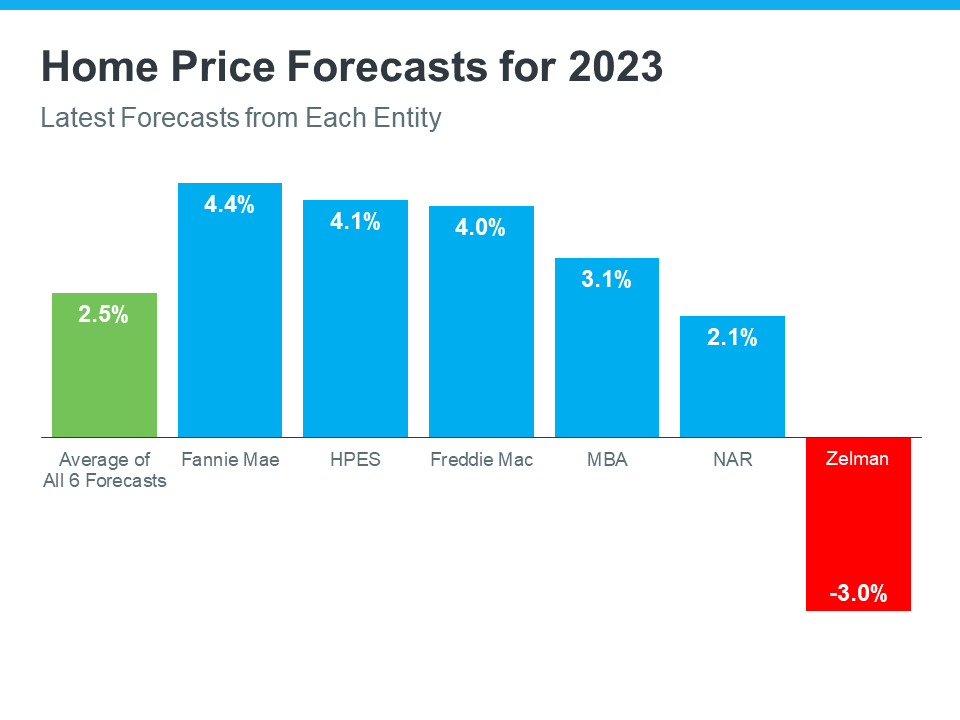 When we look at the shift taking place along with what experts are saying, we can conclude the national real estate market is slowing down but is not a bubble getting ready to burst. This isn't to say that a few overheated markets won't experience home price depreciation, but there isn't a case to be made for a national housing bubble.
Bottom Line
The real estate market is slowing down, and that's causing many to fear we're in a housing bubble. What we've experienced in the housing market over the past two years were historic levels of demand and constrained supply. That led to homes going up in value at a record pace. While some overheated markets may experience price depreciation in the short term, according to experts, the national real estate market will appreciate in the coming year.
The top three concerns in the housing market right now are mortgage rates, home prices, and affordability.
This year the housing market has truly been defined by rising mortgage rates. Taking a look at the Freddie Mac 30-year fixed rate, we can clearly see the jump earlier this year from 3.22% to over 5%. There has been a tremendous amount of volatility in mortgage rates over the past few months. This is because inflation is the enemy of long-term interest rates. The Federal Reserve is making moves to ease inflation, and when that happens mortgage rates respond.
The general consensus is that the Federal Reserve is going to get inflation under control. If that's the case, then mortgage rates will stabilize to about 5.3%, and then dipping below 5% in the third quarter of next year.
Home prices are appreciating, but at a slower, more moderate rate than we have seen recently.
Nationally, home prices will continue to rise due to buyer demand and low inventory.
Home prices are slowing – not depreciating, and that's where deceleration comes into play. We saw record-breaking home-price appreciation at the beginning of this year, and we have recently seen (and will continue to see) a deceleration of home prices. The pace of appreciation is slowing. That's deceleration. It's not depreciation – where we would have negative price growth. We will see continued appreciation at a slower pace. This gives buyers a little bit more negotiating power.
The past two years have been an anomaly. The price growth over the past year was unsustainable.
Many experts raised their home price forecast this year. Most likely because of the continued low inventory levels and the increasing mortgage rates.
We are looking at 11.3% annual home price appreciation for 2022, keeping in mind a lot of that already happened at the beginning of this year.
Inventory is 26.3% higher than it was last year, which creates more opportunities for buyers. However, compared to the same week in 2020, inventory is down 5.4%, and down 42.2% from the same week in 2019. Historically, inventory is still low, and that's what's continuing to drive an upward pressure on home prices.
Housing affordability is lower than it's been since the early 1990s. The National Association of Realtors® Housing Affordability Index, is based on 3 things: home prices, interest rates, and wages – where the higher the bar, the more affordable a home. A reading of 100 is an even reading – where the average household can afford 100% of the average mortgage payment. As right now, the average household can afford 98.5% of the average mortgage payment – so, unaffordable.
Compared to one year ago, the monthly mortgage payment rose from $1,265 to $1,944 – an increase of 53.7%. There is no doubt that homes are less affordable right now.
Another thing that we want to look at when we start to break down affordability is the average mortgage payment, or income committed to a mortgage payment, which sits at 25.4%. This assumes a 30-year fixed mortgage rate with a 20% down payment on a median-priced home with median income. 25.4% of income is dedicated to a housing payment, where 25% is typically what is recommended.
Taking a look at median household income versus qualifying income – what you need to make to buy a home, is pretty even for the South which is following the national trend.
To combat the current housing affordability right now, buyers can expand their search area and criteria – maybe consider looking a little bit further out of their desired area. Or explore alternative financing options with several different lenders. Finally, buyers can look for grants at sources like DownPaymentResource.com.
If you've been thinking of buying a home, you may have been watching what's happened with mortgage rates over the past year. It's true they've risen dramatically, but where will they go from here, especially as the market continues to slow?
As you think about your homeownership goals and decide if now's the time to make your move, the best place to turn to for that information is the professionals. Here's a summary of the latest mortgage rate forecasts from housing market experts.
Experts Project Mortgage Rates Will Stabilize
While mortgage rates continue to fluctuate due to ongoing inflationary pressures and economic uncertainty, experts project they'll start to stabilize in the months ahead. According to the latest projections, mortgage rates are expected to hover in the low to mid 5% range initially, and then potentially dip into the high 4% range by later next year (see chart below):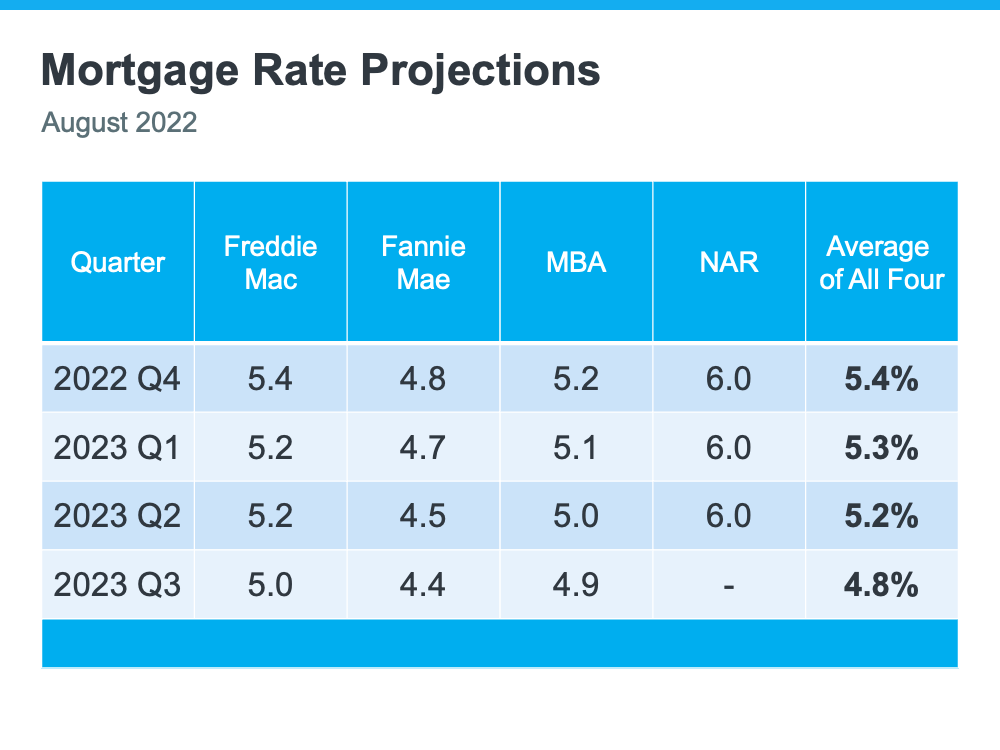 That could bring you some welcome relief. So far this year, mortgage rates have climbed over two percentage points due to the Federal Reserve's response to inflation, and that's made it more expensive to buy a home. And wondering if the rise in rates will continue is keeping some prospective buyers on the sidelines.
But now that experts say mortgage rates should stabilize, this gives you a bit more certainty about what they think the future holds, and that may help you feel more confident about your decision to buy a home.
Bottom Line
Whether you're looking to buy your first home, move up to a larger home, or even downsize, you need to know what's happening in the housing market so you can make the most informed decision possible.
If you're thinking about buying a home, you likely have a lot of factors on your mind. You're weighing your own needs against higher mortgage rates, today's home prices, and more to try to decide if you want to jump into the market. While some buyers may wait things out, there's a reason serious buyers are making moves right now, and that's the growing number of homes for sale.
So far this year, housing inventory has been increasing and that's making the prospect of finding your dream home less difficult. While there are always reasons you could delay making a big decision, there are also always reasons to consider moving forward. And having a growing number of options for your home search may be exactly what you needed to feel more confident in making a move.
What's Causing Housing Inventory To Grow?
As new data comes out, we're getting an updated picture of why housing supply is increasing so much this year. As Bill McBride, Author of Calculated Risk, explains:
"We are seeing a significant change in inventory, but no pickup in new listings. Most of the increase in inventory so far has been due to softer demand – likely because of higher mortgage rates."
Basically, the inventory growth is primarily from homes staying on the market a bit longer (known as active listings). And that's happening because higher mortgage rates and home prices have helped moderate the peak frenzy of buyer demand.
The graph below uses data from realtor.com to show how much active listings have risen over the past five months as a result (shown in green):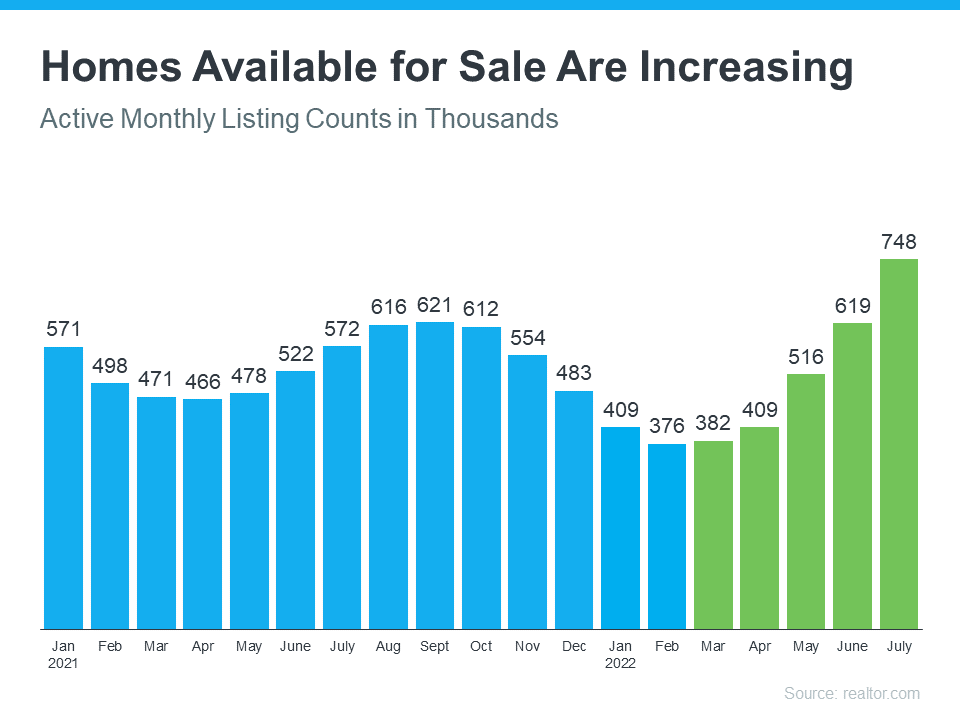 Why This Growth Is Good News for You
Regardless of the source, the increase in available housing supply is good for buyers. More housing supply actively for sale means you have more options as your search for your next home. A recent article from realtor.com explains just how significant the inventory growth has been and why it's good news for your plans to buy:
"Nationally, the inventory of homes actively for sale on a typical day in July increased by 30.7% over the past year, the largest increase in inventory in the data history and higher than last month's growth rate of 18.7% which was itself record-breaking. This amounted to 176,000 more homes actively for sale on a typical day in July compared to the previous year and more choice for buyers who are still looking for a new home."
The growth this year is certainly good news for you, especially if you've had trouble finding a home that meets your needs. If you start your search today, those additional options should make it less difficult to find a home than it would have been over the past two years.
Bottom Line
If you're ready to jump into the market and take advantage of the increasing supply of homes for sale, connect with a REALTOR® today. The opportunity is knocking, will you answer?
If you put off your home search at any point over the past two years, you may want to consider picking it back up based on today's housing market conditions. Recent data shows the supply of homes for sale is increasing, giving buyers like you additional options.
But it's important to keep in mind that while inventory is improving, it's still a sellers' market. And that means you need to be prepared as you set out on your home search. Here are three tips for buying the home of your dreams today.
1. Understand How Mortgage Rates Impact Your Homebuying Power
Mortgage rates have increased significantly this year, and over the past few weeks, they've been fluctuating quite a bit. It's important to stay up to date on what's happening with rates and understand how they can impact your purchasing power when you're thinking of buying a home. The chart below can help.
Let's say your budget allows for a monthly mortgage payment in the $2,100-$2,200 range. The green in the chart indicates a payment within or below that range, while the red is a payment that exceeds it.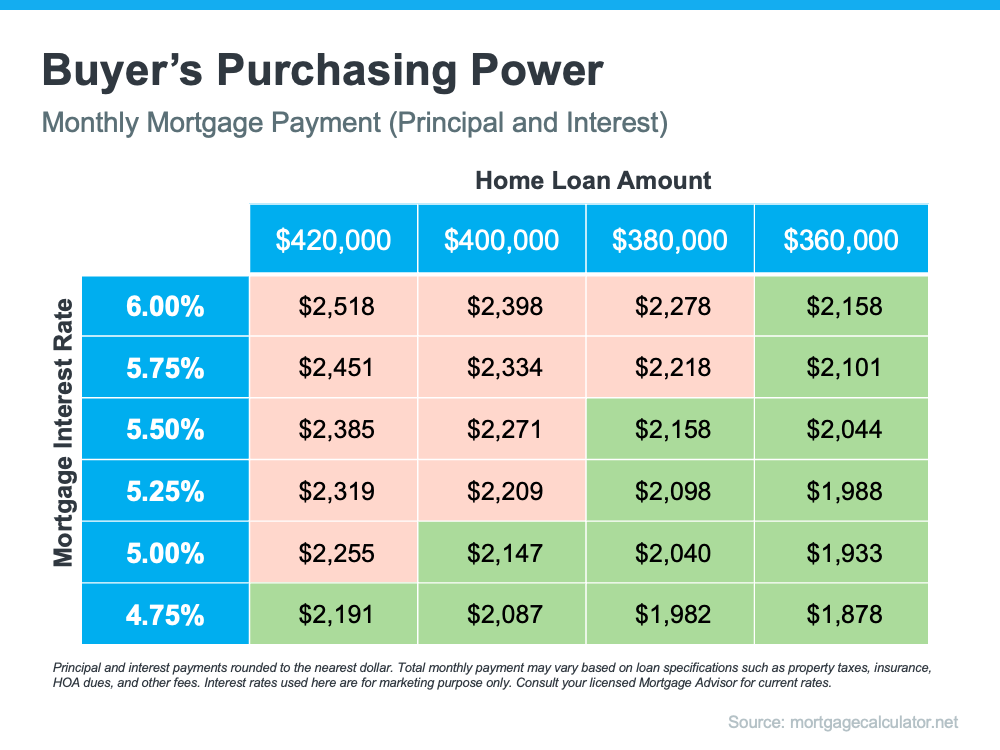 As the chart shows, even a small change in mortgage rates can have a big impact on your monthly payments. If rates rise, you could exceed your budget unless you pursue a lower home loan amount. If rates fall, your purchasing power may increase, which could give you additional options for your search.
2. Be Open to Exploring Different Options During Your Search
The supply of homes for sale is improving, which gives you more homes to choose from. But historically, supply is still low. That means as you search for homes, if you still don't find something that meets your needs, it may be worth expanding your search.
A recent article from the Washington Post highlights a few things buyers can consider today. It encourages opening yourself up to more areas. For example, if there's a location you've previously ruled out (like a particular town, for example) it may be worth taking another look.
And if you're able to, opening your search up to include other housing types, like newly built homes, condominiums, or townhomes can further increase your pool of options. Even as the inventory of homes for sale improves today, finding ways to cast a wider net during your search could help you find a hidden gem.
3. Work with a Local Real Estate Professional for Expert Guidance
Ultimately, you need to be prepared when you set out to buy a home. Jeff Ostrowski, Senior Mortgage Reporter for Bankrate, explains:
"Taking the leap to homeownership can provide a feeling of pride while boosting your long-term financial outlook, if you go in well-prepared and with your eyes open."
No matter where you're at in your homeownership journey, the best way to make sure you're set up for success is to work with a real estate professional. If you're just starting your search, a real estate professional can help you understand your local market and search for available homes. And when it's time to make an offer, they'll be an expert advisor and negotiator to help yours stand out above the rest.
Bottom Line
Strategically planning your home search by understanding today's mortgage rates, casting a wide net, and building a team of experts can be the keys to finding the home of your dreams. Make sure you have expert advice each step of the way.
The desire to own a home is still strong today. In fact, according to the Census, the U.S. homeownership rate is on the rise. To illustrate the increase, the graph below shows the homeownership rate over the last year: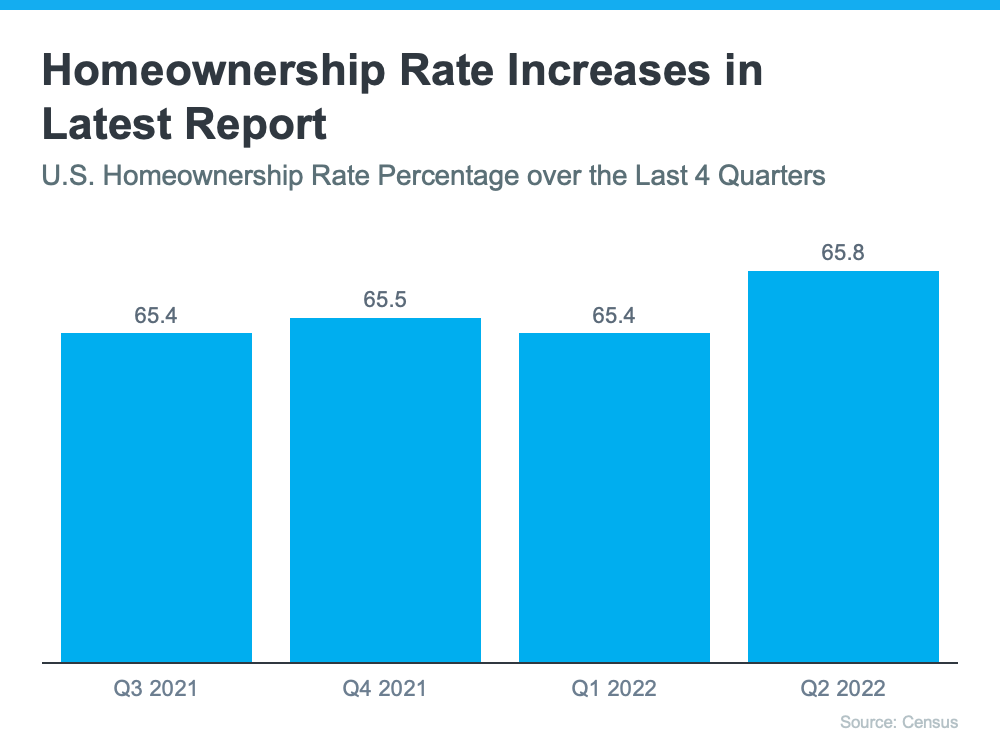 That data shows more than half of the U.S. population live in a home they own, and the percentage is growing with time.
If you're thinking about buying a home this year, here are just a few reasons why so many people see the value of homeownership.
Why Are More People Becoming Homeowners?
There are several benefits to owning your home. A significant one, especially when inflation is high like it is today, is that homeownership can help protect you from rising costs. Lawrence Yun, Chief Economist at the National Association of Realtors (NAR), explains:
"In the 1970s, when inflation was running around 10%, home prices were rising at approximately the same rate. Renters actually have a harder time in inflationary periods, because rents tend to rise along with inflation, whereas mortgage payments stay the same for homeowners with fixed-rate mortgages."
When you buy a home with a fixed-rate mortgage, you can lock in what's likely your biggest monthly expense – your housing payment – for the duration of that loan, often 15-30 years.
That gives you a predictable monthly housing expense that can benefit you in the short term, but you'll also gain equity over time as your home appreciates in value and you make your monthly mortgage payment.
And with that growing equity, your net worth will increase as well. In fact, the latest data from NAR shows the median household net worth of a homeowner is roughly $300,000, while the median net worth of renters is only about $8,000. That means a homeowner's net worth is nearly 40 times that of a renter.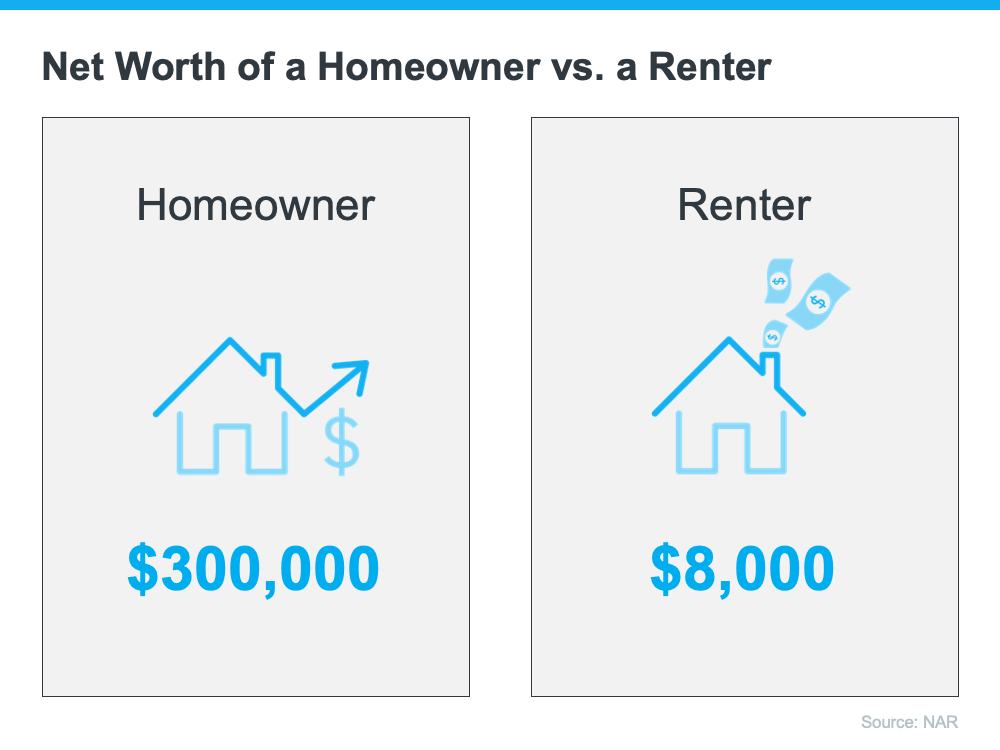 Bottom Line
The U.S. homeownership rate is growing.
If you tried to buy a home during the pandemic, you know the limited supply of homes for sale was a considerable challenge. It created intense bidding wars which drove home prices up as buyers competed with one another to be the winning offer.
But what was once your greatest challenge may now be your greatest opportunity. Today, data shows buyer demand is moderating in the wake of higher mortgage rates. Here are a few reasons why this shift in the housing market is good news for your homebuying plans.
The Challenge
There were many reasons for the limited number of homes on the market during the pandemic, including a history of underbuilding new homes since the market crash in 2008. As the graph below shows, housing supply is well below what the market has seen for most of the past 10 years (see graph below):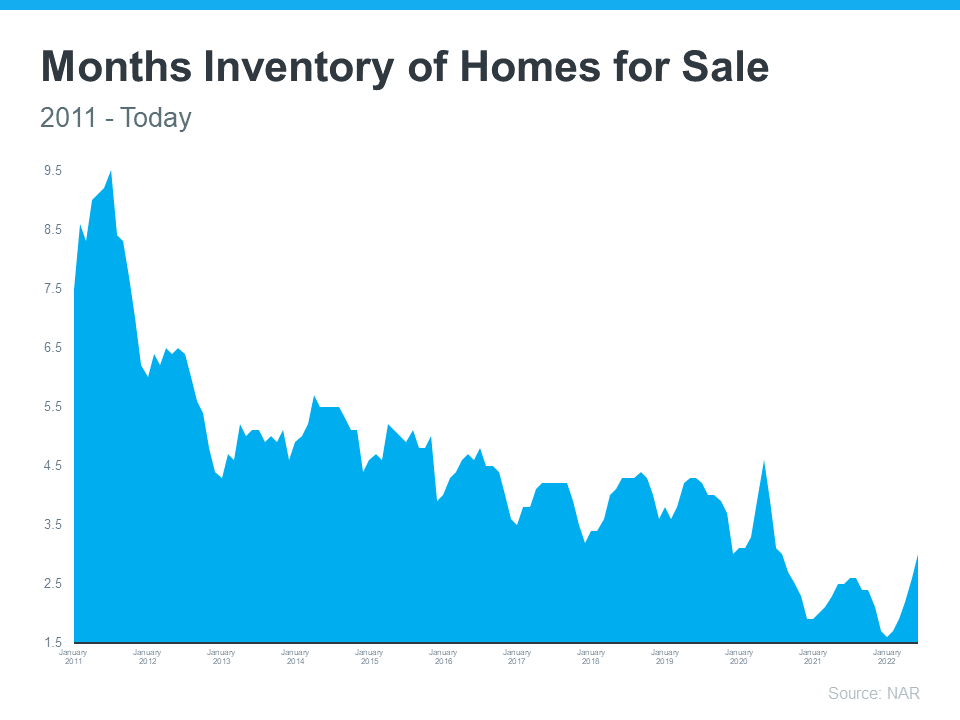 The Opportunity
But that graph also shows a trend back up in the right direction this year. That's because moderating demand is slowing the pace of home sales and that's one of the reasons housing supply is finally able to grow. For you, that means you'll have more options to choose from, so it shouldn't be as difficult to find your next home as it has been recently.
And having more options may also lead to less intense bidding wars. Data from the Realtors Confidence Index from the National Association of Realtors (NAR) shows this trend has already begun. In their recent reports, bidding wars are easing month-over-month (see graph below):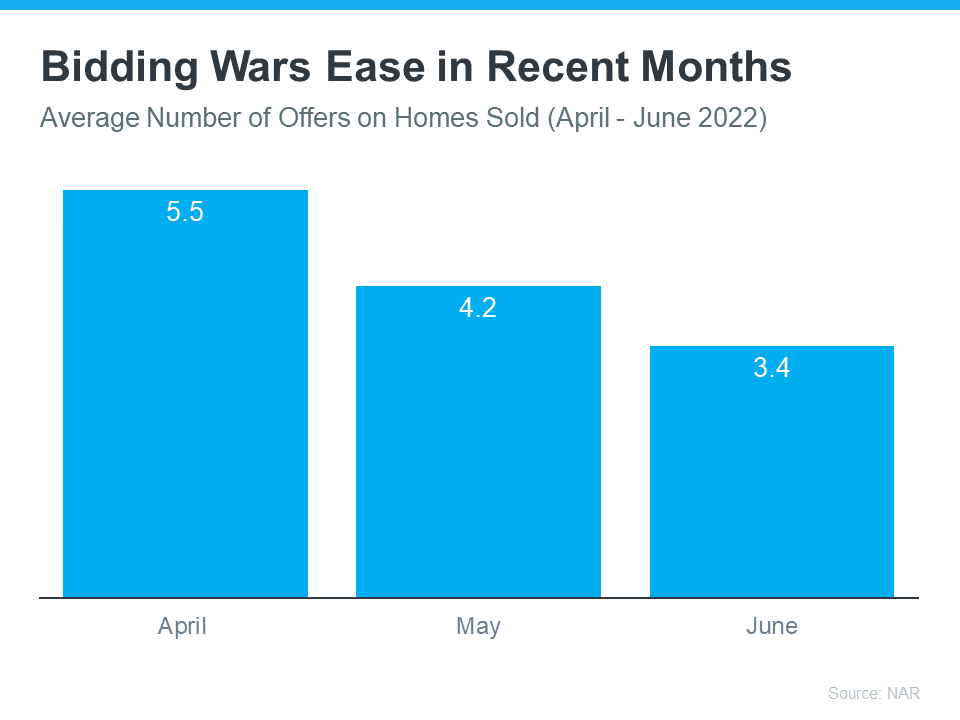 If you've been outbid before or you've struggled to find a home that meets your needs, breathe a welcome sigh of relief. The big takeaway here is you have more options and less competition today.
Just remember, while easing, data shows multiple-offer scenarios are still happening – they're just not as intense as they were over the past year. You should still lean on an agent to guide you through the process and help you make your strongest offer up front.
Bottom Line
If you're still looking to make a move, it may be time to pick your home search back up today.
As we take a look at the interest rates since January, we can see that is what is really defining the current real estate market right now and the volatility is a result of the moves the Federal Reserve is making to ease inflation – the enemy of long-term interest rates.
The National Bureau of Economic Research defines what a recession is and when it is. A recession is a significant decline in economic activity, spread across the economy, lasting more than a few months, normally visible in real GDP, real income, employment, industrial production, and wholesale retail sales. Technically, a recession is 2 consecutive quarters of negative growth.
Looking all the way back to the 1940s, every time we've seen two consecutive quarters of negative growth, a recession has been called.
According to a survey from the Wall Street Journal that asked economists if they believe a recession will happen in the next 12 months, we can see more and more of the experts are predicting a recession. A recession is an economic slowdown where, historically, we have seen homes appreciate in value and mortgage rates fall.
In 4 of the last 6 recessions, home prices actually appreciated in value, except for 2008, which we have covered in previous monthly market updates was a fundamentally different place than where we are today.
In all 6 of the last 6 recessions, interest rates have declined.
One of the biggest reasons a housing crash is not predicted is inventory. In 2008, we had an oversupply of homes on the market – which causes home prices to fall. Today, we have an under supply – which causes home prices to rise.
We are seeing about a 3-month supply of homes (inventory). We are far, far away from the 10-month supply of homes we saw leading up to and in 2008. The typical neutral market is 6 to 7 months of supply of inventory.
Inventory can also come from new construction. Building permits and housing starts are the leading indicators (what is to come), while under construction and housing units completed are the lagging indicators (what has happened). The leading indicators are slowing down from May to June as builders are seeing mortgage rates rise. This shows further confirmation that we're not on pace to have an oversupply.
Finally, inventory could come from distressed properties like foreclosures and short sales. The mortgage credit availability index shows how much harder it has become for someone to secure a home loan as lending standards have tightened. More qualified buyers means less distressed properties.
There are fewer and fewer foreclosures every year in this country, and especially in the past year or two due to the moratorium on foreclosures.
Looking at foreclosure activity by year, going back to 2008, we are seeing about half of the foreclosures compared to pre-pandemic numbers and less than 10% of post-2008 numbers. Lending standards have changed the game.
36% of mortgages coming out of forbearance were paid off. 45% worked out repayment plans (modifications, loan deferrals, etc) – an opportunity that homeowners didn't have in 2008. The forbearance program changed the game. 4 out of 5 homeowners are coming out of forbearance. However, 17% have no loss mitigation plan, but mostly have enough equity to be able to sell their homes and avoid the foreclosure process. Today, there are different options, and why we won't see a wave of foreclosures coming to the market. If all 400,000 homes in forbearance came to market, it would still be under supplied.
The increased amount of foreclosures this year could be due to the lack of foreclosures the past two years.
Today, we are in a seller's market, but what does the rest of the year hold?
Freddie Mac, Fannie Mae, the Mortgage Bankers Association, and the National Association of Realtors® are predicting mortgage rates to waiver around the current rate with a more stabilized rate next year.
Looking at what the 7 key industry leaders are saying about home pricing, we are seeing about 10.3% home price appreciation through the end of this year. A more moderate growth than the 15% we saw last year, but still extremely healthy appreciation in most markets.
There is also a decrease in home sales due to the softening of buyer demand in light of the rising mortgage rates. The National Association of Realtors® is saying that, at the current pace of sale today, we are projected to sell 5.1 million homes in this country this year. Of course, that is a decrease considering the sales the past 2 years, which were extraordinary years in the real estate market. The 5.1 million projection puts us back in line with the pre-pandemic years of 2017-2019.
In lieu of the rising mortgage rates, Freddie Mac, Fannie Mae, and the Mortgage Bankers Association re-forecasted their home sales predictions for 2022 from 7 million to 6 million. Still a very strong number, which should hold steady as the interest rates begin to balance out.
Today there are fewer multiple offer scenarios, fewer homes selling above asking price, and the supply of homes for sale is growing – all providing a great scenario for buyers right now. We have dropped from 5.5 offers on a home in April to 3.4 in June. We've gone from 61% of homes selling above asking price to 51% – still competitive, but decreasing. Finally, inventory has creeped from 2.2 months supply on hand to 3.0. All three trends that should continue moving forward.