The top three concerns in the housing market right now are mortgage rates, home prices, and affordability.
This year the housing market has truly been defined by rising mortgage rates. Taking a look at the Freddie Mac 30-year fixed rate, we can clearly see the jump earlier this year from 3.22% to over 5%. There has been a tremendous amount of volatility in mortgage rates over the past few months. This is because inflation is the enemy of long-term interest rates. The Federal Reserve is making moves to ease inflation, and when that happens mortgage rates respond.
The general consensus is that the Federal Reserve is going to get inflation under control. If that's the case, then mortgage rates will stabilize to about 5.3%, and then dipping below 5% in the third quarter of next year.
Home prices are appreciating, but at a slower, more moderate rate than we have seen recently.
Nationally, home prices will continue to rise due to buyer demand and low inventory.
Home prices are slowing – not depreciating, and that's where deceleration comes into play. We saw record-breaking home-price appreciation at the beginning of this year, and we have recently seen (and will continue to see) a deceleration of home prices. The pace of appreciation is slowing. That's deceleration. It's not depreciation – where we would have negative price growth. We will see continued appreciation at a slower pace. This gives buyers a little bit more negotiating power.
The past two years have been an anomaly. The price growth over the past year was unsustainable.
Many experts raised their home price forecast this year. Most likely because of the continued low inventory levels and the increasing mortgage rates.
We are looking at 11.3% annual home price appreciation for 2022, keeping in mind a lot of that already happened at the beginning of this year.
Inventory is 26.3% higher than it was last year, which creates more opportunities for buyers. However, compared to the same week in 2020, inventory is down 5.4%, and down 42.2% from the same week in 2019. Historically, inventory is still low, and that's what's continuing to drive an upward pressure on home prices.
Housing affordability is lower than it's been since the early 1990s. The National Association of Realtors® Housing Affordability Index, is based on 3 things: home prices, interest rates, and wages – where the higher the bar, the more affordable a home. A reading of 100 is an even reading – where the average household can afford 100% of the average mortgage payment. As right now, the average household can afford 98.5% of the average mortgage payment – so, unaffordable.
Compared to one year ago, the monthly mortgage payment rose from $1,265 to $1,944 – an increase of 53.7%. There is no doubt that homes are less affordable right now.
Another thing that we want to look at when we start to break down affordability is the average mortgage payment, or income committed to a mortgage payment, which sits at 25.4%. This assumes a 30-year fixed mortgage rate with a 20% down payment on a median-priced home with median income. 25.4% of income is dedicated to a housing payment, where 25% is typically what is recommended.
Taking a look at median household income versus qualifying income – what you need to make to buy a home, is pretty even for the South which is following the national trend.
To combat the current housing affordability right now, buyers can expand their search area and criteria – maybe consider looking a little bit further out of their desired area. Or explore alternative financing options with several different lenders. Finally, buyers can look for grants at sources like DownPaymentResource.com.
As we take a look at the interest rates since January, we can see that is what is really defining the current real estate market right now and the volatility is a result of the moves the Federal Reserve is making to ease inflation – the enemy of long-term interest rates.
The National Bureau of Economic Research defines what a recession is and when it is. A recession is a significant decline in economic activity, spread across the economy, lasting more than a few months, normally visible in real GDP, real income, employment, industrial production, and wholesale retail sales. Technically, a recession is 2 consecutive quarters of negative growth.
Looking all the way back to the 1940s, every time we've seen two consecutive quarters of negative growth, a recession has been called.
According to a survey from the Wall Street Journal that asked economists if they believe a recession will happen in the next 12 months, we can see more and more of the experts are predicting a recession. A recession is an economic slowdown where, historically, we have seen homes appreciate in value and mortgage rates fall.
In 4 of the last 6 recessions, home prices actually appreciated in value, except for 2008, which we have covered in previous monthly market updates was a fundamentally different place than where we are today.
In all 6 of the last 6 recessions, interest rates have declined.
One of the biggest reasons a housing crash is not predicted is inventory. In 2008, we had an oversupply of homes on the market – which causes home prices to fall. Today, we have an under supply – which causes home prices to rise.
We are seeing about a 3-month supply of homes (inventory). We are far, far away from the 10-month supply of homes we saw leading up to and in 2008. The typical neutral market is 6 to 7 months of supply of inventory.
Inventory can also come from new construction. Building permits and housing starts are the leading indicators (what is to come), while under construction and housing units completed are the lagging indicators (what has happened). The leading indicators are slowing down from May to June as builders are seeing mortgage rates rise. This shows further confirmation that we're not on pace to have an oversupply.
Finally, inventory could come from distressed properties like foreclosures and short sales. The mortgage credit availability index shows how much harder it has become for someone to secure a home loan as lending standards have tightened. More qualified buyers means less distressed properties.
There are fewer and fewer foreclosures every year in this country, and especially in the past year or two due to the moratorium on foreclosures.
Looking at foreclosure activity by year, going back to 2008, we are seeing about half of the foreclosures compared to pre-pandemic numbers and less than 10% of post-2008 numbers. Lending standards have changed the game.
36% of mortgages coming out of forbearance were paid off. 45% worked out repayment plans (modifications, loan deferrals, etc) – an opportunity that homeowners didn't have in 2008. The forbearance program changed the game. 4 out of 5 homeowners are coming out of forbearance. However, 17% have no loss mitigation plan, but mostly have enough equity to be able to sell their homes and avoid the foreclosure process. Today, there are different options, and why we won't see a wave of foreclosures coming to the market. If all 400,000 homes in forbearance came to market, it would still be under supplied.
The increased amount of foreclosures this year could be due to the lack of foreclosures the past two years.
Today, we are in a seller's market, but what does the rest of the year hold?
Freddie Mac, Fannie Mae, the Mortgage Bankers Association, and the National Association of Realtors® are predicting mortgage rates to waiver around the current rate with a more stabilized rate next year.
Looking at what the 7 key industry leaders are saying about home pricing, we are seeing about 10.3% home price appreciation through the end of this year. A more moderate growth than the 15% we saw last year, but still extremely healthy appreciation in most markets.
There is also a decrease in home sales due to the softening of buyer demand in light of the rising mortgage rates. The National Association of Realtors® is saying that, at the current pace of sale today, we are projected to sell 5.1 million homes in this country this year. Of course, that is a decrease considering the sales the past 2 years, which were extraordinary years in the real estate market. The 5.1 million projection puts us back in line with the pre-pandemic years of 2017-2019.
In lieu of the rising mortgage rates, Freddie Mac, Fannie Mae, and the Mortgage Bankers Association re-forecasted their home sales predictions for 2022 from 7 million to 6 million. Still a very strong number, which should hold steady as the interest rates begin to balance out.
Today there are fewer multiple offer scenarios, fewer homes selling above asking price, and the supply of homes for sale is growing – all providing a great scenario for buyers right now. We have dropped from 5.5 offers on a home in April to 3.4 in June. We've gone from 61% of homes selling above asking price to 51% – still competitive, but decreasing. Finally, inventory has creeped from 2.2 months supply on hand to 3.0. All three trends that should continue moving forward.
Let's begin this month with the topic of economic slowdown. According to The Wall Street Journal, recession fear surged among CEOs. Three-quarters of global CEOs say that we are in a recession or will be in the next 12 to 18 months. A recession is typically two consecutive quarters of negative GDP. We saw negative GDP in the first quarter of this year, and forecasts coming out of the Atlanta Fed predict an extremely low negative GDP in the second quarter.
Looking at the mortgage rates in prior recessionary periods going all the way back to the early seventies, we can see that in every recession mortgage rates fell.
Over the past five recessions, mortgage rates have fallen an average of 1.8 percentage points from the peak to the trough. Right now, the Fed is raising the funds rate to tame inflation, and in order to do that they have to slow down the economy. You may have heard of the Fed trying to engineer a "soft landing" in which growth is positive and moderate. If a soft landing is not engineered, then you end in recession – a likely outcome at this point.
Here is where it is important to remember that a recession does not equal a housing crisis. Four out of the last six times we were in a recession, homes appreciated in value. The two times they fell – marginally (1.9%) in the early nineties and in 2008 (an outlier due to lax lending standards).
Delving into an update on housing inventory, we are seeing the average number of offers received on a home for sale decline. We saw 5.5 offers in April, which decreased to 5, and then 4.2 in June. The rising mortgage rate environment is starting to soften demand. But, keep in mind, at an average of 4.2 offers on homes for sale, we are still well above the pre-pandemic norm, suggesting the market is still very competitive.
Over asking price offers are also declining, from 61% of offers over the asking price last month to now 55%. Not a huge decline, but certainly a softening or a moderation. All of this leading to a slower pace of sales and rising inventory levels – same inventory with fewer sales means more month supply.
The months supply of inventory was at a record low in January at 1.6 months, and the latest data is showing us at 2.6 months of inventory, so there are more options for buyers. Remember that a balanced market is six months of inventory – a number we haven't seen since 2012.
New monthly listing counts are also increasing. More new listings are coming to market than last year and they are increasing at a faster pace.
We are projected to end the year at 5.4 million home sales by the end of 2022 if we continue at the pace we're selling homes today, but we know that the pace of sales in slowing due to rising rates, economic pressures, and inflationary pressures. Definitely slower than the past two years, which were incredible years for real estate and an anomaly in the housing market. So we see the return to those pre-pandemic years, which were great years in real estate.
We still have far more buyers than we have sellers, which is continuing to put upward pressure on prices.
realtor.com's originally projection for this year was a 0.3% increase in inventory. They have re-forecasted for the rest of the year a 15% increase in inventory – an increase likely representative of the slowing in the pace of sales and an uptick in new listings. Typically, a one month increase in supply translates to a 3% decline in annualized house price growth – something we are already seeing. Keep in mind that prices are still projected to increase, just at a more moderate rate. Decelerating home prices do not mean depreciating home prices. A decelerating environment means there's appreciation, just at a more moderate rate – single digit growth as opposed to the double digit growth we have recently seen.
The average of the home price forecaster is 8.5% for 2022. Price will always be determined by supply and demand, so we will want to look at Home Price Expectation Survey.
The Home Price Expectation Survey is comprised of 100 economists and housing market experts across the country. The survey occurs each quarter and forecasts appreciation for the current year and the four years ahead – to make a five-year window. Again, we see that 8-9% range and then about 4% going forward.
With prices being determined by supply and demand, let's take a look at supply first.
For the last 14 years, we have been below the 50 year average in the number of builds brought to market. Builders were affected greatly in 2008, and maybe may moved on to other vocations, but it looks like we will surpass the 50 year average soon.
The demand side is driven by millennials that are moving through the market. The millennial generation is the largest generation behind the baby boomers, and they're moving through their peak home buying years. According to the National Association of Realtors® (NAR) Home Buyer survey, 81% of first-time home buyers fall in this category, and 43% in this age range.
Bottom Line
Experts don't believe the market is in a bubble or a crash is in the cards like during the Great Recession.
It's true that record levels of home price appreciation have spurred significant equity gains for homeowners over the past few years. As Diana Olick, Real Estate Correspondent at CNBC, says:
"The stunning jump in home values over the course of the Covid-19 pandemic has given U.S. homeowners record amounts of housing wealth."
That's great for your home's value over the last couple of years, but what if you've lived in your home for longer than that? You may be wondering how much equity you truly have.
The National Association of Realtors (NAR) has done a study to calculate the typical equity gains over longer spans of time. The data they compiled could be enough to motivate you to move. Just remember, to find out how much equity you have in your specific home, you'll want to get a professional equity assessment from a trusted real estate advisor.
How Your Equity Grows
Let's start by establishing how you build equity in your home. While price appreciation is clearly a factor that can help boost your equity, you also build equity over time as you pay down your home loan. NAR explains:
"Home equity gains are built up through price appreciation and by paying off the mortgage through principal payments."
Average Equity Growth over Time
The study from NAR breaks down the typical equity gain over time (see graph below). It calculates the equity a homeowner potentially gained if they purchased the median-priced home 5, 10, or 30 years ago and still own it today.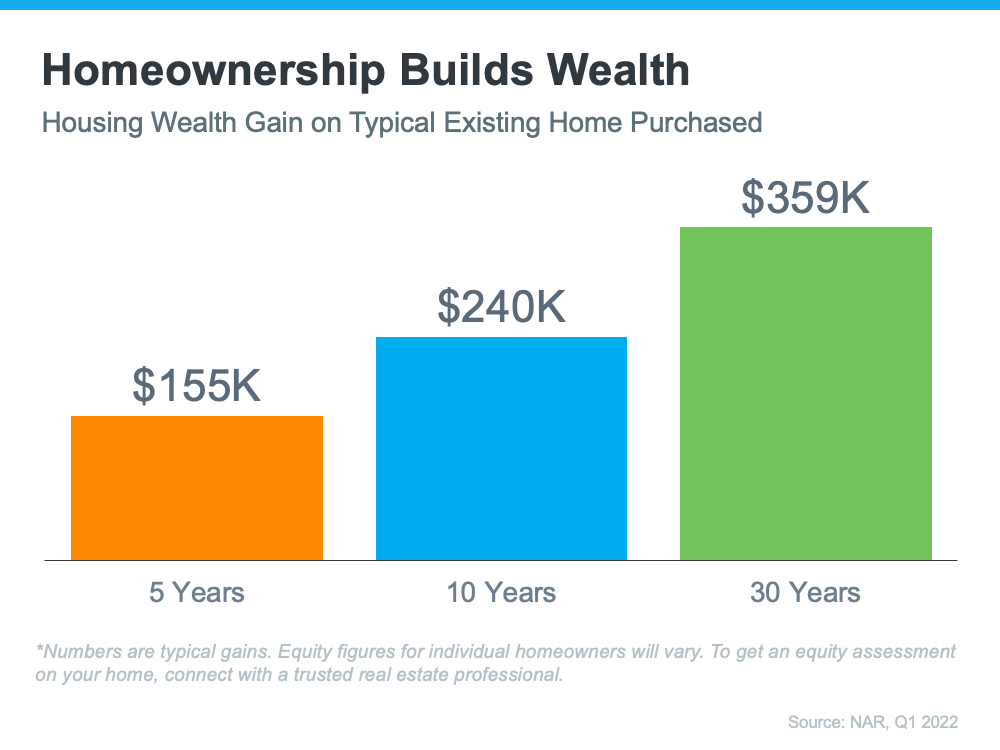 These six-figure numbers are impressive and certainly enough to help you fuel a move into your next home, but they're not a promised amount. Remember, your own equity gain will be different. It depends on how long you've been in the house, your home's condition, any upgrades you've made, your area, and much more.
If you want to find out how much equity you have, partner with a trusted real estate professional for an equity assessment on your home. They can provide an expert opinion on what your house is worth today and how the equity you've gained over time can help you when you purchase your next home. It may be some (if not all) of what you need for your next down payment.
Bottom Line
If you're thinking about selling your house and making a move, home equity can be a real game-changer, especially if you've been in your current home for a while. If you're ready to find out how much equity you have, visit HomeSweetHomeBot.com.
In this first week of June, we have seen asking prices take a slight downturn as sellers become more cautious when determining their asking price. Nationally, the median asking price for homes new to the market dropped 1.5%, according to Redfin. This comes after a 4-week period in which asking prices were at an all time high in the U.S.
"Data on home-tours, offers and mortgage purchase applications suggest that homebuyers have noticed the shift in power and are no longer leaving the market in droves… Buyers coming back will provide support to the housing market, but between now and the end of year I think the power will continue to shift towards buyers, resulting in mild price declines from month to month."

Daryl Fairweather, Redfin Chief Economist
According to Showingtime, June showings were down 3% since the beginning of 2022 – perhaps due to the recent mortgage rate and home price increases. During the same period last year only 1 in 30 sellers had to lower their asking price, and today we are seeing homes with price reductions more than double with a longer time spent on market.
If you own a home, your net worth likely just got a big boost thanks to rising home equity. Equity is the current value of your home minus what you owe on the loan. And today, based on recent home price appreciation, you're building that equity far faster than you may expect – here's how it works.
Because there's an ongoing imbalance between the number of homes available for sale and the number of buyers looking to make a purchase, home prices are on the rise. That means your home is worth more in today's market because it's in high demand. As Patrick Dodd, President and CEO of CoreLogic, explains:
"Price growth is the key ingredient for the creation of home equity wealth. . . . This has led to the largest one-year gain in average home equity wealth for owners. . . ."
Basically, because your home value has likely climbed so much, your equity has increased too. According to the latest Homeowner Equity Insights from CoreLogic, the average homeowner's equity has grown by $64,000 over the last 12 months.
While that's the nationwide number, if you want to know what's happening in your area, look at the map below. It breaks down the average year-over-year equity growth for each state using the data from CoreLogic.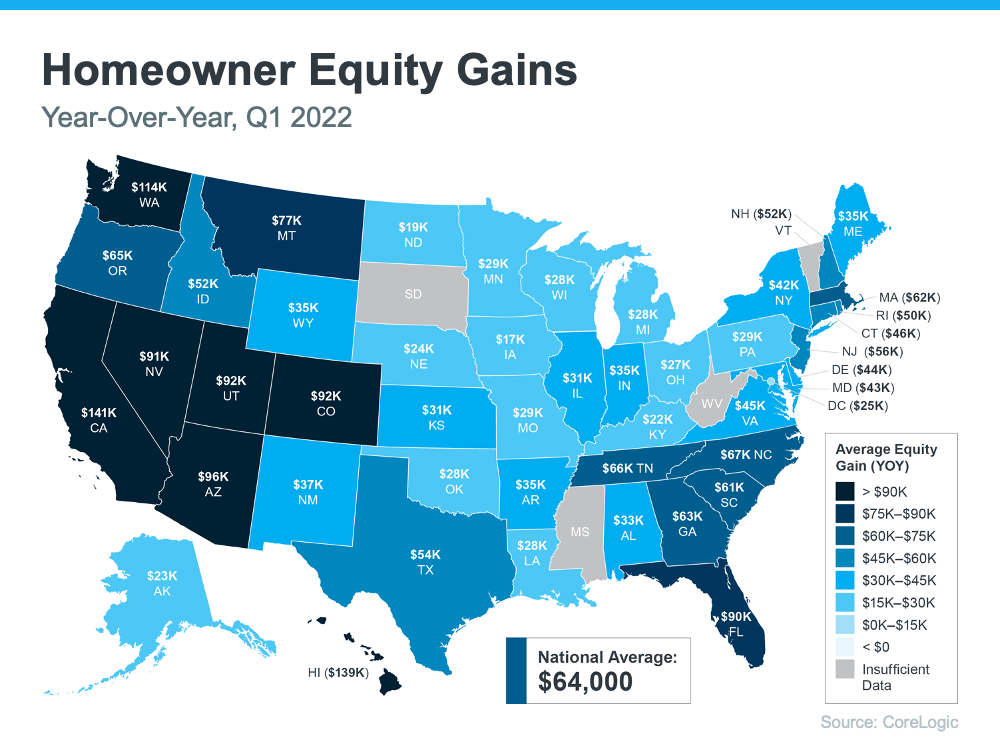 The Opportunity Your Rising Home Equity Provides
In addition to building your overall net worth, equity can also help you achieve other goals like buying your next home. When you sell your current house, the equity you built up comes back to you in the sale. In a market where homeowners are gaining so much equity, it may be just what you need to cover a large portion – if not all – of the down payment on your next home.
So, if you've been holding off on selling or you're worried about being priced out of your next home because of today's ongoing home price appreciation, rest assured your equity can help fuel your move.
Bottom Line
If you're planning to make a move, the equity you've gained can make a big impact. To find out just how much equity you have in your current home and how you can use it to fuel your next purchase, visit HomeSweetHomeBot.com to get a no-obligation, professional equity assessment report on your house.
We're about halfway through the year, and starting to see a little bit of a shift in the market. As of late, the market has been defined by rising mortgage rates.
To break down what is happening with mortgage rates, we look to the weekly monitor from Freddie Mac where the average 30 year fixed is over 5%.
There's a lot of economic uncertainty – inflation, instability in the world, what the Fed is doing – which is causing mortgage rate volatility.
Looking at the rate environment this year, where we wrapped up 2021 with 3.1% on the average 30-year fixed, we have seen a quick and dramatic rise in interest rates over the first several months with a plateau around the third week of April.
However, let's bring some perspective to this. The average 30-year fixed is higher than where we've been for the last decade, but below where we've been in previous decades – going all the way back to the seventies. Certainly, 5% is still a very, very good rate when we consider the historical rates over the past several decades.
The 30-year fixed mortgage has followed the 10-Year Treasury. We've seen the 10-Year Treasury rise since January and start to flatten out, like we see in interest rates.
The headlines tend to terrify more than clarify, so what's the short answer to, "Are we in a housing market correction?" No! A correction of any sort is a decline of 10% or greater in the price of a security asset or financial market. Experts are forecasting almost 9% appreciation in residential real estate this year – where, historically, we've seen about 3.8%. We are still seeing very healthy appreciation this year.
However, we are at a turning point right now, coming out of two anomaly years in the real estate business, and it is still a seller's market.
According to the latest released numbers, showings are still high, though we will begin to trend back to the pre-pandemic level demand.
And looking at the latest released numbers for existing home sales, we can see again that trend to the pre-pandemic level of sales. However, we are still seeing national averages of 17 days on market with over 5 offers on homes for sale. As we head back towards those pre-pandemic levels, let's not forget that 2017-2019 were great years for the real estate market.
Let's take a look at the top expert forecasts for 2022. We see anywhere from 6.9 million homes sold this year to 6.1 million. In 2021 we sold 6.9 million homes. Most are saying that the interest rate environment we're in will likely impact the market to the tune of about 10%. At 6.9 million homes, that is a reduction of about 700,000 homes less we would sell this year. – right around that 6.2 million mark.
A recession does not mean there will be a housing crisis. We have seen 6 recessions in this country, and during 4 of those recessions homes appreciated in value. Keep in mind, one of the recessions (1990s) homes only depreciated in value by less than 2%.
A recession does not equal a housing crisis. That's the one thing that every homeowner today needs to know. Everywhere you look, experts are warning we could be heading toward a recession, and if true, an economic slowdown doesn't mean homes will lose value.
The National Bureau of Economic Research (NBER) defines a recession this way:
"A recession is a significant decline in economic activity spread across the economy, normally visible in production, employment, and other indicators. A recession begins when the economy reaches a peak of economic activity and ends when the economy reaches its trough. Between trough and peak, the economy is in an expansion."
To help show that home prices don't fall every time there's a recession, take a look at the historical data. There have been six recessions in this country over the past four decades. As the graph below shows, looking at the recessions going all the way back to the 1980s, home prices appreciated four times and depreciated only two times. So, historically, there's proof that when the economy slows down, it doesn't mean home values will fall or depreciate.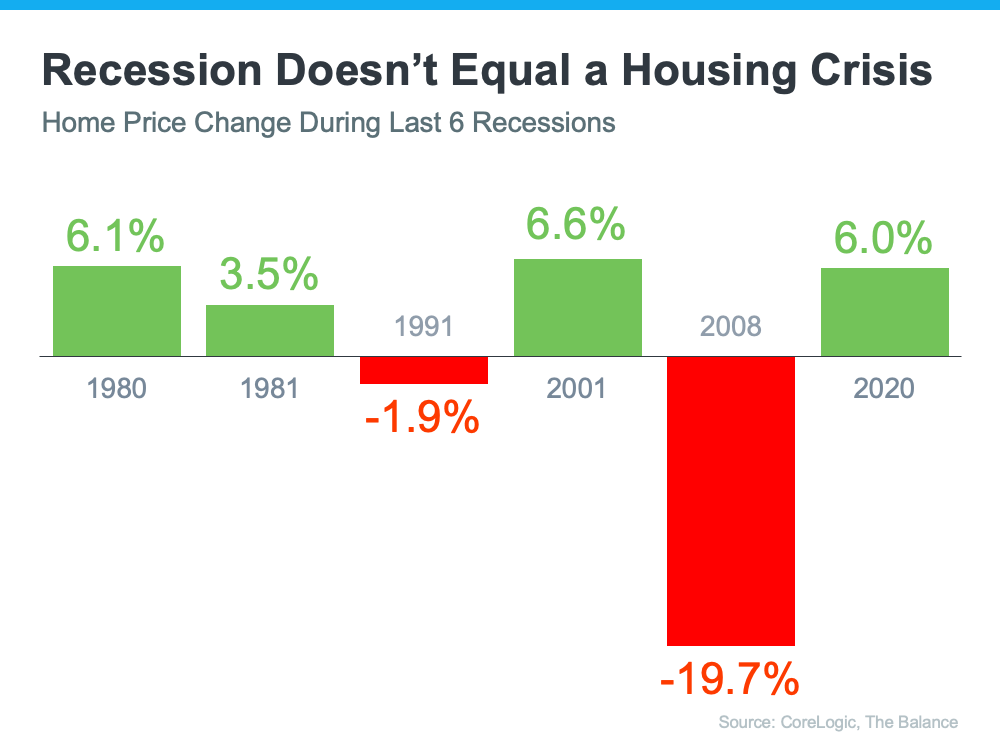 The first occasion on the graph when home values depreciated was in the early 1990s when home prices dropped by less than 2%. It happened again during the housing crisis in 2008 when home values declined by almost 20%. Most people vividly remember the housing crisis in 2008 and think if we were to fall into a recession that we'd repeat what happened then. But this housing market isn't a bubble that's about to burst. The fundamentals are very different today than they were in 2008. So, we shouldn't assume we're heading down the same path.
Bottom Line
We're not in a recession in this country, but if one is coming, it doesn't mean homes will lose value. History proves a recession doesn't equal a housing crisis.
Let's kick off this month discussing some of the biggest topics in real estate today.
Are we in a housing bubble?
Let's take a look at home values going all the way back to World War II – the start of the modern day housing boom in the United States. Notice that 2008 was the only time homes lost significant value, and this is really for two reasons. First, loose lending standards – lack of income verification, lack of job verification, etc. Second, cash out refinances – people took the equity they had, cashed it out, and bought depreciating assets. In these times people were able to apply for a loan they didn't qualify for, and then borrow against the equity.
All that said, this market is different. First, the forbearance numbers continue to edge downward. As of last month, there are 690,000 loans still in forbearance – well below where we started out in May of 2020. According to Black Knight, 92% of the people that entered forbearance have come out of it.
Thirty-seven percent were paid in full – those that likely took forbearance as an insurance policy and didn't need it. Forty-four percent went through some kind of modification, refinance, or deferral – tacking it on the back end. So, 4 out of 5 people exited forbearance – a very positive sign. However, there are 18% that are still in jeopardy – they have no loss mitigation plan or are already into the loss mitigation plan. But let's not forget that people have options today – you can sell your home with the appreciation we've seen over the last couple of years.
Second, the lending default risk is lower. The Urban Institute looked at Default Risk in the Mortgage Market and that helps us see how lending standards are nothing like they were in the early 2000s. There is product risk and borrower risk. The loans that were available back then are not available today. When looking at the borrower risk, think about asset profiles, credit scores – all of those things needed to qualify for a loan – have been curtailed. It's gotten harder to qualify for a loan. Now we have to demonstrate the ability to repay.
Third, the foreclosure market is an all-time low – from a high of about 3 million homes in foreclosure to 78,000 last quarter.
Fourth, lending standards are tighter which can be attributed to less foreclosures in the market. Qualified buyers mean less defaults. During the crisis we saw about 4 times the amount of loans approved for individuals with a credit score less than 620.
Fifth, mortgage debt is not a challenge. According to the Federal Reserve, the household debt ratio is the lowest it has been since the 1970s. Why? Because of rising wages. Today, we are much better positioned than we were back in the financial crisis.
Finally, cash out refinances are extremely low. The difference in annual mortgage payments for cash out refinances was over $3,000 and $4,000 back during the housing crisis, while we hover around the $34 mark right now. There is very little change in the mortgage payment as somebody goes through a cash out refinance.
We learned a lot of lessons during the housing crash, and can see how the market dynamics are very different today. So, what is to come in the remainder of 2022? The Fed started off the month by raising the Fed funds rate. How will this affect home prices?
Looking at the most recent updated home price forecast from the top seven forecasters, we see 9% appreciation for 2022.
Beyond 2022, we will see a much more normal rate of appreciation like the pre-pandemic rate of 3.8%.
The home price expectation survey forecasts 26% cumulative home price appreciation by 2026.
As buyers search for homes, we've seen interest rates in the first four months of this year rise dramatically. We started the year about 3.1%, and now we're just over 5.25% on the average 30 year fixed.
Prices are rising all around us, and that is affecting affordability.
Consider a loan amount of $300,000 (principle and interest only). In January 2021, your monthly payment would have been about $1,200. Fast forward to today's rates, and you are looking at about $1,650 a month for the same home. Projections have this payment increasing by about $500 within the next few months.
The Housing Affordability Index shows that homes are more affordable than any time leading up to the housing crisis. So, when people say homes aren't affordable anymore, we have to ask, "As compared to when?"
If you're planning to buy a home this season, you're probably thinking about what you'll need to do to get your offer accepted. In previous years, it was common for buyers to try and determine how much less than the asking price they could offer to still get the home. The buyer and seller would then negotiate and typically agree on a revised price that was somewhere between the buyer's bid and the home's initial asking price.
In today's real estate market, buyers shouldn't shop for a home with the same expectations.
Things Are Different Today
Today's housing market is anything but normal. According to the National Association of Realtors (NAR), the average home that's sold today:
Receives 4.8 offers
Sells in just 17 days
Homes selling quickly and receiving multiple offers shows how competitive the housing market is for buyers right now. This is because there are more buyers on the market than homes for sale. When the number of homes available can't keep up with demand, homes often sell for more than the asking price.
How Does This Impact You When It's Time To Submit an Offer?
Market conditions should help guide your decisions throughout the process. Today, the asking price of a home is often the floor of the negotiation rather than the ceiling. Knowing this is important when it's time to submit an offer, but you should also use that information as you're searching for homes too. After all, you don't want to fall in love with a home that ultimately sells for a price higher than what you've budgeted for.
The Mortgage Reports has advice if you're looking to purchase a home in a competitive market. The article encourages you to be realistic with your housing search, saying:
"The best thing to do is set your budget and expectations ahead of time so you know how much you can afford to offer — and when to walk away. This will make negotiations a lot easier."
Of course, when you've found your dream home, you'll want to do everything you can to submit your best offer up front and win a potential bidding war. Knowing the current market is key to crafting a winning offer. That's where working with an expert real estate advisor becomes critical.
A real estate professional will draw from their experience and expert-level knowledge of today's housing market throughout the process. They'll also balance conditions in your area to make sure your offer stands out above the rest.
Bottom Line
Understanding how to approach the asking price of a home and what's happening in today's real estate market are critical for buyers.