Let's kick off this month discussing some of the biggest topics in real estate today.
Are we in a housing bubble?
Let's take a look at home values going all the way back to World War II – the start of the modern day housing boom in the United States. Notice that 2008 was the only time homes lost significant value, and this is really for two reasons. First, loose lending standards – lack of income verification, lack of job verification, etc. Second, cash out refinances – people took the equity they had, cashed it out, and bought depreciating assets. In these times people were able to apply for a loan they didn't qualify for, and then borrow against the equity.
All that said, this market is different. First, the forbearance numbers continue to edge downward. As of last month, there are 690,000 loans still in forbearance – well below where we started out in May of 2020. According to Black Knight, 92% of the people that entered forbearance have come out of it.
Thirty-seven percent were paid in full – those that likely took forbearance as an insurance policy and didn't need it. Forty-four percent went through some kind of modification, refinance, or deferral – tacking it on the back end. So, 4 out of 5 people exited forbearance – a very positive sign. However, there are 18% that are still in jeopardy – they have no loss mitigation plan or are already into the loss mitigation plan. But let's not forget that people have options today – you can sell your home with the appreciation we've seen over the last couple of years.
Second, the lending default risk is lower. The Urban Institute looked at Default Risk in the Mortgage Market and that helps us see how lending standards are nothing like they were in the early 2000s. There is product risk and borrower risk. The loans that were available back then are not available today. When looking at the borrower risk, think about asset profiles, credit scores – all of those things needed to qualify for a loan – have been curtailed. It's gotten harder to qualify for a loan. Now we have to demonstrate the ability to repay.
Third, the foreclosure market is an all-time low – from a high of about 3 million homes in foreclosure to 78,000 last quarter.
Fourth, lending standards are tighter which can be attributed to less foreclosures in the market. Qualified buyers mean less defaults. During the crisis we saw about 4 times the amount of loans approved for individuals with a credit score less than 620.
Fifth, mortgage debt is not a challenge. According to the Federal Reserve, the household debt ratio is the lowest it has been since the 1970s. Why? Because of rising wages. Today, we are much better positioned than we were back in the financial crisis.
Finally, cash out refinances are extremely low. The difference in annual mortgage payments for cash out refinances was over $3,000 and $4,000 back during the housing crisis, while we hover around the $34 mark right now. There is very little change in the mortgage payment as somebody goes through a cash out refinance.
We learned a lot of lessons during the housing crash, and can see how the market dynamics are very different today. So, what is to come in the remainder of 2022? The Fed started off the month by raising the Fed funds rate. How will this affect home prices?
Looking at the most recent updated home price forecast from the top seven forecasters, we see 9% appreciation for 2022.
Beyond 2022, we will see a much more normal rate of appreciation like the pre-pandemic rate of 3.8%.
The home price expectation survey forecasts 26% cumulative home price appreciation by 2026.
As buyers search for homes, we've seen interest rates in the first four months of this year rise dramatically. We started the year about 3.1%, and now we're just over 5.25% on the average 30 year fixed.
Prices are rising all around us, and that is affecting affordability.
Consider a loan amount of $300,000 (principle and interest only). In January 2021, your monthly payment would have been about $1,200. Fast forward to today's rates, and you are looking at about $1,650 a month for the same home. Projections have this payment increasing by about $500 within the next few months.
The Housing Affordability Index shows that homes are more affordable than any time leading up to the housing crisis. So, when people say homes aren't affordable anymore, we have to ask, "As compared to when?"
If you're planning to buy a home this season, you're probably thinking about what you'll need to do to get your offer accepted. In previous years, it was common for buyers to try and determine how much less than the asking price they could offer to still get the home. The buyer and seller would then negotiate and typically agree on a revised price that was somewhere between the buyer's bid and the home's initial asking price.
In today's real estate market, buyers shouldn't shop for a home with the same expectations.
Things Are Different Today
Today's housing market is anything but normal. According to the National Association of Realtors (NAR), the average home that's sold today:
Receives 4.8 offers
Sells in just 17 days
Homes selling quickly and receiving multiple offers shows how competitive the housing market is for buyers right now. This is because there are more buyers on the market than homes for sale. When the number of homes available can't keep up with demand, homes often sell for more than the asking price.
How Does This Impact You When It's Time To Submit an Offer?
Market conditions should help guide your decisions throughout the process. Today, the asking price of a home is often the floor of the negotiation rather than the ceiling. Knowing this is important when it's time to submit an offer, but you should also use that information as you're searching for homes too. After all, you don't want to fall in love with a home that ultimately sells for a price higher than what you've budgeted for.
The Mortgage Reports has advice if you're looking to purchase a home in a competitive market. The article encourages you to be realistic with your housing search, saying:
"The best thing to do is set your budget and expectations ahead of time so you know how much you can afford to offer — and when to walk away. This will make negotiations a lot easier."
Of course, when you've found your dream home, you'll want to do everything you can to submit your best offer up front and win a potential bidding war. Knowing the current market is key to crafting a winning offer. That's where working with an expert real estate advisor becomes critical.
A real estate professional will draw from their experience and expert-level knowledge of today's housing market throughout the process. They'll also balance conditions in your area to make sure your offer stands out above the rest.
Bottom Line
Understanding how to approach the asking price of a home and what's happening in today's real estate market are critical for buyers.
Many consumers are wondering what will happen with home values over the next few years. Some are concerned that the recent run-up in home prices will lead to a situation similar to the housing crash 15 years ago.
However, experts say the market is totally different today. For example, Odeta Kushi, Deputy Chief Economist at First American, tweeted just last week on this issue:
". . . We do need price appreciation to slow today (it's not sustainable over the long run) but high price growth today is supported by fundamentals- short supply, lower rates & demographic demand. And we are in a much different & safer space: better credit quality, low DTI [Debt-To-Income] & tons of equity. Hence, a crash in prices is very unlikely."
Price appreciation will slow from the double-digit levels the market has seen over the last two years. However, experts believe home values will not depreciate (where a home would lose value).
To this point, Pulsenomics just released the latest Home Price Expectation Survey – a survey of a national panel of over 100 economists, real estate experts, and investment and market strategists. It forecasts home prices will continue appreciating over the next five years. Below are the expected year-over-year rates of home price appreciation based on the average of all 100+ projections:
2022: 9%
2023: 4.74%
2024: 3.67%
2025: 3.41%
2026: 3.57%
Those responding to the survey believe home price appreciation will still be relatively high this year (though half of what it was last year), and then return to more normal levels over the next four years.
What Does This Mean for You as a Buyer?
With a limited supply of homes available for sale and both prices and mortgage rates increasing, it can be a challenging market to navigate as a buyer. But buying a home sooner rather than later does have its benefits. If you wait to buy, you'll pay more in the future. However, if you buy now, you'll actually be in the position to make future price increases work for you. Once you buy, those rising home prices will help you build your home's value, and by extension, your own household wealth through home equity.
As an example, let's assume you purchased a $360,000 home in January of this year (the median price according to the National Association of Realtors rounded up to the nearest $10K). If you factor in the forecast for appreciation from the Home Price Expectation Survey, you could accumulate over $96,000 in household wealth over the next five years (see graph below):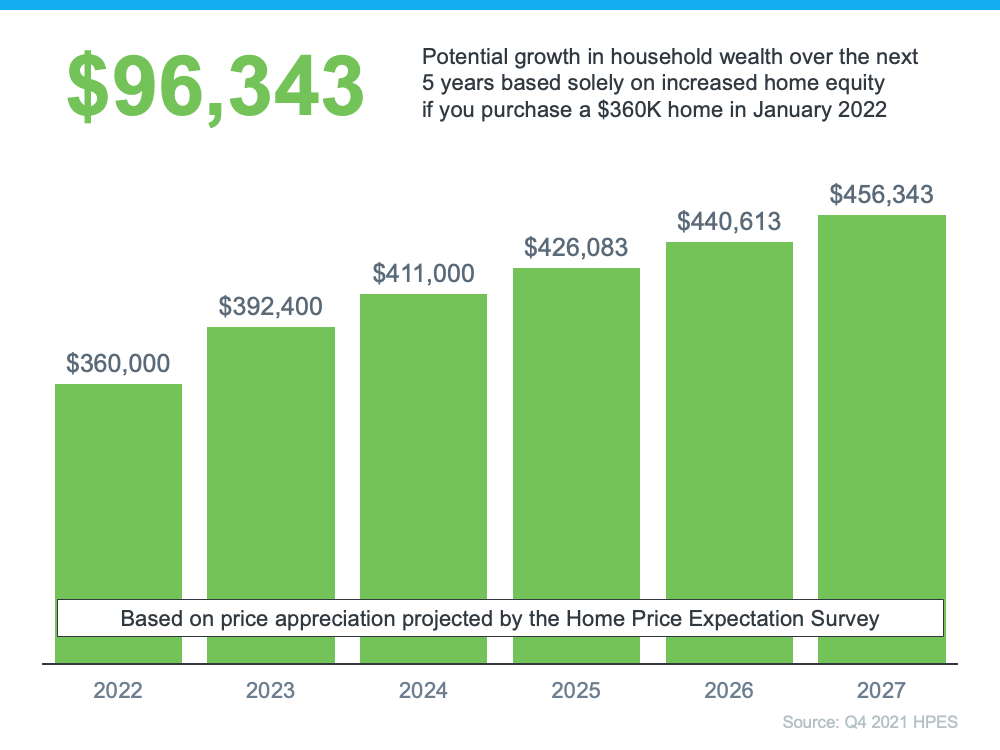 Bottom Line
If you're trying to decide whether to buy now or wait, the key is knowing what's expected to happen with home prices. Experts say prices will continue to climb in the years ahead, just at a slower pace. So, if you're ready to buy, doing so now may be your best bet for your wallet. It'll also give you the chance to use the future home price appreciation to build your own net worth through rising equity.
Mortgage rates started out at 3.11% for the average 30-year,fixed at the beginning of the year, and they have just steadily climbed since then – up to 4.67%.
Rates are projected to continue rising, but at a more moderate pace, because the Fed has risen their rate and mortgage rates tend to follow.
So how does this affect home prices? Let's take a look at the historical impact of rising rates on home prices when mortgage rates rose by more than a percentage point.
Looking back to October of 1993 (about 30 years), we can see an average of about 8% home price appreciation as mortgage rates are rising by more than a percentage point. So, rising rates have not had a negative impact on home prices.
So how do rising mortgage rates affect home sales?
Looking at the same data for the same period of time, we can see an average decrease of 11% in home sales as prices were rising. As rates rise, it can tend to reduce buyer activity – pricing some people out of the market.
It is important to note that first line (October 1993 to December 1994) where mortgage rates rose 2.38% to a final rate of 9.2%. We are NOT looking at a 2.5% increase in mortgage rates right now. That kind of increase is not in the projections. We are in a very, very different environment than we were back then. We are most likely looking at a 1.5% increase.
In rising mortgage rate environments, there is an overall 2% impact on home sales – a negligible impact – where 2005 & 2006 are the outliers leading up to the housing crisis.
Overall, rising mortgage rates don't have a huge impact on home sales. Why? Because you have to consider the inventory component. Today, we are seeing drastically low inventory – lower than it was in January of 2021, which was a historical low. Home prices are projected to continue rising, because there just aren't enough homes for sale. Supply and demand are what drives home price appreciation. So, when you see those headlines saying home sales are softening, it's not because of rising mortgage rates. It's because there aren't enough homes to buy.
When we look at months inventory, historically we had between 4.5 and 5 months inventory on hand – a very, very different inventory level than what we have today.
Inflation is driving this increase in mortgage rates, and we can expect it to continue to rise, but it won't be at as quite a rapid pace as what we've seen over the past few weeks.
Home price appreciation will slow, and mortgage rates will slow some of the frenzy. But, we're not talking about depreciation. We're talking about deceleration – appreciation at a more moderate rate.
We hope that all helps explain how the rising mortgage rate environment will affect the other factors in the market, so let's move on to the forecasts for the spring housing market.
We are in a very, very busy market.
Here is the NAR (National Association of Realtors®) Buyer Traffic Map – strong activity overall.
Then, we see very, weak seller traffic overall. So, strong buyer demand combined with the lack of sellers keeps that upward pressure on prices.
However, we did see increased active listings in March.
Pending home sales have dropped, overall – not because there's a lack of demand in the market, but because we can't sell what we don't have. Nonetheless, we seem to be in a healthy market.
We're ahead in showings and activity, indicating, again, strong demand.
Price acceleration is also holding steady, indicating a very competitive market.
And we are still ahead of historical appreciation. Overall, these figures look to a strong spring market.
With all the uncertainty out there, let's take a quick glance at 5 graphs that break down the most common concerns.
First, active listings as compared to new listings going back to August of 2021. The light blue bars represent active listings each month, and the dark blue bars represent new listings that are taken during the month. Active listings outpace new listings until March, where new listings actually outpace the active listings. This means as soon as something comes on the market, it sells.
Second, the single-family housing units completed tells the story of why it's so hard to find a home right now – why prices have risen the way they've risen. And the simple answer is that for 14 straight years, we've been below the 50-year average in new construction, due to the fallout of the housing crisis in 2008. Builders were hit extremely hard, and are building back their capacity – their ability to bring new builds to market. This has constricted supply.
Third, we look at home ownership as a hedge against inflation. When you're in an inflationary economy, you want to be invested in hard assets that outperform inflation. The light blue represents the inflation rate, and the dark blue represents home price appreciation. Historically, home price appreciation has outperformed inflation (with the exception of the housing crisis).
Fourth, we look at the home price expectation survey – a survey of 100 economists, real estate professionals, and market investor professionals determining what is going to happen with home prices. $96,000 in potential growth in household wealth over the next five years based solely on increased home equity if you purchased an average priced home (about $360,000).
Finally, a look at home price appreciation. Among the seven experts, the average home price appreciation is 6.7%. Not one is forecasting prices to go down.
If you're a current homeowner, you should know your net worth just got a big boost. It comes in the form of rising home equity. Equity is the current value of your home minus what you owe on the loan. Today, you're building that equity far faster than you may expect – and this gain is great news for you.
Here's how it happened. Home values are on the rise thanks to low housing supply and high buyer demand. Basically, there aren't enough homes available to meet this high buyer interest, so bidding wars are driving home prices up. When you own a home, the rising prices mean your home is worth more in today's market. And as home values climb, your equity does too. As Dr. Frank Nothaft, Chief Economist at CoreLogic, explains:
"Home prices rose 18% during 2021 in the CoreLogic Home Price Index, the largest annual gain recorded in its 45-year history, generating a big increase in home equity wealth."
The latest Homeowner Equity Insights from CoreLogic shed light on just how much rising home values have boosted homeowner equity. According to that report, the average homeowner's equity has grown by $55,300 over the last 12 months.
Want to know what's happening in your area? Here's a breakdown of the average year-over-year equity growth for each state based on that data.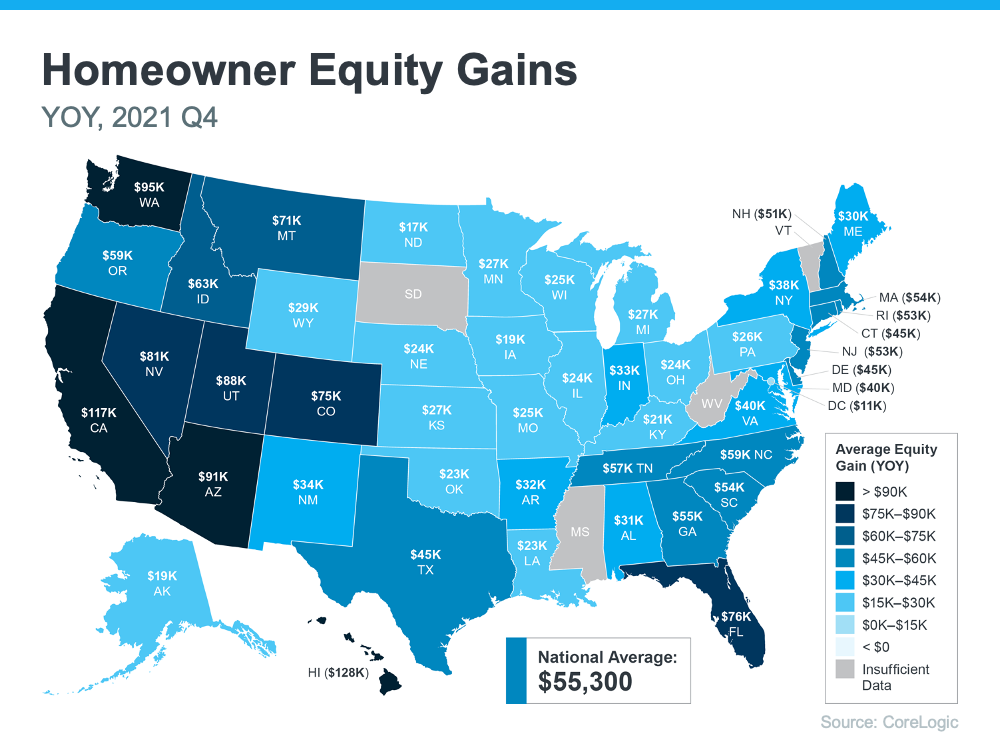 How Rising Equity Impacts You
In addition to building your overall net worth, equity can also help you achieve other goals like buying your next home. It works like this: when you sell your house, the equity you built up comes back to you in the sale.
In a market where you're gaining so much equity, it may be just what you need to cover a large portion – if not all – of the down payment on your next home. So, if you've been holding off on selling and worried about being priced out of your next home because of today's home price appreciation, rest assured your equity can help fuel your move.
Bottom Line
Equity can be a real game-changer if you're planning to make a move. To find out just how much equity you have in your home and how you can use it to fuel your next purchase, go to HomeSweetHomeBot.com.
A recent survey revealed that many consumers believe there's a housing bubble beginning to form. That feeling is understandable, as year-over-year home price appreciation is still in the double digits. However, this market is very different than it was during the housing crash 15 years ago. Here are four key reasons why today is nothing like the last time.
1. Houses Are Not Unaffordable Like They Were During the Housing Boom
The affordability formula has three components: the price of the home, wages earned by the purchaser, and the mortgage rate available at the time. Conventional lending standards say a purchaser should not spend more than 28% of their gross income on their mortgage payment.
Fifteen years ago, prices were high, wages were low, and mortgage rates were over 6%. Today, prices are still high. Wages, however, have increased, and the mortgage rate, even after the recent spike, is still well below 6%. That means the average purchaser today pays less of their monthly income toward their mortgage payment than they did back then.
In the latest Affordability Report by ATTOM Data, Chief Product Officer Todd Teta addresses that exact point:
"The average wage earner can still afford the typical home across the U.S., but the financial comfort zone continues shrinking as home prices keep soaring and mortgage rates tick upward."
Affordability isn't as strong as it was last year, but it's much better than it was during the boom. Here's a chart showing that difference: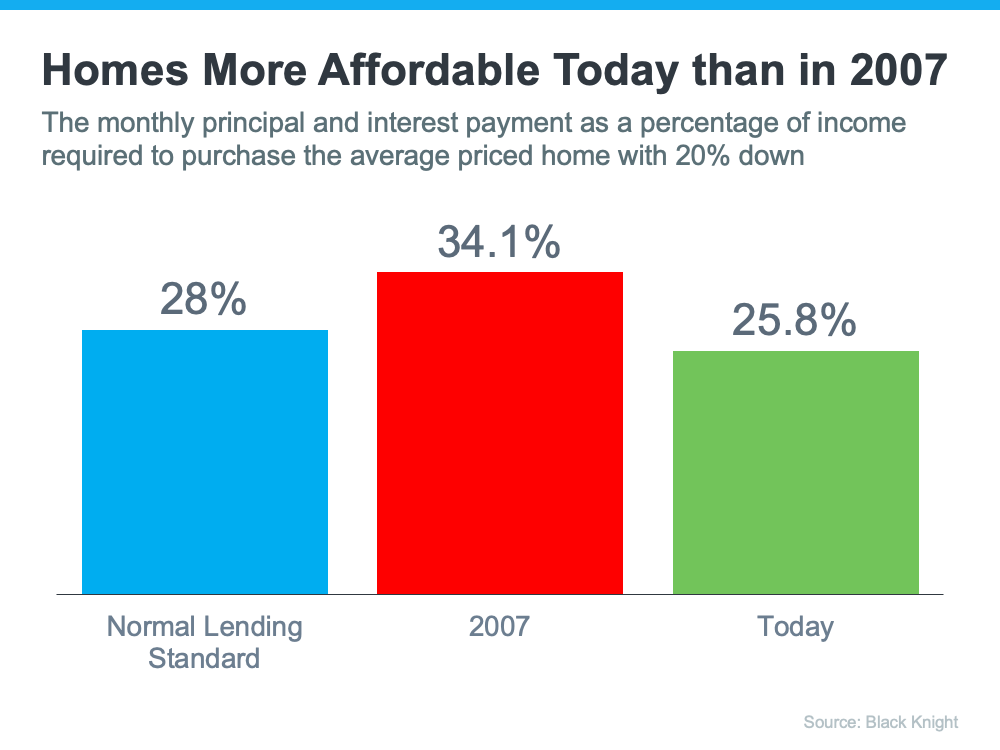 If costs were so prohibitive, how did so many homes sell during the housing boom?
2. Mortgage Standards Were Much More Relaxed During the Boom
During the housing bubble, it was much easier to get a mortgage than it is today. As an example, let's review the number of mortgages granted to purchasers with credit scores under 620. According to credit.org, a credit score between 550-619 is considered poor. In defining those with a score below 620, they explain:
"Credit agencies consider consumers with credit delinquencies, account rejections, and little credit history as subprime borrowers due to their high credit risk."
Buyers can still qualify for a mortgage with a credit score that low, but they're considered riskier borrowers. Here's a graph showing the mortgage volume issued to purchasers with a credit score less than 620 during the housing boom, and the subsequent volume in the 14 years since.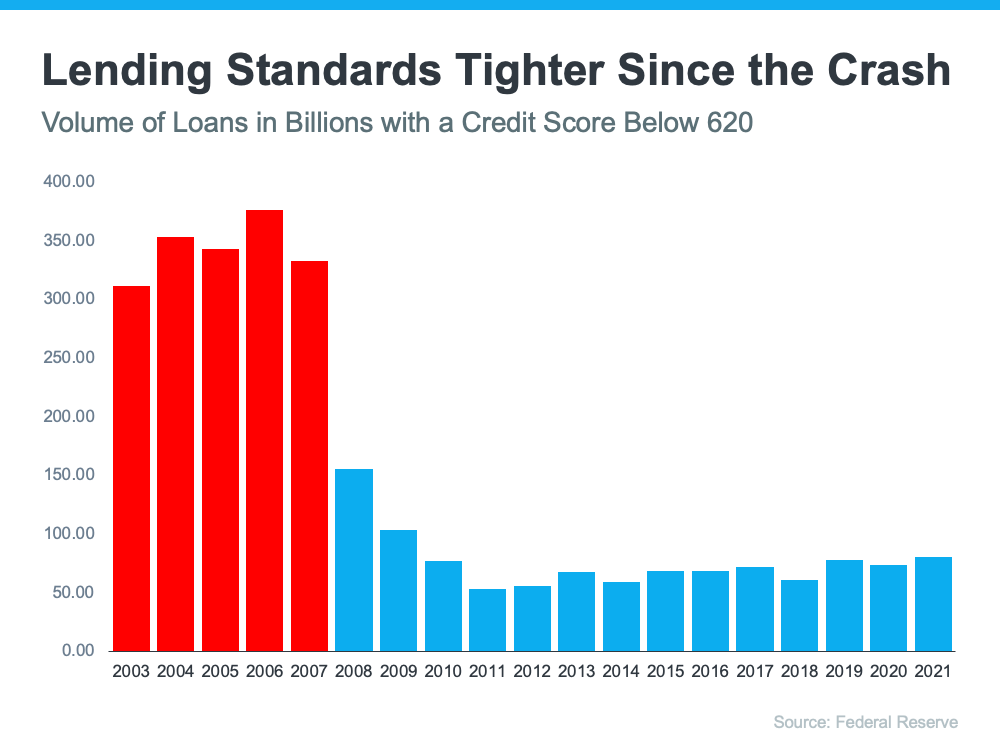 Mortgage standards are nothing like they were the last time. Purchasers that acquired a mortgage over the last decade are much more qualified. Let's take a look at what that means going forward.
3. The Foreclosure Situation Is Nothing Like It Was During the Crash
The most obvious difference is the number of homeowners that were facing foreclosure after the housing bubble burst. The Federal Reserve issues a report showing the number of consumers with a new foreclosure notice. Here are the numbers during the crash compared to today: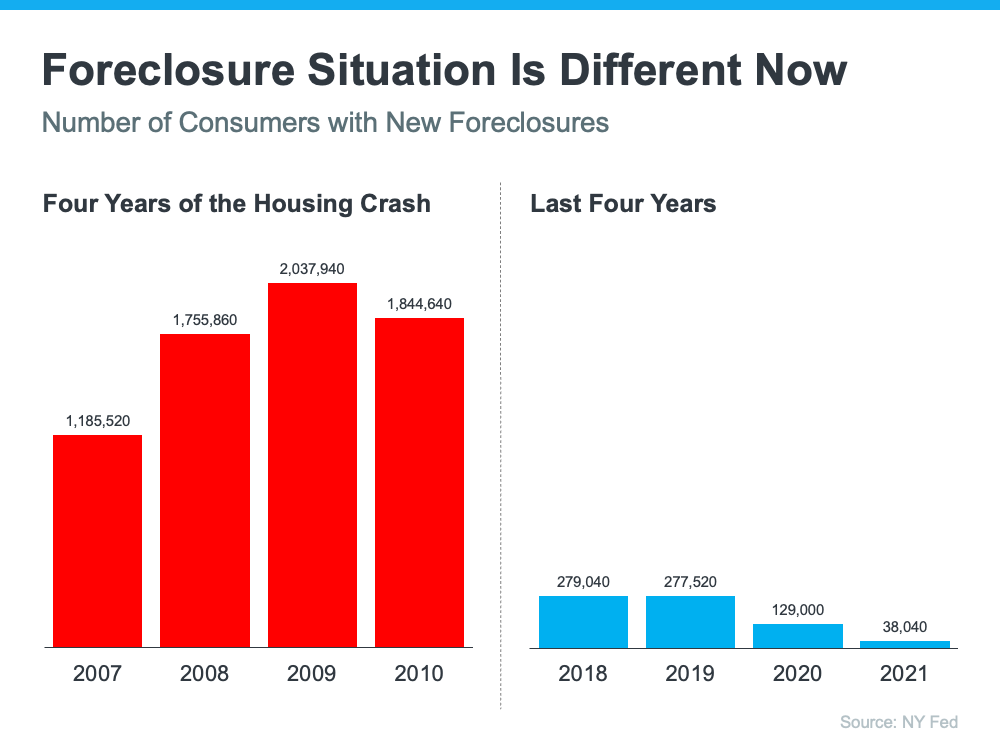 There's no doubt the 2020 and 2021 numbers are impacted by the forbearance program, which was created to help homeowners facing uncertainty during the pandemic. However, there are fewer than 800,000 homeowners left in the program today, and most of those will be able to work out a repayment plan with their banks.
Rick Sharga, Executive Vice President of RealtyTrac, explains:
"The fact that foreclosure starts declined despite hundreds of thousands of borrowers exiting the CARES Act mortgage forbearance program over the last few months is very encouraging. It suggests that the 'forbearance equals foreclosure' narrative was incorrect."
Why are there so few foreclosures now? Today, homeowners are equity rich, not tapped out.
In the run-up to the housing bubble, some homeowners were using their homes as personal ATM machines. Many immediately withdrew their equity once it built up. When home values began to fall, some homeowners found themselves in a negative equity situation where the amount they owed on their mortgage was greater than the value of their home. Some of those households decided to walk away from their homes, and that led to a rash of distressed property listings (foreclosures and short sales), which sold at huge discounts, thus lowering the value of other homes in the area.
Homeowners, however, have learned their lessons. Prices have risen nicely over the last few years, leading to over 40% of homes in the country having more than 50% equity. But owners have not been tapping into it like the last time, as evidenced by the fact that national tappable equity has increased to a record $9.9 trillion. With the average home equity now standing at $300,000, what happened last time won't happen today.
As the latest Homeowner Equity Insights report from CoreLogic explains:
"Not only have equity gains helped homeowners more seamlessly transition out of forbearance and avoid a distressed sale, but they've also enabled many to continue building their wealth."
There will be nowhere near the same number of foreclosures as we saw during the crash. So, what does that mean for the housing market?
4. We Don't Have a Surplus of Homes on the Market – We Have a Shortage
The supply of inventory needed to sustain a normal real estate market is approximately six months. Anything more than that is an overabundance and will causes prices to depreciate. Anything less than that is a shortage and will lead to continued price appreciation. As the next graph shows, there were too many homes for sale from 2007 to 2010 (many of which were short sales and foreclosures), and that caused prices to tumble. Today, there's a shortage of inventory, which is causing the acceleration in home values to continue.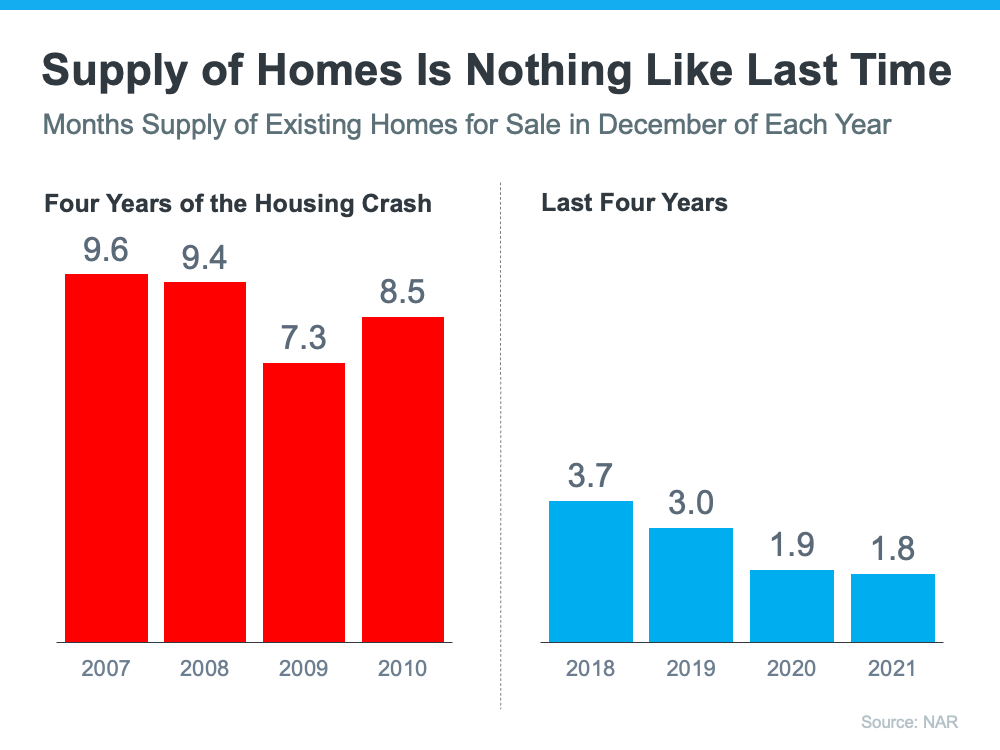 Inventory is nothing like the last time. Prices are rising because there's a healthy demand for homeownership at the same time there's a shortage of homes for sale.
If you're worried that we're making the same mistakes that led to the housing crash, the graphs above show data and insights to help alleviate your concerns.
With homeownership you can lock in the cost today, and have an asset that increases in value over time, making it a great hedge against inflation.
When looking at home price appreciation versus consumer price increases gong back to the 1970s, we can see how home price appreciation outpaces inflation. Of course, the 2000s was a fundamentally different housing market with an oversupply of homes and lower lending standards. Overall, we can see that buying a home today would not only lock in today's costs and provide a hedge against inflation, but avoid the rising rental rates.
Rental prices are skyrocketing, and the forecasts project that not only will home values will continue rising, but so will mortgage rates.
Rent increases have been greater than inflation in most years. That means it's more expensive to rent over time.
For a $200,000 home at 3.5% interest rate today your monthly payment would be $898. However, in Q1 of 2023 when that same home will be $212,600, interest rates will be $3.8%, and now your monthly payment is $990. That's a difference of $33,314 over the life of the 30-year mortgage. That amount jumps to $66,625 for a $400,000 home.
For a $200,000 home at 3.5% interest rate today your monthly payment would be $898. However, in Q1 of 2023 when that same home will be $212,600, interest rates will be $3.8%, and now your monthly payment is $990. That's a difference of $33,314 over the life of the 30-year mortgage. That amount jumps to $66,625 for a $400,000 home.
For a $200,000 home at 3.5% interest rate today your monthly payment would be $898. However, in Q1 of 2023 when that same home will be $212,600, interest rates will be $3.8%, and now your monthly payment is $990. That's a difference of $33,314 over the life of the 30-year mortgage. That amount jumps to $66,625 for a $400,000 home. That's staggering.
Tangible assets like real estate get more valuable over time making buying a home a good way to spend your money during inflationary times.
This is the Home Price Expectation Survey of 100 economists and data analysts from Q4 of 2021, and represents their house appreciation forecasts by 2026. The group was divided into optimists and pessimists, where optimists projecting the most appreciation over the next 5 years, and the pessimists estimate on the lower end. The pessimists are saying that by 2026 houses will appreciate in value by over 23%. That is pretty significant.
We've recently seen a rise in mortgage rates. Some of the last reported numbers have us around 3.55%, which is certainly higher than in some past years, but the housing market is expected to remain pretty competitive this year. It's about to start feeling like interest rates are going to be high, but they are historically low for the U.S.
Let's look at two of the mortgage markets – the purchase market and the refinance market. The purchase market is forecasted to grow, and the refinance market is forecasted to constrict – a typical reaction in a rising rate environment.
Let's tie in the 10-year treasury for a moment. In the last 2 months, the rate on the 10-year treasury yield has skyrocketed. Why is that important?
For the last 50 years, the relationship between the mortgage rate and the 10-year treasury yield has been almost symbiotic. Wherever the 10-year treasury yield goes, there goes the 30-year fixed rate. The Fed does not control interest rates – it can only hope to influence them. Overall, the 10-year treasury yield may be something worth watching.
Month after month we have talked about why we will not see a wave of foreclosures coming to the market, so let's wrap up this month looking at the latest data.
Loans in forbearance have fallen below one million. This is huge. We are at roughly 780,000 loans in forbearance which equates to 1.4% of mortgages. It is wonderful to see that the forbearance program has really helped homeowners change their situations during such a time of economic uncertainty.
Looking at loans upon exiting the forbearance program, about 38% percent of homeowners are paid in full by either making monthly payments or paying off their loan. Then, about 44% percent are on some sort of repayment plan – homeowners who have been able to make a loan modification or deferral. Unfortunately, 18.2% of homeowners are exiting the forbearance plan without a loss mitigation plan. The bright side of that is, according to Black Knight, 93% of homeowners in a forbearance plan have at least 10% equity, allowing them the opportunity to sell their home. To put this all in perspective, during the housing bubble burst in 2008, we saw 9.3 million homes go into foreclosure. We are in a very different situation today.
We have significantly fewer foreclosures today than we would even in a normal year. Obviously, the forbearance program came allowed us to see record low foreclosures in the most recent years.
Foreclosure activity is at an all-time low. We are at 151,000 foreclosures, whereas in 2007 to 2015, millions of homeowners were going into the foreclosure process. Even if this number of 151,000 doubled, tripled, or even quadrupled, we would be nowhere near where we were when the housing bubble burst.
You may have heard that it's important to get pre-approved for a mortgage at the beginning of the homebuying process, but what does that really mean, and why is it so important? Especially in today's market, with rising home prices and high buyer competition, it's crucial to have a pre-approval letter prior to making an offer. Here's why.
Being intentional and competitive are musts when buying a home this year. Pre-approval from a lender is the only way to know your true price range and how much money you can borrow for your loan. Just as important, being able to present a pre-approval letter shows sellers you're a qualified buyer, something that can really help you land your dream home in an ultra-competitive market.
With limited housing inventory, there are many more buyers active in the market than there are sellers, and that's creating some serious competition. According to the National Association of Realtors (NAR), homes today are receiving an average of 3.8 offers for sellers to consider. As a result, bidding wars are still common. Pre-approval gives you an advantage if you get into a multiple-offer scenario, and these days, it's likely you will. When a seller knows you're qualified to buy the home, you're in a better position to potentially win the bidding war.
Freddie Mac explains:
"By having a pre-approval letter from your lender, you're telling the seller that you're a serious buyer, and you've been pre-approved for a mortgage by your lender for a specific dollar amount. In a true bidding war, your offer will likely get dropped if you don't already have one."
Every step you can take to gain an advantage as a buyer is crucial when today's market is constantly changing. Interest rates are rising, prices are going up, and lending institutions are regularly updating their standards. You're going to need guidance to navigate these waters, so it's important to have a team of professionals such as a loan officer and a trusted real estate advisor making sure you take the right steps and can show your qualifications as a buyer when you find a home to purchase.
In a competitive market with low inventory, a pre-approval letter is a game-changing piece of the homebuying process. Not only does being pre-approved bring clarity to your homebuying budget, but it shows sellers how serious you are about purchasing a home.
As you plan out your goals for the year, moving up to your dream home may top the list. But, how do you know when to make your move? You want to time it just right so you can get the most out of the sale of your current house. You also want to know you're making a good investment when you buy your new home. What you may not realize is, that opportunity to get the best of both worlds is already here.
You don't want to wait until spring to spring into action. The current market conditions make this winter an ideal time to move. Here's why.
1. The Number of Homes on the Market Is Still Low
Today's limited supply of houses for sale is putting sellers in the driver's seat. There are far more buyers in the market than there are homes available, and that means buyers are eagerly waiting for your house. Listing your house now makes it the center of attention. As a seller, that means when it's priced correctly, you can expect it to sell quickly and get multiple strong offers this season. Just remember, experts project more inventory will come to market as we move through the winter months. The realtor.com 2022 forecast says this:
"After years of declining, the inventory of homes for sale is finally expected to rebound from all-time lows."
Selling now may help you maximize the return on your investment before your house has to face more competition from other sellers.
2. Your Equity Is Growing in Record Amounts
Current homeowners are sitting on record amounts of equity thanks to today's home price appreciation. According to the latest report from CoreLogic, the average homeowner gained $56,700 in equity over the past 12 months.
That much equity can open doors for you to make a move. If you've been holding off on selling because you're worried about how rising prices will impact your own home search, rest assured your equity can help fuel your next move. It may be just what you need to cover a large portion – if not all – of the down payment on your next purchase.
3. While Rising, Mortgage Rates Are Still Historically Low
In January of last year, mortgage rates hit the lowest point ever recorded. Today, rates are starting to rise, but that doesn't mean you've missed out on locking in a low rate. Current mortgage rates are still far below what they've been in recent decades:
In the 2000s, the average mortgage rate was 6.27%
In the 1990s, the average rate was 8.12%
Even with mortgage rates rising above 3%, they're still worth taking advantage of. You just want to do so sooner rather than later. Experts are projecting rates will continue to rise throughout this year, and when they do, it'll cost you more to purchase your next home.
4. Home Prices Are Going To Keep Rising with Time
According to industry leaders, home prices will also continue appreciating this year. While experts are forecasting more moderate home price growth than last year, it's important to note prices will still be moving in an upward direction throughout 2022.
What does that mean for you? If you're selling so you can move into a bigger home or downsize to the home of your dreams, you want to consider moving now before rates and prices rise further. If you're ready, you have an opportunity to get ahead of the curve by purchasing your next home before rates and prices climb higher.
If you're considering selling to move up or downsize, this may be your moment, especially with today's low mortgage rates and limited inventory.
After almost two years of double-digit increases, many experts thought home price appreciation would decelerate or happen at a slower pace in the last quarter of 2021. However, the latest Home Price Insights Report from CoreLogic indicates while prices may have plateaued, appreciation has definitely not slowed. The following graph shows year-over-year appreciation throughout 2021. December data has not yet been released.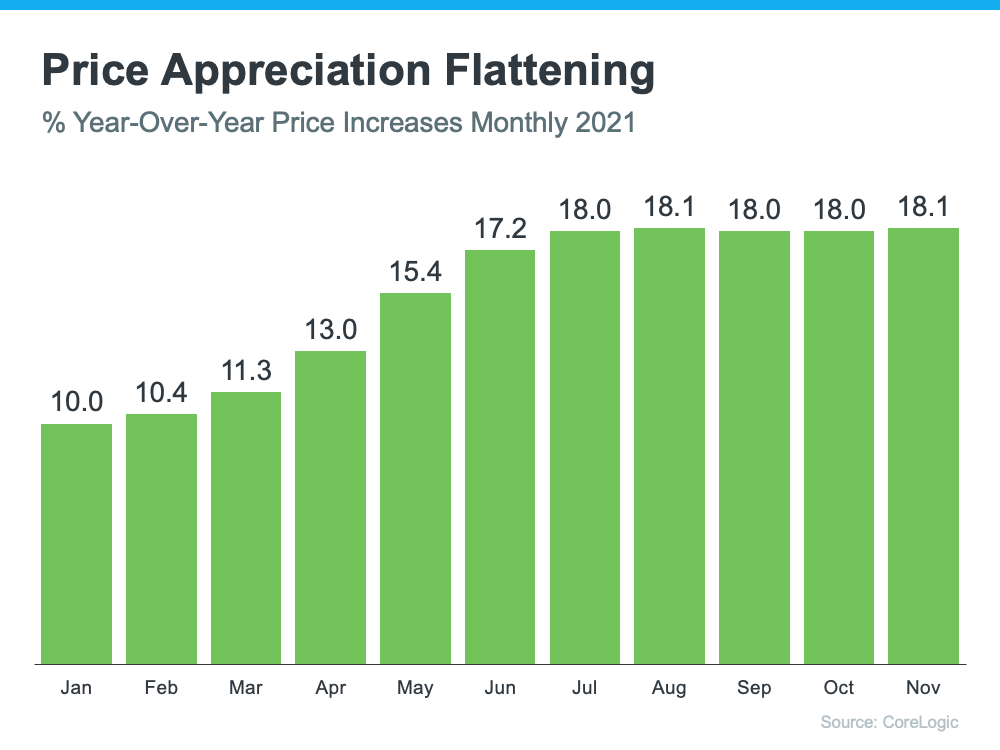 As the graph shows, appreciation has remained steady at around 18% over the last five months.
In addition, the latest S&P Case-Shiller Price Index and the FHFA Price Index show a slight deceleration from the same time last year – it's just not at the level that was expected. However, they also both indicate there's continued strong price growth throughout the country. FHFA reports all nine regions of the country still experienced double-digit appreciation. The Case-Shiller 20-City Index reveals all 20 metros had double-digit appreciation.
Why Haven't We Seen the Deeper Deceleration Many Expected?
Experts had projected the supply of housing inventory would increase in the last half of 2021 and buyer demand would decrease, as it historically does later in the year. Since all pricing is subject to supply and demand, it seemed that appreciation would wane under those conditions.
Buyer demand, however, did not slow as much as expected, and the number of listings available for sale dropped instead of improved. The graph below uses data from realtor.com to show the number of available listings for sale each month, including the decline in listings at the end of the year.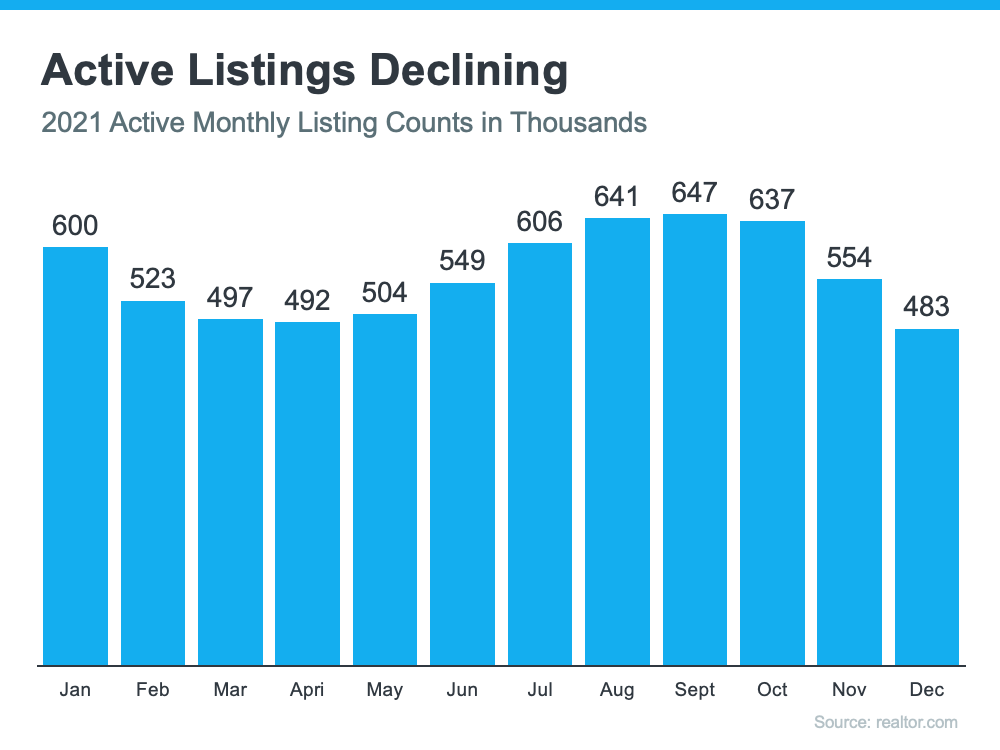 Here are three reasons why the number of active listings didn't increase as expected:
1. There hasn't been a surge of foreclosures as the forbearance program comes to an end.
2. New construction slowed considerably because of supply chain challenges.
3. Many believed more sellers would put their houses on the market once the concerns about the pandemic began to ease. However, those concerns have not yet disappeared. A recent article published by com explains:
"Before the omicron variant of COVID-19 appeared on the scene, the 2021 housing market was rebounding healthily from previous waves of the pandemic and turned downright bullish as the end of the year approached. . . . And then the new omicron strain hit in November, followed by a December dip in new listings. Was this sudden drop due to omicron, or just the typical holiday season lull?"
No one knows for sure, but it does seem possible.
Home price appreciation might slow (or decelerate) in 2022. However, based on supply and demand, you shouldn't expect the deceleration to be swift or deep.