The talk of a housing bubble in the coming year seems to be at a fever pitch as rising mortgage rates continue to slow down an overheated real estate market. Over the past two years, home prices have appreciated at an unsustainable pace causing many to ask: are things just slowing down, or is a crash coming?
To answer this question, there are two things we want to understand. The first is the reality of the shift in today's housing market. And the second is what experts are saying about home prices in the coming year.
The Reality of the Shift in Today's Housing Market
The reality is we're seeing an inflection point in housing supply and demand. According to realtor.com, active listings have increased more than 26% over last year, while showings from the latest ShowingTime Showing Index have decreased almost 17% from last year (see graph below). This is an inflection point for housing because, over the past two years, we've seen a massive amount of demand (showings) and not enough homes available for sale for the number of people that wanted to buy. That caused the market frenzy.
Today, supply and demand look very different, and the market is slowing down from the pace we've seen. This offers proof of the sudden slowdown so many people are feeling.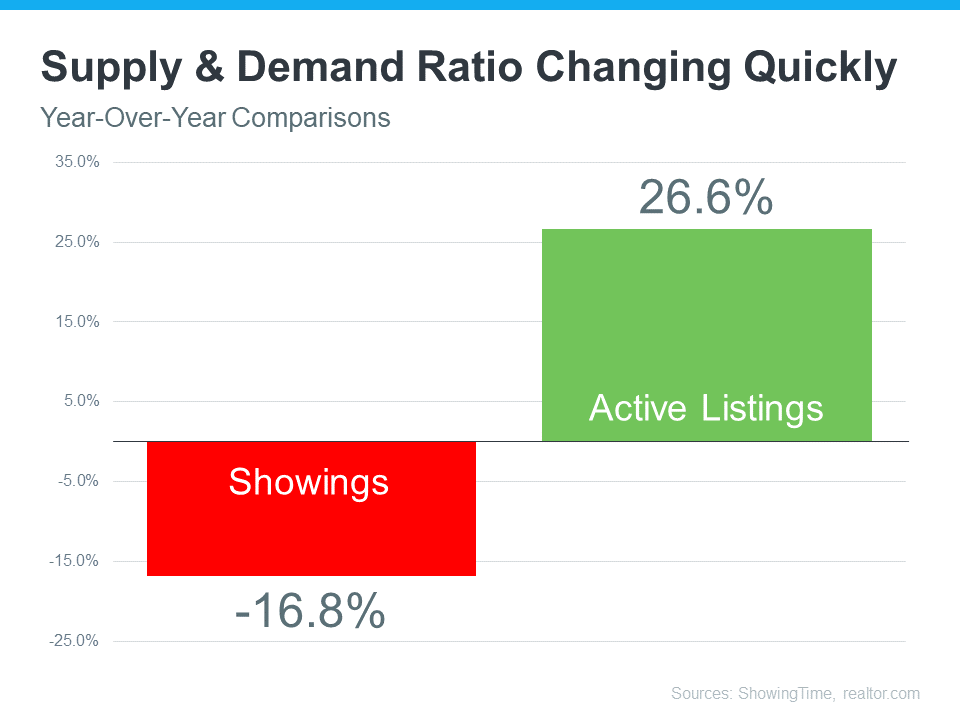 What Experts Are Saying About Home Prices in the Coming Year
Right now, most experts are forecasting home price appreciation in 2023, but at a much slower pace than the last two years. The average of the six forecasters below is for national home prices to appreciate by 2.5% in the coming year. Only one of the six is calling for home price depreciation.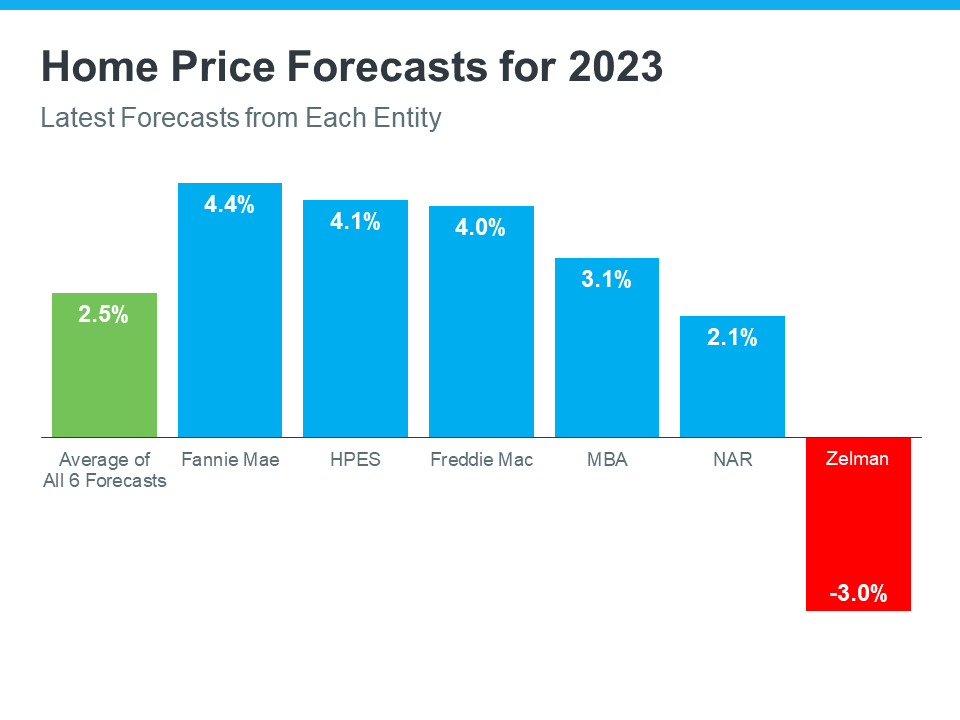 When we look at the shift taking place along with what experts are saying, we can conclude the national real estate market is slowing down but is not a bubble getting ready to burst. This isn't to say that a few overheated markets won't experience home price depreciation, but there isn't a case to be made for a national housing bubble.
Bottom Line
The real estate market is slowing down, and that's causing many to fear we're in a housing bubble. What we've experienced in the housing market over the past two years were historic levels of demand and constrained supply. That led to homes going up in value at a record pace. While some overheated markets may experience price depreciation in the short term, according to experts, the national real estate market will appreciate in the coming year.
The top three concerns in the housing market right now are mortgage rates, home prices, and affordability.
This year the housing market has truly been defined by rising mortgage rates. Taking a look at the Freddie Mac 30-year fixed rate, we can clearly see the jump earlier this year from 3.22% to over 5%. There has been a tremendous amount of volatility in mortgage rates over the past few months. This is because inflation is the enemy of long-term interest rates. The Federal Reserve is making moves to ease inflation, and when that happens mortgage rates respond.
The general consensus is that the Federal Reserve is going to get inflation under control. If that's the case, then mortgage rates will stabilize to about 5.3%, and then dipping below 5% in the third quarter of next year.
Home prices are appreciating, but at a slower, more moderate rate than we have seen recently.
Nationally, home prices will continue to rise due to buyer demand and low inventory.
Home prices are slowing – not depreciating, and that's where deceleration comes into play. We saw record-breaking home-price appreciation at the beginning of this year, and we have recently seen (and will continue to see) a deceleration of home prices. The pace of appreciation is slowing. That's deceleration. It's not depreciation – where we would have negative price growth. We will see continued appreciation at a slower pace. This gives buyers a little bit more negotiating power.
The past two years have been an anomaly. The price growth over the past year was unsustainable.
Many experts raised their home price forecast this year. Most likely because of the continued low inventory levels and the increasing mortgage rates.
We are looking at 11.3% annual home price appreciation for 2022, keeping in mind a lot of that already happened at the beginning of this year.
Inventory is 26.3% higher than it was last year, which creates more opportunities for buyers. However, compared to the same week in 2020, inventory is down 5.4%, and down 42.2% from the same week in 2019. Historically, inventory is still low, and that's what's continuing to drive an upward pressure on home prices.
Housing affordability is lower than it's been since the early 1990s. The National Association of Realtors® Housing Affordability Index, is based on 3 things: home prices, interest rates, and wages – where the higher the bar, the more affordable a home. A reading of 100 is an even reading – where the average household can afford 100% of the average mortgage payment. As right now, the average household can afford 98.5% of the average mortgage payment – so, unaffordable.
Compared to one year ago, the monthly mortgage payment rose from $1,265 to $1,944 – an increase of 53.7%. There is no doubt that homes are less affordable right now.
Another thing that we want to look at when we start to break down affordability is the average mortgage payment, or income committed to a mortgage payment, which sits at 25.4%. This assumes a 30-year fixed mortgage rate with a 20% down payment on a median-priced home with median income. 25.4% of income is dedicated to a housing payment, where 25% is typically what is recommended.
Taking a look at median household income versus qualifying income – what you need to make to buy a home, is pretty even for the South which is following the national trend.
To combat the current housing affordability right now, buyers can expand their search area and criteria – maybe consider looking a little bit further out of their desired area. Or explore alternative financing options with several different lenders. Finally, buyers can look for grants at sources like DownPaymentResource.com.
One of the biggest questions people are asking right now is: what's happening with home prices? There are headlines about ongoing price appreciation, but at the same time, some sellers are reducing the price of their homes. That can feel confusing and makes it more difficult to get a clear picture.
Part of the challenge is that it can be hard to understand what experts are saying when the words they use sound similar. Let's break down the differences among those terms to help clarify what's actually happening today.
Appreciation is when home prices increase.
Depreciation is when home prices decrease.
Deceleration is when home prices continue to appreciate, but at a slower or more moderate pace.
Experts agree that, nationally, what we're seeing today is deceleration. That means home prices are appreciating, just not at the record-breaking pace they have over the past year. In 2021, data from CoreLogic tells us home prices appreciated by an average of 15% nationwide. And earlier this year, that appreciation was upward of 20%. This year, experts forecast home prices will appreciate at a decelerated pace of around 10 to 11%, on average.
The graph below uses the latest data from CoreLogic to help tell the story of how home prices are decelerating, but not depreciating so far this year.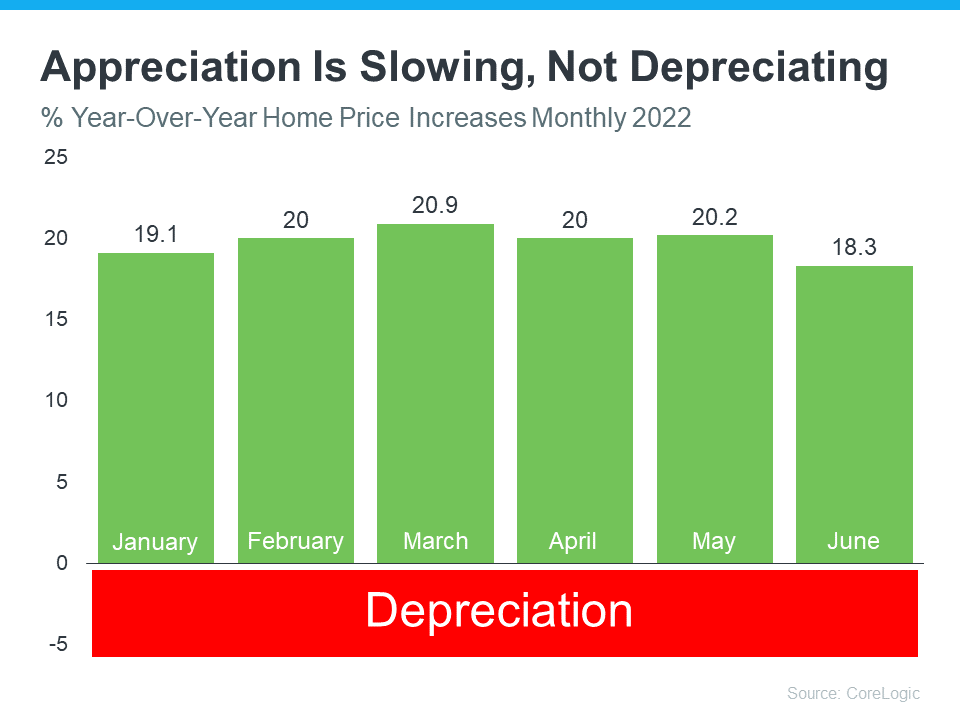 As the green bars show, home prices appreciated between 19-20% year-over-year from January to March. But over the last few months, the pace of that appreciation has decelerated to 18%. This means price growth is still climbing compared to last year but at a slower rate.
As the Monthly Mortgage Monitor from Black Knight explains:
"Annual home price growth dropped by nearly two percentage points . . . – the greatest single-month slowdown on record since at least the early 1970s. . . While June's slowdown was record-breaking, home price growth would need to decelerate at this pace for six more months to drive annual appreciation back to 5%, a rate more in line with long-run averages."
Basically, this means, while moderating, home prices are still far above the norm, and we'd have to see a lot more deceleration to even fall in line with more typical rates of home price growth. That's still not home price depreciation.
Bottom Line
The big takeaway is home prices haven't fallen or depreciated nationwide, they're just decelerating or moderating. While some unique and overheated markets may see declines, nationally, home prices are forecast to appreciate. And when we look at the country as a whole, none of the experts project home prices will net depreciate or fall. They're all projecting ongoing appreciation.
Whether you've just retired or you're thinking about retirement, you may be considering your options and trying to picture a whole new stage of your life. And you're not alone. Research from the Retirement Industry Trust Association (RITA) shows 10,000 Baby Boomers reach the typical retirement age (65) every day, and only 47% of the people in that generation have already retired.
If this sounds like you, one thing worth considering is whether or not your current home will suit your new lifestyle. If your home doesn't have the features or benefits you're looking for, the good news is, you may be in a better position to move than you realize.
That's because, if you already own a home, you've likely built-up significant equity, and that can help you fuel your next move. According to the National Association of Realtors (NAR):
"A homeowner who purchased a typical home five years ago would have gained $125,300 from just price appreciation alone."
In fact, over the last twelve months, CoreLogic reports the average homeowner in the United States gained roughly $64,000 in equity due to home price appreciation.
You can use your equity to help you achieve your homeownership goals. Whether you want to downsize, move closer to loved ones, or buy a home in a dream destination, your equity can help get you there. It may be some (if not all) of what you'd need as your down payment on a home that better fits your changing needs.
To find out how much equity to have in your home, reach out to a trusted real estate professional today.
Bottom Line
Retirement is a big step and so is buying or selling a home. As you move into this new phase of life, be sure you have an expert to guide you through the process as you sell your current home and give you expert advice as you buy one that'll better suit your needs.
If you're wondering if home prices are going to come down due to the cooldown in the housing market or a potential recession, here's what you need to know. Not only are experts forecasting home prices will continue to appreciate nationwide this year, but most of them also actually increased their projections for home price appreciation from their original 2022 forecasts (shown in green in the chart below):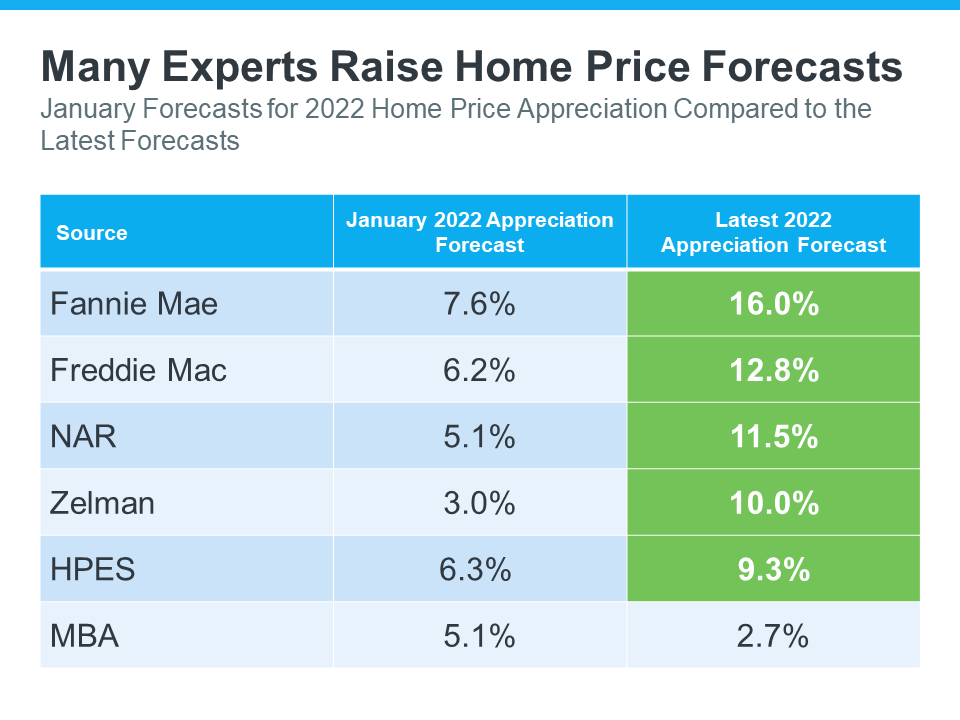 As the chart shows, most sources adjusted up, and now call for more appreciation in 2022 than they originally projected this January. But why are experts so confident the housing market will see ongoing appreciation? It's because of supply and demand in most markets. As Bankrate says:
"After all, supplies of homes for sale remain near record lows. And while a jump in mortgage rates has dampened demand somewhat, demand still outpaces supply, thanks to a combination of little new construction and strong household formation by large numbers of millennials."
Knowing that experts forecast home prices will continue to appreciate in most markets and that they've actually increased their original projections for this year should help you answer the question: will home prices fall? According to the latest forecasts, experts are confident prices will continue to appreciate this year, although at a more moderate rate than they did in 2021.
Bottom Line
If you're worried home prices are going to decline, rest assured many experts raised their forecasts to say they'll continue to appreciate in most markets this year.
According to a recent survey from the Wall Street Journal, the percentage of economists who believe we'll see a recession in the next 12 months is growing. When surveyed in July 2021, only 12% of economists consulted thought there'd be a recession by now. But this July, when polled, 49% believe we will see a recession in the coming 12 months.
And as more recession talk fills the air, one concern many people have is: should I delay my homeownership plans if there's a recession?
Here's a look at historical data to show what happened in real estate during previous recessions to help prove why you shouldn't be afraid of what a recession would mean for the housing market today.
A Recession Doesn't Mean Falling Home Prices
To show that home prices don't fall every time there's a recession, it helps to turn to historical data. As the graph below illustrates, looking at the recessions going all the way back to 1980, home prices appreciated in four of the last six recessions. So, historically, when the economy slows down, it doesn't mean home values will fall.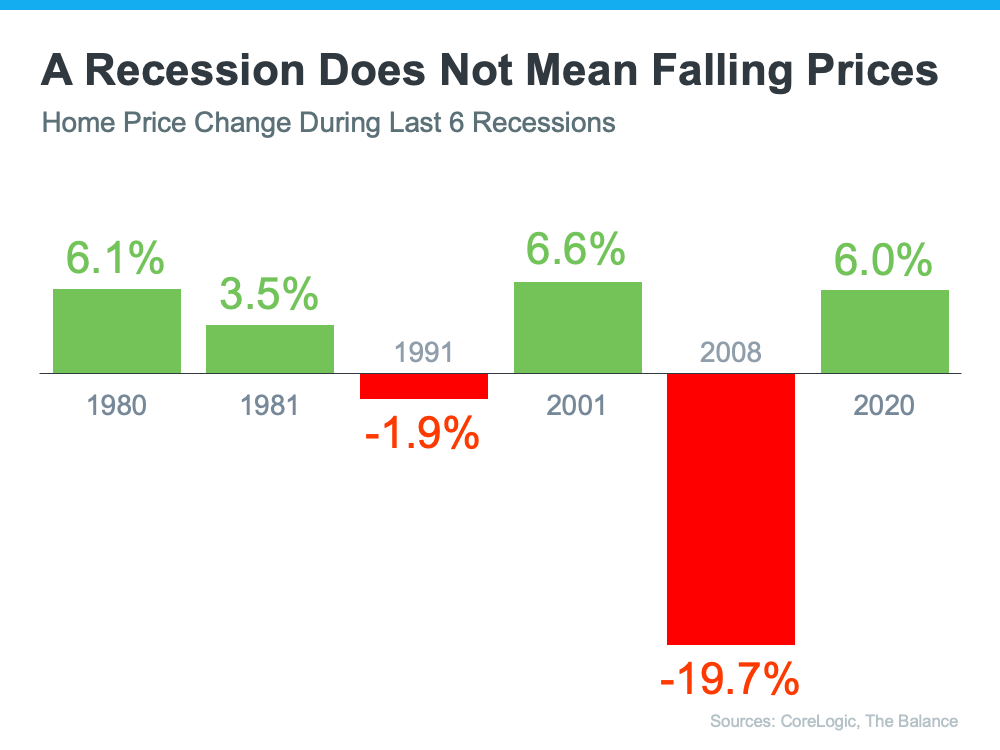 Most people remember the housing crisis in 2008 (the larger of the two red bars in the graph above) and think another recession would repeat what happened then. But this housing market isn't about to crash. The fundamentals are very different today than they were in 2008. So, don't assume we're heading down the same path.
A Recession Means Falling Mortgage Rates
Research also helps paint the picture of how a recession could impact the cost of financing a home. As the chart below shows, historically, each time the economy slowed down, mortgage rates decreased.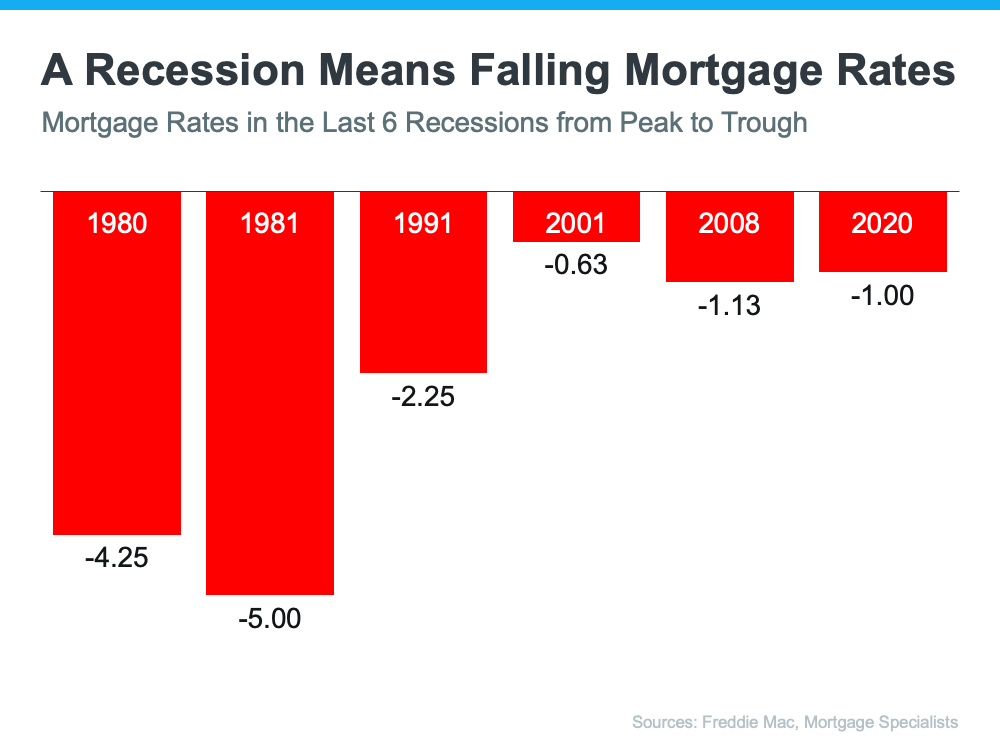 Fortune explains that mortgage rates typically fall during an economic slowdown:
"Over the past five recessions, mortgage rates have fallen an average of 1.8 percentage points from the peak seen during the recession to the trough. And in many cases, they continued to fall after the fact as it takes some time to turn things around even when the recession is technically over."
And while history doesn't always repeat itself, we can learn from and find comfort in the historical data.
Bottom Line
There's no doubt everyone remembers what happened in the housing market in 2008. But you don't need to fear the word recession if you're planning to buy or sell a home. According to historical data, in most recessions, home price gains have stayed strong, and mortgage rates have declined.
Whether you're a potential homebuyer, seller, or both, you probably want to know: will home prices fall this year? Let's break down what's happening with home prices, where experts say they're headed, and why this matters for your homeownership goals.
Last Year's Rapid Home Price Growth Wasn't the Norm
In 2021, home prices appreciated quickly. One reason why is that record-low mortgage rates motivated more buyers to enter the market. As a result, there were more people looking to make a purchase than there were homes available for sale. That led to competitive bidding wars which drove prices up. CoreLogic helps explain how unusual last year's appreciation was:
"Price appreciation averaged 15% for the full year of 2021, up from the 2020 full year average of 6%."
In other words, the pace of appreciation in 2021 far surpassed the 6% the market saw in 2020. And even that appreciation was greater than the pre-pandemic norm which was typically around 3.8%. This goes to show, 2021 was an anomaly in the housing market spurred by more buyers than homes for sale.
Home Price Appreciation Moderates Today
This year, home price appreciation is slowing (or decelerating) from the feverish pace the market saw over the past two years. According to the latest forecasts, experts say on average, nationwide, prices will still appreciate by roughly 10% in 2022 (see graph below):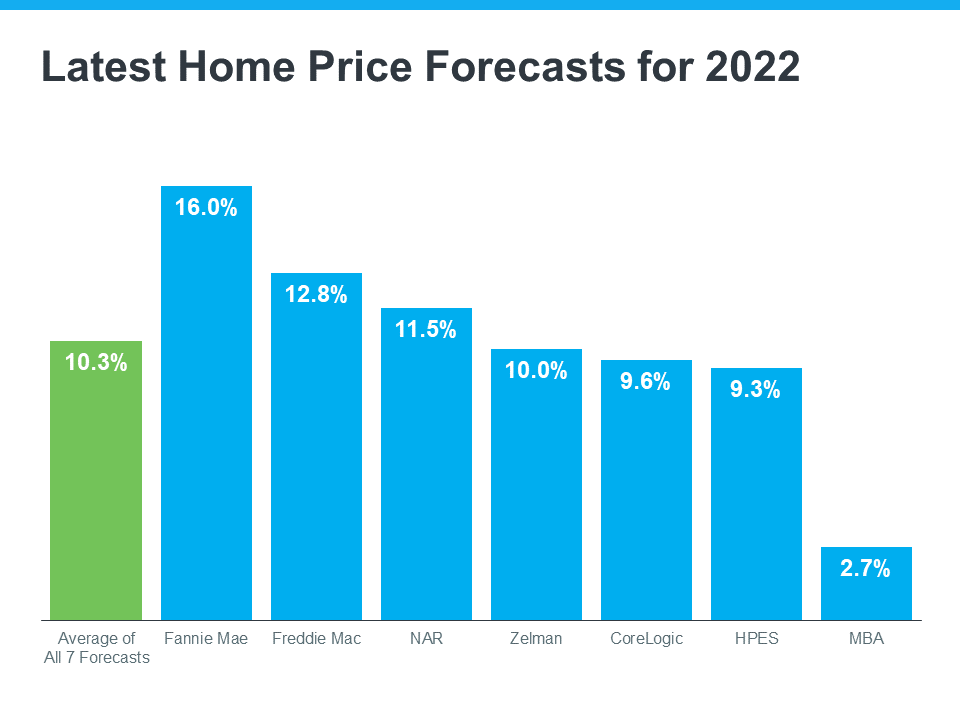 Why do all of these experts agree prices will continue to rise? It's simple. Even though housing supply is growing today, it's still low overall thanks to several factors, including a long period of underbuilding homes. And experts say that's going to help keep upward pressure on home prices this year. Additionally, since mortgage rates are higher this year than they were last year, buyer demand has slowed.
As the market undergoes this change, it's true price appreciation this year won't match the feverish pace in 2021. But the rapid appreciation the market saw last year wasn't sustainable anyway.
What Does That Mean for You?
Today, the market is beginning to move back toward pre-pandemic levels. But even the forecast for 10% home price growth in 2022 is well beyond the 3.8% that's more typical for a normal market.
So, despite what you may have heard, experts say home prices won't fall in most markets. They'll just appreciate more moderately.
If you're worried the house you're trying to sell or the home you want to buy will decrease in value, you should know experts aren't calling for depreciation in most markets, just deceleration. That means your home should still grow in value, just not as fast as it did last year.
Bottom Line
If you're thinking of making a move, you shouldn't wait for prices to fall. Experts say nationally, prices will continue to appreciate this year, just at a more moderate pace.
If you tried to buy a home during the pandemic, you know the limited supply of homes for sale was a considerable challenge. It created intense bidding wars which drove home prices up as buyers competed with one another to be the winning offer.
But what was once your greatest challenge may now be your greatest opportunity. Today, data shows buyer demand is moderating in the wake of higher mortgage rates. Here are a few reasons why this shift in the housing market is good news for your homebuying plans.
The Challenge
There were many reasons for the limited number of homes on the market during the pandemic, including a history of underbuilding new homes since the market crash in 2008. As the graph below shows, housing supply is well below what the market has seen for most of the past 10 years (see graph below):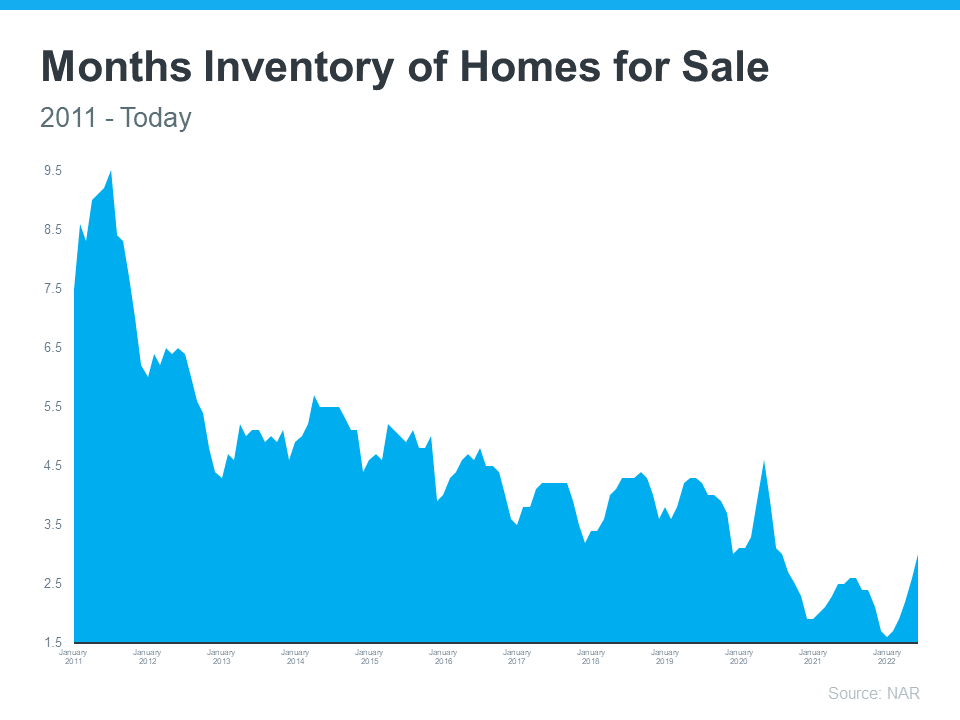 The Opportunity
But that graph also shows a trend back up in the right direction this year. That's because moderating demand is slowing the pace of home sales and that's one of the reasons housing supply is finally able to grow. For you, that means you'll have more options to choose from, so it shouldn't be as difficult to find your next home as it has been recently.
And having more options may also lead to less intense bidding wars. Data from the Realtors Confidence Index from the National Association of Realtors (NAR) shows this trend has already begun. In their recent reports, bidding wars are easing month-over-month (see graph below):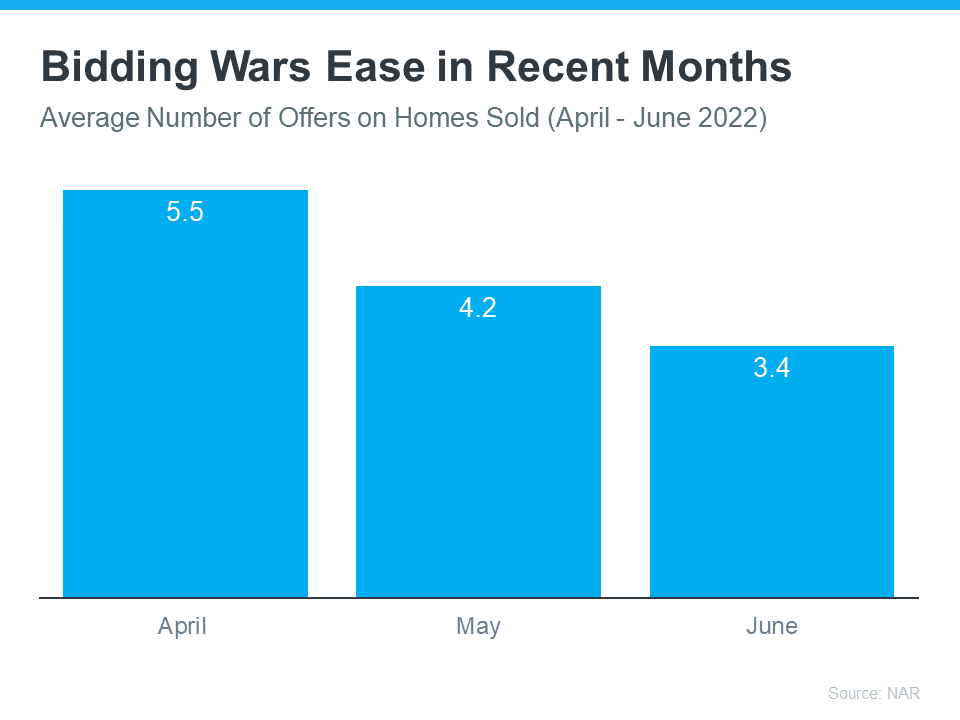 If you've been outbid before or you've struggled to find a home that meets your needs, breathe a welcome sigh of relief. The big takeaway here is you have more options and less competition today.
Just remember, while easing, data shows multiple-offer scenarios are still happening – they're just not as intense as they were over the past year. You should still lean on an agent to guide you through the process and help you make your strongest offer up front.
Bottom Line
If you're still looking to make a move, it may be time to pick your home search back up today.
There's no doubt about the fact that the housing market is slowing from the frenzy we saw over the past two years. But what does that mean for you if you're thinking of selling your house?
While home prices are still appreciating in most markets and experts say that will continue, they're climbing at a slower pace because rising mortgage rates are creating less buyer demand. Because of this, there are more homes on the market. And in a shift like this one, the way you price your home matters more than ever.
Why Today's Housing Market Is Different
During the pandemic, sellers could price their homes higher because demand was so high, and supply was so low. This year, things are shifting, and that means your approach to pricing your house needs to shift too.
Because we're seeing less buyer demand, sellers have to recognize this is a different market than it was during the pandemic. Here's what's at stake if you don't.
Why Pricing Your House at Market Value Matters
The price you set for your house sends a message to potential buyers. If you price it too high, you run the risk of deterring buyers.
When that happens, you may have to lower the price to try to reignite interest in your house when it sits on the market for a while. But be aware that a price drop can be seen as a red flag for some buyers who will wonder what that means about the home or if in fact it's still overpriced. Some sellers aren't adjusting their expectations to today's market, and realtor.com explains the impact that's having:
". . . the share of listings with a price cut was nearly double its year ago level even as it remains well below pre-pandemic levels."
To avoid the headache of having to lower your price, you'll want to price it right from the onset. A real estate advisor knows how to determine that perfect asking price. To find the right price, they balance the value of homes in your neighborhood, current market trends and buyer demand, the condition of your house, and more.
Not to mention, pricing your house fairly based on market conditions increases the chance you'll have more buyers who are interested in purchasing it. This helps lead to stronger offers and a greater likelihood it'll sell quickly.
Why You Still Have an Opportunity When You Sell Today
Rest assured, it's still a sellers' market, and you'll still get great benefits if you plan accordingly and work with an agent to set your price at the current market value. As Lawrence Yun, Chief Economist at the National Association of Realtors (NAR), says:
"Homes priced right are selling very quickly, but homes priced too high are deterring prospective buyers."
Mike Simonsen, the Founder and CEO of Altos Research, also notes:
"We can see that demand is still there for the homes that are priced properly."
Bottom Line
Home priced right are selling quickly in today's real estate market. Make sure you price your house based on current market conditions so you can maximize your sales potential and minimize your hassle in a shifting market.
If rising home prices leave you wondering if it makes more sense to rent or buy a home in today's housing market, consider this. It's not just home prices that have risen in recent years – rental prices have skyrocketed as well. As a recent article from realtor.com says:
"The median rent across the 50 largest US metropolitan areas reached $1,876 in June, a new record level for Realtor.com data for the 16th consecutive month."
That means rising prices will likely impact your housing plans either way. But there are a few key differences that could make buying a home a more worthwhile option for you.
If You Need More Space, Buying a Home May Be More Affordable
What you may not realize is that, according to the latest data from realtor.com and the National Association of Realtors (NAR), it may actually be more affordable to buy than rent depending on how many bedrooms you need. The graph below uses the median rental payment and median mortgage payment across the country to show why.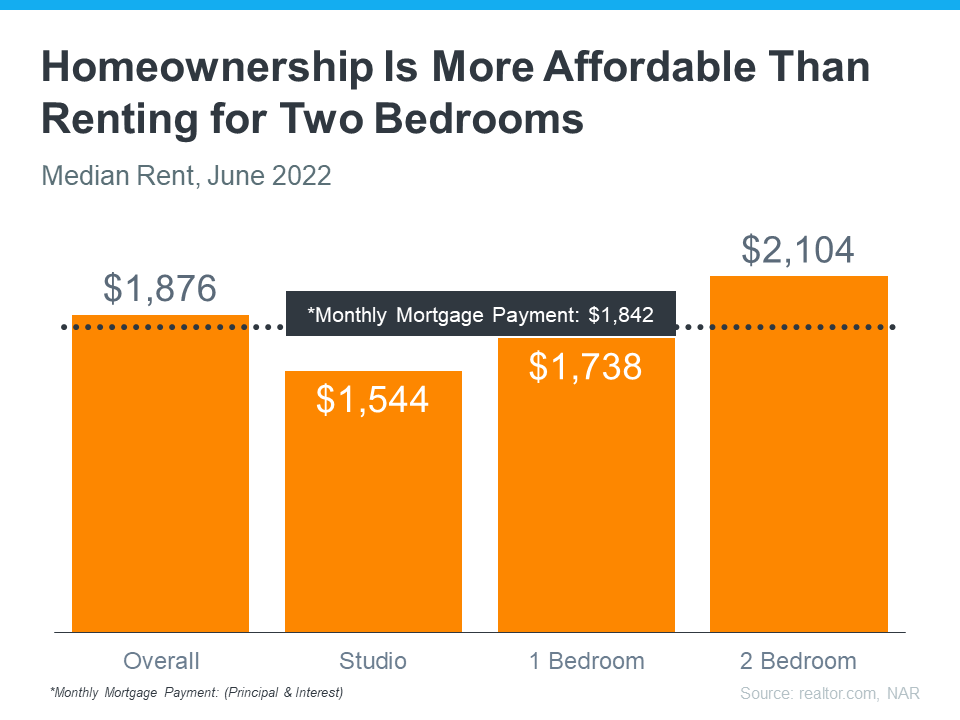 As the graph conveys, if you need two or more bedrooms, it may actually be more affordable to buy a home even as prices rise. While this doesn't take into consideration the interest deduction or other financial advantages that come with owning a home, it does help paint the picture that it may be more affordable to buy then rent for that unit size based on nationwide averages. So, if one of the factors motivating you to move is a desire for more space, this could be the added encouragement you need to consider homeownership.
Homeownership Also Provides Stability and a Chance To Grow Your Wealth
In addition to being more affordable depending on how many bedrooms you need, buying has two other key benefits: payment stability and equity.
When you buy a home, you lock in your monthly payment with your fixed-rate mortgage. And that's especially important in today's inflationary economy. With inflation, prices rise across the board for things like gas, groceries, and more. Locking in your housing payment, which is likely your largest monthly expense, can provide greater long-term stability and help shield you from those rising expenses moving forward. Renting doesn't provide that same predictability. A recent article from CNET explains it like this:
"…if you buy a house and secure a fixed-rate mortgage, that means that no matter how much prices or interest rates go up, your fixed payment will stay the same every month. That's an advantage over renting since there's a good chance your landlord will raise your rent to counter inflationary pressures."
Not to mention, when you buy, you have the chance to build equity, which in turn grows your net worth. It works like this. As you pay down your home loan over time and as home values continue to appreciate, so does your equity. And that equity can make it easier to fuel a move into a future home if you decide you need a bigger home later on. Again, the CNET article mentioned above helps explain:
"Homeownership is still considered one of the most reliable ways to build wealth. When you make monthly mortgage payments, you're building equity in your home that you can tap into later on. When you rent, you aren't investing in your financial future the same way you are when you're paying off a mortgage."
Bottom Line
If you're trying to decide whether to keep renting or buy a home, explore your options. With home equity and a shield against inflation on the line, it may make more sense to buy a home if you're able to.