Homeownership has become a major element in achieving the American Dream. A recent report from the National Association of Realtors (NAR) finds that over 86% of buyers agree homeownership is still the American Dream.
Prior to the 1950s, less than half of the country owned their own home. However, after World War II, many returning veterans used the benefits afforded by the GI Bill to purchase a home. Since then, the percentage of homeowners throughout the country has increased to the current rate of 65.5%. That strong desire for homeownership has kept home values appreciating ever since. The graph below tracks home price appreciation since the end of World War II: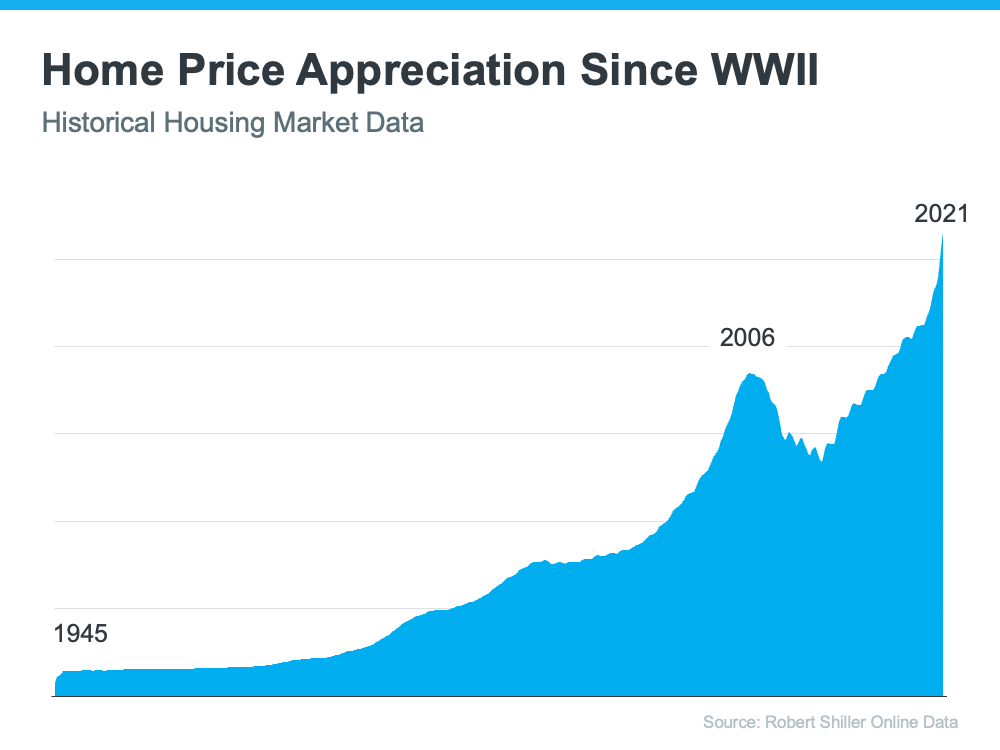 The graph shows the only time home values dropped significantly was during the housing boom and bust of 2006-2008. If you look at how prices spiked prior to 2006, it looks a bit like the current spike in prices over the past two years. That may lead some people to be concerned we're about to see a similar fall in home values as we did when the bubble burst. To help alleviate those worries, let's look at what happened last time and what's happening today.
What Caused the Housing Crash 15 Years Ago?
Back in 2006, foreclosures flooded the market. That drove down home values dramatically. The two main reasons for the flood of foreclosures were:
1. Many purchasers were not truly qualified for the mortgage they obtained, which led to more homes turning into foreclosures.
2. A number of homeowners cashed in the equity on their homes. When prices dropped, they found themselves in an underwater situation (where the home was worth less than the mortgage on the house). Many of these homeowners walked away from their homes, leading to more foreclosures. This lowered neighboring home values even more.
This cycle continued for years.
Why Today's Real Estate Market Is Different
Here are two reasons today's market is nothing like the one we experienced 15 years ago.
1. Today, Demand for Homeownership Is Real (Not Artificially Generated)
Running up to 2006, banks were creating artificial demand by lowering lending standards and making it easy for just about anyone to qualify for a home loan or refinance their current home. Today, purchasers and those refinancing a home face much higher standards from mortgage companies.
Data from the Urban Institute shows the amount of risk banks were willing to take on then as compared to now.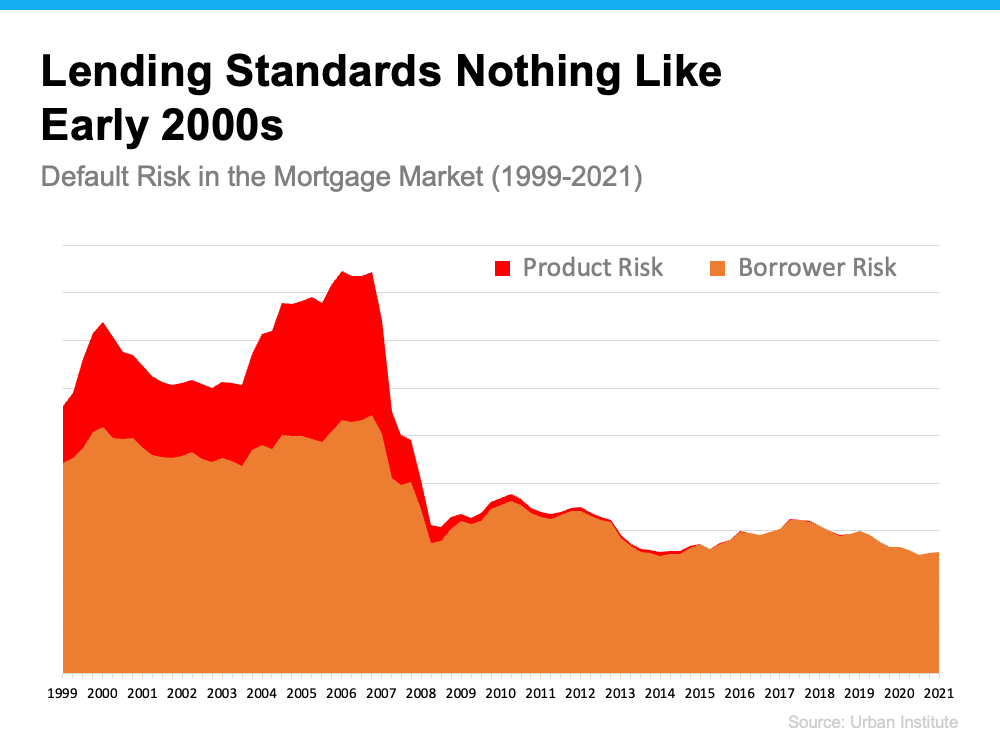 There's always risk when a bank loans money. However, leading up to the housing crash 15 years ago, lending institutions took on much greater risks in both the person and the mortgage product offered. That led to mass defaults, foreclosures, and falling prices.
Today, the demand for homeownership is real. It's generated by a re-evaluation of the importance of home due to a worldwide pandemic. Additionally, lending standards are much stricter in the current lending environment. Purchasers can afford the mortgage they're taking on, so there's little concern about possible defaults.
And if you're worried about the number of people still in forbearance, you should know there's no risk of that causing an upheaval in the housing market today. There won't be a flood of foreclosures.
2. People Are Not Using Their Homes as ATMs Like They Did in the Early 2000s
As mentioned above, when prices were rapidly escalating in the early 2000s, many thought it would never end. They started to borrow against the equity in their homes to finance new cars, boats, and vacations. When prices started to fall, many of these homeowners were underwater, leading some to abandon their homes. This increased the number of foreclosures.
Homeowners didn't forget the lessons of the crash as prices skyrocketed over the last few years. Black Knight reports that tappable equity (the amount of equity available for homeowners to access before hitting a maximum 80% loan-to-value ratio, or LTV) has more than doubled compared to 2006 ($4.6 trillion to $9.9 trillion).
The latest Homeowner Equity Insights report from CoreLogic reveals that the average homeowner gained $55,300 in home equity over the past year alone. Odeta Kushi, Deputy Chief Economist at First American, reports:
"Homeowners in Q4 2021 had an average of $307,000 in equity – a historic high."
ATTOM Data Services also reveals that 41.9% of all mortgaged homes have at least 50% equity. These homeowners will not face an underwater situation even if prices dip slightly. Today, homeowners are much more cautious.
Bottom Line
The major reason for the housing crash 15 years ago was a tsunami of foreclosures. With much stricter mortgage standards and a historic level of homeowner equity, the fear of massive foreclosures impacting today's market is not realistic.
A recent survey revealed that many consumers believe there's a housing bubble beginning to form. That feeling is understandable, as year-over-year home price appreciation is still in the double digits. However, this market is very different than it was during the housing crash 15 years ago. Here are four key reasons why today is nothing like the last time.
1. Houses Are Not Unaffordable Like They Were During the Housing Boom
The affordability formula has three components: the price of the home, wages earned by the purchaser, and the mortgage rate available at the time. Conventional lending standards say a purchaser should not spend more than 28% of their gross income on their mortgage payment.
Fifteen years ago, prices were high, wages were low, and mortgage rates were over 6%. Today, prices are still high. Wages, however, have increased, and the mortgage rate, even after the recent spike, is still well below 6%. That means the average purchaser today pays less of their monthly income toward their mortgage payment than they did back then.
In the latest Affordability Report by ATTOM Data, Chief Product Officer Todd Teta addresses that exact point:
"The average wage earner can still afford the typical home across the U.S., but the financial comfort zone continues shrinking as home prices keep soaring and mortgage rates tick upward."
Affordability isn't as strong as it was last year, but it's much better than it was during the boom. Here's a chart showing that difference: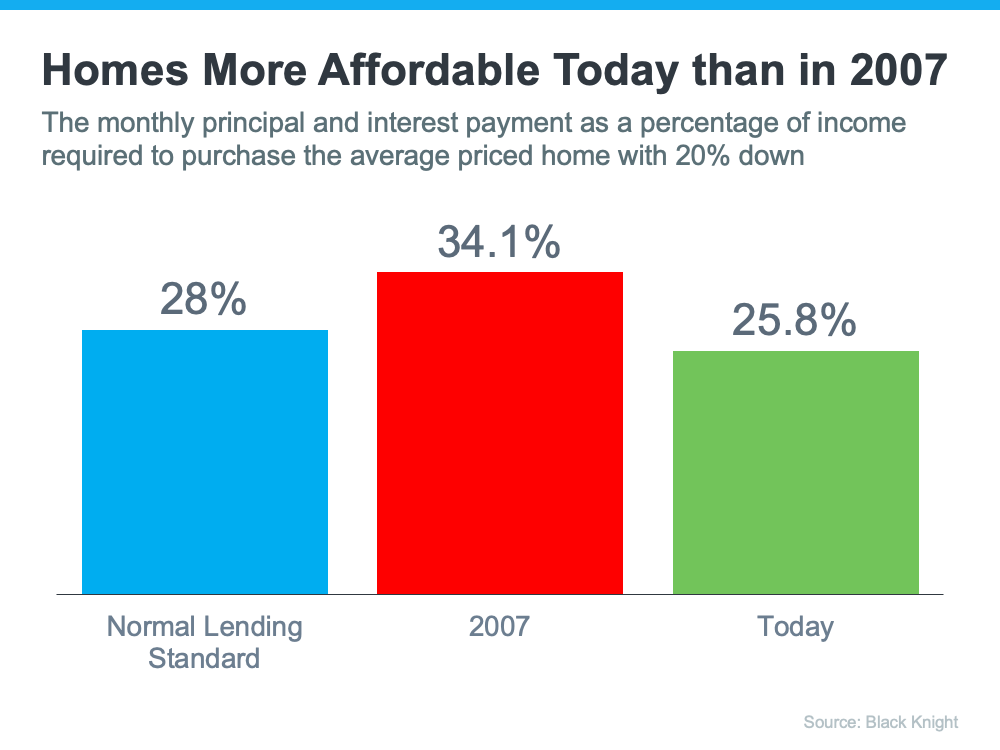 If costs were so prohibitive, how did so many homes sell during the housing boom?
2. Mortgage Standards Were Much More Relaxed During the Boom
During the housing bubble, it was much easier to get a mortgage than it is today. As an example, let's review the number of mortgages granted to purchasers with credit scores under 620. According to credit.org, a credit score between 550-619 is considered poor. In defining those with a score below 620, they explain:
"Credit agencies consider consumers with credit delinquencies, account rejections, and little credit history as subprime borrowers due to their high credit risk."
Buyers can still qualify for a mortgage with a credit score that low, but they're considered riskier borrowers. Here's a graph showing the mortgage volume issued to purchasers with a credit score less than 620 during the housing boom, and the subsequent volume in the 14 years since.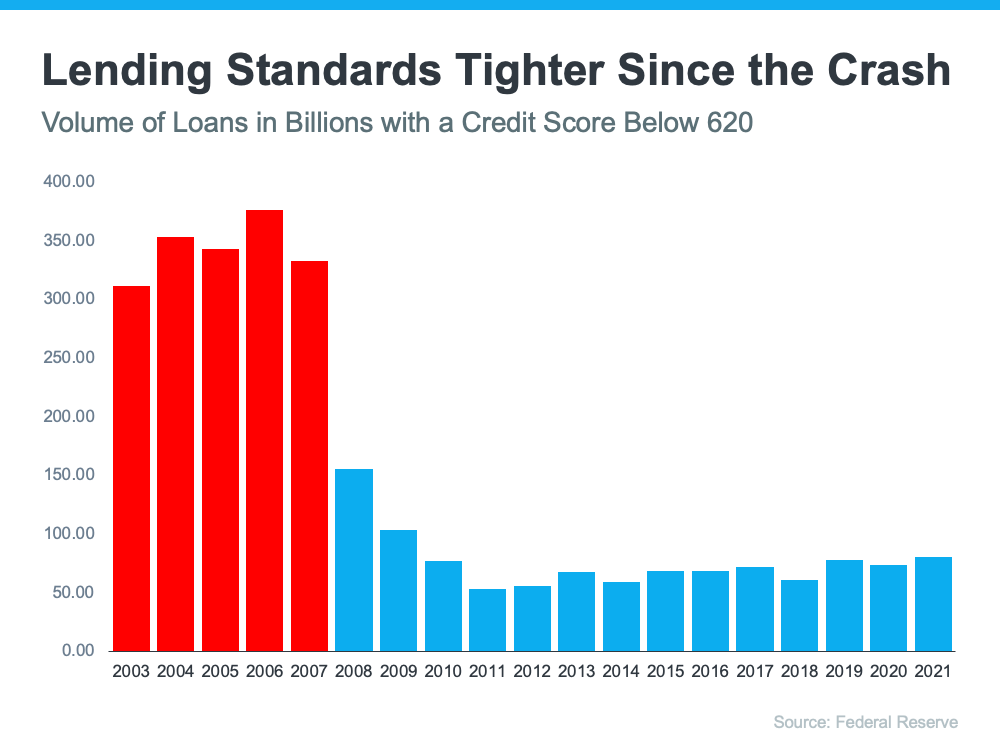 Mortgage standards are nothing like they were the last time. Purchasers that acquired a mortgage over the last decade are much more qualified. Let's take a look at what that means going forward.
3. The Foreclosure Situation Is Nothing Like It Was During the Crash
The most obvious difference is the number of homeowners that were facing foreclosure after the housing bubble burst. The Federal Reserve issues a report showing the number of consumers with a new foreclosure notice. Here are the numbers during the crash compared to today: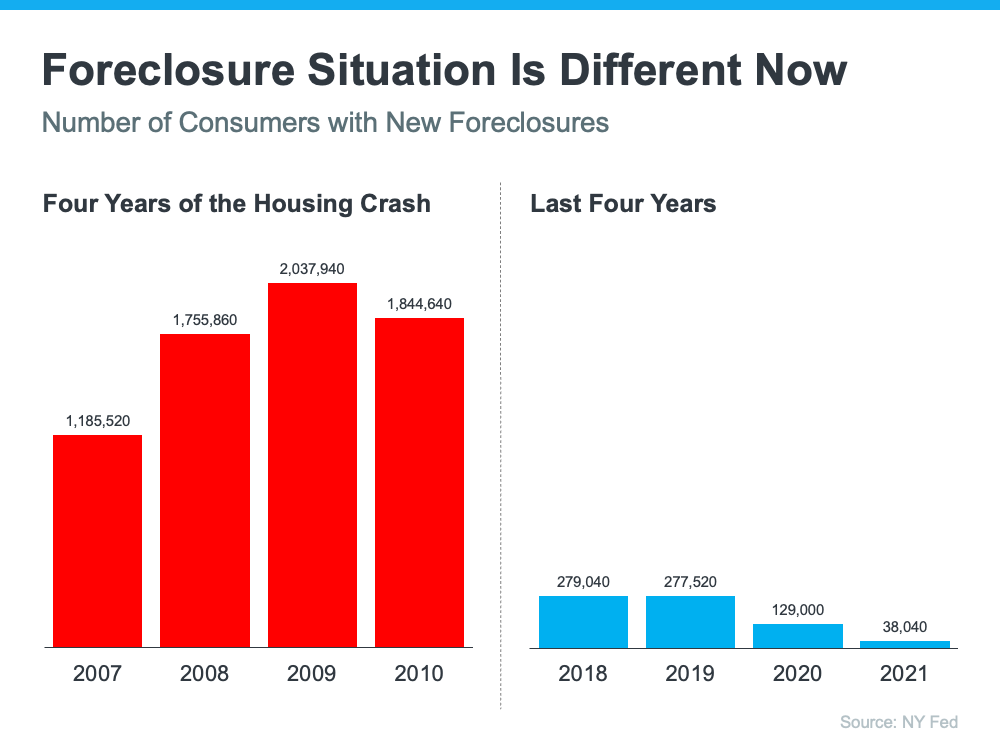 There's no doubt the 2020 and 2021 numbers are impacted by the forbearance program, which was created to help homeowners facing uncertainty during the pandemic. However, there are fewer than 800,000 homeowners left in the program today, and most of those will be able to work out a repayment plan with their banks.
Rick Sharga, Executive Vice President of RealtyTrac, explains:
"The fact that foreclosure starts declined despite hundreds of thousands of borrowers exiting the CARES Act mortgage forbearance program over the last few months is very encouraging. It suggests that the 'forbearance equals foreclosure' narrative was incorrect."
Why are there so few foreclosures now? Today, homeowners are equity rich, not tapped out.
In the run-up to the housing bubble, some homeowners were using their homes as personal ATM machines. Many immediately withdrew their equity once it built up. When home values began to fall, some homeowners found themselves in a negative equity situation where the amount they owed on their mortgage was greater than the value of their home. Some of those households decided to walk away from their homes, and that led to a rash of distressed property listings (foreclosures and short sales), which sold at huge discounts, thus lowering the value of other homes in the area.
Homeowners, however, have learned their lessons. Prices have risen nicely over the last few years, leading to over 40% of homes in the country having more than 50% equity. But owners have not been tapping into it like the last time, as evidenced by the fact that national tappable equity has increased to a record $9.9 trillion. With the average home equity now standing at $300,000, what happened last time won't happen today.
As the latest Homeowner Equity Insights report from CoreLogic explains:
"Not only have equity gains helped homeowners more seamlessly transition out of forbearance and avoid a distressed sale, but they've also enabled many to continue building their wealth."
There will be nowhere near the same number of foreclosures as we saw during the crash. So, what does that mean for the housing market?
4. We Don't Have a Surplus of Homes on the Market – We Have a Shortage
The supply of inventory needed to sustain a normal real estate market is approximately six months. Anything more than that is an overabundance and will causes prices to depreciate. Anything less than that is a shortage and will lead to continued price appreciation. As the next graph shows, there were too many homes for sale from 2007 to 2010 (many of which were short sales and foreclosures), and that caused prices to tumble. Today, there's a shortage of inventory, which is causing the acceleration in home values to continue.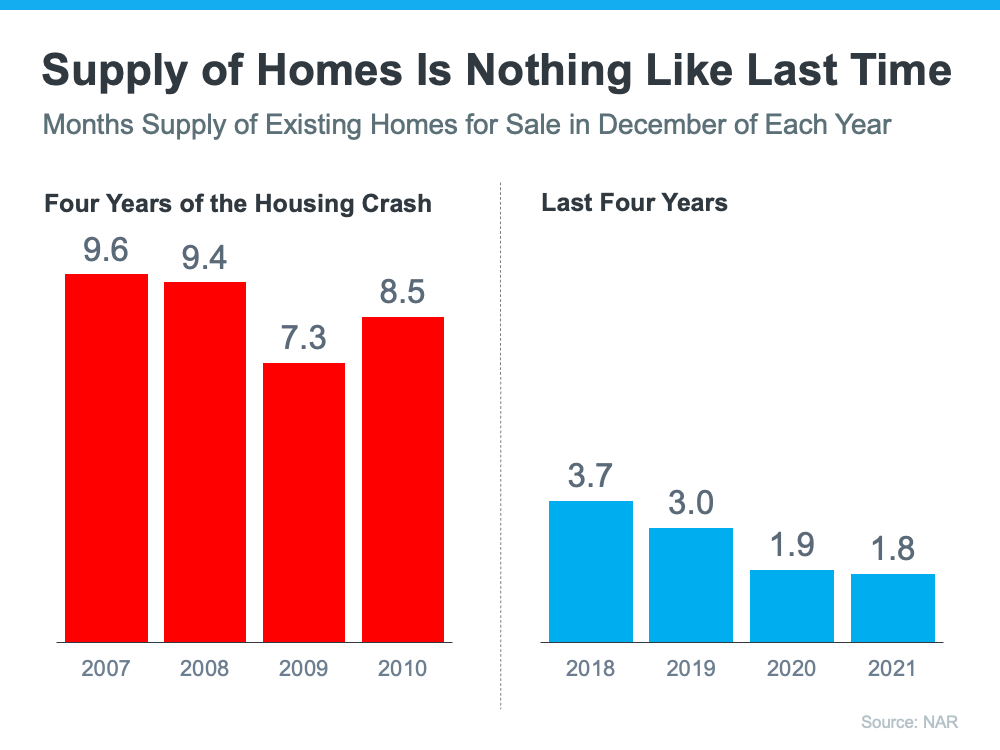 Inventory is nothing like the last time. Prices are rising because there's a healthy demand for homeownership at the same time there's a shortage of homes for sale.
If you're worried that we're making the same mistakes that led to the housing crash, the graphs above show data and insights to help alleviate your concerns.
With homeownership you can lock in the cost today, and have an asset that increases in value over time, making it a great hedge against inflation.
When looking at home price appreciation versus consumer price increases gong back to the 1970s, we can see how home price appreciation outpaces inflation. Of course, the 2000s was a fundamentally different housing market with an oversupply of homes and lower lending standards. Overall, we can see that buying a home today would not only lock in today's costs and provide a hedge against inflation, but avoid the rising rental rates.
Rental prices are skyrocketing, and the forecasts project that not only will home values will continue rising, but so will mortgage rates.
Rent increases have been greater than inflation in most years. That means it's more expensive to rent over time.
For a $200,000 home at 3.5% interest rate today your monthly payment would be $898. However, in Q1 of 2023 when that same home will be $212,600, interest rates will be $3.8%, and now your monthly payment is $990. That's a difference of $33,314 over the life of the 30-year mortgage. That amount jumps to $66,625 for a $400,000 home.
For a $200,000 home at 3.5% interest rate today your monthly payment would be $898. However, in Q1 of 2023 when that same home will be $212,600, interest rates will be $3.8%, and now your monthly payment is $990. That's a difference of $33,314 over the life of the 30-year mortgage. That amount jumps to $66,625 for a $400,000 home.
For a $200,000 home at 3.5% interest rate today your monthly payment would be $898. However, in Q1 of 2023 when that same home will be $212,600, interest rates will be $3.8%, and now your monthly payment is $990. That's a difference of $33,314 over the life of the 30-year mortgage. That amount jumps to $66,625 for a $400,000 home. That's staggering.
Tangible assets like real estate get more valuable over time making buying a home a good way to spend your money during inflationary times.
This is the Home Price Expectation Survey of 100 economists and data analysts from Q4 of 2021, and represents their house appreciation forecasts by 2026. The group was divided into optimists and pessimists, where optimists projecting the most appreciation over the next 5 years, and the pessimists estimate on the lower end. The pessimists are saying that by 2026 houses will appreciate in value by over 23%. That is pretty significant.
We've recently seen a rise in mortgage rates. Some of the last reported numbers have us around 3.55%, which is certainly higher than in some past years, but the housing market is expected to remain pretty competitive this year. It's about to start feeling like interest rates are going to be high, but they are historically low for the U.S.
Let's look at two of the mortgage markets – the purchase market and the refinance market. The purchase market is forecasted to grow, and the refinance market is forecasted to constrict – a typical reaction in a rising rate environment.
Let's tie in the 10-year treasury for a moment. In the last 2 months, the rate on the 10-year treasury yield has skyrocketed. Why is that important?
For the last 50 years, the relationship between the mortgage rate and the 10-year treasury yield has been almost symbiotic. Wherever the 10-year treasury yield goes, there goes the 30-year fixed rate. The Fed does not control interest rates – it can only hope to influence them. Overall, the 10-year treasury yield may be something worth watching.
Month after month we have talked about why we will not see a wave of foreclosures coming to the market, so let's wrap up this month looking at the latest data.
Loans in forbearance have fallen below one million. This is huge. We are at roughly 780,000 loans in forbearance which equates to 1.4% of mortgages. It is wonderful to see that the forbearance program has really helped homeowners change their situations during such a time of economic uncertainty.
Looking at loans upon exiting the forbearance program, about 38% percent of homeowners are paid in full by either making monthly payments or paying off their loan. Then, about 44% percent are on some sort of repayment plan – homeowners who have been able to make a loan modification or deferral. Unfortunately, 18.2% of homeowners are exiting the forbearance plan without a loss mitigation plan. The bright side of that is, according to Black Knight, 93% of homeowners in a forbearance plan have at least 10% equity, allowing them the opportunity to sell their home. To put this all in perspective, during the housing bubble burst in 2008, we saw 9.3 million homes go into foreclosure. We are in a very different situation today.
We have significantly fewer foreclosures today than we would even in a normal year. Obviously, the forbearance program came allowed us to see record low foreclosures in the most recent years.
Foreclosure activity is at an all-time low. We are at 151,000 foreclosures, whereas in 2007 to 2015, millions of homeowners were going into the foreclosure process. Even if this number of 151,000 doubled, tripled, or even quadrupled, we would be nowhere near where we were when the housing bubble burst.
When mortgage forbearance plans were first announced and the pandemic surged through the country in early 2020, many homeowners were allowed to pause their mortgage payments. Some analysts were concerned that once the forbearance program ended, the housing market would experience a wave of foreclosures like what happened after the housing bubble 15 years ago.
Here's a look at why that isn't the case.
1. There Are Fewer Homeowners in Trouble This Time
After the last housing crash, over nine million households lost their homes to a foreclosure, short sale, or because they gave it back to the bank. Many believed millions of homeowners would face the same fate again this time.
However, today's data shows that most homeowners exited their forbearance plan either fully caught up on payments or with a plan from the bank that restructured their loan in a way that allowed them to start making payments again. The latest data from the Mortgage Bankers Association (MBA) studies how people exited the forbearance program from June 2020 to November 2021.
Here are those findings:
38.6% left the program paid in full
19.9% made their monthly payments during the forbearance period
11.8% made up all past-due payments
6.9% paid off the loan in full
44% negotiated work-out repayment plans
29.1% received a loan deferral
14.1% received a loan modification
0.8% arranged a different repayment plan
16.8% left the program still in trouble and without a loss mitigation plan in place
2. Those Left in the Program Can Still Negotiate a Repayment Plan
As of last Friday, the total number of mortgages still in forbearance stood at 890,000. Those who remain in forbearance still have the chance to work out a suitable plan with the servicing company that represents their lender. And the servicing companies are under pressure to do just that by both federal and state agencies.
Rick Sharga, Executive Vice President at RealtyTrac, says in a recent tweet:
"The [Consumer Financial Protection Bureau] and state [Attorneys General] look like they're adopting a 'zero tolerance' approach to mortgage servicing enforcement. Likely that this will limit #foreclosure activity for a good part of 2022, while servicers explore all possible loss [mitigation] options."
For more information, read the warning issued by the Attorney General of New York State.
3. Most Homeowners Have More Than Enough Equity To Sell Their Homes
For those who can't negotiate a solution and the 16.8% who left the forbearance program without a work-out, many will have enough equity to sell their homes and leave the closing with cash instead of facing foreclosures.
Due to rapidly rising home prices over the last two years, the average homeowner has gained record amounts of equity in their home. As Frank Martell, President & CEO of CoreLogic, explains:
"Not only have equity gains helped homeowners more seamlessly transition out of forbearance and avoid a distressed sale, but they've also enabled many to continue building their wealth."
4. There Have Been Far Fewer Foreclosures Over the Last Two Years
One of the seldom-reported benefits of the forbearance program was that it allowed households experiencing financial difficulties prior to the pandemic to enter the program. It gave those homeowners an extra two years to get their finances in order and work out a plan with their lender. That prevented over 400,000 foreclosures that normally would have come to the market had the new forbearance program not been available. Otherwise, the real estate market would have had to absorb those foreclosures. Here's a graph depicting this data: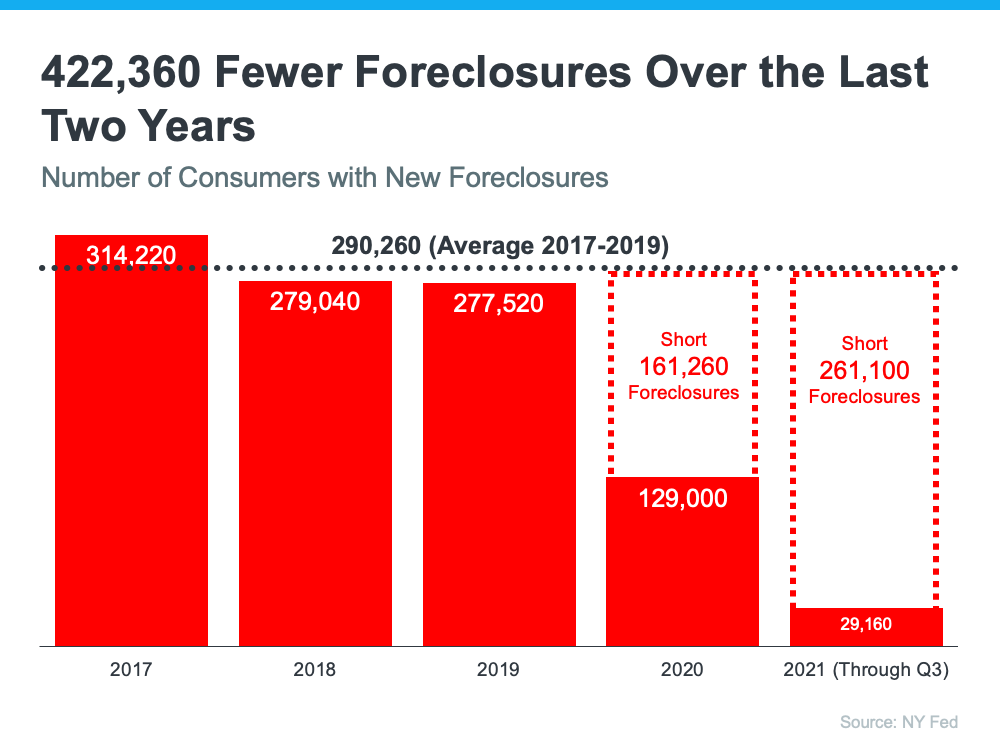 5. The Current Market Can Easily Absorb Over a Million New Listings
When foreclosures hit the market in 2008, they added to the oversupply of houses that were already for sale. That resulted in over a nine-month supply of listings, and anything over a six-month supply can cause prices to depreciate.
It's exactly the opposite today. The latest Existing Home Sales Report from the National Association of Realtors (NAR) reveals:
"Total housing inventory at the end of November amounted to 1.11 million units, down 9.8% from October and down 13.3% from one year ago (1.28 million). Unsold inventory sits at a 2.1-month supply at the current sales pace, a decline from both the prior month and from one year ago."
A balanced market would have approximately a six-month supply of inventory. At 2.1 months, the market is severely understocked. Even if one million homes enter the market, there still won't be enough inventory to meet the current demand.
The end of the forbearance plan will not cause any upheaval in the housing market. Sharga puts it best:
"The fact that foreclosure starts declined despite hundreds of thousands of borrowers exiting the CARES Act mortgage forbearance program over the last few months is very encouraging. It suggests that the 'forbearance equals foreclosure' narrative was incorrect. . . ."