Let's kick off this month discussing some of the biggest topics in real estate today.
Are we in a housing bubble?
Let's take a look at home values going all the way back to World War II – the start of the modern day housing boom in the United States. Notice that 2008 was the only time homes lost significant value, and this is really for two reasons. First, loose lending standards – lack of income verification, lack of job verification, etc. Second, cash out refinances – people took the equity they had, cashed it out, and bought depreciating assets. In these times people were able to apply for a loan they didn't qualify for, and then borrow against the equity.
All that said, this market is different. First, the forbearance numbers continue to edge downward. As of last month, there are 690,000 loans still in forbearance – well below where we started out in May of 2020. According to Black Knight, 92% of the people that entered forbearance have come out of it.
Thirty-seven percent were paid in full – those that likely took forbearance as an insurance policy and didn't need it. Forty-four percent went through some kind of modification, refinance, or deferral – tacking it on the back end. So, 4 out of 5 people exited forbearance – a very positive sign. However, there are 18% that are still in jeopardy – they have no loss mitigation plan or are already into the loss mitigation plan. But let's not forget that people have options today – you can sell your home with the appreciation we've seen over the last couple of years.
Second, the lending default risk is lower. The Urban Institute looked at Default Risk in the Mortgage Market and that helps us see how lending standards are nothing like they were in the early 2000s. There is product risk and borrower risk. The loans that were available back then are not available today. When looking at the borrower risk, think about asset profiles, credit scores – all of those things needed to qualify for a loan – have been curtailed. It's gotten harder to qualify for a loan. Now we have to demonstrate the ability to repay.
Third, the foreclosure market is an all-time low – from a high of about 3 million homes in foreclosure to 78,000 last quarter.
Fourth, lending standards are tighter which can be attributed to less foreclosures in the market. Qualified buyers mean less defaults. During the crisis we saw about 4 times the amount of loans approved for individuals with a credit score less than 620.
Fifth, mortgage debt is not a challenge. According to the Federal Reserve, the household debt ratio is the lowest it has been since the 1970s. Why? Because of rising wages. Today, we are much better positioned than we were back in the financial crisis.
Finally, cash out refinances are extremely low. The difference in annual mortgage payments for cash out refinances was over $3,000 and $4,000 back during the housing crisis, while we hover around the $34 mark right now. There is very little change in the mortgage payment as somebody goes through a cash out refinance.
We learned a lot of lessons during the housing crash, and can see how the market dynamics are very different today. So, what is to come in the remainder of 2022? The Fed started off the month by raising the Fed funds rate. How will this affect home prices?
Looking at the most recent updated home price forecast from the top seven forecasters, we see 9% appreciation for 2022.
Beyond 2022, we will see a much more normal rate of appreciation like the pre-pandemic rate of 3.8%.
The home price expectation survey forecasts 26% cumulative home price appreciation by 2026.
As buyers search for homes, we've seen interest rates in the first four months of this year rise dramatically. We started the year about 3.1%, and now we're just over 5.25% on the average 30 year fixed.
Prices are rising all around us, and that is affecting affordability.
Consider a loan amount of $300,000 (principle and interest only). In January 2021, your monthly payment would have been about $1,200. Fast forward to today's rates, and you are looking at about $1,650 a month for the same home. Projections have this payment increasing by about $500 within the next few months.
The Housing Affordability Index shows that homes are more affordable than any time leading up to the housing crisis. So, when people say homes aren't affordable anymore, we have to ask, "As compared to when?"
Today's low inventory can be challenging for homebuyers, especially if you're looking to purchase your first home. But if you're one of many people who work remotely, you may have a great opportunity to use the flexibility you have at work to achieve your homebuying goals this year.
In a recent report, Arch Capital Services explains how the ongoing trend of remote work can open up more options for homebuyers:
". . . This will enable those who are able to work from home on a part-time or hybrid basis to move slightly farther away from job centers. . . . For workers who secure full-time remote jobs, their place of residence will be determined by affordability and personal preferences."
Basically, working from home is great news if you're a first-time buyer trying to find a home that meets your needs and budget. Here's a deeper look at how it could benefit you.
Extra Flexibility in Your Career Means Extra Flexibility in Your Home Search
If your job is 100% remote, you don't have to be tied to a specific location or office. So, if you've been having a hard time finding what you want in your local area, it may be time to expand your search.
One option you could consider is moving to a place where you've always wanted to live, like the mountains, beach, or closer to loved ones. When you broaden your search radius to include those locations, it'll give you additional homes to consider.
It could also allow you to search for a more affordable location where you have more options in your price range. This can help you achieve two goals – saving money and finding additional features that meet your needs. To truly highlight this benefit, a recent First American article discusses the great ways remote work can really help you with your homebuying goals. Ksenia Potapov, Economist at First American, says:
"For potential first-time home buyers, leveraging their house-buying power in more affordable markets can also help them buy more attractive homes – more square footage and rooms, more options for different home styles and neighborhood amenities – increasing the opportunity to find a home that suits their preferences."
That means you can use your work flexibility to search for homes with the amenities you need at a lower price point.
Bottom Line
Remote work doesn't just give you expanded flexibility for your career. If you're no longer tied to a location because of your office, you have a great opportunity to expand your housing search.
If you're ready to move up, you may be trying to decide whether you want to buy a home that's already on the market or build a new one. And since the supply of homes available for sale today is low, you're willing to consider either avenue. While home builders are doing everything they can to construct more houses and help narrow the supply shortage, they're also facing delays due to factors outside of their control.
Here's the latest on some of the key challenges homebuilders are experiencing today and how they could impact your plans to move up. When you know what's happening in the industry, you can make an informed decision on whether to look for a newly built or an existing home in your home search.
Supply Chain Issues
The first hurdle builders are dealing with is the lack of supply of various building materials. According to a recent article from HousingWire:
". . . Nearly everything needed in the homebuilding process is facing some sort of delay and subsequent price increase."
The supply issue isn't just with lumber, even though that's what's covered most in the news. The article explains many other supplies are impacted too, including roofing materials, windows, garage doors, siding, and gypsum (which is used in drywall).
The difficulty in getting these items is dragging out timelines for new homes as builders wait on what they need to finish construction. And since materials are in short supply, even when they do get the product, the principle of supply and demand is driving prices up for those goods. HousingWire explains it like this:
"When supplies are low, charges inevitably go up, . . . Meanwhile, a lack of availability is causing huge delays, meaning builders are struggling to stay on schedule."
The National Association of Home Builders (NAHB) agrees:
"Builders are grappling with supply-chain issues that are extending construction times and increasing costs."
Skilled Labor Shortage
But that's not the only challenge with new home construction today. Builders are also having a hard time finding skilled labor, which means they're short-handed, further dragging out their timelines. Odeta Kushi, Deputy Chief Economist at First American, says this is an ongoing challenge for the industry:
"The skilled labor shortage in the construction industry is not new – it's been an issue for more than a decade now."
But there is good news. The February jobs report shows employment gains in the construction industry. Kushi puts this encouraging news into perspective in the article mentioned above:
"Overall this was a good report, . . . The supply of workers continues to fall short of demand, but the underlying momentum of the labor market recovery is strong, and falling COVID case counts provide further forward momentum."
That means, while finding workers continues to be a challenge for builders, there are signs of positive momentum moving forward.
How This Impacts You
HousingWire explains how these things can impact move-up buyers today:
"The residential construction industry is facing a crisis as builders manage the critical shortage of building materials and labor. Explosive supply and labor costs are forcing long delays. . . ."
So, when you weigh your options and try to decide between building a home or buying an existing one, factor the potential delay in new home construction into your decision. While it doesn't mean you should cross newly built homes off your list, it does mean you should consider your timeline and if you're willing to wait while your home is being constructed.
Bottom Line
When planning your next move, understanding the latest market conditions is key to making the best decision possible. Make sure you know what's happening in your local market so you can confidently decide what's right for you, your priorities, and your timeline.
It's truly hard to believe that it was two years ago that a worldwide pandemic fundamentally changed the world. The housing market was certainly not immune to that. Let's take some time to answer some of those burning questions about the real estate market.
Prior to the pandemic, a normal year of home price appreciation was about 3.8%. Corelogic reported this number at 6% in 2020. Really significant. Then last year, we saw more than double the home price appreciation in 2020. Incredible home price appreciation over the past two years. Why? Mostly because of supply and demand – there are more buyers in the market than homes available.
Home prices are still accelerating. The most important thing to understand when we hear the experts predict home price "deceleration" is that this means homes will continue to appreciate, but at a slower, more moderate rate. Deceleration does NOT equal depreciation.
The average of the 7 expert forecasts for home price appreciation in 2022 is 6.1%. The reality is that if we continue to see low inventory, we will likely see these forecasts trend upward. Six to seven months inventory on the market is the perfect balance of supply and demand. Less inventory is a seller's market, and more inventory is a buyer's market.
New listings in Tallahassee seem to be failing pretty significantly over the past year. With 77% of consumers (according to a recent realtor.com study) feeling like their market is in a housing bubble, it is important now, more than ever, to be informed. So… let's tackle that perspective.
Inventory of homes today is nothing like the last time. It was a buyer's market in the years leading up to the housing crash – we had an oversupply of homes. Today, we are seeing record lows. Inventory is in a totally different place today, and the demand is more than the market can handle.
Credit scores are nothing like the last time either, and were, quite frankly, one of the leading causes of the housing bubble. Between 2003 and 2007, significantly more loans were issued to buyers who had a credit score less than 620. Since then, lending standards have gotten much tighter.
Homeowners have significantly more equity today, so they're in a much better financial situation. In addition, forbearance helped homeowners to the point in which we will not see a wave of foreclosures come to the market.
These are all the wonderful reasons we are not in a housing bubble.
Let's wrap up this month by touching on net worth and the long-term financial benefits of owning a home. In addition to stability, there is a sense of financial security in homeownership. According to the National Association of Realtors®, the average net worth of a homeowner today is $300,000, while the average net worth of a renter is $8,000. That's staggering. Again, homes will continue to appreciate in value, allowing buyer's to take advantage of that equity gain.
Bottom Line
Home prices are still accelerating, and may continue rising as a direct result of supply and demand. The market data simply does not support that we are in a housing bubble. Despite the rising prices, it is still a good time to buy, since homes are not predicted to depreciate, only appreciate at a slower, more moderate rate.
Tallahassee Market Statistics
When you're selling any item, you usually want to sell it for the greatest profit possible. That happens when there's a strong demand and a limited supply for that item. In the real estate market, that time is right now. If you're thinking of selling your house this year, here are two reasons why now's the time to list.
1. Demand Is Very Strong This Winter
A recent article in Inman News explains:
"Spring, the hottest time of year for homebuyers and sellers, has started early, according to economists. . . . 'Home shopping season appears to already be in full swing!'"
And they aren't the only ones saying buyers are already out in full force. That claim is backed up with data released last week by ShowingTime. The ShowingTime Showing Index tracks the average number of monthly buyer showings on active residential properties, which is a highly reliable leading indicator of current and future trends for buyer demand. The latest index reveals this December was the most active December in five years (see graph below):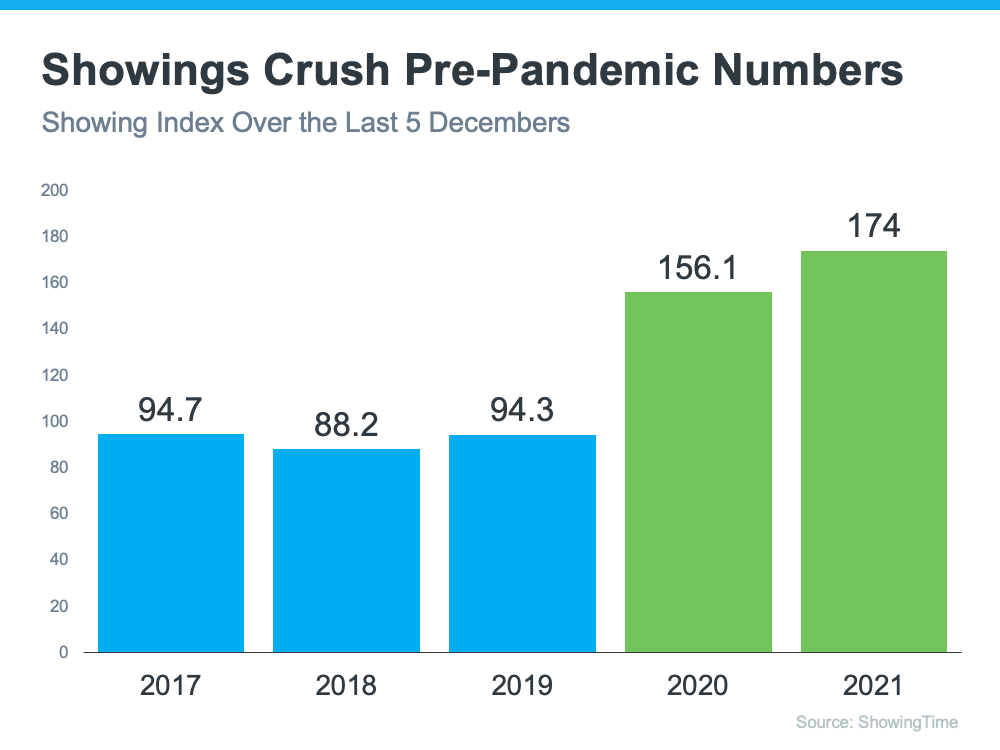 As the data indicates, buyers are very active this winter. Last December saw even more showings than December of 2020, which was already a stronger-than-usual winter. And remember – you want to sell something when there's a strong demand for that item. That time is now.
2. Housing Supply Is Extremely Low
Each month, realtor.com releases data on the number of active residential real estate listings (listings currently for sale). Their most recent report reveals the latest monthly number is the lowest we've seen in any January since 2017 (see graph below):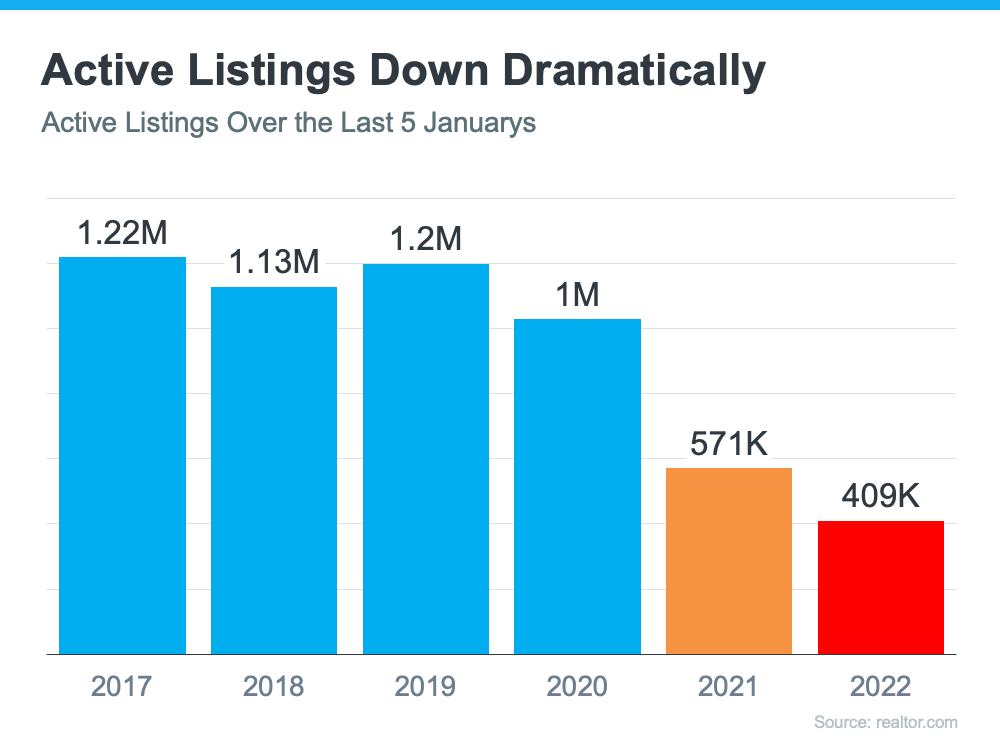 And don't forget, the best time to sell an item is when there's a limited supply of it available. This graph clearly shows how extremely low housing supply is today.
Even Though Supply Is at a Historic Low, Home Sales Are at a 15-Year High
According to the latest Existing Home Sales Report from the National Association of Realtors (NAR), existing-home sales totaled 6.12 million in 2021 – the highest annual level since 2006. This means the market is hot and homeowners are in a great place to sell now while sales are so strong.
NAR also reports available listings by calculating the current months' supply of inventory. They explain:
"Months' supply refers to the number of months it would take for the current inventory of homes on the market to sell given the current sales pace."
The current 1.8-months' supply is the lowest ever reported. Here are the December numbers over the last five years (see graph below):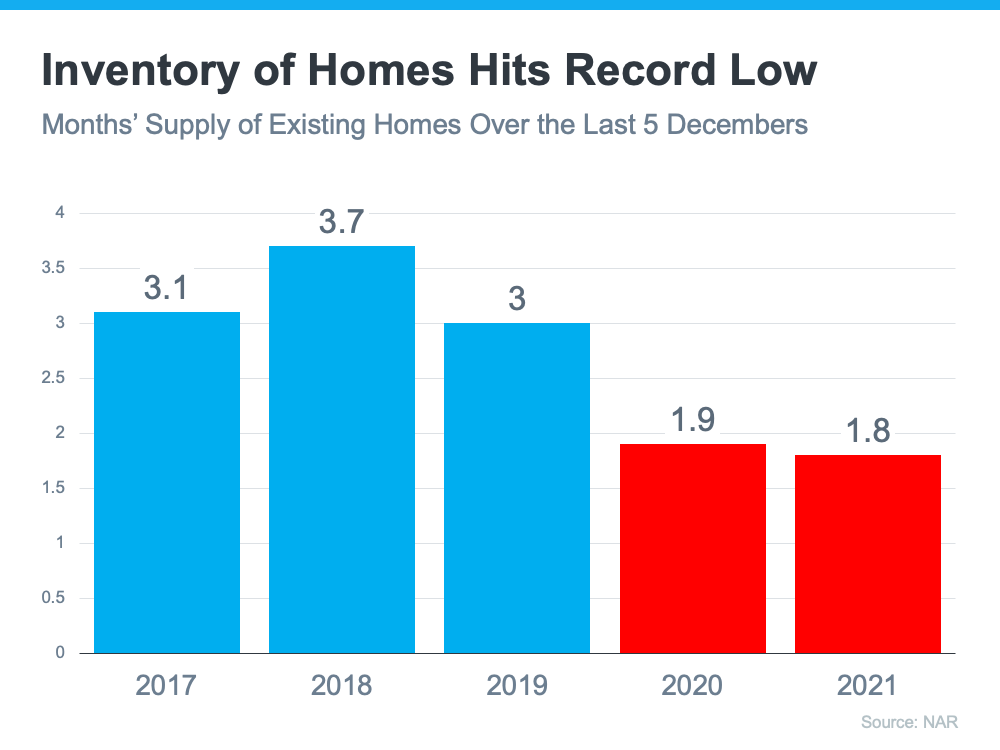 The ratio of buyers to sellers favors homeowners right now to a greater degree than at any other time in history. Buyer demand is high, and supply is low. That gives sellers like you an incredible opportunity.
If you agree the best time to sell anything is when demand is high and supply is low, you might want to start discussing the process of listing your house today.
In today's sellers' market, many homeowners are weighing their options and trying to decide if they should sell their house. If you're in that group, you may be balancing things like the ongoing health crisis, rising mortgage rates, and your own changing needs to determine your best time to make a move.
However, recent data shows that time may already be here. According to the latest Home Purchase Sentiment Index (HPSI) by Fannie Mae, 76% of consumers believe now is a good time to sell.
Looking back over the past few years, its clear consumers are incredibly optimistic today. The graph below shows the percent of survey respondents who say it's a good time to sell a house, and their positive outlook is on the rise. The big dip near the middle of the chart indicates how consumer sentiment about selling dropped at the beginning of the pandemic as uncertainty about the health crisis and its impact grew. The good news is, the trend today shows a continued, drastic improvement, and people are feeling more and more confident with time about selling a home.
In fact, survey respondents think it's an even better time to sell a house today than they did in the lead-up to the health crisis. The latest survey results indicate we're at one of the strongest peaks in seller sentiment since March of 2019, hitting highs when 77% of people thought it was a good time to sell only twice before in June and October of 2021.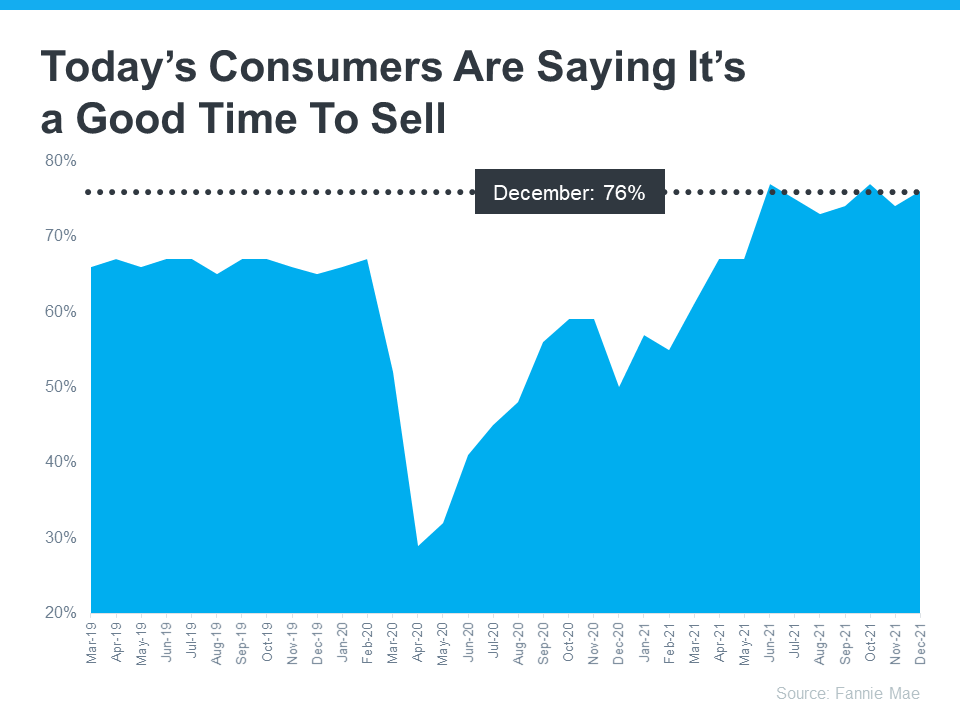 Why Are Consumers So Optimistic About Today's Housing Market?
From record-high equity gains to record-low housing supply and significant buyer demand, homeowners have more motivation than ever to sell. There are more buyers in today's market than there are homes for sale, and that's driving home prices up, making it a great time to sell your house.
According to the National Association of Realtors (NAR), the current supply of homes for sale today is at a 1.8-month supply, which is an all-time low. When the supply of homes for sale is low, sellers will likely see more offers, which is exactly what's happening right now. As NAR notes:
"The average home for sale is receiving 3.8 offers today, up from 3.3 offers just one year ago."
With the inventory of houses for sale so low today pushing home prices in an upward direction, it's no wonder consumers think it's a good time to sell.
With homeownership you can lock in the cost today, and have an asset that increases in value over time, making it a great hedge against inflation.
When looking at home price appreciation versus consumer price increases gong back to the 1970s, we can see how home price appreciation outpaces inflation. Of course, the 2000s was a fundamentally different housing market with an oversupply of homes and lower lending standards. Overall, we can see that buying a home today would not only lock in today's costs and provide a hedge against inflation, but avoid the rising rental rates.
Rental prices are skyrocketing, and the forecasts project that not only will home values will continue rising, but so will mortgage rates.
Rent increases have been greater than inflation in most years. That means it's more expensive to rent over time.
For a $200,000 home at 3.5% interest rate today your monthly payment would be $898. However, in Q1 of 2023 when that same home will be $212,600, interest rates will be $3.8%, and now your monthly payment is $990. That's a difference of $33,314 over the life of the 30-year mortgage. That amount jumps to $66,625 for a $400,000 home.
For a $200,000 home at 3.5% interest rate today your monthly payment would be $898. However, in Q1 of 2023 when that same home will be $212,600, interest rates will be $3.8%, and now your monthly payment is $990. That's a difference of $33,314 over the life of the 30-year mortgage. That amount jumps to $66,625 for a $400,000 home.
For a $200,000 home at 3.5% interest rate today your monthly payment would be $898. However, in Q1 of 2023 when that same home will be $212,600, interest rates will be $3.8%, and now your monthly payment is $990. That's a difference of $33,314 over the life of the 30-year mortgage. That amount jumps to $66,625 for a $400,000 home. That's staggering.
Tangible assets like real estate get more valuable over time making buying a home a good way to spend your money during inflationary times.
This is the Home Price Expectation Survey of 100 economists and data analysts from Q4 of 2021, and represents their house appreciation forecasts by 2026. The group was divided into optimists and pessimists, where optimists projecting the most appreciation over the next 5 years, and the pessimists estimate on the lower end. The pessimists are saying that by 2026 houses will appreciate in value by over 23%. That is pretty significant.
We've recently seen a rise in mortgage rates. Some of the last reported numbers have us around 3.55%, which is certainly higher than in some past years, but the housing market is expected to remain pretty competitive this year. It's about to start feeling like interest rates are going to be high, but they are historically low for the U.S.
Let's look at two of the mortgage markets – the purchase market and the refinance market. The purchase market is forecasted to grow, and the refinance market is forecasted to constrict – a typical reaction in a rising rate environment.
Let's tie in the 10-year treasury for a moment. In the last 2 months, the rate on the 10-year treasury yield has skyrocketed. Why is that important?
For the last 50 years, the relationship between the mortgage rate and the 10-year treasury yield has been almost symbiotic. Wherever the 10-year treasury yield goes, there goes the 30-year fixed rate. The Fed does not control interest rates – it can only hope to influence them. Overall, the 10-year treasury yield may be something worth watching.
Month after month we have talked about why we will not see a wave of foreclosures coming to the market, so let's wrap up this month looking at the latest data.
Loans in forbearance have fallen below one million. This is huge. We are at roughly 780,000 loans in forbearance which equates to 1.4% of mortgages. It is wonderful to see that the forbearance program has really helped homeowners change their situations during such a time of economic uncertainty.
Looking at loans upon exiting the forbearance program, about 38% percent of homeowners are paid in full by either making monthly payments or paying off their loan. Then, about 44% percent are on some sort of repayment plan – homeowners who have been able to make a loan modification or deferral. Unfortunately, 18.2% of homeowners are exiting the forbearance plan without a loss mitigation plan. The bright side of that is, according to Black Knight, 93% of homeowners in a forbearance plan have at least 10% equity, allowing them the opportunity to sell their home. To put this all in perspective, during the housing bubble burst in 2008, we saw 9.3 million homes go into foreclosure. We are in a very different situation today.
We have significantly fewer foreclosures today than we would even in a normal year. Obviously, the forbearance program came allowed us to see record low foreclosures in the most recent years.
Foreclosure activity is at an all-time low. We are at 151,000 foreclosures, whereas in 2007 to 2015, millions of homeowners were going into the foreclosure process. Even if this number of 151,000 doubled, tripled, or even quadrupled, we would be nowhere near where we were when the housing bubble burst.
One key question that's top of mind for homebuyers this year is: why is it so hard to find a house to buy? The truth is, we're in the ultimate sellers' market, so real estate is ultra-competitive for buyers right now. The number of buyers searching for a home greatly outweighs how many homes are available for sale.
While low inventory in the housing market isn't new, it's a challenge that continues to grow over time. Here's a look at two reasons why today's housing supply is low and what that means for you.
1. New Home Construction Fell Behind for Several Years
The graph below shows new home construction for single-family homes over the past five decades, including the long-term average for housing units completed. Builders exceeded that average during the housing bubble (shown in red on the graph). The result was an oversupply of homes on the market, so home values declined. That was one of the factors that led to the housing crash back in 2008.
Since then, the level of new home construction has fallen off. For the last 13 straight years, builders haven't been able to construct enough homes to meet the historical average (as illustrated in green on the graph). That underbuilding left us with a multi-year inventory deficit going into the pandemic.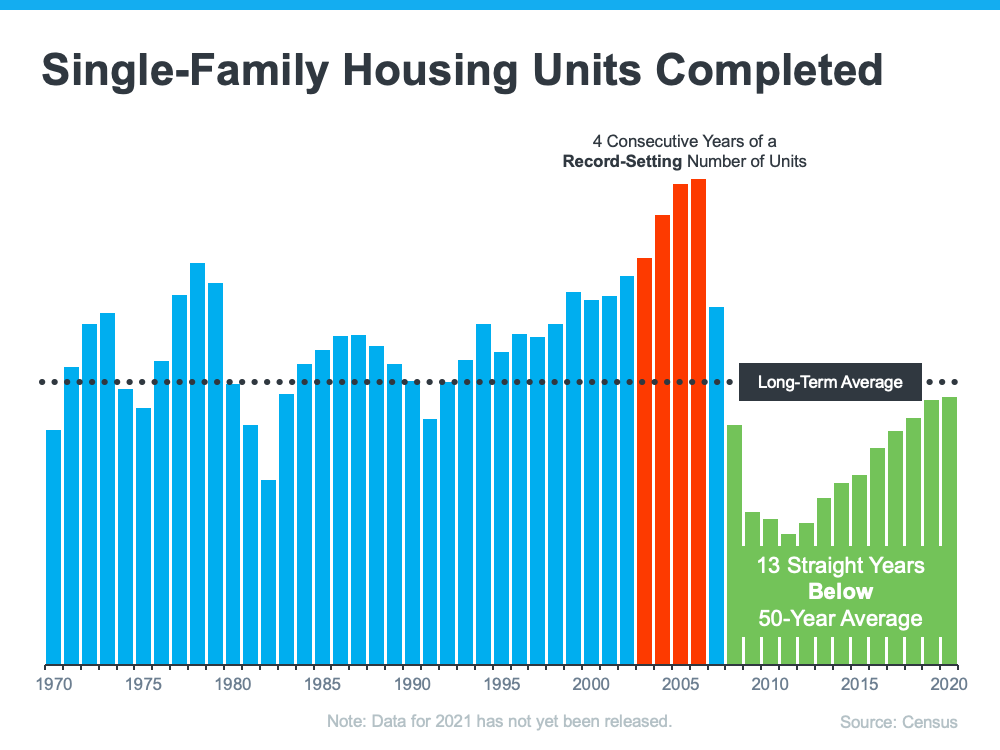 2. The Pandemic's Impact on the Housing Market
Then, when the pandemic hit, it fueled a renewed appreciation and focus on the meaning of home. Having a safe space to live, work, school, and exercise became even more important for Americans throughout the country. So, as mortgage rates dropped to at or below 3%, buyers eagerly entered the market looking to capitalize on those low rates to secure a home that would fulfill their changing needs. At the same time, sellers hesitated to put their houses on the market as concerns about the pandemic mounted.
The result? The number of homes available for sale dropped even further. A recent article from realtor.com explains:
"Last month, the number of home listings dropped 26.8% compared with the same time a year earlier. This meant there were about 177,000 fewer homes listed in what's already typically a slower month due to the holidays and colder weather. . . ."
What Does All of This Mean for You?
For a buyer, low inventory can be a challenge. You want to find the home of your dreams, and you don't want to settle. But what if there just aren't that many homes to choose from?
There is some good news. Experts are projecting more homes will soon become available thanks to sellers re-entering the market. Danielle Hale, Chief Economist at realtor.com, shares this hope, but offers perspective:
"We expect that we'll start to see a turnaround and inventory will stabilize and start to go up a little bit in 2022. . . . But that means we're looking at inventory levels of roughly half of what we saw before the pandemic. For buyers, the market is likely to continue to move fast. If you see a home you like, you want to jump on it right away."
Basically, inventory is still low, even though more homes are coming. But you shouldn't put your plans on hold because you're waiting for those additional houses to hit the market. Instead, stick with your search and persevere through today's low inventory. You can find your next home if you're patient and focused.
Remember your goals and why finding a home is so important. Those things should be the driving force behind your search. Share them with your agent and be clear about your priorities. Your trusted advisor is your greatest support as you navigate today's low housing supply to find the home of your dreams.
If you're planning to buy this year, the key to success will be patience given today's low inventory.
An increased supply and slowing of demand, likely due to rising interest rates, may causse the real estate market to be less competitive and see prices normalize.
2021 was an incredible year for real estate in the U.S. due to low mortgage rates, lots of demand, low inventory, and a rebounding job market. Supply and demand is still unbalanced headed into this spring, allowing sellers the upper hand. In an interview with the Associated Press, Lawrence Yun, Chief Economist at the National Association of Realtors® answers some burning questions about this year in real estate.
Question: How do you see the housing market's trajectory shaping up this year?
Answer: The mortgage rates will definitely be higher, which means that people who were barely able to qualify last year will not be able to do so this year. Combine that with some increase in supply. Builders have the profit motive. Lumber prices and other materials costs are rising, but they're simply tacking on those additional costs to consumers, who are willing to buy. So, increased supply, some chopping off of demand from rising interest rates, should lead to less intense competitive market conditions. Price growth will be something around 5% in 2022, which will be a very normal rate of increase.
Question: Fair to say homeowners who are selling will still have an edge on buyers nationally?
Answer: We're in a housing shortage of roughly 3 or 4 million. And given that homebuilders can probably at the maximum put up maybe 2 million homes, more likely 1.7 or 1.8 million homes (a year), this housing shortage will persist this year and probably linger on somewhat next year. Hence, the market in 2022 will still favor sellers.
Question: How high do you see mortgage rates going this year?
Answer: My best guess at the moment is about 3.7%. It could be a little lower or a little higher, but it's going to certainly be higher than the 3% people enjoyed last year.
Question: To what degree will higher rates dampen home sales?
Answer: Rising home prices have hindered affordability, but now rising interest rates are another thing that will begin to shave off some of the demand potential from first-time buyers. My official forecast for home sales this year is they will come down about 2% from last year.
Question: Has the pandemic led to any enduring changes to the way Americans buy and sell homes?
Answer: The pandemic will come to an end. Hopefully, the sooner the better. But the work-from-home situation, that development is here to stay. That will be the key factor driving the housing market preference and demand.
Question: What's the biggest worry you have about the housing market now?
Answer: The housing market is on a solid foundation, in the sense that we don't have those loose lending conditions. Housing equity, minus the mortgage balance, is substantial.
We need to ensure that the housing supply continues to increase, and look at converting office and other spaces to affordable housing.
There's so much speculation in the market right now.
Lots of speculation, but when it comes to real estate, inventory will be the market indicator. The bad news is that listings are at record lows. This is for a variety of reasons: low rates, the changing definition of "home," and perhaps the desire to own a home.
Realtor.com looked at housing inventory year over year (December 2020 to December 2021). Where the national average is down almost 27% year over year, and Florida is one of the highest at down over 48% – a significant lack of inventory across the country. Real estate will not be able to reach its market potential, because you cannot sell what you don't have.
Going all the way back to January 2019, looking at the Months Inventory of Homes for Sale, we see supply start to dip down in 2020, spike up during lockdown, and then deplete since then with record lows in December and January last year (under two months' supply) – a number not too far off from where we are now.
On the other hand, buyer demand is not slowing. Showings are still strong, according to ShowingTime. This is a leading indicator of activity, because if people aren't scheduling showings, then those don't turn into contracts, and ultimately sold deals. Showings still continue to crush pre-pandemic numbers.
Where 2017, 2018, and 2019 are the "normal years" in real estate, we can see activity is still very strong this winter.
No doubt buyers are out there are in force, motivated by a number of different things: rising rates, or different needs in a home.
Those showings are turning into deals – pending deals. Sales are higher than pre-pandemic numbers as well. The market is moving, and would have even greater momentum with more inventory.
People are looking at their home equity and considering doing something different. Everyone should know how much equity they have in their home.
CoreLogic's third quarter home equity report showed that the average homeowner with a mortgage gained $57,000 in equity – 31.1% year over year percentage for increase in equity for homes with a mortgage in the United States with a total equity increase of $3.2 trillion. Home price growth reached its highest level in more than 45 years, pushing equity gains to another record high.
Across the country there is an average gain of $56,700 in equity – $64,000 in Florida.
The ability to build wealth through equity is one of the greatest benefits of home ownership.
Fannie Mae, Freddie Mac, the National Association of Realtors® (NAR), and the Mortgage Bankers Association (MBA) are predicting between 3.5% and 4% in rates for the second half of the year. We are seeing an upward trend, with rates likely to settle where they have been over the past 10 years – between 3% and 5%.
Forbearances have finally fallen below one million – that represents about 1.6% of active mortgages. Four out of five homes that are coming out of forbearance have a repayment plan. And let's not forget the $57,000 average gain in equity in the last year – those in forbearance likely have opportunities.
We all know that pricing has peaked. Looking at the Federal Housing Administration (FHA), CoreLogic, and Case Shiller price acceleration predictions (year over year) back to January 2021 starts out at 10% where we peaked around 19% in July. However, over time we will likely return to the average of about 5%. A situation in which homes will continue to appreciate, just at a slower, more moderate rate.
The home price appreciation forecasts for 2022 average 5.2% – anywhere from 7.5% to 2.8%.
Overall, this year looks as if it will be a strong year for the real estate market.