Whether you're a potential homebuyer, seller, or both, you probably want to know: will home prices fall this year? Let's break down what's happening with home prices, where experts say they're headed, and why this matters for your homeownership goals.
Last Year's Rapid Home Price Growth Wasn't the Norm
In 2021, home prices appreciated quickly. One reason why is that record-low mortgage rates motivated more buyers to enter the market. As a result, there were more people looking to make a purchase than there were homes available for sale. That led to competitive bidding wars which drove prices up. CoreLogic helps explain how unusual last year's appreciation was:
"Price appreciation averaged 15% for the full year of 2021, up from the 2020 full year average of 6%."
In other words, the pace of appreciation in 2021 far surpassed the 6% the market saw in 2020. And even that appreciation was greater than the pre-pandemic norm which was typically around 3.8%. This goes to show, 2021 was an anomaly in the housing market spurred by more buyers than homes for sale.
Home Price Appreciation Moderates Today
This year, home price appreciation is slowing (or decelerating) from the feverish pace the market saw over the past two years. According to the latest forecasts, experts say on average, nationwide, prices will still appreciate by roughly 10% in 2022 (see graph below):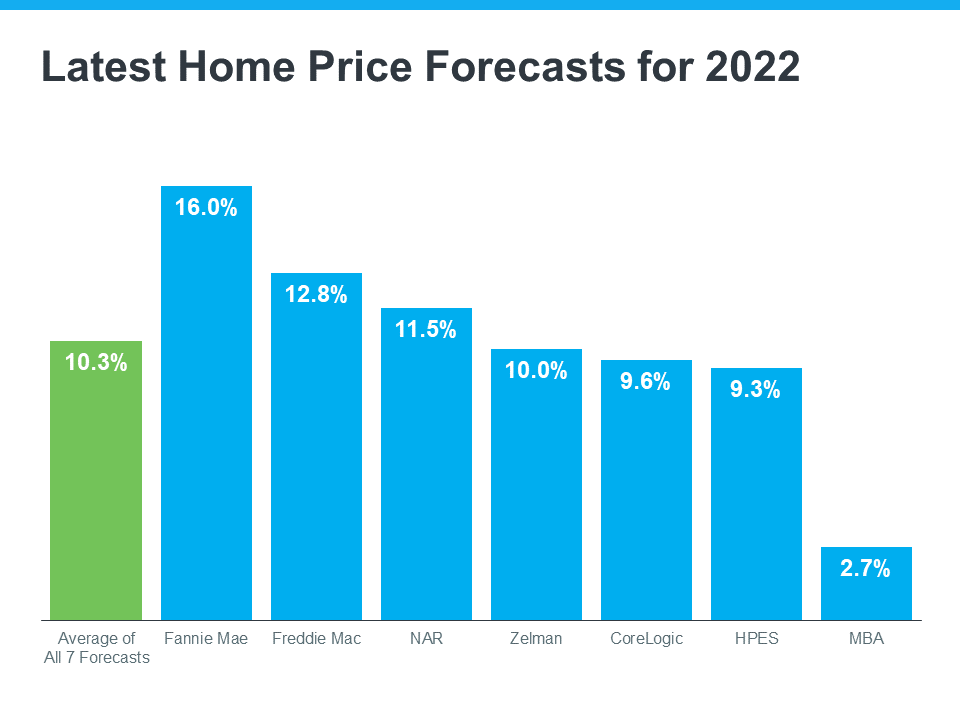 Why do all of these experts agree prices will continue to rise? It's simple. Even though housing supply is growing today, it's still low overall thanks to several factors, including a long period of underbuilding homes. And experts say that's going to help keep upward pressure on home prices this year. Additionally, since mortgage rates are higher this year than they were last year, buyer demand has slowed.
As the market undergoes this change, it's true price appreciation this year won't match the feverish pace in 2021. But the rapid appreciation the market saw last year wasn't sustainable anyway.
What Does That Mean for You?
Today, the market is beginning to move back toward pre-pandemic levels. But even the forecast for 10% home price growth in 2022 is well beyond the 3.8% that's more typical for a normal market.
So, despite what you may have heard, experts say home prices won't fall in most markets. They'll just appreciate more moderately.
If you're worried the house you're trying to sell or the home you want to buy will decrease in value, you should know experts aren't calling for depreciation in most markets, just deceleration. That means your home should still grow in value, just not as fast as it did last year.
Bottom Line
If you're thinking of making a move, you shouldn't wait for prices to fall. Experts say nationally, prices will continue to appreciate this year, just at a more moderate pace.
If you tried to buy a home during the pandemic, you know the limited supply of homes for sale was a considerable challenge. It created intense bidding wars which drove home prices up as buyers competed with one another to be the winning offer.
But what was once your greatest challenge may now be your greatest opportunity. Today, data shows buyer demand is moderating in the wake of higher mortgage rates. Here are a few reasons why this shift in the housing market is good news for your homebuying plans.
The Challenge
There were many reasons for the limited number of homes on the market during the pandemic, including a history of underbuilding new homes since the market crash in 2008. As the graph below shows, housing supply is well below what the market has seen for most of the past 10 years (see graph below):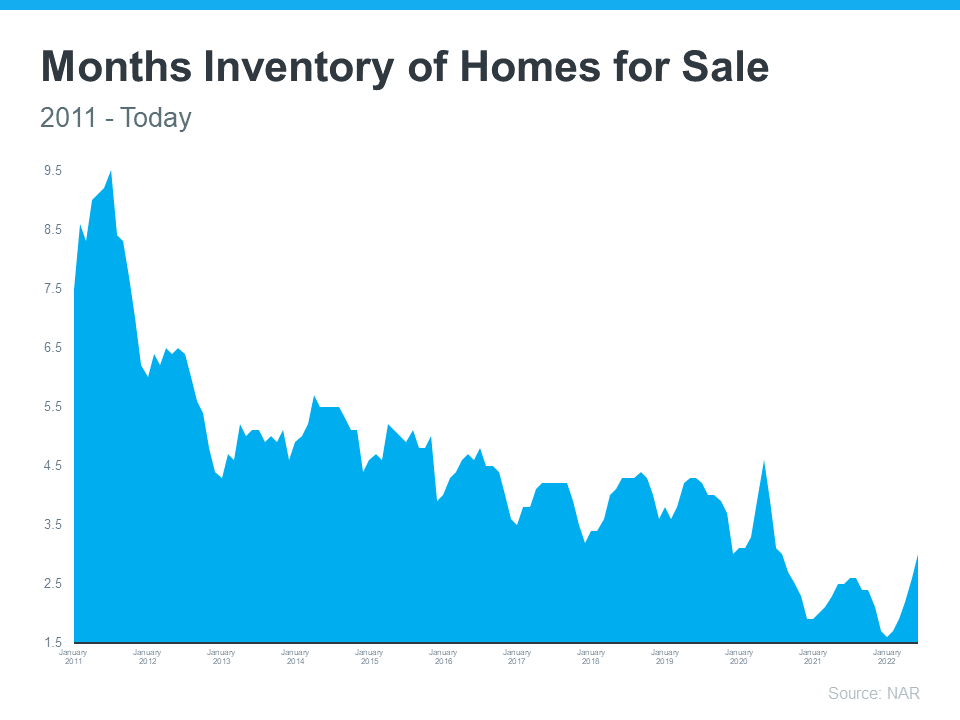 The Opportunity
But that graph also shows a trend back up in the right direction this year. That's because moderating demand is slowing the pace of home sales and that's one of the reasons housing supply is finally able to grow. For you, that means you'll have more options to choose from, so it shouldn't be as difficult to find your next home as it has been recently.
And having more options may also lead to less intense bidding wars. Data from the Realtors Confidence Index from the National Association of Realtors (NAR) shows this trend has already begun. In their recent reports, bidding wars are easing month-over-month (see graph below):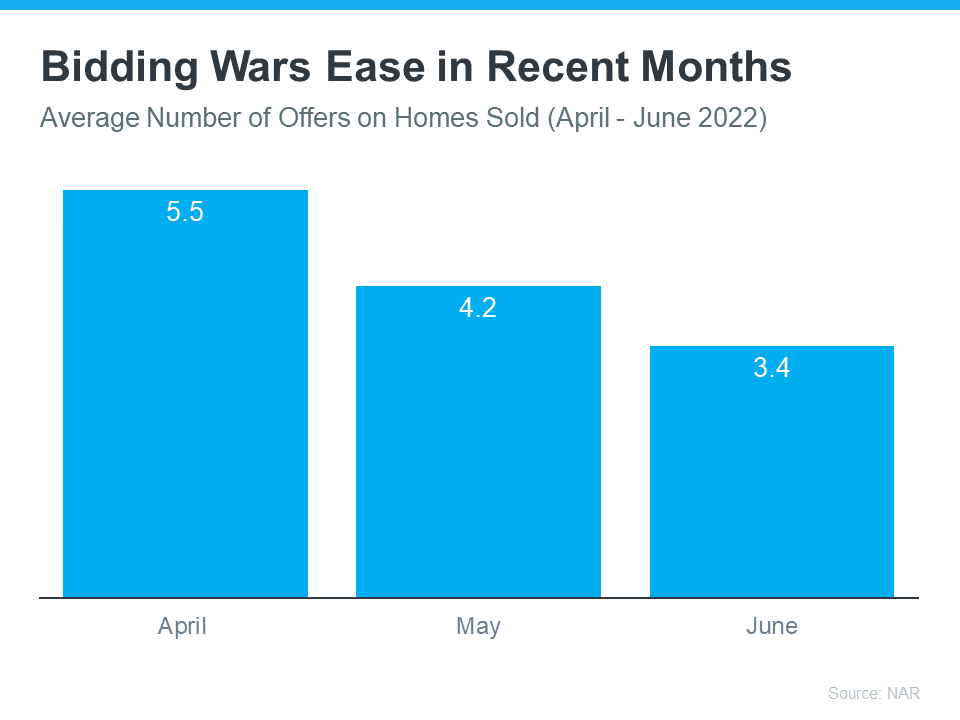 If you've been outbid before or you've struggled to find a home that meets your needs, breathe a welcome sigh of relief. The big takeaway here is you have more options and less competition today.
Just remember, while easing, data shows multiple-offer scenarios are still happening – they're just not as intense as they were over the past year. You should still lean on an agent to guide you through the process and help you make your strongest offer up front.
Bottom Line
If you're still looking to make a move, it may be time to pick your home search back up today.
There's no doubt about the fact that the housing market is slowing from the frenzy we saw over the past two years. But what does that mean for you if you're thinking of selling your house?
While home prices are still appreciating in most markets and experts say that will continue, they're climbing at a slower pace because rising mortgage rates are creating less buyer demand. Because of this, there are more homes on the market. And in a shift like this one, the way you price your home matters more than ever.
Why Today's Housing Market Is Different
During the pandemic, sellers could price their homes higher because demand was so high, and supply was so low. This year, things are shifting, and that means your approach to pricing your house needs to shift too.
Because we're seeing less buyer demand, sellers have to recognize this is a different market than it was during the pandemic. Here's what's at stake if you don't.
Why Pricing Your House at Market Value Matters
The price you set for your house sends a message to potential buyers. If you price it too high, you run the risk of deterring buyers.
When that happens, you may have to lower the price to try to reignite interest in your house when it sits on the market for a while. But be aware that a price drop can be seen as a red flag for some buyers who will wonder what that means about the home or if in fact it's still overpriced. Some sellers aren't adjusting their expectations to today's market, and realtor.com explains the impact that's having:
". . . the share of listings with a price cut was nearly double its year ago level even as it remains well below pre-pandemic levels."
To avoid the headache of having to lower your price, you'll want to price it right from the onset. A real estate advisor knows how to determine that perfect asking price. To find the right price, they balance the value of homes in your neighborhood, current market trends and buyer demand, the condition of your house, and more.
Not to mention, pricing your house fairly based on market conditions increases the chance you'll have more buyers who are interested in purchasing it. This helps lead to stronger offers and a greater likelihood it'll sell quickly.
Why You Still Have an Opportunity When You Sell Today
Rest assured, it's still a sellers' market, and you'll still get great benefits if you plan accordingly and work with an agent to set your price at the current market value. As Lawrence Yun, Chief Economist at the National Association of Realtors (NAR), says:
"Homes priced right are selling very quickly, but homes priced too high are deterring prospective buyers."
Mike Simonsen, the Founder and CEO of Altos Research, also notes:
"We can see that demand is still there for the homes that are priced properly."
Bottom Line
Home priced right are selling quickly in today's real estate market. Make sure you price your house based on current market conditions so you can maximize your sales potential and minimize your hassle in a shifting market.
When the pandemic hit in 2020, many experts thought the housing market would crash. They feared job loss and economic uncertainty would lead to a wave of foreclosures similar to when the housing bubble burst over a decade ago. Thankfully, the forbearance program changed that. It provided much-needed relief for homeowners so a foreclosure crisis wouldn't happen again. Here's why forbearance worked.
Forbearance enabled nearly five million homeowners to get back on their feet in a time when having the security and protection of a home was more important than ever. Those in need were able to work with their banks and lenders to stay in their homes rather than go into foreclosure. Marina Walsh, Vice President of Industry Analysis at the Mortgage Bankers Association (MBA), notes:
"Most borrowers exiting forbearance are moving into either a loan modification, payment deferral, or a combination of the two workout options."
As the graph below shows, with modification, deferral, and workout options in place, four out of every five homeowners in forbearance are either paid in full or are exiting with a plan. They're able to stay in their homes.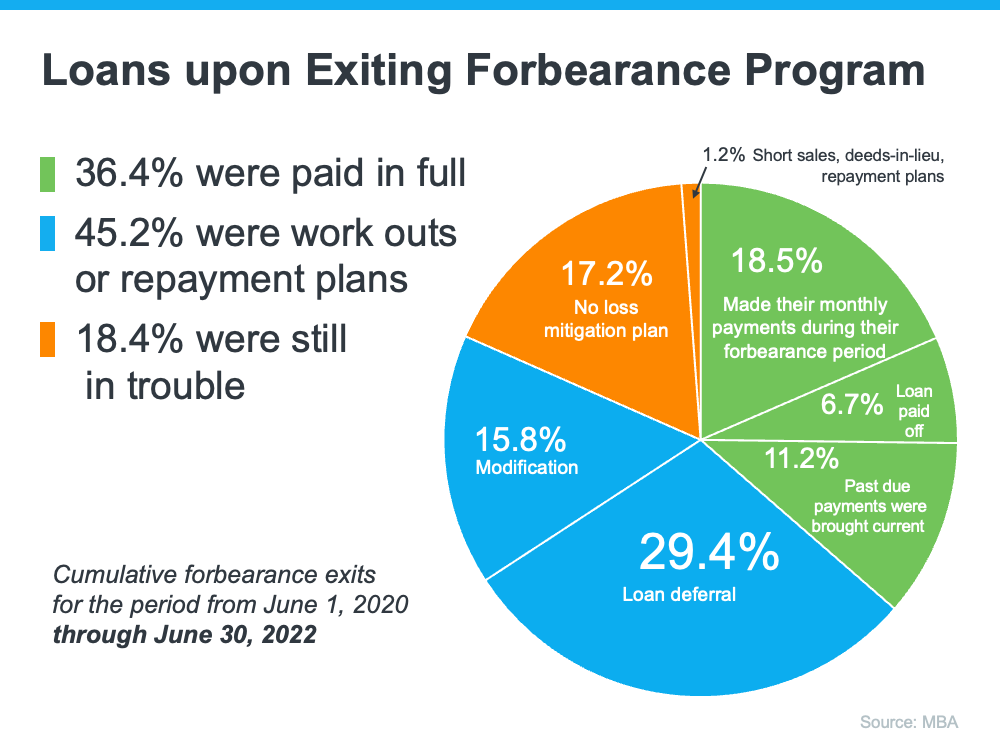 What does this mean for the housing market?
Since so many people can stay in their homes and work out alternative options, there won't be a wave of foreclosures coming to the market. And while rising slightly since the foreclosure moratorium was lifted this year, foreclosures today are still nowhere near the levels seen in the housing crisis.
Forbearance wasn't the only game changer, either. Lending standards have improved significantly since the housing bubble burst, and that's one more thing keeping foreclosure filings low. Today's borrowers are much more qualified to pay their home loans.
And while the majority of homeowners are exiting the forbearance program with a plan, for those who still need to make a change due to financial hardship or other challenges, today's record-level of equity is giving them the opportunity to sell their houses and avoid foreclosure altogether. Homeowners have options they just didn't have in the housing crisis when so many people owed more on their mortgages than their homes were worth. Thanks to their equity and the current undersupply of homes on the market, homeowners can sell their houses, make a move, and not have to go through the foreclosure process that led to the housing market crash in 2008.
Thomas LaSalvia, Chief Economist with Moody's Analytics, states:
"There's some excess savings out there, over 2 trillion worth. . . . There are people that have ownership of those homes right now, that even in a downturn, they'd still likely be able to pay that mortgage and won't have to hand over keys. And there won't be a lot of those distressed sales that happened in the 2008 crisis."
Bottom Line
The forbearance program was a game changer for homeowners in need. It's one of the big reasons why we won't see a wave of foreclosures coming to the market.
As there's more and more talk about the real estate market cooling off from the peak frenzy it saw during the pandemic, you may be questioning what that means for your plans to sell your house. If you're thinking of making a move, you should know the market is still anything but normal.
Even though the supply of homes for sale has been growing this year, there's still a shortage of homes on the market. And that means conditions continue to favor sellers today. That's because the level of inventory of homes for sale can help determine if buyers or sellers are in the driver's seat. Think of it like this:
A buyers' market is when there are more homes for sale than buyers looking to buy. When that happens, buyers have the negotiation power because sellers are more willing to compromise so they can sell their house.
In a sellers' market, it's just the opposite. There are too few homes available for the number of buyers in the market and that gives the seller all the leverage. In that situation, buyers will do what they can to compete for the limited number of homes for sale.
A neutral market is when supply is balanced and there are enough homes to meet buyer demand at the current sales pace.
And for the past two years, we've been in a red-hot sellers' market because inventory has been near record lows. The blue section of this graph highlights just how far below a neutral market inventory still is today.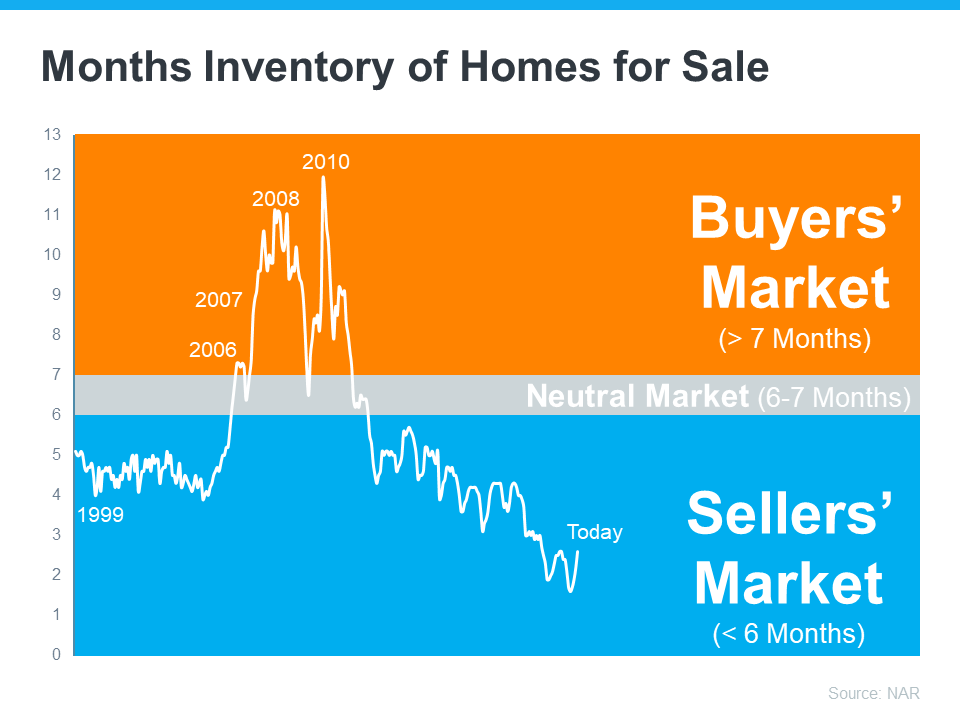 What Does This Mean for You?
Ed Pinto, Director of the American Enterprise Institute's Housing Center, gives a perfect summary of what's happening in today's market, saying:
"Overall, the best summary is that we'll move from a gangbuster sellers' market to a modest sellers' market."
Conditions are still in your favor even though the market is cooling. If you work with an agent to price your house at market value, you'll find success when you sell your house today. While buyer demand is softening due to higher mortgage rates, homes that are priced right are still selling fast. That means your window of opportunity to list your house hasn't closed.
Bottom Line
Today's housing market still favors sellers.
As we take a look at the interest rates since January, we can see that is what is really defining the current real estate market right now and the volatility is a result of the moves the Federal Reserve is making to ease inflation – the enemy of long-term interest rates.
The National Bureau of Economic Research defines what a recession is and when it is. A recession is a significant decline in economic activity, spread across the economy, lasting more than a few months, normally visible in real GDP, real income, employment, industrial production, and wholesale retail sales. Technically, a recession is 2 consecutive quarters of negative growth.
Looking all the way back to the 1940s, every time we've seen two consecutive quarters of negative growth, a recession has been called.
According to a survey from the Wall Street Journal that asked economists if they believe a recession will happen in the next 12 months, we can see more and more of the experts are predicting a recession. A recession is an economic slowdown where, historically, we have seen homes appreciate in value and mortgage rates fall.
In 4 of the last 6 recessions, home prices actually appreciated in value, except for 2008, which we have covered in previous monthly market updates was a fundamentally different place than where we are today.
In all 6 of the last 6 recessions, interest rates have declined.
One of the biggest reasons a housing crash is not predicted is inventory. In 2008, we had an oversupply of homes on the market – which causes home prices to fall. Today, we have an under supply – which causes home prices to rise.
We are seeing about a 3-month supply of homes (inventory). We are far, far away from the 10-month supply of homes we saw leading up to and in 2008. The typical neutral market is 6 to 7 months of supply of inventory.
Inventory can also come from new construction. Building permits and housing starts are the leading indicators (what is to come), while under construction and housing units completed are the lagging indicators (what has happened). The leading indicators are slowing down from May to June as builders are seeing mortgage rates rise. This shows further confirmation that we're not on pace to have an oversupply.
Finally, inventory could come from distressed properties like foreclosures and short sales. The mortgage credit availability index shows how much harder it has become for someone to secure a home loan as lending standards have tightened. More qualified buyers means less distressed properties.
There are fewer and fewer foreclosures every year in this country, and especially in the past year or two due to the moratorium on foreclosures.
Looking at foreclosure activity by year, going back to 2008, we are seeing about half of the foreclosures compared to pre-pandemic numbers and less than 10% of post-2008 numbers. Lending standards have changed the game.
36% of mortgages coming out of forbearance were paid off. 45% worked out repayment plans (modifications, loan deferrals, etc) – an opportunity that homeowners didn't have in 2008. The forbearance program changed the game. 4 out of 5 homeowners are coming out of forbearance. However, 17% have no loss mitigation plan, but mostly have enough equity to be able to sell their homes and avoid the foreclosure process. Today, there are different options, and why we won't see a wave of foreclosures coming to the market. If all 400,000 homes in forbearance came to market, it would still be under supplied.
The increased amount of foreclosures this year could be due to the lack of foreclosures the past two years.
Today, we are in a seller's market, but what does the rest of the year hold?
Freddie Mac, Fannie Mae, the Mortgage Bankers Association, and the National Association of Realtors® are predicting mortgage rates to waiver around the current rate with a more stabilized rate next year.
Looking at what the 7 key industry leaders are saying about home pricing, we are seeing about 10.3% home price appreciation through the end of this year. A more moderate growth than the 15% we saw last year, but still extremely healthy appreciation in most markets.
There is also a decrease in home sales due to the softening of buyer demand in light of the rising mortgage rates. The National Association of Realtors® is saying that, at the current pace of sale today, we are projected to sell 5.1 million homes in this country this year. Of course, that is a decrease considering the sales the past 2 years, which were extraordinary years in the real estate market. The 5.1 million projection puts us back in line with the pre-pandemic years of 2017-2019.
In lieu of the rising mortgage rates, Freddie Mac, Fannie Mae, and the Mortgage Bankers Association re-forecasted their home sales predictions for 2022 from 7 million to 6 million. Still a very strong number, which should hold steady as the interest rates begin to balance out.
Today there are fewer multiple offer scenarios, fewer homes selling above asking price, and the supply of homes for sale is growing – all providing a great scenario for buyers right now. We have dropped from 5.5 offers on a home in April to 3.4 in June. We've gone from 61% of homes selling above asking price to 51% – still competitive, but decreasing. Finally, inventory has creeped from 2.2 months supply on hand to 3.0. All three trends that should continue moving forward.
Mortgage rates are much higher today than they were at the beginning of the year, and that's had a clear impact on the housing market. As a result, the market is seeing a shift back toward the range of pre-pandemic levels for buyer demand and home sales.
But the transition back toward pre-pandemic levels isn't a bad thing. In fact, the years leading up to the pandemic were some of the best the housing market has seen. That's why, as the market undergoes this shift, it's important to compare today not to the abnormal pandemic years, but to the most recent normal years to show how the current housing market is still strong.
Higher Mortgage Rates Are Moderating the Housing Market
The ShowingTime Showing Index tracks the traffic of home showings according to agents and brokers. It's also a good indication of buyer demand over time. Here's a look at their data going back to 2017 (see graph below):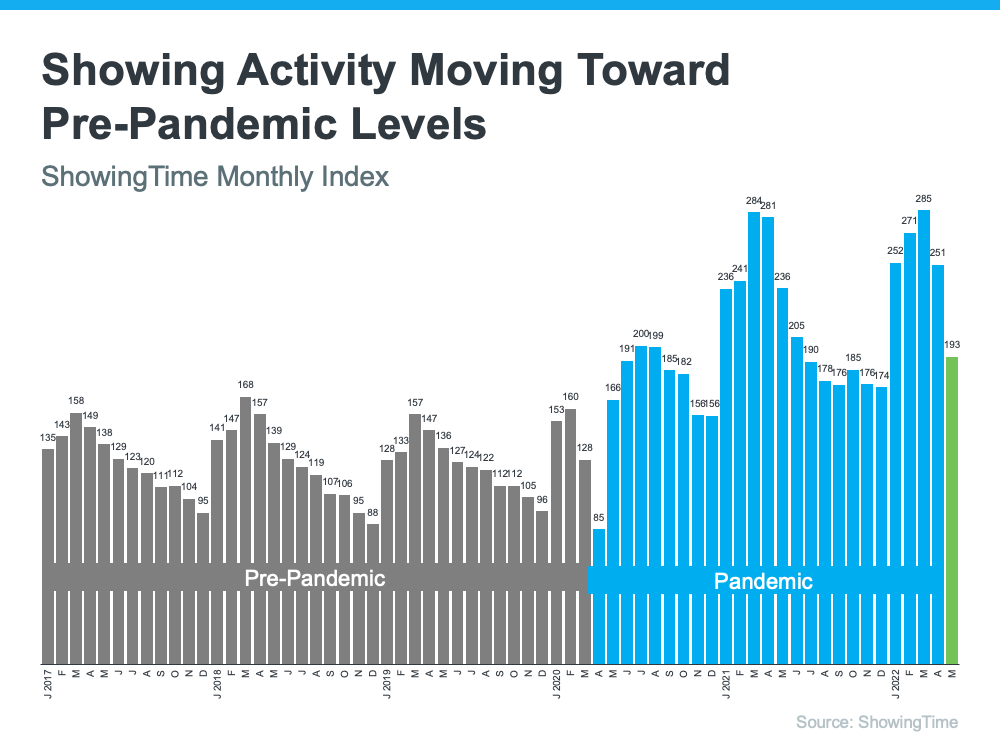 Here's a breakdown of the story this data tells:
The 2017 through early 2020 numbers (shown in gray) give a good baseline of pre-pandemic demand. The steady up and down trends seen in each of these years show typical seasonality in the market.
The blue on the graph represents the pandemic years. The height of those blue bars indicates home showings skyrocketed during the pandemic.
The most recent data (shown in green), indicates buyer demand is moderating back toward more pre-pandemic levels.
This shows that buyer demand is coming down from levels seen over the past two years, and the frenzy in real estate is easing because of higher mortgage rates. For you, that means buying your next home should be less challenging than it would've been during the pandemic because there is more inventory available.
Higher Mortgage Rates Slow the Once Frenzied Pace of Home Sales
As mortgage rates started to rise this year, other shifts began to occur too. One additional example is the slowing pace of home sales. Using data from the National Association of Realtors (NAR), here's a look at existing home sales going all the way back to 2017. Much like the previous graph, a similar trend emerges (see graph below):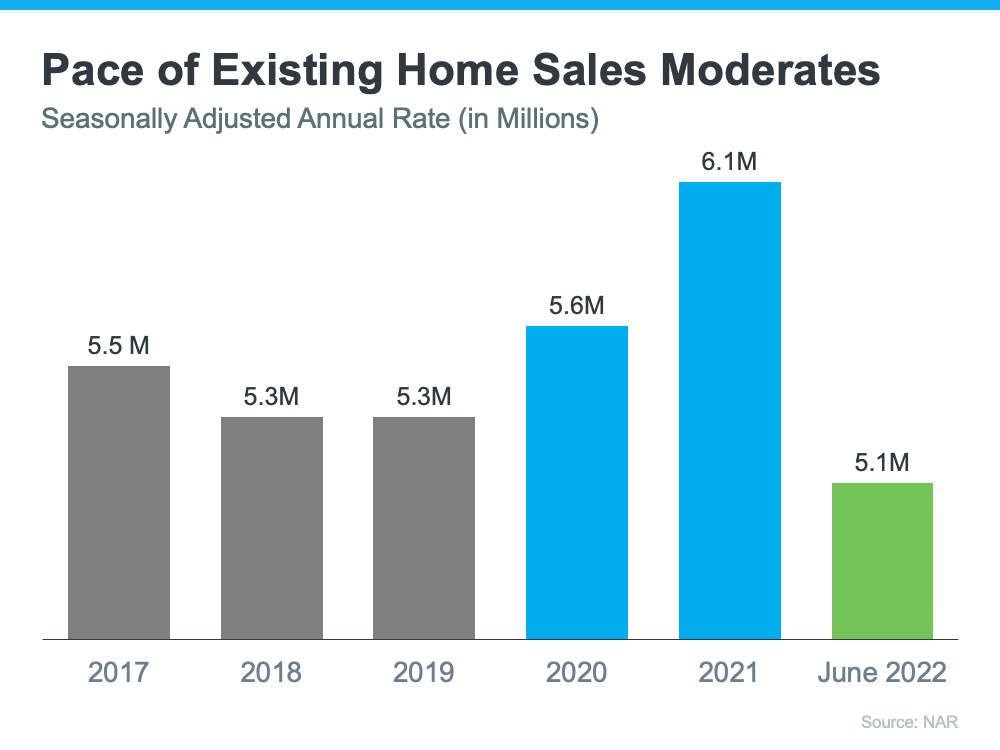 Again, the data paints a picture of the shift:
The pre-pandemic years (shown in gray) establish a baseline of the number of existing home sales in more typical years.
The pandemic years (shown in blue) exceeded the level of sales seen in previous years. That's largely because low mortgage rates during that time spurred buyer demand and home sales to new heights.
This year (shown in green), the market is feeling the impact of higher mortgage rates and that's moderating buyer demand (and by extension home sales). That's why the expectation for home sales this year is closer to what the market saw in 2018-2019.
Why Is All of This Good News for You?
Both of those factors have opened up a window of opportunity for homeowners looking to move and for buyers looking to purchase a home. As demand moderates and the pace of home sales slows, housing inventory is able to grow – and that gives you more options for your home search.
So don't let the headlines about the market cooling or moderating scare you. The housing market is still strong; it's just easing off from the unsustainable frenzy it saw during the height of the pandemic – and that's a good thing. It opens up new opportunities for you to find a home that meets your needs.
Bottom Line
The housing market is undergoing a shift because of higher mortgage rates, but the market is still strong. If you've been looking to buy a home over the last couple of years and it felt impossible to do, now may be your opportunity. Buying a home right now isn't easy, but there is more opportunity for those who are looking.
Let's begin this month with the topic of economic slowdown. According to The Wall Street Journal, recession fear surged among CEOs. Three-quarters of global CEOs say that we are in a recession or will be in the next 12 to 18 months. A recession is typically two consecutive quarters of negative GDP. We saw negative GDP in the first quarter of this year, and forecasts coming out of the Atlanta Fed predict an extremely low negative GDP in the second quarter.
Looking at the mortgage rates in prior recessionary periods going all the way back to the early seventies, we can see that in every recession mortgage rates fell.
Over the past five recessions, mortgage rates have fallen an average of 1.8 percentage points from the peak to the trough. Right now, the Fed is raising the funds rate to tame inflation, and in order to do that they have to slow down the economy. You may have heard of the Fed trying to engineer a "soft landing" in which growth is positive and moderate. If a soft landing is not engineered, then you end in recession – a likely outcome at this point.
Here is where it is important to remember that a recession does not equal a housing crisis. Four out of the last six times we were in a recession, homes appreciated in value. The two times they fell – marginally (1.9%) in the early nineties and in 2008 (an outlier due to lax lending standards).
Delving into an update on housing inventory, we are seeing the average number of offers received on a home for sale decline. We saw 5.5 offers in April, which decreased to 5, and then 4.2 in June. The rising mortgage rate environment is starting to soften demand. But, keep in mind, at an average of 4.2 offers on homes for sale, we are still well above the pre-pandemic norm, suggesting the market is still very competitive.
Over asking price offers are also declining, from 61% of offers over the asking price last month to now 55%. Not a huge decline, but certainly a softening or a moderation. All of this leading to a slower pace of sales and rising inventory levels – same inventory with fewer sales means more month supply.
The months supply of inventory was at a record low in January at 1.6 months, and the latest data is showing us at 2.6 months of inventory, so there are more options for buyers. Remember that a balanced market is six months of inventory – a number we haven't seen since 2012.
New monthly listing counts are also increasing. More new listings are coming to market than last year and they are increasing at a faster pace.
We are projected to end the year at 5.4 million home sales by the end of 2022 if we continue at the pace we're selling homes today, but we know that the pace of sales in slowing due to rising rates, economic pressures, and inflationary pressures. Definitely slower than the past two years, which were incredible years for real estate and an anomaly in the housing market. So we see the return to those pre-pandemic years, which were great years in real estate.
We still have far more buyers than we have sellers, which is continuing to put upward pressure on prices.
realtor.com's originally projection for this year was a 0.3% increase in inventory. They have re-forecasted for the rest of the year a 15% increase in inventory – an increase likely representative of the slowing in the pace of sales and an uptick in new listings. Typically, a one month increase in supply translates to a 3% decline in annualized house price growth – something we are already seeing. Keep in mind that prices are still projected to increase, just at a more moderate rate. Decelerating home prices do not mean depreciating home prices. A decelerating environment means there's appreciation, just at a more moderate rate – single digit growth as opposed to the double digit growth we have recently seen.
The average of the home price forecaster is 8.5% for 2022. Price will always be determined by supply and demand, so we will want to look at Home Price Expectation Survey.
The Home Price Expectation Survey is comprised of 100 economists and housing market experts across the country. The survey occurs each quarter and forecasts appreciation for the current year and the four years ahead – to make a five-year window. Again, we see that 8-9% range and then about 4% going forward.
With prices being determined by supply and demand, let's take a look at supply first.
For the last 14 years, we have been below the 50 year average in the number of builds brought to market. Builders were affected greatly in 2008, and maybe may moved on to other vocations, but it looks like we will surpass the 50 year average soon.
The demand side is driven by millennials that are moving through the market. The millennial generation is the largest generation behind the baby boomers, and they're moving through their peak home buying years. According to the National Association of Realtors® (NAR) Home Buyer survey, 81% of first-time home buyers fall in this category, and 43% in this age range.
Bottom Line
Experts don't believe the market is in a bubble or a crash is in the cards like during the Great Recession.
There's no denying the housing market has delivered a fair share of challenges to homebuyers over the past two years. Two of the biggest hurdles homebuyers faced during the pandemic were the limited number of homes for sale and the intensity and frequency of bidding wars. But those two things have reached a turning point.
As you may have already heard, the number of homes for sale has increased this year, and even more so this spring. As Danielle Hale, Chief Economist for realtor.com, explains:
"New listings–a measure of sellers putting homes up for sale–were up 6% above one year ago. Home sellers in many markets across the country continue to benefit from rising home prices and fast-selling homes. That's prompted a growing number of homeowners to sell homes this year compared to last, giving home shoppers much needed options."
This is encouraging news. More homes coming onto the market give you a greater chance of finding one that checks all your boxes.
Buyer Competition Moderating Helps Inventory Grow Even More
Mark Fleming, Chief Economist at First American, says inventory growth is happening not just because there's an increase in the number of listings coming onto the market, but also because buyer demand has moderated some in light of higher mortgage rates and other economic factors:
"There has been a pickup in the inventory that we've seen recently, but it's not from a big increase in new listings . . . but rather a slowdown in the pace of sales. And remember that months' supply measures the inventory of sale relative to the pace of sales. Same inventory, fewer sales, means more months' supply."
Basically, the market is shifting away from the frenzy of buyer competition seen during the pandemic, and that's helping available inventory grow. In their latest forecast, realtor.com also mentions the moderation of demand as a key factor and projects the inventory growth should continue:
"As rising inflation and mortgage rates bring U.S. housing demand back from the 2021 frenzy, . . . inventory will grow double-digits over 2021 and offer buyers a better-than-expected chance to find a home."
How This Impacts You
The combination of more homes coming onto the market and a slower pace of home sales means you'll have more options to choose from as you search for your next home. That's great news if you've been searching for a while with little to no luck. Just remember, there isn't a sudden surplus of inventory, just more homes to choose from than even a few months ago. So, you'll still want to be decisive and move fast when you find the right home for you.
And when you do, you may be faced with less competition from other buyers too. If you've been waiting to jump into the market because the intensity of the bidding wars was intimidating or if you've been outbid on several homes, this moderation could help make the homebuying process a bit smoother. It's not that it'll be easy or that bidding wars are a thing of the past – that's not the case. But it won't feel nearly as impossible.
Bottom Line
As the housing market begins its shift back toward pre-pandemic levels, you could have a unique opportunity in front of you. With moderating levels of buyer competition and more homes actively for sale, your home search may have gotten a bit less challenging.
In this first week of June, we have seen asking prices take a slight downturn as sellers become more cautious when determining their asking price. Nationally, the median asking price for homes new to the market dropped 1.5%, according to Redfin. This comes after a 4-week period in which asking prices were at an all time high in the U.S.
"Data on home-tours, offers and mortgage purchase applications suggest that homebuyers have noticed the shift in power and are no longer leaving the market in droves… Buyers coming back will provide support to the housing market, but between now and the end of year I think the power will continue to shift towards buyers, resulting in mild price declines from month to month."

Daryl Fairweather, Redfin Chief Economist
According to Showingtime, June showings were down 3% since the beginning of 2022 – perhaps due to the recent mortgage rate and home price increases. During the same period last year only 1 in 30 sellers had to lower their asking price, and today we are seeing homes with price reductions more than double with a longer time spent on market.