If you're buying or selling a home this year, you're likely saving up for a variety of expenses. For buyers, that might include things like your down payment and closing costs. And for sellers, you're probably working on a bit of spring cleaning and maintenance to spruce up your house before you list it.
Either way, any money you get back from your taxes can help you achieve your goals. Using a tax refund is a common tactic for buyers and sellers. SmartAsset estimates the average American will receive a $2,897 tax refund this year. The map below provides a more detailed estimate by state: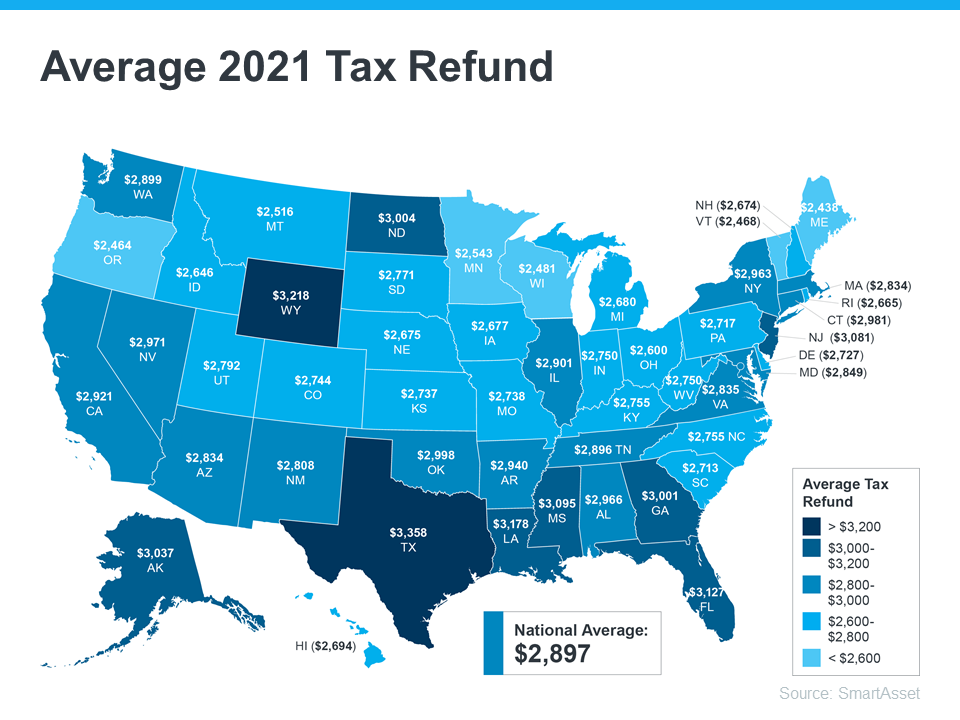 If you're getting a refund this year, here are a few tips to help with your home purchase or sale this season.
How Buyers Can Use Their Tax Refund
According to American Financing, there are multiple ways your refund check can help you as a homebuyer. A few include:
Growing your down payment fund – If you haven't started saving for your down payment, let your tax refund kick off the process. And if you have a fund already, the money you get back could put you closer to your goal.
Paying for your home inspection – Your home inspection can save you a lot of headaches down the road by helping you determine the condition of the house. As a buyer, you'll typically be responsible for paying for your inspection, and it's definitely worth the investment.
Saving for closing costs – Closing costs are additional expenses you'll need to pay once it's time to close. They average anywhere between 2-5% of the purchase price of your home.
This list is a great start, but it isn't exhaustive of all the costs you may encounter as you set out on your homebuying journey. The best way to prepare is to work with a trusted real estate professional to make sure you understand what's to come in the process.
How Sellers Can Use Their Tax Refund
If you own a home and are planning to sell this spring, your tax refund can help you make sure your home is ready to list. Here are a few ways current homeowners can put their tax refund to good use:
Making small upgrades – NerdWallet provides a list of great ways to use your tax refund, including tackling small projects or boosting your curb appeal to help your home stand out.
Making repairs – If there's anything in your house that needs to be fixed, American Financing notes that completing repairs is another great use of that money.
Buying your next home – Whether you're selling to move up or downsize, you can use your tax refund to help pay for any costs on the purchase of your next home.
Of course, it's important to talk with your trusted real estate advisor before taking on any projects. They'll make sure you can focus on areas that'll help you receive the best possible price when you sell.
Bottom Line
Funding your home purchase or sale can feel like a daunting task, but it doesn't have to be. Your tax refund can help you reach your goals.
As a homebuyer, it's important to plan and budget for the expenses you'll encounter when you purchase a home. While most people understand the need to save for a down payment, a recent survey found 41% of homebuyers were surprised by their closing costs. Here's some information to help you get started so you're not caught off guard when it's time to close on your home.
What Are Closing Costs?
One possible reason some people are surprised by closing costs may be because they don't know what they are or what they cover. According to U.S. News and World Report:
"Closing costs encompass a variety of expenses above your property's purchase price. They include things like lender fees, title insurance, government processing fees, upfront tax payments and homeowners insurance."
In other words, your closing costs are a collection of fees and payments made to a variety of individuals and organizations who are involved with your transaction. According to Freddie Mac, while they can vary by location and situation, closing costs typically include:
Government recording costs
Appraisal fees
Credit report fees
Lender origination fees
Title services
Tax service fees
Survey fees
Attorney fees
Underwriting Fees
How Much Will You Need To Budget for Closing Costs?
Understanding what closing costs include is important, but knowing what you'll need to budget to cover them is critical to achieving your homebuying goals. According to the Freddie Mac article mentioned above, the costs to close are typically between 2% and 5% of the total purchase price of your home. With that in mind, here's how you can get an idea of what you'll need to cover your closing costs.
Let's say you find a home you want to purchase for the median price of $350,300. Based on the 2-5% Freddie Mac estimate, your closing fees could be between roughly $7,000 and $17,500.
Keep in mind, if you're in the market for a home above or below this price range, your closing costs will be higher or lower.
What's the Best Way To Make Sure You're Prepared At Closing Time?
Freddie Mac provides great advice for homebuyers, saying:
"As you start your homebuying journey, take the time to get a sense of all costs involved – from your down payment to closing costs."
The best way to understand what you'll need at the closing table is to work with a team of trusted real estate professionals. An agent can help connect you with a lender, and together they can provide you with answers to the questions you might have.
Bottom Line
In today's real estate market, it's more important than ever to make sure your budget includes any fees and payments due at closing.