Latest Market Update


[wpvideo iKg0gqpP]
91% of business and academic economists are agreeing that economic recovery depends on containing the pandemic
"A strong economic recovery depends on effective and sustained containment of COVID-19,"
-The Wall Street Journal


Let's take a look at consumer spending as compared to January 1st. While the grocery business has grown, other businesses have fallen. You can see things starting to rebound. Apparel and general business is starting to head back, whereas transportation is not recovering as quickly. Going forward, we will see some businesses recover quicker than others.


We're starting to see economic recovery happen.
"Indeed the worst ever GDP leading could be followed by the best ever growth in the third quarter."
– Lisa Shallet, Chief Investment Officer, Morgan Stanely
As we look at general economic numbers, we should look forward to seeing some significant improvement going forward. So… what are we hearing about the housing market? You see realtor.com saying an "astonishing rebound". "Shockingly strong" from HousingWire. ATTOM Data Solutions says, "pulled something of a high wire act in the second quarter". And Zillow says, "stared the pandemic right in the eye and hasn't blinked. It's been nothing short of remarkable."
"Despite the crippling and ongoing coronavirus pandemic, millions out of work, a recession, a national reckoning over systemic racism, and a highly contentious presidential election just around the corner (we've got to remember that), the residential real estate market is staging an astonishing rebound."
– realtor.com
"Whether in terms of pending contract activity or our proprietary buyer demand ratings, the various measures of demand captured in this month's survey can only be described as shockingly strong (another one of those quotes we used before), in spite of the resurgence of COVID-19 cases."
– Ivy Zelman


This is the Housing Market Recovery Index. It combines demand, supply, price, and time on market to create the index. While we are recovering, the question still remains: What's going to happen to prices?
"The pandemic has not stopped the consistent home price growth we have witnessed in recent years."
– Quicken Loans


Seven out of these nine leading experts are calling for positive appreciation going in the next 12 months.
"Last month's forecast of a 6.6% home price decline through May 2021 has been revised as projected unemployment rates through 2020 showed improvement. The recent rebound of home sales suggests the pandemic did not derail home buyers… We continue to be motivated by historically low mortgage rates. This coupled with the declining supply of homes for sale could shield home price growth from the impacts of the current economic uncertainty. As a result the latest forecast reports home prices will decline a moderate 1% between June '20 and June 2021."
– CoreLogic
We can't bring homes to market as fast as people are coming in and buying them.
"The summer home buying season is off to a roaring start. As buyers flooded into the market, the realtor.com monthly traffic hit an all-time high of 86 million unique users in the month of June 2020, breaking May's record of 85 million unique users."
– move.com
"Of American adults considering a future home purchase in the second quarter of 2020, about half (call it 49% there) are not simply planning it, they are actively engaged in the process to find a home. This is a significantly higher share than the comparable figure a year ago at 41%, which suggests that the COVID-19 crisis and its accompanying record low mortgage rates have converted some prospective buyers into active buyers."
– National Association of Home Builders
Interest rates certainly as we look at forecasts, are forecasted and projected to remain low, but as the economy improves we know that those will start to edge up.
So… why are people moving? realtor.com surveyed people in April and again in July. In April, interior space, outdoor space, kitchen, and better technology were the top reasons. In July, 3 reasons were added to that list: desire to own and move from the city to the suburbs. The home ownership rate in this country has grown over the last quarter, but that desire to own is very important to people. As far as the want to move from the city to the suburbs, surveys are coming back with the fact that people don't want to live in as a dense environment – maybe because of the fears of maybe being in a tightly congested area or contracting the coronavirus.
Two out of three of the buyers surveyed in this case said they are planning to buy a home that fits their needs for remote work. That may not mean that two out of three are going to be working from home, but it definitely means two out of three are saying I have that need.
"As states, cities, and counties around the country slowly reopen, we predict the great American move. For safety reasons, financial prospects, life change improvements, personal comfort, and employment. We expect a surge in household and business relocations over the next few months that will provide new strategic opportunities for the real estate market."
– John Burns' Consulting
"Home sellers nationwide realized a gain of $75,971 on a typical sale."
– ATTOM Data Solutions
Let's take a quick look at how we ended August 2020 in Tallahassee:

The Presidential Election

The year 2020 will be remembered as one of the most challenging times of our lives. A worldwide pandemic, a recession causing historic unemployment, and a level of social unrest perhaps never seen before have all changed the way we live. Only the real estate market seems to be unaffected, as a 
new forecast
 projects there may be 
more homes purchased 
this year than last year.
As we come to the end of this tumultuous year, we're preparing for perhaps the most contentious presidential election of the century. Today, it's important to look at the impact past presidential election years have had on the real estate market.
Is there a drop-off in home sales during a presidential election year?
BTIG, a research and analysis company, looked at new home sales from 1963 through 2019 in their report titled One House, Two House, Red House, Blue House. They noted that in non-presidential years, there is a -9.8% decrease in November compared to October. This is the normal seasonality of the market, with a slowdown in activity that's usually seen in fall and winter.
However, it also revealed that in presidential election years, the typical drop increases to -15%. The report explains why:
"This may indicate that potential homebuyers may become more cautious in the face of national election uncertainty."
Are those sales lost forever?
No. BTIG determined:
"This caution is temporary, and ultimately results in deferred sales, as the economy, jobs, interest rates and consumer confidence all have far more meaningful roles in the home purchase decision than a Presidential election result in the months that follow."
In a separate study done by Meyers Research & Zonda, Ali Wolf, Chief Economist, agrees that those purchases are just delayed until after the election:
"History suggests that the slowdown is largely concentrated in the month of November. In fact, the year after a presidential election is the best of the four-year cycle. This suggests that demand for new housing is not lost because of election uncertainty, rather it gets pushed out to the following year."
Will it matter who is elected?
To some degree, but not in the overall number of home sales. As mentioned above, consumer confidence plays a significant role in a family's desire to buy a home. How may consumer confidence impact the housing market post-election? The BTIG report covered that as well:
"A change in administration might benefit trailing blue county housing dynamics. The re-election of President Trump could continue to propel red county outperformance."
Again, overall sales should not be impacted in a significant way.
If mortgage rates remain near all-time lows, the economy continues to recover, and unemployment continues to decrease, the real estate market should remain strong up to and past the election.
How to Win a Bidding War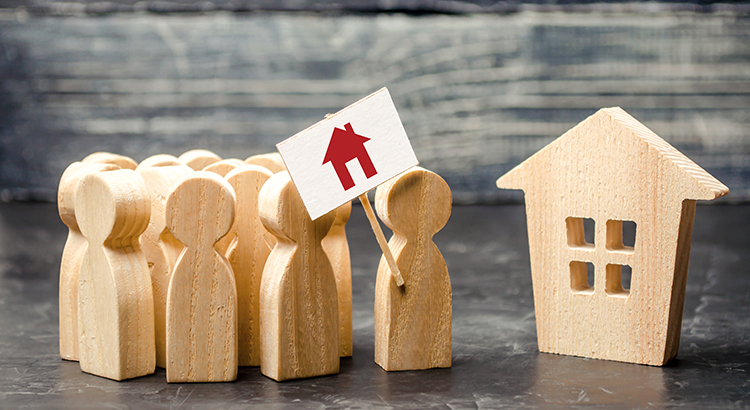 With so few houses for sale today and 
low
 mortgage rates driving buyer activity, bidding wars are becoming more common. Multiple-offer scenarios are heating up, so it's important to get 
pre-approved
 before you start your search. This way, you can put your best foot forward – quickly and efficiently – if you're planning to buy a home this season.
Javier Vivas, 
Director of Economic Research
 at 
realtor.com,
explains
:
"COVID-19 has accelerated earlier trends, bringing even more buyers than the market can handle. In many markets, fierce competition, bidding wars, and multiple offer scenarios may be the common theme in the weeks to come."
Here are three things you can do to make your offer a competitive one when you're ready to make your move.
1. Be Ready
A recent survey shows that only 52% of active homebuyers obtained a pre-approval letter before they began their home search. That means about half of active buyers missed out on this key part of the process.
Buyers who are pre-approved are definitely a step ahead when it's time to make an offer. Having a pre-approval letter indicating you're a qualified buyer shows sellers you're serious. It's often a deciding factor that can tip the scale in your direction if there's more than one offer on a home. It's best to contact a mortgage professional to start your pre-approval process early, so you're in the best position right from the start of your home search.
2. Present Your Best Offer
In a highly competitive market, it's common for sellers to pick a date and time to review all offers on a house at one time. If this is the case, you may not have an opportunity to negotiate back and forth with the sellers. As a matter of fact, the National Association of Realtors (NAR) notes:
"Not only are properties selling quickly, but they are also getting more offers. On average, REALTORS® reported nearly three offers per sold property in July 2020."
Make sure the offer you're presenting is the best one the sellers receive. A real estate professional can help you make sure your offer is a fair and highly competitive one.
3. Act Fast
With existing homes going like hotcakes, there's no time to waste in the process. NAR reports how the speed of home sales is ramping up:
"Properties typically remained on the market for 22 days in July, seasonally down from 24 days in June and from 29 days in July 2019. Sixty-eight percent of homes sold in July 2020 were on the market for less than a month."
In addition, NAR notes:
"Total existing-home sales…jumped 24.7% from June to a seasonally adjusted annual rate of 5.86 million in July. The previous record monthly increase in sales was 20.7% in June of this year. Sales as a whole rose year-over-year, up 8.7% from a year ago (5.39 million in July 2019)."
As you can see, the market is gaining steam. For two consecutive months houses have sold very quickly. Essentially, you may not have time to sleep on it or shop around when you find a home you love. Chances are, someone else loves it too. If you take your time, it may not be available when you're ready to commit.
The housing market is very strong right now, and buyers are scooping up available homes faster than they're coming to market.