Why the Housing Market is a Powerful Economic Driver
With businesses starting to slowly open back up again in some parts of the country, it's important to understand how housing can have a major impact on the recovery of the U.S. economy. As we've mentioned before, buying a home is a driving financial force in this process. Today, many analysts believe one of the first things we'll be able to safely bring back is the home building sector, creating more jobs and impacting local neighborhoods in a big way.


The pace of new home sales will post significant declines during the second quarter due to the impacts of higher unemployment and shutdown effects of much of the U.S. economy, including elements of the real estate sector in certain markets. However, given the momentum housing construction held at the start of 2020, the housing industry will help lead the economy in the eventual recovery.
Robert Dietz


Building 1,000 average single-family homes creates 2,900 full-time jobs and generates $110.96 million in taxes and fees for all levels of government to support police, firefighters and schools, according to NAHB's National Impact of Home Building and Remodeling report.
National Association of Home Builders (NAHB)
Employment opportunities, along with the home purchase, drive the economy in a major way.


he total economic impact of real estate related industries on the state economy, as well as the expenditures that result from a single home sale, including aspects like home construction costs, real estate brokerage, mortgage lending and title insurance.
National Association of Realtors (NAR)
Here's the breakdown of how the average home sale boosts the economy: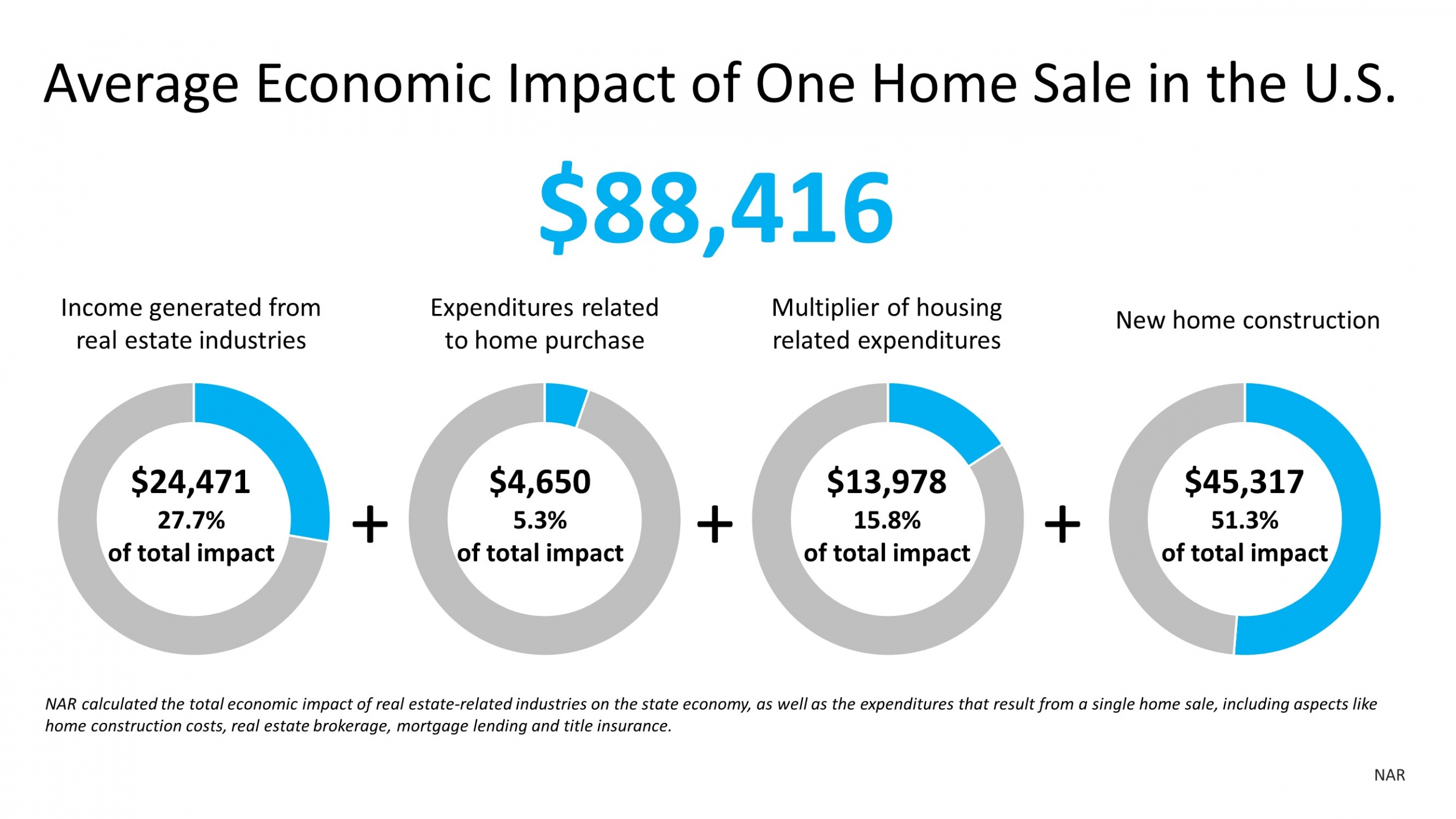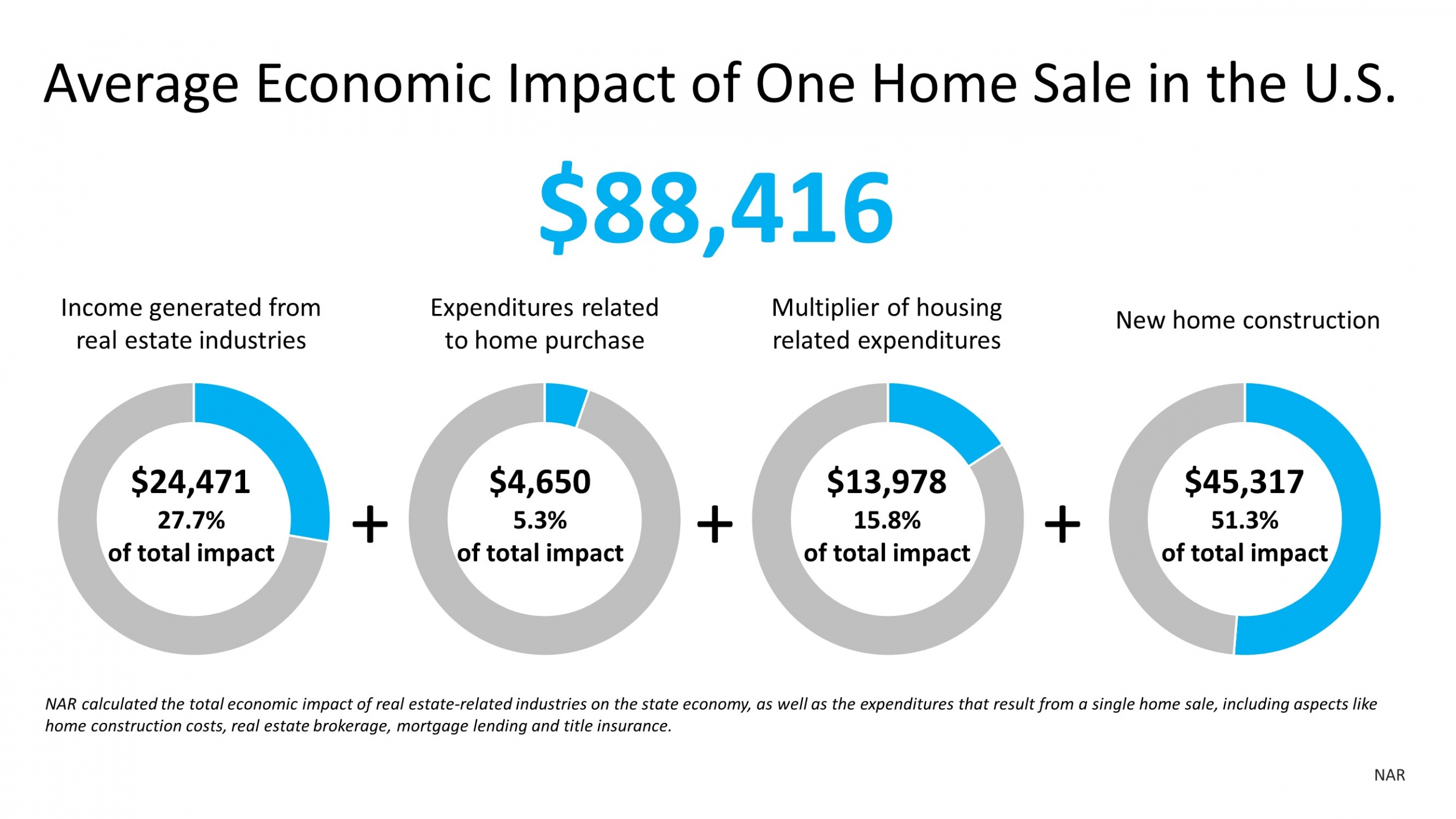 As noted above in the circle on the right, the impact is almost double when you purchase new construction, given the sheer number of workers it requires to design, build, equip, and finalize the sale of the home.


The NAHB model shows that job creation through housing is broad-based. Building new homes and apartments generates jobs in industries that produce lumber, concrete, lighting fixtures, heating equipment and other products that go into a home remodeling project. Other jobs are generated in the process of transporting, storing and selling these products. Additional jobs are generated for professionals such as architects, engineers, real estate agents, lawyers and accountants who provide services to home builders, home buyers and remodelers.
National Association of Home Builders (NAHB)
The NAR report also breaks down the average economic impact by state: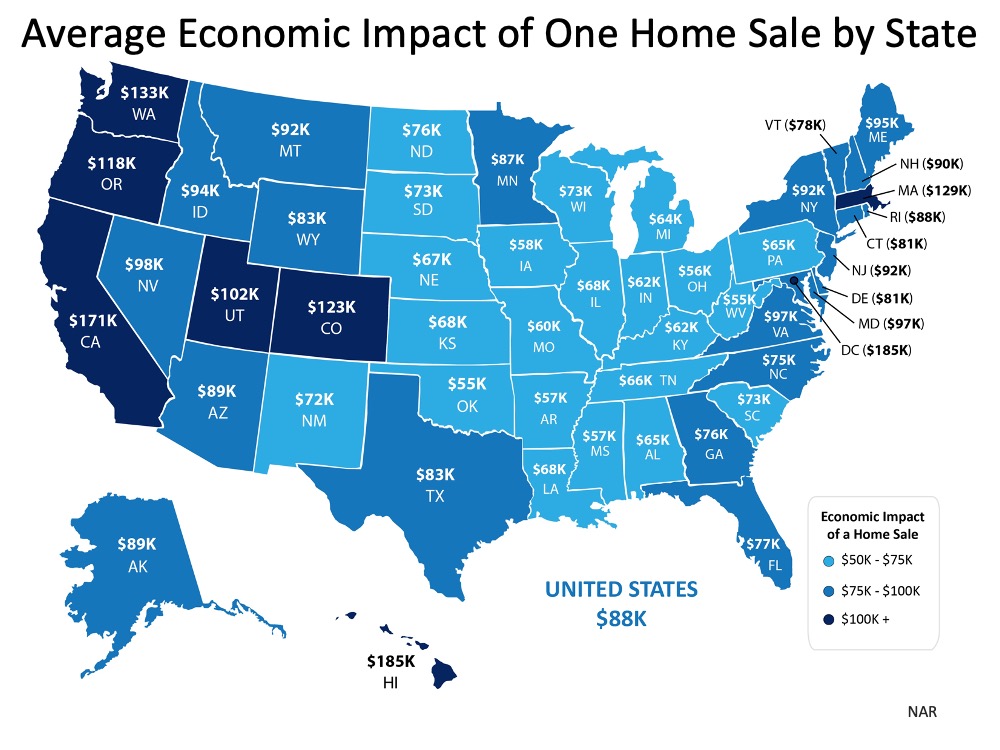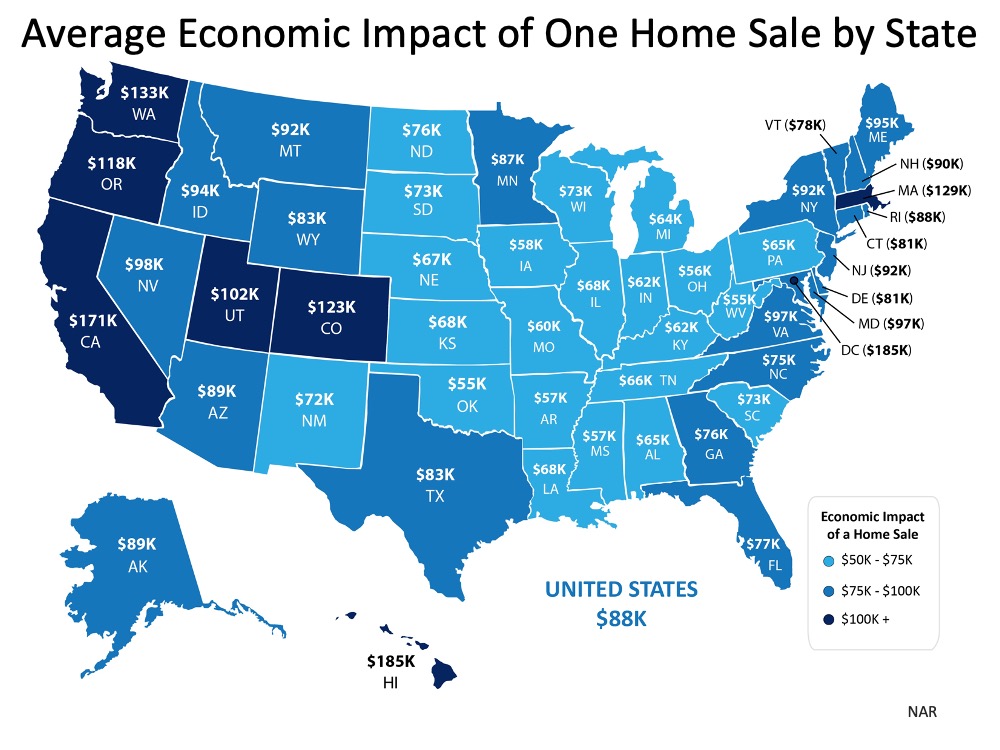 On an emotional level, what's most important for today's consumers to feel confident about is the safety component that goes into the process. Mitigating the risk of essential personnel at this moment in time is more crucial than ever as we all aim to reduce the spread of the coronavirus.


This is why NAHB and construction industry partners have developed a Coronavirus Preparedness and Response Plan specifically tailored to construction job sites. The plan is customizable and covers areas that include manager and worker responsibilities, job site protective measures, cleaning and disinfecting, responding to exposure incidents, and OSHA record-keeping requirements.
National Association of Home Builders (NAHB)
Buying a home is a substantial economic driver today, and when new construction picks back up again, it will be an even stronger recovery force throughout the country. If you're in a position to buy a home this year, you can have a significant impact on your local neighborhoods and safely make the move you've been waiting for. It's a win-win.
What Impact Might COVID-19 Have on Home Values?
A big challenge facing the housing industry is determining what impact the current pandemic may have on home values. Some buyers are hoping for major price reductions because the health crisis is straining the economy.
The price of any item, however, is determined by supply and demand, which is how many items are available in relation to how many consumers want to buy that item.
In residential real estate, the measurement used to decipher that ratio is called months supply of inventory. A normal market would have 6-7 months of inventory. Anything over seven months would be considered a buyers' market, with downward pressure on prices. Anything under six months would indicate a sellers' market, which would put upward pressure on prices.
Going into March of this year, the supply stood at three months – a strong seller's market. While buyer demand has decreased rather dramatically during the pandemic, the number of homes on the market has also decreased. The recently released Existing Home Sales from the National Association of Realtors (NAR) revealed we currently have 3.4 months of inventory. This means homes should maintain their value during the pandemic.


Historical analysis showed us that pandemics are usually V-shaped (sharp recessions that recover quickly enough to provide little damage to home prices).
John Burns Real Estate Consulting
So… What are the experts saying?


Supported by our analysis of home price dynamics through cycles and other periods of economic and housing disruption, we expect home price appreciation to decelerate from current levels in 2020, though easily remain in positive territory year over year given the beneficial factors of record-low inventories & a historically-low interest rate environment.
Ivy Zelman, President of Zelman & Associates


The fiscal stimulus provided by the CARES Act will mute the impact that the economic shock has on house prices. Additionally, forbearance and foreclosure mitigation programs will limit the fire sale contagion effect on house prices. We forecast house prices to fall 0.5 percentage points over the next four quarters. Two forces prevent a collapse in house prices. First, as we indicated in our earlier research report, U.S. housing markets face a large supply deficit. Second, population growth and pent up household formations provide a tailwind to housing demand. Price growth accelerates back towards a long-run trend of between 2 and 3% per year.
Freddie Mac


The housing supply remains at historically low levels, so house price growth is likely to slow, but it's unlikely to go negative.
Mark Fleming, Chief Economist of First American
Even though the economy has been placed on pause, it appears home prices will remain steady throughout the pandemic.
Buying a Home Right Now: Easy? No. Smart? Yes.
Through all the volatility in the economy right now, some have put their search for a home on hold, yet others have not.


The March ShowingTime Showing Index® recorded the first nationwide drop in showing traffic in eight months as communities responded to COVID-19. Early April data show signs of an upswing, however.
ShowingTime
Why would people be setting appointments to look at prospective homes when the process of purchasing a home has become more difficult with shelter-in-place orders throughout the country?
Here are three reasons for this uptick in activity:
1. Some people need to move. Whether because of a death in the family, a new birth, divorce, financial hardship, or a job transfer, some families need to make a move as quickly as possible.
2. Real estate agents across the country have become very innovative, utilizing technology that allows purchasers to virtually:
View homes
Meet with mortgage professionals
Consult with their agent throughout the process
All of this can happen within the required safety protocols, so real estate professionals are continuing to help families make important moves.
3. Buyers understand that mortgage rates are a key component when determining their monthly mortgage payments. Mortgage interest rates are very close to all-time lows and afford today's purchaser the opportunity to save tens of thousands of dollars over the lifetime of the loan.
Looking closely at the third reason, we can see that there's a big difference between purchasing a house last year and purchasing one now (see chart below):