June 2020 Real Estate Market Update
The quick real estate recovery has surprised most forecasters.
"Ivy Zelman

Housing will fare better than expected during this severe downturn.

"Diana Olick

New home sales rose slightly in April, defying expectations of a huge 22% drop… Mortgage demand for homebuyers shows unexpectantly strong and quick recovery.

"Mark Fleming

We know that April really was the trough, I think, for the housing market. So, looking in the rearview mirror, we can see that April was the trough. And coming out of April, we can see, okay, we're starting to improve. Not quite where we, you know, would have been had this not taken place, but we could certainly see improvement. We expect the rebound to be quite strong in the May numbers that will come out at the end of June.

Five of the 6 experts are calling for appreciation this year. Three of those 5 are calling for appreciation over 3%. Appreciation is being driven by the lack of supply across the country.


Zillow's June report stated that newly pending sales are up 24.5% and new listings taken are up 19.3%. So the real estate market is not where it would be normally this time of year, but month over month, we're seeing improvement.
Housing will likely lead the economic recovery.


The Bureau of Labor Statistics on Friday released their June report which covers up from the middle of April to the middle of May. The biggest shock on that was the gains. There was actually a gain in number of jobs, and 1.4 million of those people have already come back to work.
We're seeing the economy is coming back.
"CNBC

The May gain was by far the biggest one-month job surge in US history since at least 1939.

Here we look at the unemployment – 87.7% still have a job. Of those people that are unemployed, 17% think it's permanent – 73% think that as the economy opens up, they're going to go right back to the same jobs they had. The Federal Reserve Bank report said there are news reports of large scale hiring at firms like Amazon, Walmart, CVS Healthcare, Domino's Pizza, and other companies that show increased demands in reaction to the pandemic. Amazon hired about 175,000 people – drivers, warehouse workers, management staff – and that 150,000 are permanent positions. But, please note that last week there was a note inside the report of a potential misclassification, and they may release a new report.


This shows January through May in the unemployment report, as it has been reported. The big news here is unemployment dropped in the month of May, because there were more jobs added.


The Census came out with the first quarter results this year showing that the US homeownership rate continues to grow. We saw homeownership was growing up until the housing crash. And then we saw the decrease, and then this increase for the last four years of homeownership is growing.
The survey from Concentrix Analytics talks about the non-financial benefits of homeownership where 93% said owning a home made them happier, 88% of people said buying a home was the best decision they've ever made, And 79% owning a home has changed them for the better. It's a nice way to look at home ownership aside from the obvious financial benefits we always talk about – like building wealth and tax savings.

"Gallup

Real estate at 35%, remains the most favorite investment to Americans, as has been the case since 2013, when the housing market was on the rebound. More than a third of Americans have named real estate as the top investment since 2016.

"Peter Kann, Former Editor for the Wall Street Journal

Truth is attainable by laying fact upon fact upon fact.
So, how did the Tallahassee housing market wrap up for June 2020?

The Future of Home Prices
A worldwide pandemic and an economic recession have had a tremendous effect on the nation. The uncertainty brought about by both has made predicting consumer behavior nearly impossible. For that reason, forecasting home prices has become extremely difficult.
Normally, there's a simple formula to determine the future price of any item: calculate the supply of that item in ratio to the demand for that item. In housing right now, demand far exceeds supply. Mortgage applications to buy a home just rose to the highest level in 11 years while inventory of homes for sale is at (or near) an all-time low. That would usually indicate strong appreciation for home values as we move throughout the year.
Some experts, however, are not convinced the current rush of purchasers is sustainable. Ralph McLaughlin, Chief Economist at Haus, explained in their June 2020 Hausing Market Forecast why there is concern:
"The upswing that we'll see this summer is a result of pent-up demand from homebuyers and supply-in-progress from homebuilders that has simply been pushed off a few months. However, after this pent-up demand goes away, the true economic scarring due to the pandemic will begin to affect the housing market as the tide of pent-up demand goes out."
The virus and other challenges currently impacting the industry have created a wide range of thoughts regarding the future of home prices. Here's a list of analysts and their projections, from the lowest depreciation to the highest appreciation:
We can garner two important points from this list:
There is no real consensus among the experts.
No one projects prices to crash like they did in 2008.
Whether you're thinking of buying a home or selling your house, know that home prices will not change dramatically this year, even with all of the uncertainty we've faced in 2020.
Buying in Today's Market
According to the latest 
FreddieMac Quarterly Forecast
, mortgage interest rates have fallen to historically low levels this spring and they're projected to remain low. This means there's a huge incentive for buyers who are ready to purchase. And homeowners looking for eager buyers can take advantage of this opportune time to sell as well.
There's a very positive outlook on interest rates going forward, as the 
projections
 from the 
FreddieMac 
report indicate continued lows into 2021:
"Going forward, we forecast the 30-year fixed-rate mortgage to remain low, falling to a yearly average of 3.4% in 2020 and 3.2% in 2021."
 With mortgage rates hovering at such compelling places, ongoing buyer interest is bound to keep driving the housing market forward. Rates also reached another record low last week, so homebuyers are in what FreddieMac is identifying as the buying mood:
"While the rebound in the economy is uneven, one segment that is exhibiting strength is the housing market. Purchase demand activity is up over twenty percent from a year ago, the highest since January 2009. Mortgage rates have hit another record low due to declining inflationary pressures, putting many homebuyers in the buying mood. However, it will be difficult to sustain the momentum in demand as unsold inventory was at near record lows coming into the pandemic and it has only dropped since then."
There's no doubt that even though buyers are ready to purchase, it's hard for many of them to find a home to buy today. Mortgage rates aren't the only thing hovering near all-time lows; homes available for sale are too. With housing inventory as scarce as it is today – a nearly 20% year-over-year decline in available homes to purchase – keeping buyers in the purchasing mood may be tough if they can't find a home to buy (See graph below):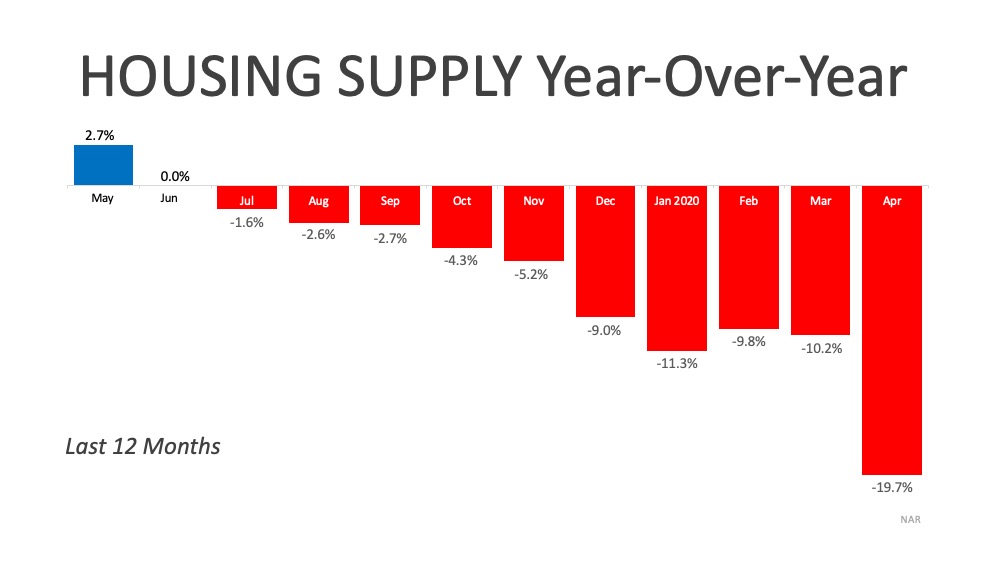 What does this mean for buyers?
Competition is hot with so few homes available for purchase and low mortgage rates are helping to drive affordability as well. Getting pre-approved now will help you gain a competitive advantage and accelerate the homebuying process, so you're ready to go when you find that perfect home you'd like to buy. Working quickly and efficiently with a trusted real estate professional will help put you in a position to act fast when you're ready to make your move.
What does this mean for sellers?
If you're thinking of selling your house, know that the motivation for buyers to purchase right now is as high as ever with rates where they are today. Selling now before other sellers come to market in your neighborhood this summer might put your house high on the list for many buyers. Homebuyers are clearly in the mood to buy, and with today's safety guidelines and precautions in place to show your house, confidence is also on your side.
Whether you're looking to buy or sell, there's great motivation to be in the housing market, especially with mortgage rates hovering at this historic all-time low.