Latest Real Estate Market Update

The consensus was for just over three million jobs to be added in June, and 4.8 million jobs were actually added – almost 50% more jobs coming back to the market and more than we've gained in the history of unemployment reports. Leisure and hospitality saw 2.1 million jobs, and 740,000 in retail. As the Bureau of Labor Statistics reported it, we ended up in June with 11.1% unemployment.


The unemployment that went up in March and April, has come down in May and June. Certainly, we want to see that trend continue in unemployment. More and more people are going back to work as they can go back safely and get back to the work that they do.


As we break down this 11.1% unemployment, it's important to remember that as 11.1% of the people are unemployed that still means almost 89% of those out there in the world are employed. Probably one of the biggest shifts in this unemployment report is the number of people that are now reporting this is a permanent unemployment versus temporary.
"U.S. job growth surged last month underscoring the economy's capacity for a quick rebound. If businesses continue to reopen, consumers regain confidence… A recent coronavirus spike, however, could undermine the trends captured in the latest job reports… As businesses continue to safely reopen, consumers regain confidence in getting back out and doing things that they were used to doing… As temporary unemployment drops, permanent job loss keeps rising."
– The Wall Street Journal
 


We've referenced the core unemployment rate (which subtracts temporary layoffs and adds the unemployed who didn't search for a job recently), and that number jumped to 5.9% in June from 5.0% in May, according to Indeed economist Jed Kolko. While the overall unemployment rate is falling right now, core unemployment has grown from May to June, and certainly from April to May. If you want to compare that back to April 2010, we're at about half of where core unemployment was back then.


As we start to look at this, it brings up a lot of questions. How is unemployment going to affect the overall economy? How's it going to affect our business? Are we about to see a wave of foreclosures? Black Knight brings some very good information here and they tell us of all the active forbearances – meaning those that have paused their mortgage payments due to financial hardships and unemployment. Seventy-seven percent have at least 20 percent equity in their home. Ninety percent have at least 10 percent equity in their home. What does that mean? They summarize in the report the high level of equity today provides options for homeowners, policymakers, mortgage investors, and servicers in helping to avoid downstream foreclosure activity and default-related losses.
How is unemployment going to affect the housing market is a big question right now. We know that forbearance was enacted to help people survive this economic storm, but yet it's causing people to say, "Okay, could we see foreclosures coming to the market with the number of people that don't have a job?" So, let's take a look at the Black Knight information and the number of people who have significant equity. If you had a $400,000 home and you were in a situation where you couldn't make the payment, and you had 20% equity in that home, that's $80,000. You would go out and sell that home before you'd allow it to go into foreclosure.
"Eighty-seven percent of home sellers are concerned their home won't sell because of the pandemic and resulting economic recession."
– Lending Tree


NAR came out with a new study as well that really looks at several different things to say, "How does the housing market look relative to recovery?" And they break down four things. Demand, supply, price, and time on the market. And you can see as we bottomed out in March and then started to come back there in late April and May, not getting quite back up to that baseline of 100, but headed in that right direction in an overall housing market recovery.


We see the housing market starting a recovery. We know people are going out and looking at homes. And then even as we add in Zillow's information that newly pending sales are up 18.8% month-over-month and listings taken are up 5.2% month-over-month. But here's the interesting thing: total listings are down year-over-year – a little over 20%. And new listings taken are down 16.6% year-over-year. So as there's activity coming back in the market, there just isn't the available inventory in the market for those that want to buy. You can see as new listings continue to grow total listings are decreasing. Meaning, as soon as they come to the market they're being purchased – a sign of the demand that's in the market right now.


Inventory, as a percentage of households, is half the long average. So, the long-term average is 2.4% and we sit right now at 1.2% – an all-time low of the number of listings as compared to the number of households. All of this comes together in the supply and demand questions saying, "What is this going to do to home prices as we go forward?"
Here are the thoughts of 6 leading experts. Five of the 6 see over 3% appreciation this year. Then as we go into 2021 and 2022, we see appreciation across both of those years. This is being driven by supply and demand.
 "The severity of inventory tightness should remain a relative benefit to home prices."
– Ivy Zelman
 "The housing market is likely benefiting from low mortgage rates. Stronger demand for larger spaces as more and more people work from home and desire to move away from crowded cities to avoid exposure to the coronavirus."
– High Frequency
"Nearly 30 percent of the respondents they surveyed here living in a high-density urban area say that the pandemic is prompting them to want to move by the end of the year. This is more than double the rate of those living in rural parts of the country where residents are much more likely to stay put rather than to relocate."
– Realtor Magazine
 


Buyers are showing a greater desire for non-urban properties and rural areas. Sixteen percent growth year-over-year increase and views of properties in rural areas versus suburban and urban areas.
"The suburbs are gaining favor with home shoppers, second-home markets are seeing increased interest from luxury buyers. Suffolk County New York, home to the Hamptons, Palm Springs in Riverside County California, and Greenwich in Fairfield County Connecticut, all second-home markets ranked among the top five markets with the largest increase in listing view growth in May. Views of luxury properties accelerated 56% in the Hamptons, 28% in Palm Springs, and 24% in Greenwich compared to the January trends."
– Danielle Hale
People are looking outside of the area that they're living and, in this case, the luxury markets are leading the way there for people that say, "There are things that are now more important to us in the place that we live." I think this overall trend is continuing. It's backed up by a Zillow report that was released.
"Since the pandemic altered what buyers value in their homes, builders are predicting how future homes will change as a result and what people want most moving forward. As people spend more time during the pandemic, buyers are realizing which features of their home are working and not working… Homebuilders predict open-concept floor plans will be a thing of the past as people now value more walls, doors, and overall privacy. The ability to work somewhere and not be disturbed, get on a Zoom call, or get on some type of video call and not be out in the open is more important to people… New construction which offers the chance to really personalize home features saw its listing page views grow by over 73 percent over last May."
– Zillow
So how did Tallahassee trend in July?

Forclosures Prediction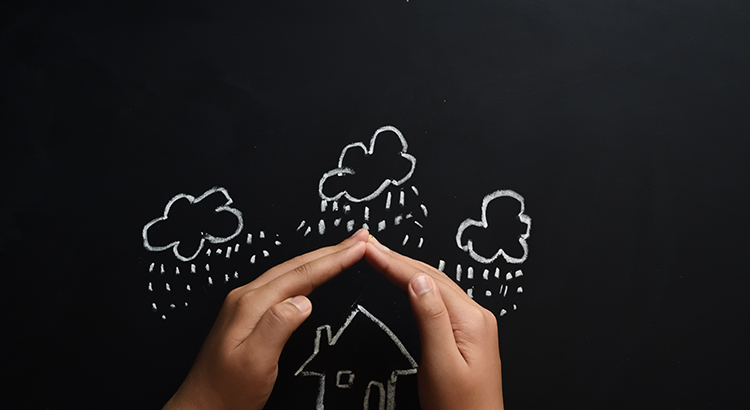 The health crisis we face as a country has led businesses all over the nation to reduce or discontinue their services altogether. This pause in the economy has greatly impacted the workforce and as a result, many people have been laid off or furloughed. Naturally, that would lead many to believe we might see a rush of foreclosures like we saw in 2008. The market today, however, is very different from 2008.
The concern of more foreclosures based on those that are out of work is one that we need to understand fully. There are two reasons we won't see a rush of foreclosures this fall: forbearance extension options and strong homeowner equity.
1. Forbearance Extension
Forbearance, according to the 
Consumer Financial Protection Bureau
 (
CFPB
), is 
"when your mortgage servicer or lender allows you to temporarily pay your mortgage at a lower payment or pause paying your mortgage."
 Thisis an option for those who need immediate relief. In today's economy, the CFPB has given homeowners a way to extend their forbearance, which will greatly assist those families who need it at this critical time.
Under the CARES Act, the CFPB 
notes
:
"If you experience financial hardship due to the coronavirus pandemic, you have a right to request and obtain a forbearance for up to 180 days. You also have the right to request and obtain an extension for up to another 180 days (for a total of up to 360 days)."
2. Strong Homeowner Equity
Equity is also working in favor of today's homeowners. This savings is another reason why we won't see substantial foreclosures in the near future. Today's homeowners who are in forbearance actually have more equity in their homes than what the market experienced in 2008.
The Mortgage Monitor report from Black Knight indicates that of all active forbearances which are past due on their mortgage payment, 77% have at least 20% equity in their homes (See graph below):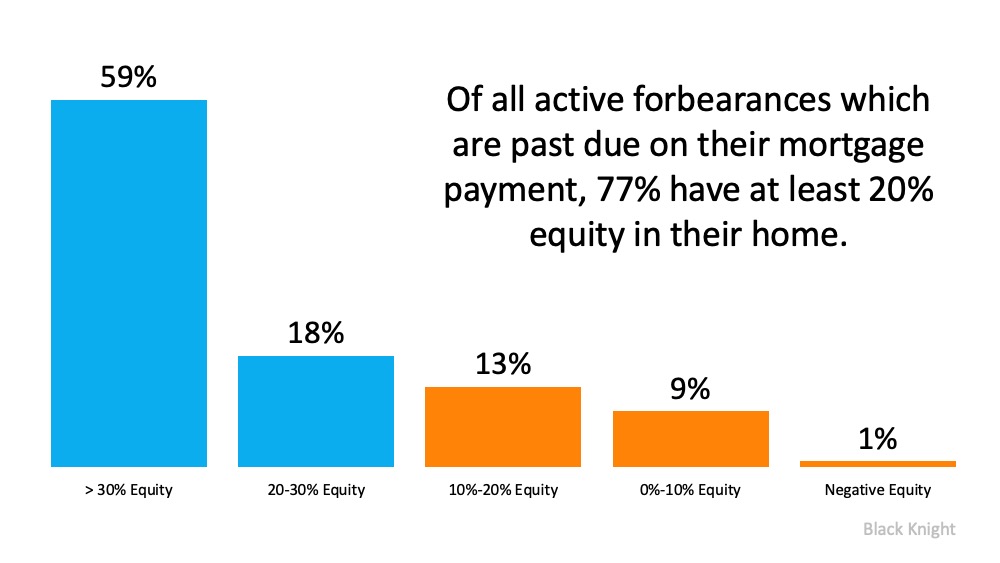 Black Knight notes:
"The high level of equity provides options for homeowners, policymakers, mortgage investors and servicers in helping to avoid downstream foreclosure activity and default-related losses."
Many think we may see a rush of foreclosures this fall, but the facts just don't add up in this case. Today's real estate market is very different from 2008 when we saw many homeowners walk away when they owed more than their homes were worth. This time, equity is stronger and plans are in place to help those affected weather the storm.
Buyers Headed for the Suburbs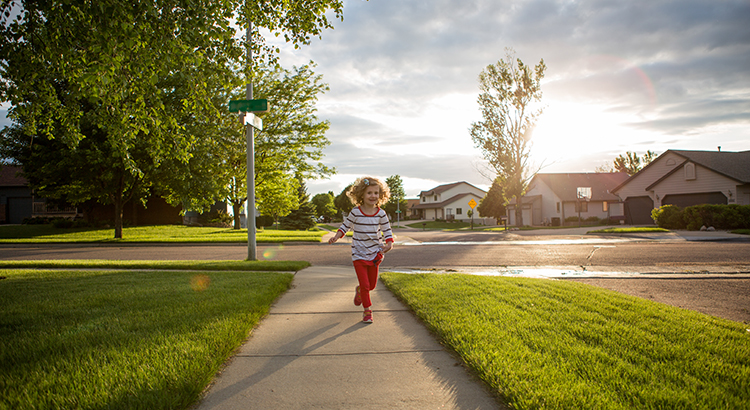 As remote work continues on for many businesses and Americans weigh the risks of being in densely populated areas, will more people start to move out of bigger cities? Spending extra time at home and dreaming of more indoor and outdoor space is certainly sparking some interest among homebuyers. Early data shows an initial trend in this direction of moving from urban to suburban communities, but the question is: will the trend continue?
According to recent data from 
Zillow
, there is a current surge in urban high-end listings in some larger metro areas. The month-over-month increase in these homes going on the market indicates more urban homeowners may be ready to make a move out of the city, particularly at the upper end of the market 
(See graph below):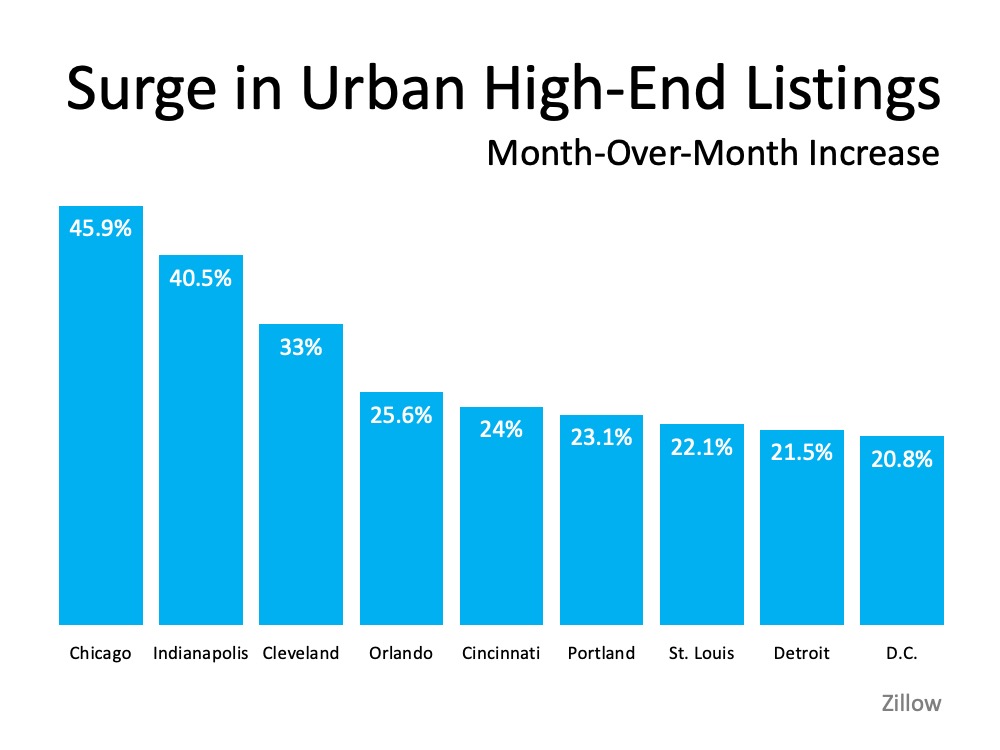 Why are people starting to move out of larger cities?
With the ongoing health crisis, it's no surprise that many people are starting to consider this shift. A July survey from HomeLight notes the top reasons people are actually moving today:
More interior space
Desire to own
Move from city to suburbs
More outdoor space
More space, proximity to fewer people, and a desire to own at a more affordable price point are highly desirable features in this new era, so the list makes sense.
John Burns Consulting notes:
"The trend is accelerating faster than anyone could have predicted. The need for more space is driving suburban migration."
In addition, Sheryl Palmer, CEO of Taylor Morrison, a home building company, indicates:
"Most recently, we're really seeing a pickup in folks saying they want more rural or suburban locations. Initially, there was a lot of talk about that, but it's really coming through our buyers today."
The National Association of Home Builders (NAHB) also shares:
"New home demand is improving in lower density markets, including small metro areas, rural markets and large metro exurbs, as people seek out larger homes and anticipate more flexibility for telework in the years ahead. Flight to the suburbs is real." 
Will the shift pick up speed and continue on?
The question remains, will this interest in suburban and rural living continue? Some, like Lawrence Yun, Chief Economist at the National Association of Realtors (NAR) think the possibility is there, but it is still quite early to tell for sure. Yun notes:
"Homebuyers considering a move to the suburbs is a growing possibility after a decade of urban downtown revival…Greater work-from-home options and flexibility will likely remain beyond the virus and any forthcoming vaccine."
While much of the energy behind this trend has largely been accelerated by the current health crisis, monitoring the momentum over time is critically important. Businesses are discovering new and innovative ways to function in remote environments, so the shift has the potential to stick. Much like the economic recovery, however, the long-term impact may hinge largely on the health situation throughout this country.
Early data is showing a shift from urban to suburban markets, but keeping an eye on this trend will help us understand how it will ultimately play out. It may just be a temporary swing in a new direction until Americans once again feel a sense of comfort in the cities they've grown to love.